Making it in the fashion industry is no easy feat. For London-based fashion student Jessan Macatangay, it's all about taking risks in pursuit of your passion. He made a major life decision to switch careers from being a registered nurse to becoming a fashion designer. Now he's a fresh Fashion Design graduate from the Central Saint Martins art school in London.
His graduation collection, "Finding Beauty and Power in Struggle," has earned recognition in the fashion community. He thought up with the concept during his second year in school and had been developing it since. While the pandemic prompted Jessan to make adjustments to his original plan, it certainly didn't compromise the message behind it.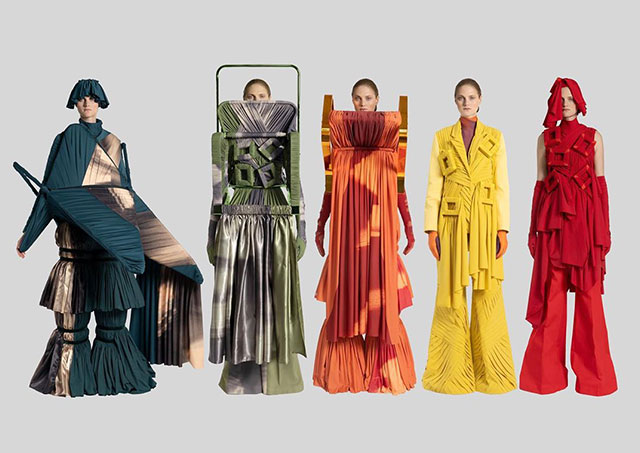 His schooling both in the Philippines and abroad prepared him to take on internship opportunities at renowned fashion labels like Marc Jacobs and J.W. Anderson. He describes both offices as "multicultural working environments" where he was able to hone his craft. Jessan shares, "I never felt out of place working for these designers. They made me feel like part of the team. I think the skills and learnings I got from working there are valuable."
Of Struggle and Strength: The Concept and Execution of His Collection
Ideally, working on a graduation collection would require help from patternmakers, tailors, and other suppliers, but because of the lockdown in the U.K., an unfamiliar country to him, Jessan had limited resources to work with. "The process completely reflected the concept of my graduation collection—finding beauty and power in struggle. I found myself inspired yet again and more resilient so as to not give up. I felt empowered seeing my final garments come together under these circumstances."