From rolls upon rolls of silk gazar, tulle, and lace, designer JC Buendia cuts exquisitely patterned outfits that would make a Fair Lady out of any Eliza Doolittle. His mastery of tailoring is not left unmentioned when his name and work are in any conversation, spoken with a gentle reverence and sprinkled with nothing but pleasant comments, attesting to the man's hard-earned skills, reputation, and charming demeanor as a sartorial Pygmalion—only less pedantic and more amiable; he lets his clothes do all the talking and transforming.
This year, JC celebrates his 25 years in the fashion industry that have seen him dressing up the country's former leader and Manila's genteel ladies, and leading his fashion design peers as current president of the Fashion Design Council of the Philippines (FDCP). In a five-part presentation held last August 27, he showed a 50-plus ode to what motivated him to be a designer: the drama of cinema.
ADVERTISEMENT - CONTINUE READING BELOW
Throughout: a magnificent display of his tailoring talent as seen through ensembles inspired by Old Hollywood and its regal denizens. From full dove-gray skirts that graze the ankle lovingly, a bead-encrusted coat that boldly reveals a hard-working, simpler shift underneath, a cascade of tulle on a woman's stiff-collared button-down, to an all-out gazar extravaganza of an opera coat with pillowy folds and gregarious volume, all of JC's elegant styles gleamed with a glamour even brighter than all of the show venue's adoring high-wattage spotlights.
CONTINUE READING BELOW
Recommended Videos
Not all was fraught with cinematic drama in the presentation, however. It ended with merriment, as JC would have it no other way: Like the naughty, charming Toto in Cinema Paradiso, JC gleefully made his escape from accomplishing the day's big task on a green-festooned, basketed bicycle—making an exit as characteristically jovial and charming as the man the whole industry knows him to be.
Read on to find out more about JC's 25th anniversary show from the designer himself. To see the collections, click on the photo gallery.
ADVERTISEMENT - CONTINUE READING BELOW
How does it feel to be celebrating this milestone in your career?
I couldn't believe it has been 25 years until the night of the show, seeing my classmates, my first bride, my relatives and friends who have been part of this beautiful journey.
Please tell us about your journey to this point in your life and career. There have obviously been many successes for you leading up to this point. Were there great struggles as well?
There was a time when I almost threw in the towel [in the] late '90s when grunge and club wear were the mode. I felt I didn't have a place in this industry anymore with my tailored pantsuits and Grace Kelly dresses. [But] a friend suggested I put up my own shop, and so I did. In a little less than a year, I was already making [clothes] for celebrities and then President Arroyo. It was uphill from then on.
ADVERTISEMENT - CONTINUE READING BELOW
What was the concept behind your Metro Society show?
I wanted to tell my story, why I became a fashion designer. My fashion awakening was inside the cinema. I was so fascinated with how glamorous the queen in Snow White was, how fabulous Maleficent was in Sleeping Beauty. All those movies I've watched as a child probably fills up a chip in my brain.
Please tell us about the collection you presented during the show. Was it a distillation of your design sensibility over the years, or did you explore new territory, too? What were you inspired by?
I had two suites where I used my strengths in tailoring and cutting on the bias: cutting on the bias for the second and tailoring for the fourth. The first suite was an experiment with tulle, lace and the flapper silhouette. The fifth suite, the finale, was about using tailoring techniques for red carpet numbers.
ADVERTISEMENT - CONTINUE READING BELOW
Did your muses participate in the show? If so, what is it about these women (and men) that you are inspired by?
I used mostly new models for the show. I have this jeune fille ideal. Fresh-faced, gamine, like those old movie heroines. I couldn't make new gowns anymore for my favorite clients/friends/muses who came to watch the show because I had to finish 53 sets for the show itself. I told my client/friends, "It will make me very happy if you all came in your vintage JCs!" Tee-hee.
What can we look forward to from JC Buendia next season, and in the next few years?
I wish to have a ready-to-wear line, a store actually, a store that would sell not only party dresses but clothes to wear for gardening, cooking, travelling... and of course watching movies. Life is short. I believe one should dress well all the time.
ADVERTISEMENT - CONTINUE READING BELOW
Click here for JC Buendia's Designer Directory.
Follow Style Bible on Twitter, Facebook, and Tumblr for more on Filipino fashion!
Hey, Preview readers! Follow us on Facebook, Instagram, YouTube, Tiktok, and Twitter to stay up to speed on all things trendy and creative. We'll curate the most stylish feed for you!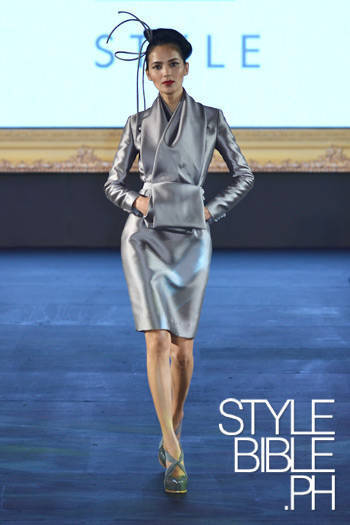 Hey, Preview readers! Follow us on Facebook, Instagram, YouTube, Tiktok, and Twitter to stay up to speed on all things trendy and creative. We'll curate the most stylish feed for you!