Color-blocking was one of last year's biggest trends, one that many designers banked on both when it came to apparel and accessories. Janina Dizon-Hoschka, the stylish jeweler behind Janina for Jul Dizon, capitalized on the lively trend to propel the expansion of her label. Using to best advantage her impeccable eye for color and taste for luxe materials, she launched the Tatjana, a slim color-blocked clutch whose simple design spotlights the luxurious components of the bag: exotic skins such as stingray, crocodile, water snake, ostrich, and lambskin. And if that decadence isn't enough, the Tatjana is also crowned with a petite diamond embedded on the top flap!
"I constantly think of ways for my line to evolve and it was a natural progression to introduce a handbag line," Janina tells us. Being a seeker herself for the perfect accessories to complete her well-put together outfits, she thought that these peppy handbags in their "delicious, sunny colors" would perk up the wardrobe of fellow fashion-loving individuals. The line started from an exclusive run of 30 pieces, but clamor for the candy-colored clutches required Janina to produce more, resulting in even more delectable color and exotic leather combinations. If, for some reason, the 60-odd readily available styles leave you hankering for more, Janina also accommodates bespoke orders, letting you customize colors, materials, and placement of that fab diamond.
ADVERTISEMENT - CONTINUE READING BELOW
The Tatjana has gained widespread exposure in plenty of fashion glossies such as Elle Singapore and Style Singapore, but the biggest coup for the colorful clutch so far is a November 2011 feature in Vogue.com, where the Tatjana is listed as a must-have—alongside other covetables from Lanvin, Alexander McQueen, and Hermès—for "The Social Shopper: How to Be (Just a Little) More Bold This Season" shopping guide.
ADVERTISEMENT - CONTINUE READING BELOW
As a treat this Valentine's, Janina for Jul Dizon will be having a sale starting today until February 10. Now's the perfect time to grab the Tatjana, as it is available at 20% off. Several pieces of jewelry for both women and men (Janina Homme) are also up for grabs at great discounts. Click here to see some of the amazing discounted jewelry waiting for you at her Peninsula Manila store!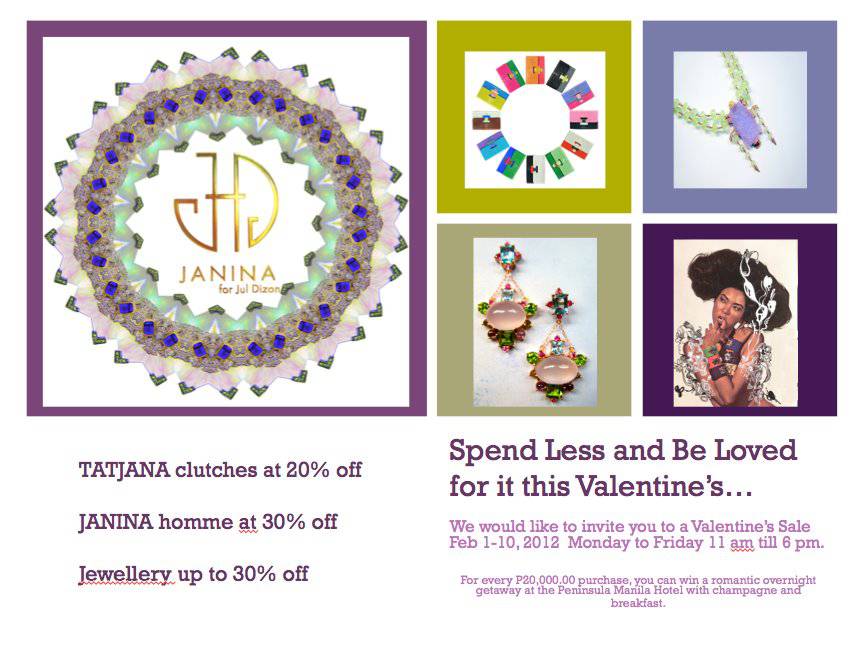 ADVERTISEMENT - CONTINUE READING BELOW
Click on the photo gallery to view Janina for Jul Dizon's Tatjana clutch.
Click here for Janina Dizon-Hoschka's Designer Directory.
Click here for Janina for Jul Dizon's Store Directory.
Follow Style Bible on Twitter, Facebook, and Tumblr for more on Filipino fashion.