Okay, not the exact same pair I had in grade school—I parted with those a long time ago. But didn't everyone have a pair of chunky Skechers sneakers and considered themselves cool? In grade school, my younger self (along with the other Catholic school girls in my batch) belonged to that particular demographic, so imagine my surprise upon seeing a relic from my formative years reemerge as the au courant sneaker of today.
What: Skecher's D'Lites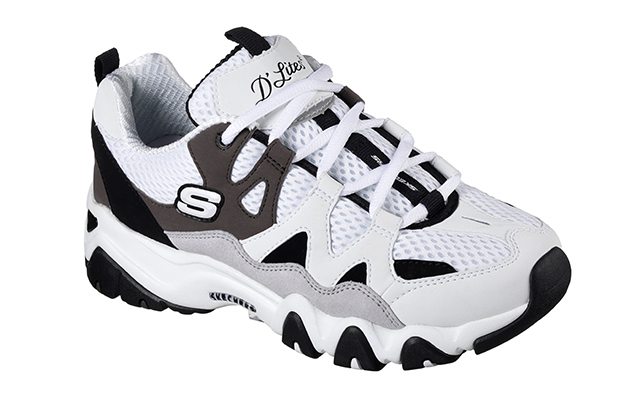 ADVERTISEMENT - CONTINUE READING BELOW
IMAGE Sketchers
D'Lites 2 Sweet Monster in Gray/Black, P3890, SKECHERS, The Nines, Uptown BGC
But how, you ask, did these orthopedic-approved sneakers snag their spot on a fashion pedestal? Let's just say it all started with Balenciaga's Triple S sneakers.
After making their appearance at Balenciaga's Fall/Winter 2017 show, the bulky silhouette was quickly touted as the one to sport, launching a slew of chunky sneaker-wearing fashionphiles.
CONTINUE READING BELOW
Recommended Videos
ADVERTISEMENT - CONTINUE READING BELOW
Current Condition:
Before dad sneaks stole the limelight, I was into sporting discreet white sneakers in every iteration—slip-on, laced, canvas, leather, rubber, you name it. The more streamlined the sneakers were, the more inclined I was to buying them. As a child, my siblings constantly picked on me for having wide feet, and as a result, I've always had an aversion to any footwear that made my feet loom larger than they already are. So when dad sneakers were slowly making their rounds, I didn't pay much heed. That is, until I saw this picture of Liz Uy sporting a pair of shoes from my younger years.
ADVERTISEMENT - CONTINUE READING BELOW
There they were in their chunky glory, except she didn't look like a kid in her P.E. uniform or like a dad heading to the grocery, for that matter. She looked...well, undeniably cool.
After seeing that (and a couple of hours perusing the interwebs for more inspiration), I decided to try out the trend.
ADVERTISEMENT - CONTINUE READING BELOW
How I Used Them:
The sneakers arrived at my desk and I gave myself a challenge: to wear them for one week straight and find an easy outfit combination that will help make the difficult trend a little more wearable.
DAY 0
As soon as I got home that evening, I shoved my feet in the sneakers and styled myself an outfit for the next day. I looked at my outfit and thought, "Okay, this seems decent." Before I changed into my pajamas, I passed my parents' room to get my dad's opinion.
"This is a new trend I'm trying. They're called dad sneakers," I said as I brandished my thick soles. "Oh, your dad will agree. That's exactly what he wore during his time," my mom replied. My dad, ever the wordsmith, gave the shoes a once-over and grunted as a sign of his approval.
DAY 1
ADVERTISEMENT - CONTINUE READING BELOW
Today I went the safe route and paired the sneakers with an outfit combo I reach for often: a little black dress with an uneven hem and an oversized denim jacket. The first thing you'll notice as soon as you slip into these sneaks is how comfortable they are. With memory foam built into the sole, the cushioning is amazing; I was able to walk in them all day without feeling discomfort.
ADVERTISEMENT - CONTINUE READING BELOW
IMAGE Mark Buenaobra
As I walked, nay, bounced to my cubicle in the morning, I was greeted by a couple of oohs and aahs at my choice of footwear. Fashion girls know where it's at, so I wasn't surprised when my teammates noticed my sneakers. It was a day of events and I wanted to see the reaction to my suddenly very large feet.
"Oh my gosh are those Skechers? I had those when I was in grade school!" were the usual comments I got that day.
DAY 2
Today I wanted to try something different with the shoes. I was hesitant at first, on account of the added bulk, but I wore them with ringed athletic socks that covered my ankles and paired my sporty-looking feet with a ruffled skirt and black tee.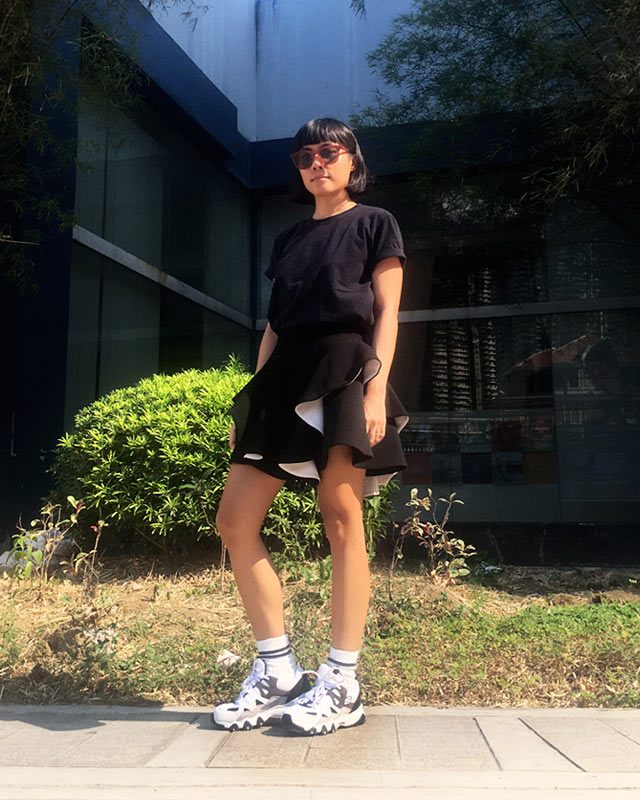 ADVERTISEMENT - CONTINUE READING BELOW
IMAGE Mark Buenaobra
I felt like my feet were encased in moon boots and that the shoes made my small stature (I'm a mere 5'2") look even shorter, but despite that I felt really good (not to mention comfortable) in the look I put together. Having that extra bit of height helped, since the shoes lift you off the ground about an inch and a half.
DAY 3
Today I needed some guidance, and I turned to Bella Hadid for an outfit combo that was appropropriate enough for a day of events.
I came across this picture and got to work. I loosely based my look on Bella's and made my blazer the main piece. Underneath I wore a crop top to help stave off the heat and added shorts since I couldn't close my blazer.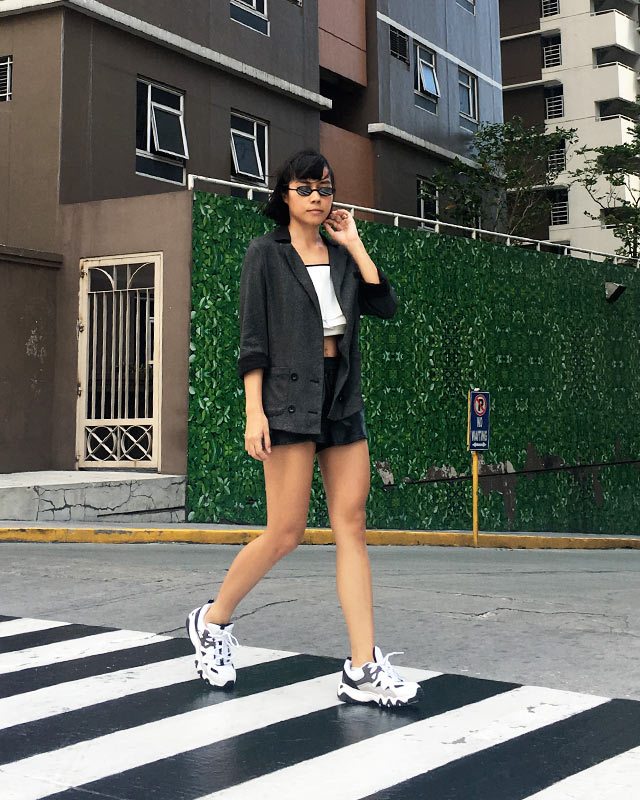 ADVERTISEMENT - CONTINUE READING BELOW
IMAGE Mark Buenaobra
By this time the sneakers were really growing on me, and becoming more comfortable with every step, too. I noticed I walked faster with them, easily surpassing other pedestrians with my comfortable stride. My step had a bit of a bounce to it, and it was a welcome cushion against the hard pavement.
DAY 4
After wearing the sneakers with shorts, a dress, and a skirt, I decided to delve into baggier territory and longer lengths for variety's sake. I got my boyfriend jeans out and paired them with a black crop top and added a thin windbreaker up top.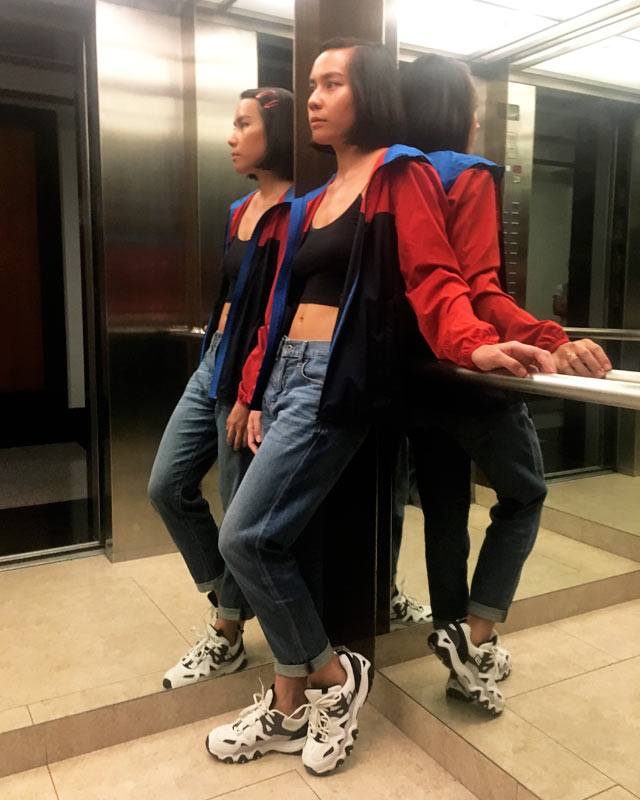 ADVERTISEMENT - CONTINUE READING BELOW
IMAGE Mark Buenaobra
I have to say this was my least favorite look. The baggy pants paired with the bulky shoes made me feel like I was embodying daddy fashion in the least flattering way. Looking at the picture, the outfit didn't look as bad as I felt in my head, but if you're a beginner this maybe isn't the easiest way to try the trend.
DAY 5
Hello, Fri-yay! For an especially warm day spent at the office, I donned a monochromatic white look with a bucket hat to shield myself from incidental UV rays.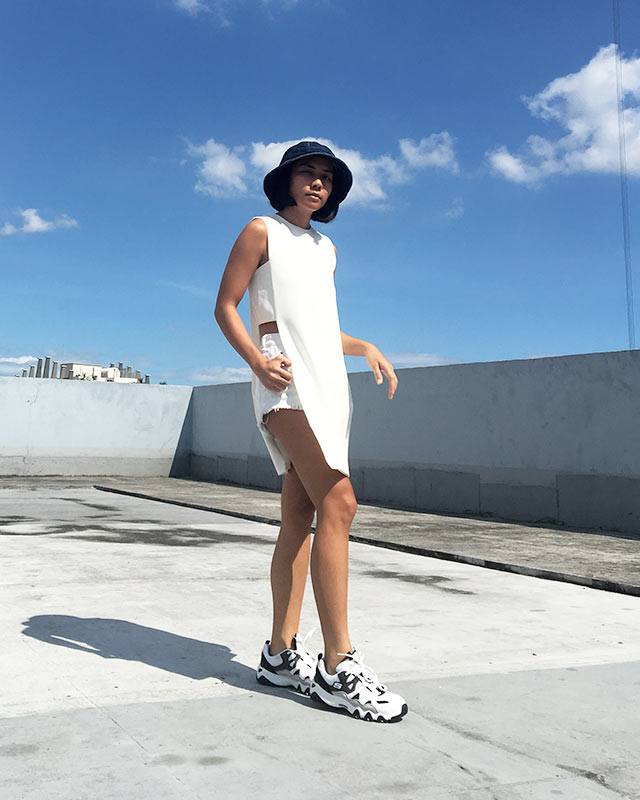 ADVERTISEMENT - CONTINUE READING BELOW
IMAGE Mark Buenaobra
This was the last look of the week and my favorite, too. And after experimenting with different looks, I found that the easiest way to wear chunky sneakers is to pair them with something short. Contrasted against bare legs, the chunky silhouette is a little more forgiving, and when you consider the added height from the clunky sole, it helps elongate you even more.
Conclusion:
I started the challenge feeling a little apprehensive with the added bulk around my feet. But as the week flew by I found myself getting really attached to the look. When I slipped into my usual sneakers, I felt a little incomplete. Gone was the little height boost I always looked forward to, and so was the bit of nostalgia the shoes brought me every time I looked down at my feet.
Fast forward to the present day and now I can't stop wearing them. I've worn my beloved chunky dad sneakers every week ever since I got them and don't regret it one bit. I suppose the real lesson here is that you shouldn't be afraid to dive head first into something that scares you. After all, isn't fashion is the perfect avenue to get you out of your comfort zone?
ADVERTISEMENT - CONTINUE READING BELOW
Related Stories from Preview.ph
Hey, Preview readers! Follow us on Facebook, Instagram, YouTube, Tiktok, and Twitter to stay up to speed on all things trendy and creative. We'll curate the most stylish feed for you!