We want you to party with us at this year's Preview Best Dressed Ball. But first, we need you to get clicking. If you can get one of three questions that we'll be tweeting correct then you might just score two invites to the ball. No worries, this will be a piece of cake for regular disciples as all answers lie within the site.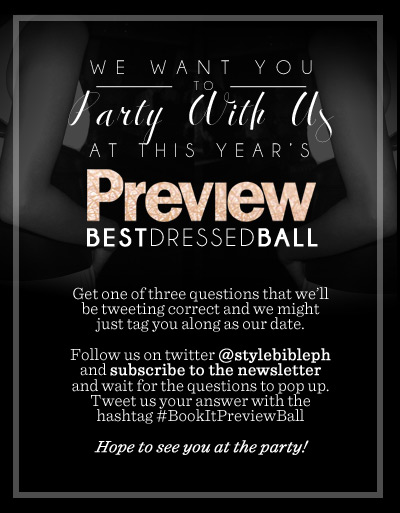 ADVERTISEMENT - CONTINUE READING BELOW
Follow us on twitter @stylebibleph and subscribe to the newsletter and wait for the questions (with #BookItPreviewBall) to pop up. Tweet us your answer with the hashtag #BookItPreviewBall. Each question will be closed upon the release of the next so get your fingers ready to type in the text! We'll fish out three lucky tweeters on the 17th of June, 2014 to come and join us at this year's biggest fashion party. Enjoy a session of Style Consultation with us, too, so we can help you prepare your outfit and your look.
Ready? Get clicking!