It was on top of Hierve el Agua in Oaxaca where my then boyfriend, Bruce Ricketts, proposed. He asked the question just before my birthday last year not with an engagement ring but with a pair of diamond earrings, since earrings are my favorite kind of jewelry. And so from the get-go it was clear that we weren't going to stick to traditions.
We immediately knew we had to get married in our favorite country, Japan. We wanted a nondenominational ceremony that would combine both Japanese and Filipino wedding elements, to be held in fall. I wanted a long engagement to plan it all because Bruce's schedule as a chef is very demanding, and I wanted to take as much time as possible. We did numerous oculars—more than a dozen—all over Japan because it wasn't enough for us to see photos online; it was essential for us to taste the venues' food as well.
ADVERTISEMENT - CONTINUE READING BELOW
More and more Japanese couples opt for Western-style ceremonies, complete with a white gown, a chapel ceremony, a dinner reception and a party after—though typically not in the same magnitude that we do weddings here in Manila. I had to explain to many Japanese planners that the full wedding day I wanted was normal in my country, and they balked at the extravagance of it all.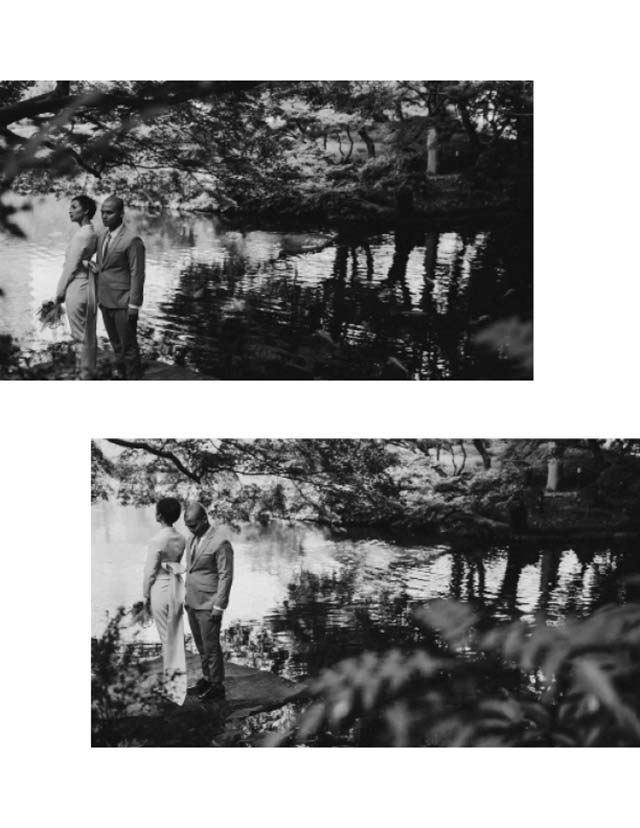 CONTINUE READING BELOW
Recommended Videos
IMAGE Mango Red
There are so many Japanese wedding companies that facilitate everything for brides-to-be; they have a roster of venues to choose from, and will take care of coordinating everything from the couple's attire to the photography, the ceremony and the food, the works. If Bruce and I were a more laid-back couple, it would've been so easy to sign up with one of these companies. Unfortunately, none of the arrangements felt quite right. If the venues were breathtaking, the food was ordinary—a guaranteed dealbreaker. At first, I thought the most difficult part of planning a destination wedding in Japan would be to secure a venue. Turns out that was the easy part: After scouring Japan's bridal websites armed with Google Translate, I found so many contenders, but when we actually sampled their cookie-cutter omakases in person, our hopes were dashed. I mean, it's only understandable for a chef to want the best meal for his wedding, and short of asking our favorite chefs in Tokyo to cater for us and blowing our life savings to smithereens in the process—or getting married in a restaurant, LOL—finding a gorgeous venue with exceptional food was just too much. When things didn't look up after the 12th cross-country ocular, we had to restrategize.
ADVERTISEMENT - CONTINUE READING BELOW
One day last June, Bruce proposed again: He asked if we could get married in July in time for his birthday. Sans new earrings, unfortunately, but I said yes—hesitantly. I had no idea how I was gonna pull off a wedding in four weeks, but screw it—challenge accepted! So we ditched all of our meticulously laid-out plans to hie off and get hitched stat, secretly, in Tokyo.
THE WEDDING PLANNER
We had exactly four weeks to pull it off, and we did it without anyone—except for our immediate families, and only at the last minute—knowing. In the midst of closing Preview's September 2017 issue and Bruce's daily grind at Mecha Uma, we were researching and compiling the requirements of a civil wedding in Japan.
We didn't have a wedding planner and arranged everything ourselves. I was determined to approach it like a shoot for the magazine, with permits to secure, venues to be scouted, clothes to be prepared, and a team to be booked. I figured I already do that for a living, so doing the same for my wedding wouldn't be so difficult. But of course it was—the language barrier alone was an ordeal. The months prior spent on coordinating oculars with so many Japanese wedding companies kinda gave me a certain fluency—so much so that it has become a running joke that I could start a destination-wedding planning business.
ADVERTISEMENT - CONTINUE READING BELOW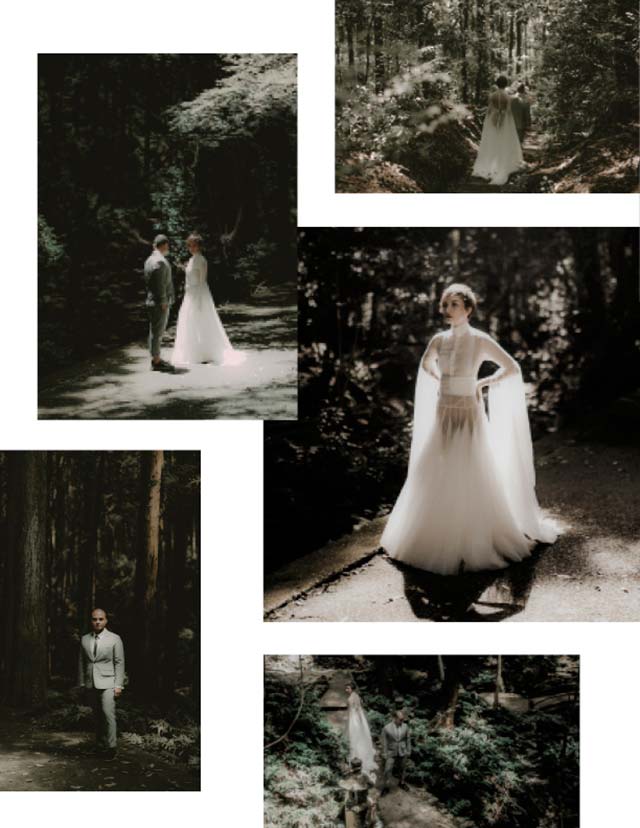 IMAGE Mango Red
Since it would've been understandably difficult for our friends to join us on such short notice, we decided to keep it a family-only affair. The tiny guest list had obvious benefits: Venues were easier to book, for one, and travel arrangements were faster to make. We also didn't feel the need for an after-dinner party, and opted instead for two receptions, during lunch and dinner. It was a lovely way to spend our first day as a married couple: eating all day with the people who raised us and saw us grow.
ADVERTISEMENT - CONTINUE READING BELOW
THE COUNTDOWN: FOUR WEEKS TO GO
We didn't want a destination wedding that wouldn't be legally binding, so the actual ceremony had to be done at the Philippine Embassy in Tokyo. Rajo Laurel and his sister Venisse helped us coordinate with the consulate (Ambassador Jose C. Laurel, the Philippine ambassador to Japan, is their dad). And just like getting civilly wed in Manila, we had to secure a marriage license before anything else.
The requirements to get married there are pretty much the same here, including the 10-day waiting period between the issuance of the marriage license and the wedding date. We flew to Tokyo to apply for the license at the end of June, and the trip was a welcome breather in a hectic week of decision-making that would see us married way earlier than we had ever imagined.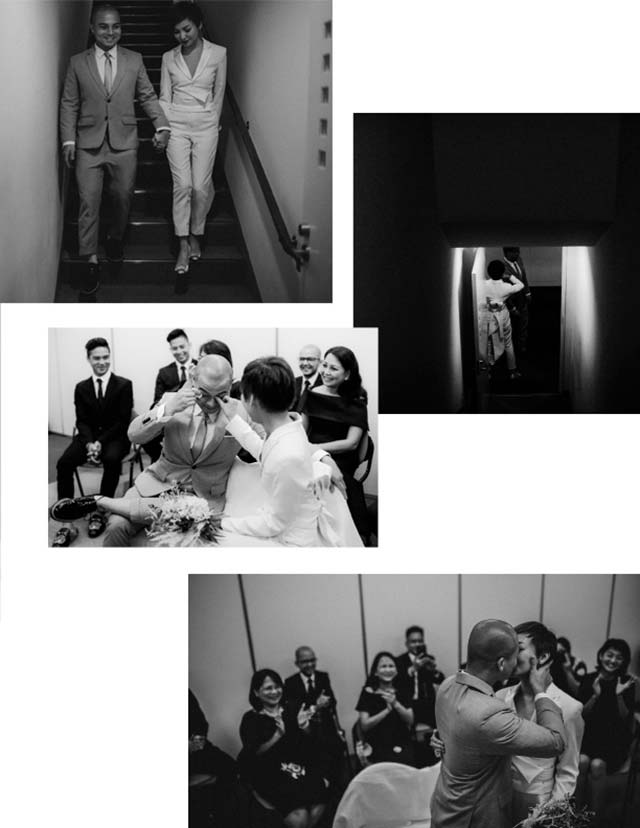 ADVERTISEMENT - CONTINUE READING BELOW
IMAGE Mango Red
THREE WEEKS TO GO: OPTICS AND LOGISTICS
We booked MangoRed to chronicle the big day and capture the atmospheric mood in our post-nup shoot, which also doubled as a mini honeymoon, in Amanemu, a resort just a yen's toss away in Ise-shima, a sleepy fishing town renowned for pearls and for supplying seafood to the imperial household since the fifth century.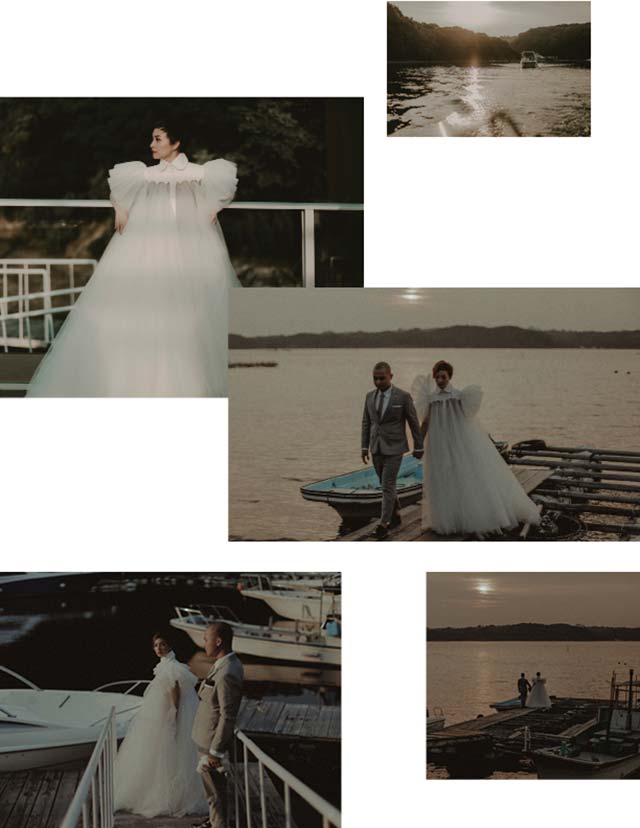 ADVERTISEMENT - CONTINUE READING BELOW
IMAGE Mango Red
We booked Kyubey, one of Tokyo's most renowned sushiyas, for the lunch reception, and for dinner, Sekishin-tei, an absolutely charming teppanyaki restaurant nestled within the 400-year-old gardens of the New Otani. We didn't spend money on table settings, flowers and production design, and instead spent the budget on great food in a storied location. Who needs flowers if you have otoro and an Aman villa?!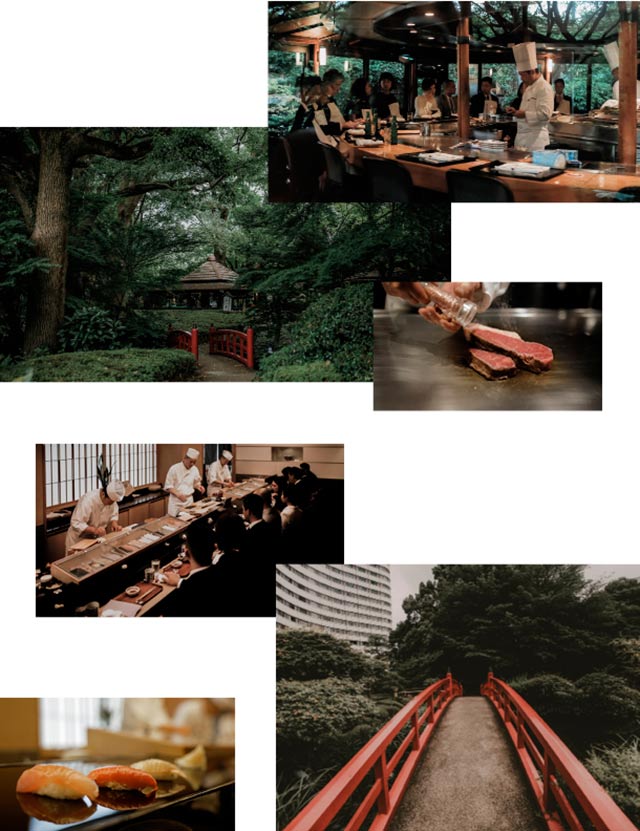 ADVERTISEMENT - CONTINUE READING BELOW
IMAGE Mango Red
TWO WEEKS TO GO: THE LOOKS
With visa concerns, venue bookings and the like, the dress was actually the last thing on my mind. All I knew was that I wanted to wear a tailored look for the wedding ceremony. Gian Romano, an absolute fave, knew I wanted a sharp suit situation that was more Japanese than the Bianca Jagger variety. I sent him a peg of a YSL jumpsuit, circa Hedi Slimane, and he created an impeccable off-white version with a detachable obi with an oversized trailing sash at the back, which my groom was meant to tie for me before the ceremony. And yes, we didn't follow the tradition of not seeing each other before the wedding—it meant so much more to us to be together throughout, to go through the jitters together, and to help each other prepare for what we were about to do. That was so much more symbolic for us than being separated before our vows, and besides, I had three more dresses that I didn't let him see!
ADVERTISEMENT - CONTINUE READING BELOW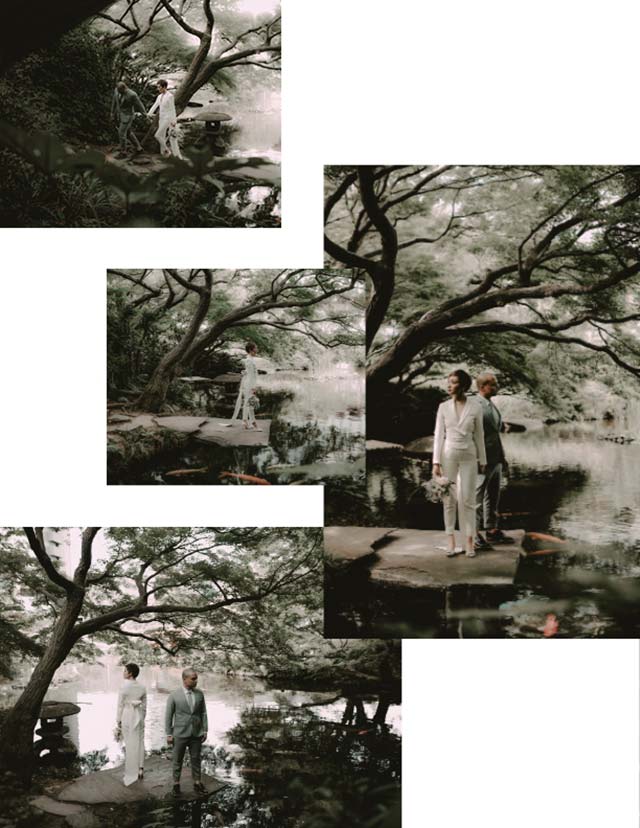 IMAGE Mango Red
I also asked Joey Samson to make one look that would satisfy the desire of every bride—even an anti-bride—to wear a monumental wedding gown. He sketched five designs that made me totally forget about baggage allowance; I asked him to make two. The first dress was a sylvan design perfect for our forest location near Amanemu. Joey being Joey, there was androgyny in the cummerbund and the tuxedo-shirt pleating of the upper bodice.
ADVERTISEMENT - CONTINUE READING BELOW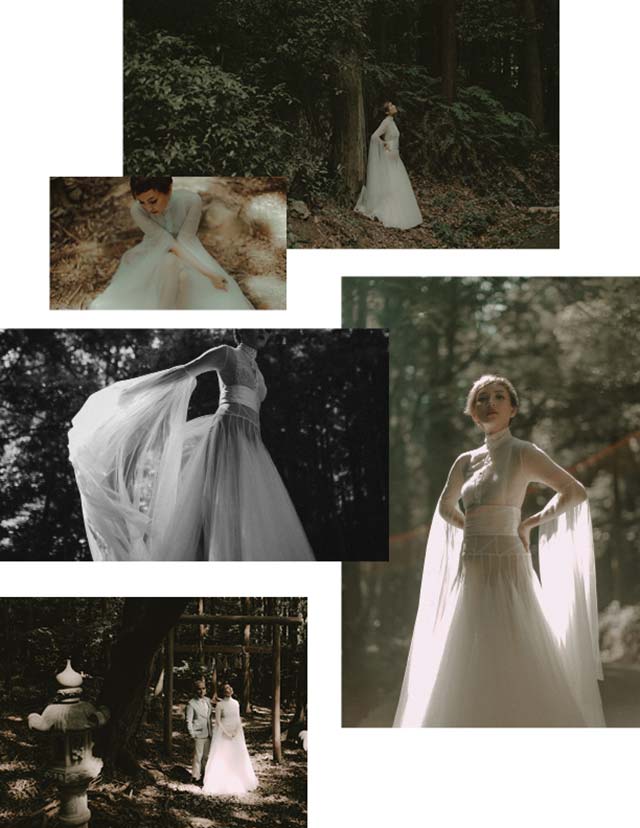 IMAGE Mango Red
The second dress was a maximalist tulle confection—a total foil to the sleek, simple gown I would've worn if we had a traditional wedding, and it stood in ethereal contrast to the languid fishing village we shot in along Ise-shima.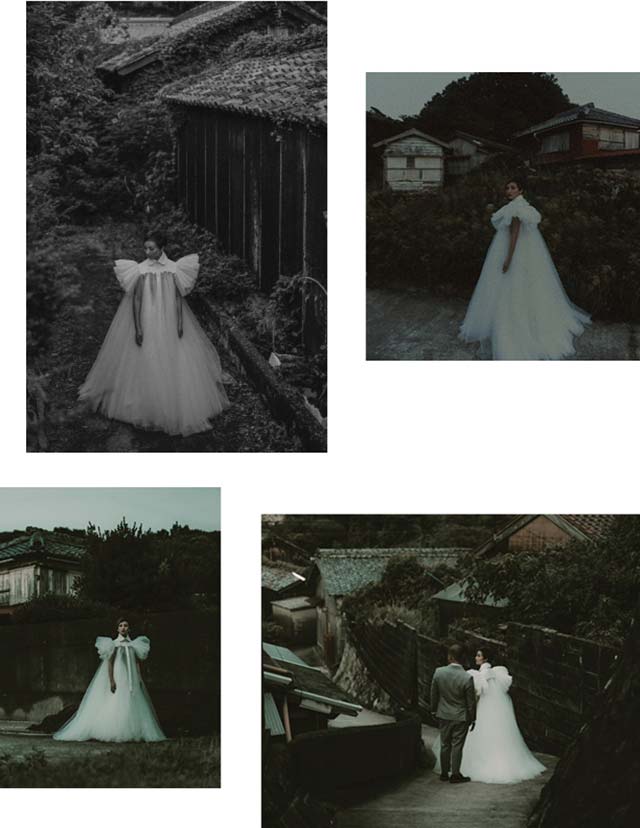 ADVERTISEMENT - CONTINUE READING BELOW
IMAGE Mango Red
The last dress was a robe-kimono by Arnold Galang, who also did the black dresses of the women in our families. This was meant to be a take on the bridal robe, but with an obi instead of a sash, which I turned around and wore in front, paired with what I'd like to call my signature: earrings longer than my hair (forever).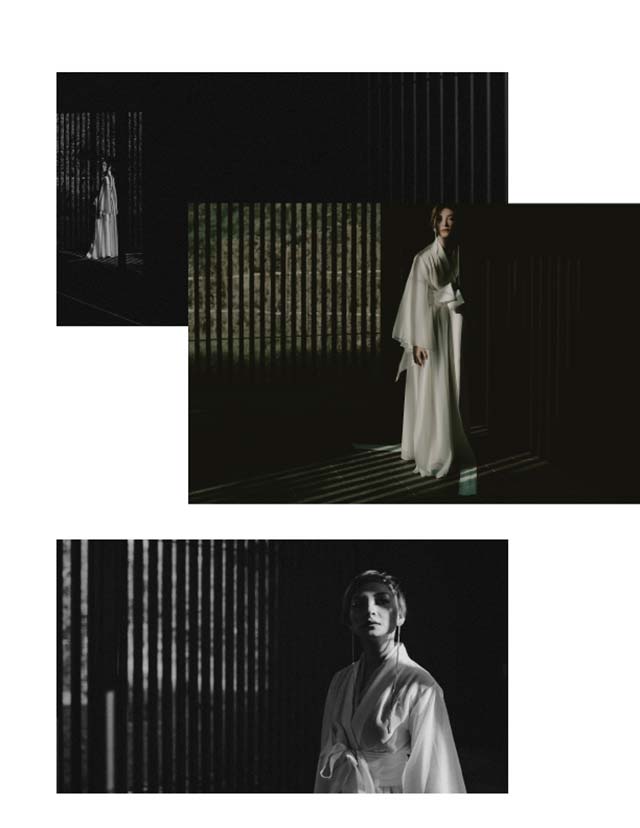 ADVERTISEMENT - CONTINUE READING BELOW
IMAGE Mango Red
ONE WEEK TO GO: THE FACE, FLOWERS AND FOOTWEAR
I decided to do my own makeup for the wedding, so I asked Don de Jesus of MAC Cosmetics to teach me how to do my face just a few days before we were set to leave. Over Ooma makis and donburis at home, he taught me a neutral bridal look by painting half of my face and letting me recreate it on the other half. But on the day of the wedding, I diverted and did a red lip, which just felt so right in all its kabuki drama. MAC's Ruby Woo stayed on all day, even after a sushi omakase and a teppanyaki dinner.
I scoured Instagram for a Tokyo florist that could do a dry floral arrangement, so that in case I wanted to hold flowers again in the post-nup shoot, I wouldn't have to worry about keeping my bouquet alive.
ADVERTISEMENT - CONTINUE READING BELOW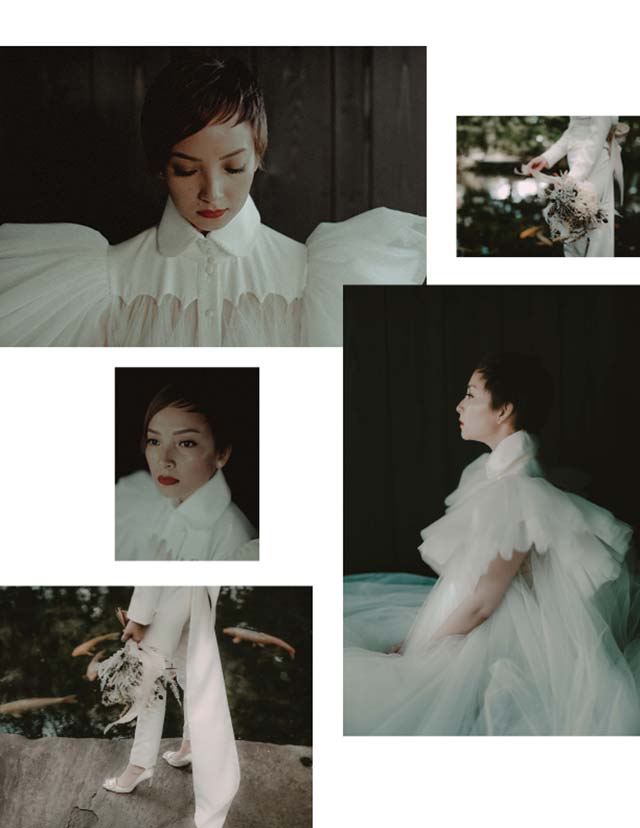 IMAGE Mango Red
The biggest problem I faced concerned the shoes. I had chosen a pair of white, python-skin Tom Ford pumps online, which I wanted to ship to our Tokyo hotel so that it would just be waiting for me. But a few days before we were set to leave, I was told that it couldn't be shipped to Tokyo because of import restrictions. I requested for it to be shipped to the States instead so that Bruce's brother could bring it, but someone had made an error in the warehouse, so it couldn't be delivered before his flight. You can only imagine the conniption that ensued. I had no choice but to look for a pair in Tokyo, but even there I was in trouble: The Jimmy Choo pair I chose as backup had never been available in Tokyo, which totally caught me off-guard. Who would've thought that Tokyo, of all fashion capitals, wouldn't carry a complete selection?! I ended up with a pair of classic Roger Viviers, bought just the night before the actual wedding.
ADVERTISEMENT - CONTINUE READING BELOW
THE WEDDING
All proceeded beautifully on the day of the wedding. We thought the civil ceremony would last all of 15 minutes, with little else than a contract signing, but the consulate made everything so special for us. They asked us to say our vows, which we were utterly unprepared for, by the way, so it was an impromptu affair filled with so much laughter—and yes, tears. Our families were also asked to share their well wishes and advice, so everyone basically gave a speech. It was a total sobfest.
The rest of the day was so chill: the sushi reception was followed by a photo shoot in the New Otani gardens, then dinner. There was no awkward first dance, no cheesy wedding program to get through, no cleanup or egress to facilitate after. We weren't exhausted at the end of the night because we didn't have to worry about making sure we hobnobbed and partied with all of our guests. We just let it all sink in. We feasted. We focused on ourselves. We reveled in the new us, and that was revelry enough.
ADVERTISEMENT - CONTINUE READING BELOW
NEW RULES
Up until it was all finished, I wasn't entirely sure that I didn't want a "big" wedding anymore, with an entourage, a boozy party—the works. But weddings have become too synonymous with those very same conventions. While I understand the importance of tradition, it was so much more important to us to put ourselves first, and that meant not hewing to tradition, even if that meant being my own wedding planner, producer, sittings editor, subject, stylist, makeup artist and hair stylist of the biggest wedding-slash-shoot I've ever had to produce. LOL.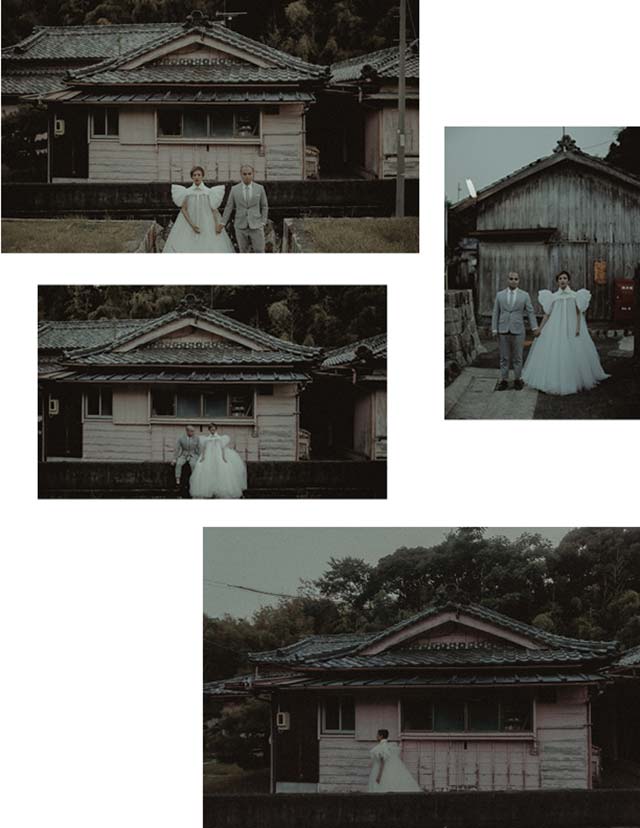 ADVERTISEMENT - CONTINUE READING BELOW
IMAGE Mango Red
We broke away from the norm and upended so many rules, and we can honestly say we got married on our own terms. Besides, if we really wanted to do it the classic way, we now have so much more time to plan a big wedding and get hitched all over again. And when we do, I'll be sure to stay away from exotic skins and have more than four dresses—the flower budget will just have to give way again.
Related Stories from Preview.ph
Hey, Preview readers! Follow us on Facebook, Instagram, YouTube, Tiktok, and Twitter to stay up to speed on all things trendy and creative. We'll curate the most stylish feed for you!