Winning a pageant is the result of a lot of blood, sweat and tears—and the precise expertise of pundits who've been studying pageants and beauty queens long before the next titleholder even imagined wearing the crown. We hold our own Q&A with the Aces & Queens experts. (A caveat: They won't really reveal everything.)
What's in the survival kit of any beauty queen?
Bessie Besana: Compact, lipstick. A shawl or scarf would also come in handy for styling purposes and in case she finds it cold. But confidence is still what matters most.
Janine: False eyelashes, tanning spray, hair extensions, and a lot of pre-pageant training.
How does one nail a Q&A?
Nad Bronce: According to Louis Pasteur, chance favors only the prepared mind.We train and train for this round. We ask questions; the girls answer and critique each other. We cover all areas. We do not only train for possible pageant questions. We also train the girls so that they gain additional knowledge and widen their perspectives. Some tips:
ADVERTISEMENT - CONTINUE READING BELOW
- Usually, judges don't have time to ponder over the answers of the candidates. What the judges remember most is how the candidate delivered her answer. Form and substance (of the answer) must always go together, but if the right answer escapes them at the moment, then they should simply deliver their answers with confidence. BPCI gives excellent training in this department.
- The girls should have the option to use their mother tongue. The purpose of the Q&A is to show a candidate's take on issues or situations, and not test her English fluency. However, English is important as a language, especially for a Miss Universe because she has to stay in New York, travel to different countries, and work with organizations on their programs and advocacies.
- Give a seamless, substantial answer delivered with confidence and conviction. (The specifics are trade secrets that our girls learn during their training sessions!)
CONTINUE READING BELOW
Recommended Videos
I don't really have a talent to showcase. Should I just go home now?
Arnold Mercado: It doesn't really matter. Focus on facets that are relevant, such as fitness training, walking and projection, and Q&A preparation. The talent special award is given to recognize a unique talent, but it does not add to the score.
How should I pose for pageant photos?
Arnold: Fall in love with the camera. Smile with your eyes, so to speak. Know your best angles. Do mirror exercises, observe yourself, and take lots and lots of #selfies.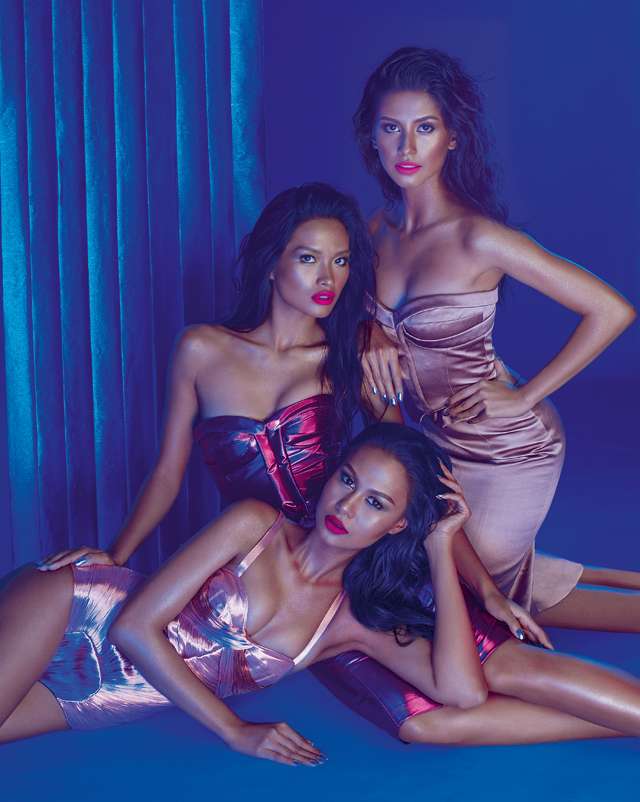 ADVERTISEMENT - CONTINUE READING BELOW
IMAGE BJ Pascual
Shamcey Supsup, Janine Tugonon, and Venus Raj posed like pros in Burberry for our May 2013 cover story.
How should I stand onstage?
Jonas Gaffud: One has to always feel and look confident—but not overly confident. Your stance onstage should have a commanding presence but not too Pageant Patty [read: trying too hard]. You have to look calm, elegant, sophisticated. You don't have to always put your hands on your hips especially if you don't know how to execute it.
What are pageant-proven hair and makeup tips?
Albert Kurniawan: Beauty pageant makeup is different in that, for editorials, we can follow the trends or a mood, but for beauty pageants, you have to highlight the contestant's features. You can't really experiment that much.
- I usually play up the eyes; we really have to make their eyes look more expressive, striking. The eyes also sort of show the contestant's character—and character plays a big role in a beauty contest.
ADVERTISEMENT - CONTINUE READING BELOW
- For the hair, I ask the girls what style they're comfortable with. I then analyze their face shape and features, then I decide if hair should be let loose, curled, straightened or kept away from the face.
- Foolproof products in my kit: I recommend NARS' Oil Primer and Skin Smoothing Primer.
- Always start with clean, hydrated skin; use skin care products before applying makeup. Primer supports the makeup and enhances its pigmentation; makeup also lasts longer with it.
What should be my fitness level going into the competition?
John Cuay: Every girl has different fitness needs. Venus, for example, had a good midsection but needed broader shoulders for better proportions so we did upper-body strengthening. We also toned her inner thighs. Janine, though trained as a ballerina and has developed muscles, needed guidance with nutrition. We also did core and weight training—same with Shamcey, who needed to gain muscles to show some curves. To achieve your ideal body, 80-percent of the work relies on good nutrition, 20-percent on exercise.
ADVERTISEMENT - CONTINUE READING BELOW
- Diet breakdown should be: 50-percent complex carbs from fruits and vegetables—ideally raw, like salads and fruits; 30-percent lean protein, no red meat, mostly chicken and fish—organic, preferably; 20-percent healthy fats, like avocado, nuts, etc.
- Exercise: Do four hours of dance-based cardio per week. Why dance-based? It helps with your walk. Do weight training five times a week, minimum of an hour and maximum of one-and-a-half hours [per workout].
This story originally appeared in Preview's May 2013 issue. You can downlaod back issues of Preview here.
Related Stories from Preview.ph



Hey, Preview readers! Follow us on Facebook, Instagram, YouTube, Tiktok, and Twitter to stay up to speed on all things trendy and creative. We'll curate the most stylish feed for you!