Everyone loves a juicy story, but what happens when it's about you?
This is exactly what happened to the spunky "New York-based fashion designer" Carla Sta. Cruz who is set to launch her namesake and diffusion lines (the latter called Guerra Manila) on home ground.
She burst onto the scene when Victoria Herrera profiled her as a designer "making her mark in the fashion mainstream" in the 2bU section of the Philippine Daily Inquirer's March 8, 2013 issue. She told Herrera that she had studied at Parsons, designed three bag collections, and was seleced by Grace Coddington for an internship at Vogue. 16 days later, Sta. Cruz got into trouble when another writer from the same broadsheet, Raoul J. Chee Kee, released another story that questioned the accuracy of Sta. Cruz's statements.
"A quick online check of the list of current students at Parsons revealed no one named Carla Sta. Cruz, although she e-mailed this writer a screen cap of the school's web page," he wrote.
ADVERTISEMENT - CONTINUE READING BELOW

CONTINUE READING BELOW
Recommended Videos
A screen cap of Raoul J. Chee Kee's piece for the Inquirer titled "Marie Carla Sta. Cruz is a bag designer–or is she?"
At the same time, a Tumblr account put her bags side by side with those of other designers that she had allegedly copied.
So imagine our surprise when last week, a representative of Sta. Cruz invited us to preview her new bags, ahead of what was apparently the launch of her business in Manila. (A second interview also transpired via phone.) Her impressive story about how she managed to raise capital from selling bags that she made for school projects at Parsons (she sold them to "well off neighbors," she said) certainly had us hooked. But things just didn't add up.
ADVERTISEMENT - CONTINUE READING BELOW
When asked about her stint at Vogue, she said, "It was like a one day-two day thing."
And despite insisting, in previous interviews, that she doesn't copy bag designs - and that suppliers in China actually copy her - the bags currently displayed on her website still look a lot like other bags. Like this thing that looks like a Louis Vuitton Neverfull, in epi leather.
ADVERTISEMENT - CONTINUE READING BELOW
Sta. Cruz's "Amelia" bag.
What amazed us was her commitment to diverting attention away from the topic; not really changing the subject but sort of sidestepping it. And while we don't advise the same kind of sketchy behavior to any designer who's just starting out (trust is a huge part of the designer-client relationship, after all), we feel for people like Carla Sta. Cruz, who want to start over. Hers is a cautionary tale, that anyone who's ever had a bad review about their product or work ethic would understand.
So in the event that you find yourself having to do damage control, here are a few tips that might just help you out.
ADVERTISEMENT - CONTINUE READING BELOW
TIP #1: Never, ever, poke the beast that waits
By beast we mean the internet. To be the topic of interest in a bash blog or status update may tempt you to give a reaction but by all means DO NOT. The beast will be sitting there, waiting for you to react. And the moment you do, it'll eat you whole and call on its friends to partake of the meat.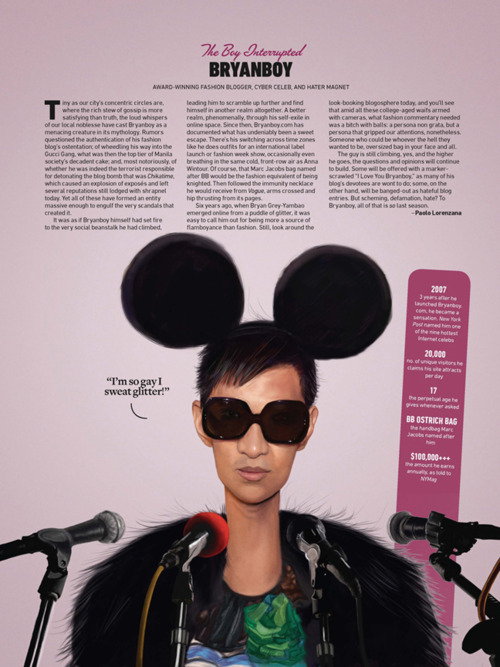 ADVERTISEMENT - CONTINUE READING BELOW
An illustrated Bryanboy in Rogue Magazine
Bryanboy is no stranger to bad press. In 2008, Bryan and a few other society page staples were caught up in Gossip Girl-like drama when the notorious website ChikaTime popped up. Bryan was the alleged brain behind the site which crushed many other reputations like ground beef. Despite the allegations, not once did he admit to owning the said site. All he did was keep his mouth shut. This now leads us to tip number two…
ADVERTISEMENT - CONTINUE READING BELOW
TIP #2: "No comment" is still a story
People will want to get to the bottom of the story and will ask questions. Don't try to get the last word as it will be a never ending race. Getting caught in a web of lies that you've made will be hard to get out of once the press snoops around. But if you're really convinced about your side of the story, then off to tip number three you go, which is…
ADVERTISEMENT - CONTINUE READING BELOW
TIP #3: Keep on talking
Bury your false statements with other statements, and hope people get so confused, they won't know what to hold against you. Of course, that doesn't really appease their feelings of doubt. In Sta. Cruz's case, despite the follow-up piece that Inquirer ran and the Tumblr account that put her bags side by side with those of other designers, she addressed the allegations on different occasions, always with a slightly revised spiel. We recommend this only if you are too-too desperate. Otherwise...
ADVERTISEMENT - CONTINUE READING BELOW
TIP #4: Hire someone to rebuild your reputation
Like it or not, reputations these days are built online. Twitter, Facebook and Google are the primary platforms on which people see information about you. If you can't do the damage control yourself, get a PR to seed good articles. You'll be surprised that there are companies that actually do that, like Reputation.com and Onlinerepmanagement.com. The way they work is they hire a team to write a lot of positive articles about you and publish them all over the Internet so that they bump off the bad stories from Google search. Think of it as hitting a super-powerful Refresh button.
ADVERTISEMENT - CONTINUE READING BELOW
TIP #5: Live out the rest of your life in exile
Not exactly exile but just get away from it all by living your life in the city of your dreams. Be it New York, Milan, or Bucharest, the farther you are, the faster it takes for things to blow off. Just remember to keep a lower profile but if you just simply can't help it, then…
ADVERTISEMENT - CONTINUE READING BELOW
TIP #6: Stick it to the man and not give a care
As Queen Elsa of Arendelle once sang, "let it go, let it go!" We know, that's the second time we've quoted Frozen this week. But it really does pay to MOLG - move on; let go. Focus your energies on research for your new line (hopefully no shameless pegging is involved) - and remember, dress to kill while you're at it.
Images from Giphy.com
With additional reporting from Anna Canlas
Hey, Preview readers! Follow us on Facebook, Instagram, YouTube, Tiktok, and Twitter to stay up to speed on all things trendy and creative. We'll curate the most stylish feed for you!