Attempting to make a fashion statement can go a million different ways. There's just no perfect formula for it. Sometimes, the simpler the better. Other times, going all-out is the only option. It's only a matter of finding your voice and getting creative with it! And to get your style gears going, here are some tried-and-true ways for bringing your fashion statement to center stage:
1. Wear your statement...tee.
A statement tee might be the most straight-forward thing to wear if you have a message to send. It's one of those pieces that you won't mind outshining your entire outfit if you're passionate enough about the cause. That said, you don't have to overthink it. You can go from as simple as "I'm sleepy" to something like Dior's We Should All Be Feminist tees.
And to make your statement tee stand out, style around it like a pro. Besides, it's one thing for your shirt to say something, another for it to be a true feast for the eyes. Check out how Irene Kim paired her Prabal Gurung tee with a full printed suit that injects a quirky and casual feel into business chic, and how Tina Craig broke her monochrome look with a pink fluffy jacket. Meanwhile, Shea Marie channeled her inner Vetements superhero with statement sleeves and sky-high ankle boots. It's a photo that proves the possibilities are endless!
2. Bring an old trend back.
If there's one thing you should learn about the circle of life for trends, it's that nothing ever truly "dies." Absolutely anything can come back in style at any given moment. And to turn heads and challenge beliefs, be at the helm of its return.
ADVERTISEMENT - CONTINUE READING BELOW
Case in point: the fanny pack's chic debut at Céline. Just when we thought that the trend had its last moment, the 2010s reincarnated it into a runway-ready accessory. Not only was it reinvented into different shapes and materials (see the bucket bag-esque style below), the nylon bag is tied to the waist no more. You can now work it as a crossbody or a body bag, or pair it with dressier pieces for an interesting contrast.
3. Layer, layer, and layer.
Another wordless style statement is fantastic layering. Because in fashion, coming up with new ways to layer clothes is like discovering a scientific element. It's a statement in a way that it was always possible, but it was you who were bold enough to go with it. As a result, you open up the world to new possibilities and combinations.
Outside of creating new combinations, it's a genius way to repurpose clothing as well. It can either create an entirely new silhouette, or change the vibe of an outfit completely. For example, adding a turtleneck under a strapless dress adds more color and shape from the chest up, while the slip dress + t-shirt combo removes the sultry bedroom vibe and replaces it with something more casual and cozy.
4. Juxtapose.
Wear things that don't necessarily "belong" together. This will create a striking contrast that highlights how different each piece is from each other. It's why sneakers, a piece typically associated with being sporty, always stand out when worn with a dress.
Another solid example is Anna Wintour's first ever cover for American Vogue, where the model wore a bejewelled Christian Lacroix jacket with denim jeans. It's a classic case of high-low dressing, or pairing a luxurious item with something basic or high-street. The cover made such a statement that the magazine's printers double-checked with the editors if it was really the cover they meant to publish.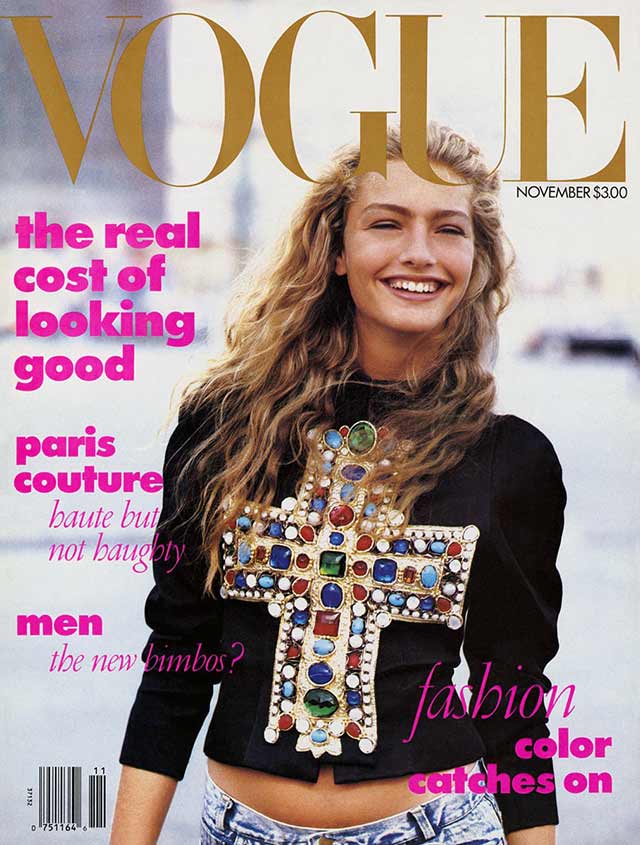 IMAGE Vogue
5. Give a classic piece an unexpected twist.
Use the countless ways you can style basics to your advantage. Wear them with something that seems over-the-top and make it work. Basically, you should push the limits of what that otherwise basic item can do.
ADVERTISEMENT - CONTINUE READING BELOW
See how Jenna Lyons wore her button-down to Solange's wedding below, in which she styled it with evening-appropriate pieces that instantly elevated the look.
6. Go big.
The biggest fashion statements are almost never timid in size. You really either go big or go home. Take Rihanna's Comme des Garçons look at the recent Met Gala, for example. And Lady Gaga's mid-2000s outfits that were so out there it made you question how far we can really go for the sake of fashion.
Go shapeless, rock exaggerated texture, play around with bold colors and silhouettes—the choice is yours.
7. Make something look so wrong that it feels so right.
When you're trying to make a style statement, throw every ounce of fear and doubt out of the window. Challenge the conventional rules of mixing and matching and make your own. If people have to process your outfit in their heads for a minute before they make sense of it, you did your job well.
8. Show some skin.
Even in modern society, showing a bit of skin still makes for a big statement. But now, the true challenge lies in being more creative with it. A recent example is Dior's take on sheer detailing that took the juxtaposition lesson to heart with a small twist. It poses a quirky, street vibe with the accessories and embroidery despite the obvious display of skin underneath.
That said, showing some skin to make a statement doesn't mean that the exposed area should be the focal point of the look. It can serve as an accent as well that instantly changes the feel of the look.
Related Stories from Preview.ph
Hey, Preview readers! Follow us on Facebook, Instagram, YouTube, Tiktok, and Twitter to stay up to speed on all things trendy and creative. We'll curate the most stylish feed for you!