Nadine-Lustre close. (Image via @jaye.wolf)
I have seen James Reid walk around his house topless, those faded jeans hanging low on his hips after a long day under the sun. At their shabby-cozy dinner table, I scarfed down spaghetti Bolognese as his father showed me home videos of him growing up in Sydney. Already in his innermost sanctum, I asked James if I could take a peek inside his room. A beat. "Okay." James' room was on the first floor and it was sparse—just a queen-sized bed, a closet, and not much else, all illuminated by a dim yellow bulb—with an unexpected, girly element: a motley crew of stuffed toys. "They were given by fans," he explained, pointing to a huge teddy bear in particular. Though I left it out, this cute fact about the devil-may-care party boy informed the cover story I wrote about him the next day.
ADVERTISEMENT - CONTINUE READING BELOW
That, my friend, is a day in my life as an artista writer.
If you're a JaDine fan, you must be thinking, "so lucky!" Or as a comment on my Instagram said: "Can I be your PA for a day?" I guess this is a story for people who are not afraid to say they're fascinated with celebrities and the glittery-but-messy showbiz industry. If, one day, you bump into your celebrity crush, or have to deal with a female star you're styling for the first time, I hope you parlay whatever I learned into an unforgettable conversation or even better, a lifelong friendship.
So how does one go from Point A: stranger asking questions, to Point B: invited into the home of one of today's hottest young stars? It all begins on the morning of your hard-won interview. In my case, I have learned that wearing my favorite color is useful. Black lets me disappear. (In any given shoot, there is only one star in the room. Not one of them wants to be outshined.) I show up to almost every interview wearing my uniform: black long-sleeved polo shirt from Giordano, bootleg jeans from Marks & Spencer that promise to "Sculpt & Lift," (I still want to look presentable), and my square-toed leather boots, like those worn by female detectives in movies. I wear little to no makeup; at most, a few dabs of Olay CC Cream and a swipe of Happy Skin's Honeymoon Glow. (I know, right.) My job is to ask questions, to listen, to empathize, to notice quirky mannerisms, to remember a particular scent, to read between the lines. There is no need to stand out.
CONTINUE READING BELOW
Recommended Videos
Now, I'm not saying this is true for everybody. My mentor Krizette Chu, associate editor of Manila Bulletin's Lifestyle section, is a journalist who writes prose so good I end up re-reading an entire cover story to the point where I've practically memorized it by heart. I've always wondered whether she spikes her subjects' drinks with truth serum because, 30 minutes into a Q & A, even the most reticent end up laying down all the cards they hold close to their chests. Krizette does not disappear: She cracks, sizzles, pops. Leonine hair, Chola earrings, an orange boho top paired with an Aztec-print skirt, finished off with colorful block heels—my girl stands out and gets the job done. At any rate, pick out something you're comfortable in—enough to start a conversation with a stranger.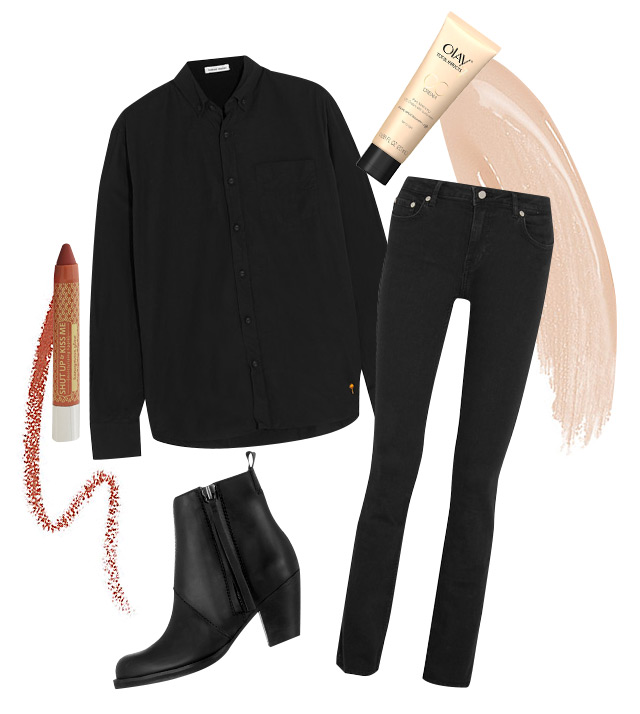 ADVERTISEMENT - CONTINUE READING BELOW
Black lets me disappear.
Tomas Maier button-down, Net-A-Porter. BLK DNM jeans, Net-A-Porter. Acne Pistol boots, Net-A-Porter. Olay Total Effects CC cream, Php1000, Watson's. Happy Skin Shut Up & Kiss Me Moisturizing Lippie in Honeymoon Glow, Php549, happyskincosmetics.com
Now, the interview. I do recommend the basics. Introduce yourself. Shake hands. Do not make an attempt to beso unless they initiate. I've seen someone do this, only to end up cheek-kissing the air. "FC" or "Feeling Close" is the last term you want them associating with you. When it comes to the questions, ask and really listen. No matter how tempting it is to feed them words—don't. Let them process on their own because you're not the one being interviewed, honey. Above all, respect their privacy. Believe it or not, you can write an interesting and entertaining piece without ever bringing up the state of one's love life. You just have to dig. For instance, last October, while Solenn Heussaff was in the middle of promoting her movie T'yanak, I was so curious as to how she managed to pull off her several crying scenes given the fact that she's had an overall good life, with no grab bag of sob stories to draw from. She answered and gave me an angle I could run with: She imagined her fiancé and brother dead and gone forever. Who knew?
ADVERTISEMENT - CONTINUE READING BELOW
A caveat: Sticking to a movie/TV show/album/book/concert/movie they're promoting is the worst thing you can do. Depending on the publication and the directives of your editor, tough topics must be broached. The question is, how do you ask difficult questions? Sometime in 2013, I found myself alone with KC Concepcion inside the Makati condominium unit where she spent her formative years. She was starting to loosen up when I remembered I still hadn't asked her the most difficult question on my list. I looked at KC then, exhausted from her jam-packed Sunday, still startlingly beautiful in a striped Herve Leger bodycon. (Full disclosure: I am a huge fan.) The perceptive girl sensed my trepidation. "What is it," she inquired. "KC, I have to ask. What's the most ridiculous rumor ever spread about you?" Silence. And then she said: "That I had an abortion!" I let her speak, grateful for this display of trust since she never really addressed the issue in the press before. Sometimes, it's not about what you ask, but how you ask. Like that time in James Reid's room, you count on right timing, tact, and sheer dumb luck. Sometimes, they let their guards down and go on, but then follow up with "Off the record ha." Weirdly, that makes me happy cause I know I've done my job.
ADVERTISEMENT - CONTINUE READING BELOW
And even when chic hits the fan (you and the star don't click, their managers are over-protective, they've been coached to say "I'm just so grateful sa mga blessings" or "friends lang kami") you can't go wrong with good old diplomacy and lambing - not just with the star, but the people around them. Often, I have the best interactions with makeup artists, road managers, hair stylists, fashion stylists, moms, fathers and drivers – they have the most telling anecdotes.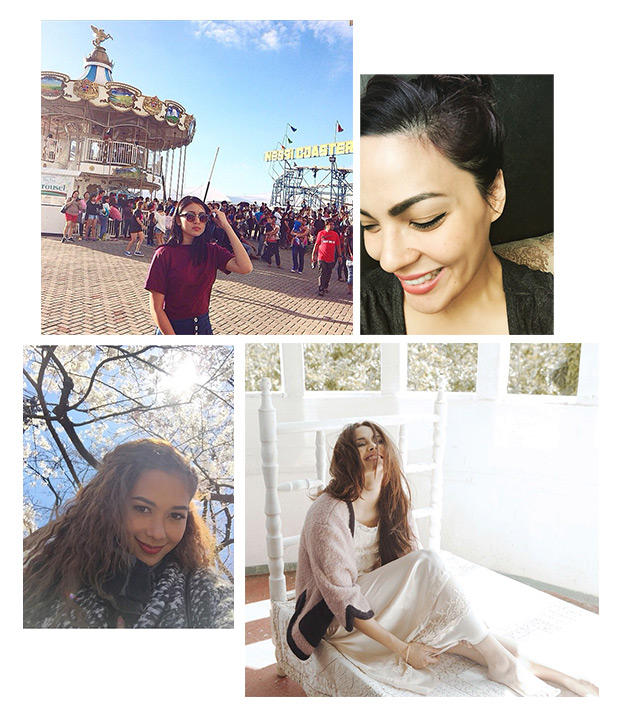 ADVERTISEMENT - CONTINUE READING BELOW
Some girls I've profiled.
(Via @nadzlustre, @thisiskcconcepcion, @iammajasalvador and @meganbata)
I imagine at least one of these techniques is the secret of my favorite celebrity-profiler Jonathan Van Meter, the contributing editor for Vogue, who's written about everyone from Jennifer Lawrence and Cate Blanchett, to Barrack Obama and Kate Upton. I couldn't think of a local equivalent. The closest, in my mind, would be Raymond Ang, who counts Georgina Wilson as a fan. He even edited her book! When an artista lets you into his or her world, friendship naturally follows.
I know this to be true, having had drinks with Paulo Avelino at Curator, learned calligraphy with Megan Young, ridden shotgun in Nadine Lustre's black Chevy (she said things I swore I would never reveal!) and eaten wagyu at Maja Salvador's 25th birthday dinner at Sakura. Yet despite all this, the greatest thing about being an artista writer is not the exclusive access, nor is it the fact that you get to take pictures with them, guaranteed to elicit like landslides on Instagram. In this job, you learn to be more compassionate and to see people's humanity. The best is when you get to create an actual human exchange. Many moons after our interview, I met KC Concepcion for amaretto sours, and she saw me eating the blue cheese that had been laid out for us, on its own. She said, try spreading it on a baguette, then putting strawberry jam. And I did! It was so good. Salty-sweet.
ADVERTISEMENT - CONTINUE READING BELOW
Hey, Preview readers! Follow us on Facebook, Instagram, YouTube, Tiktok, and Twitter to stay up to speed on all things trendy and creative. We'll curate the most stylish feed for you!