I was a child of summer once. Few things could top the pleasure of stripping away clothing and basking in the sun's golden glow. My back to the sand, I would gaze up at the clouds and watch as they danced to the breeze, blissful that I could close my eyes and any pressing deadline or gnawing problem would temporarily melt away. Summer, for me, was always about slowing down, paring down, where less was more. My clothes reflected that; I remember thinking I would be one happy puppy if I could spend the rest of the season in my bikini.
All of that changed, of course, after I had my baby. As I never got my old body back, I never again indulged in that kind of wanton sun worshipping. Now trips to the beach are about bohemian Talitha Getty-looking cover-ups—layers instead of skin. I always tell myself that I do this to be sun smart and hide from all manner of UV rays and free radicals. The truth of the matter is that I cannot stand to see this body's lumps and bumps. The last time I found myself at a resort setting, I was at the Shangri-La Mactan and inspite of its laid-back atmosphere and the balmy air, I wasn't even remotely tempted to change into my bathing suit, which instead of being itty-bitty has now come to be bigger and wider so that it looks almost like one of Lady Gaga's pantless costumes.
ADVERTISEMENT - CONTINUE READING BELOW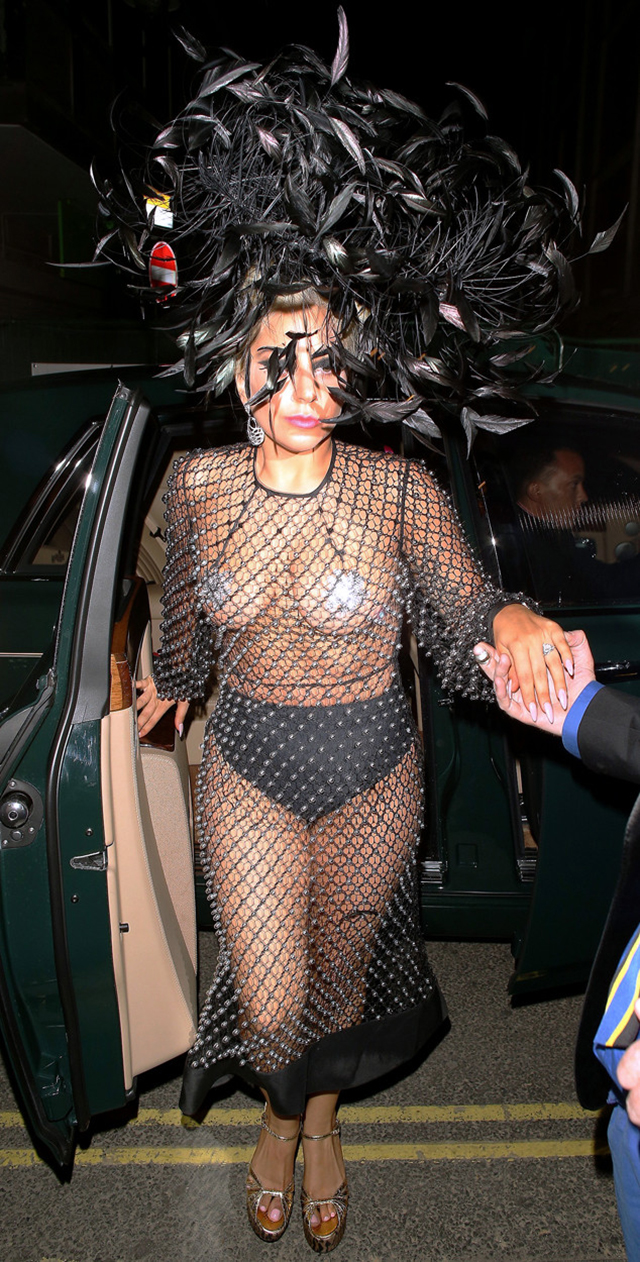 IMAGE thedailymail.com
Gaga parties at The Box night club in New York.
Lady Gaga's granny panties look—the one that prompted a million and one "what was she thinking of?" headlines—might seem inappropriate, especially if you're disembarking a plane in the aforementioned attire with torn fishnet stockings and five-inch platforms to boot. I suppose if you're a pop star hell-bent on being a provocateur it's getting harder and harder to utilize clothes for shock value. Plunging necklines and thigh high slits? Ho-hum. Inner wearas outer wear? Yawn. Indian bride? Harajuku lover? Ghetto supahstar? It all seems so…ordinary. "Forgetting" her pants was the quickest way for Gaga to stake her claim to fame—though not in fashion history, as it was in the Summer of 2007 when Miuccia Prada revived those high-waisted tap pants, which, of course, first made their scandalous appearance mid-century as part of a bikini on more rotund figures. Of late, I've seen the granny panties—insequined versions even!—in the high street stores, although there hasn't been a sighting of them—yet—in Preview.ph's party files (though I imagine they've made quite a number of appearances in the drag queen circuit).
Lady Gaga's fashion faux pas is my salvation—and it has nothing to do with how short your skirt or shorts can be before it is deemed indecent. The one thing I loathe shopping for would have to be a swimsuit. There is nothing more demoralizing than having to stand under unforgiving fluorescent lights and try on one bathing suit after another and, as a result, suffer from additional wrinkles—caused by wincing too much at the reflection in the mirror. Once upon a time, we at this magazine looked at swimsuits in the same way we classify clothes: by trends. Now we realize women will buy a maillot or bikini depending on how hot it makes her look. Trends are a luxury you can indulge in when, after going through all your choices in the fitting room, you find that you have two or three flattering suits to choose from. Lady Gaga is my summer icon. Part retro lingerie, part romper suit, her costumes—redone to suit sun and sand of course—are just what the doctor ordered for a fashionista with a tummy. Instead of hiding under a kaftanor a jersey maxi dress, I've found a stylish new way to cavort in earnest on the beach.
ADVERTISEMENT - CONTINUE READING BELOW
This article originally appeared as Pauline Juan's Fashion Sense in Preview's March 2010 issue. You can download back issues of Preview here.
Related Stories from Preview.ph
Hey, Preview readers! Follow us on Facebook, Instagram, YouTube, Tiktok, and Twitter to stay up to speed on all things trendy and creative. We'll curate the most stylish feed for you!