EDITED July 7, 2014, 12:36pm
Disclaimer: This article does not aim to tackle political issues but rather focus solely on fashion.
Monstrous as most would describe her, there's no eradicating that portion of the population who look at former first lady, Imelda Marcos, as a muse of fashion. Fallen from grace and shrouded in scandal and controversy due to the excessive lifestyle she led during the "conjugal dictatorship" she shared with her late husband, some still choose to be grateful for the help she's given in uplifting Philippine art and the great influence she's imposed on how we wear today's Terno. So as she celebrates her 85th birthday, we look back on her story as she makes history with her "well-heeled" feet.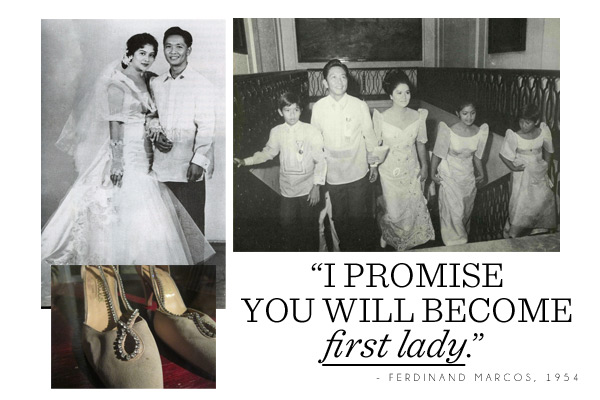 TAKING THE FIRST STEP
A young Imelda sets foot in Manila in the early '50s as she works as a singer in Escolta while studying at the Conservatory of Music at the University Of Santo Tomas. Known for her exquisite beauty and statuesque figure, she then attracts politician-on-the-rise Ferdinand Marcos whom she later on marries after 11 days of courtship. He promises her that she will become the first lady, and true enough she does. She emerges at his inauguration wearing a Terno (which becomes her signature look) and a pair of white heels with crystal-adorned straps.
ADVERTISEMENT - CONTINUE READING BELOW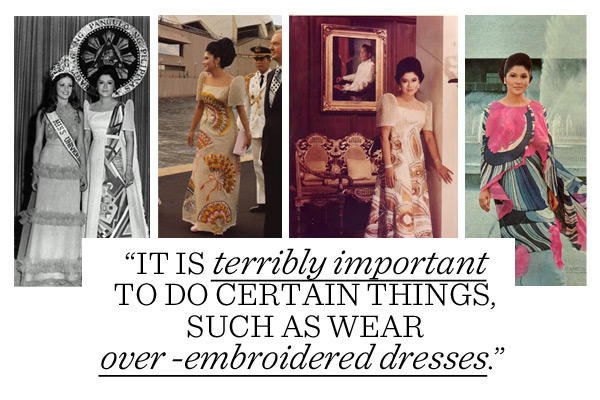 BUILDING COLORS AND BLOCK
Imelda could also be attributed for her patronage for the arts during her time in power. She spearheaded the establishment of the Cultural Center of The Philippines, the Folk Arts Theatre, the Manila Film Center, and the Metropolitan Museum. Her love for art also translates to her wardrobe as she modernizes the Terno with geometric shapes and graphic prints.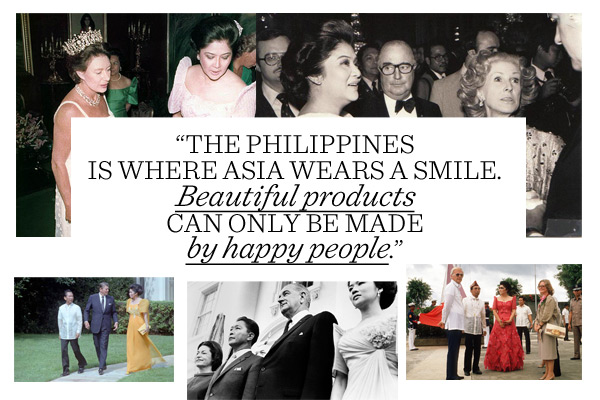 A STATE OF DRESSING
The United States had Jackie, France had Carla, and the Philippines had Imelda. Throughout her husband's regime, she graced state events both on home grounds and overseas, dressed in the most lavish pieces.
ADVERTISEMENT - CONTINUE READING BELOW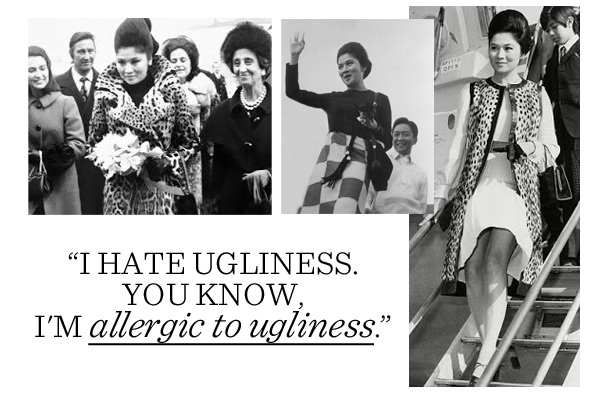 FLYING FIRST CLASS
Dressing down was never an option for Imelda. Even on days when she seems like she did, she still put in a lot of effort in looking her "best". Though these photos were taken somewhere between the '70s and '80s, some would say that they feel like these outfits could be worn today without the vintage side notes.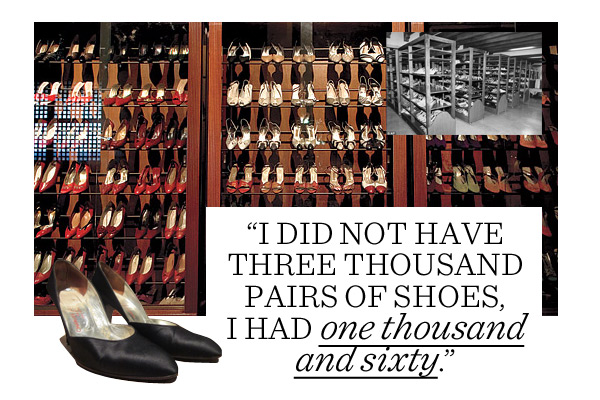 HEAD OVER HEELS
A discussion on Imelda's fashion wouldn't be complete without tackling her shoes, a hot topic for debate seeing that most Filipinos view this as a tangible reminder of the events of the Marcos Regime. Her vast collection now resides between two places–part in the National Museum of the Philippines, and the other half in a shoe museum in Marikina. It is also assumed that her collection's net worth amounts to $5 billion, making her the third richest Filipino next to Henry Sy and Lucio Tan.
ADVERTISEMENT - CONTINUE READING BELOW