Raise your hand if you have a proper clothesline at home. Let's rule out cramped service areas, where the clothes hung never meet the wind and sky. I'm waxing nostalgic about an old-school clothesline, where sheets and party dresses and—gasp!—lingerie would traditionally be lined up to dry under the sun. I'm completely aware that I might be romanticizing one of the most tedious and burdensome of labors, but after reading an essay in a book on fashion called The Worn Archive: A Fashion Journal About Art, Ideas and History of What We Wear (Drawn & Quarterly, 2014), I realized that sometimes the old ways were good ways.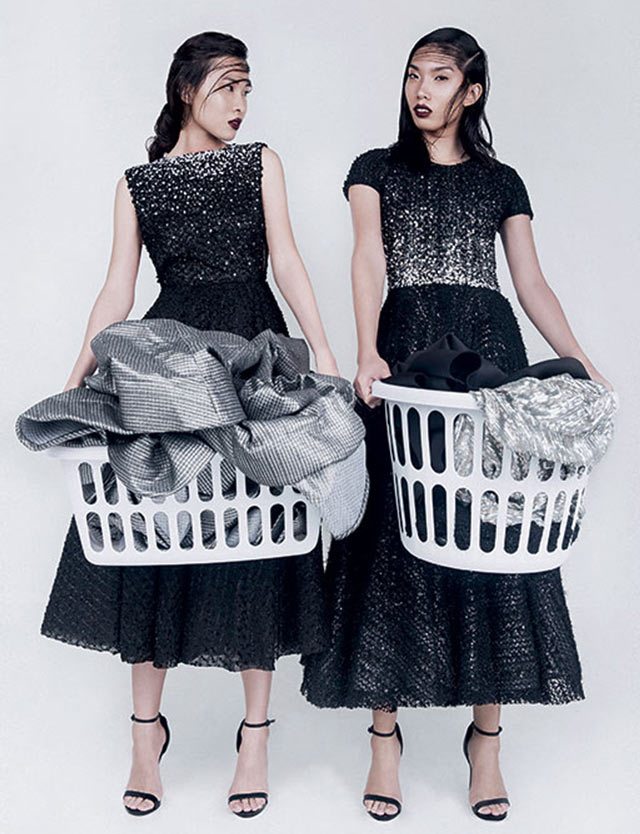 IMAGE Koji Arboleda for Preview Magazine, June 2015
As a child, I loved doing the laundry (laba)—not cooking (luto), washing dishes (hugas pinggan), watering the garden (dilig), or polishing the floor (bunot, which, I recall, was my second favorite chore to do). (I've written down the Tagalog translation in parentheses because, in my mind, they help me connect more to those moments, even as I realize that the Taglish makes me sound like the proverbial conyo kid.)
I was a privileged little brat and lucky enough to have household help do the actual work, so I was free to mess around and have fun while I was "helping" them. I remember squatting (yes, squatting—that was the only way you would be able to maneuver beside a batya full of soap and water) beside Lagring, our labandera, who would invoke the proper way to make kuskos by using your knuckles to scrub. The whites were separated in another container for kula (the bleaching process, so they remained pristine), and the denim (maong) had to be handled with a palu-palo (a wooden paddle you would use to beat dirt into submission) so as to avoid wounds (sugat) on your hands. She insisted on rinsing (banlaw) the laundry two to three times in fresh water to make sure all the suds were washed away, and after a quick wringing (piga), we would hang (sampay) them one by one to dry. Lagring would wash clothes every morning (except when it rained), so that the noonday sun would bring a fresh batch for laundry to fold and iron (plantsa), while she was watching the late afternoon soap on TV. To Lagring's consternation, I remember running through the clothesline (sampayan), breathing in the scent of cleanliness. To this day, I am hard-pressed to find a fragrance that smells better than the combination of soap, sun, and the wind.
ADVERTISEMENT - CONTINUE READING BELOW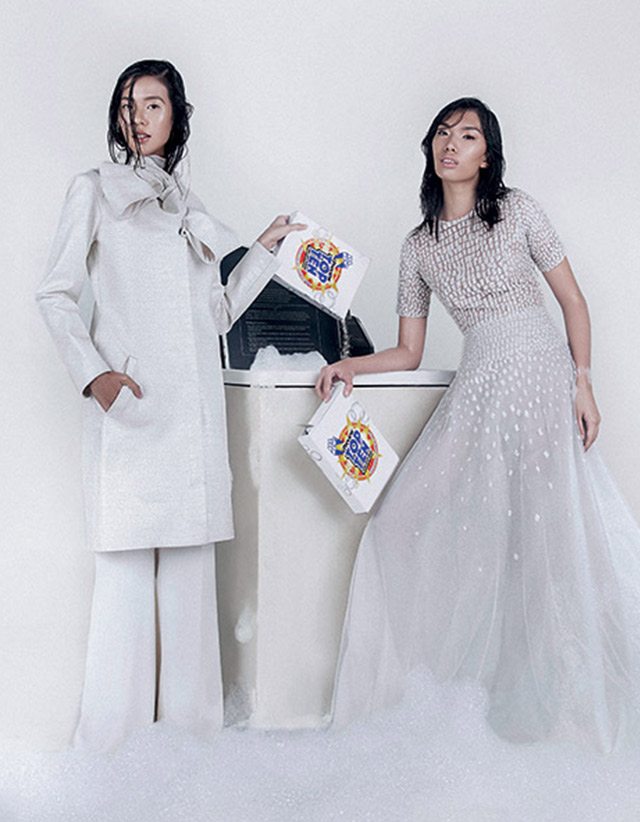 IMAGE Koji Arboleda for Preview Magazine, June 2015
I was already in university by the time we bought our first washing machine; it was a sign of modernization, of progress, I remember thinking. When I went off to graduate school in London, it was a godsend. Late at night, I would do laundry while I revised the day's reading material, so that I could have the machines, located in the basement of our residence hall, all to myself, and so that no one would impatiently and unceremoniously grab my load from the washing machine or dryer and dump it to the side if, for some reason, I wasn't in the room when the buzzer sounded. I was very particular about my hand-wash items; I had my own drying rack (so that sweaters, for example, could be laid flat to keep their shape). Doing my own laundry taught me how to take care of my clothes, and, in essence, how to prolong their life. The washing machine and dryer, you see, can take their toll on your clothes. The former spins its heavy laundry load unmindful of buttons, hooks or loose thread (and this is why it is imperative to put your delicates in mesh bags). The latter can be extremely damaging on color and anything stretch, so underwear, bathing suits and the like will take a beating.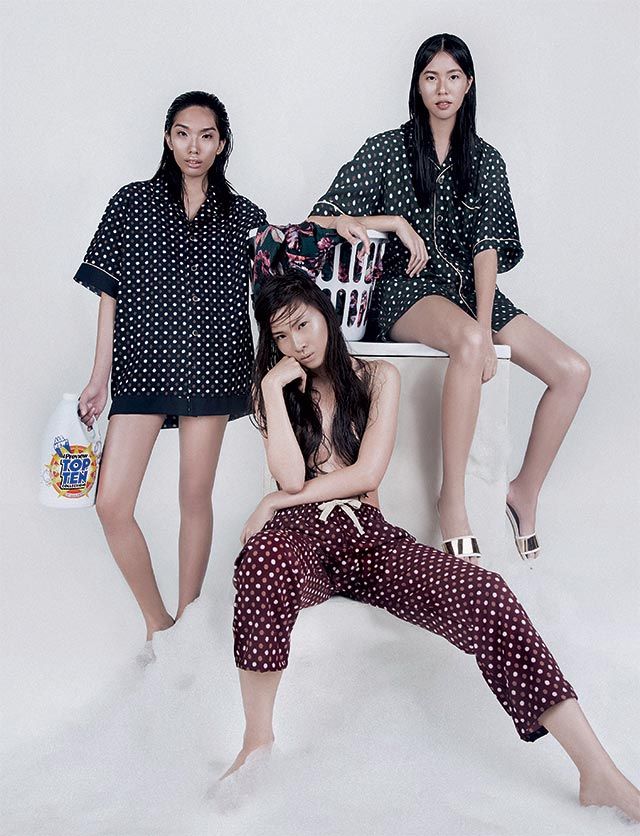 IMAGE Koji Arboleda for Preview Magazine, June 2015
Nowadays, laundry has become a most complex exercise. Technology has enabled clothing manufacturers to use a host of fabric blends to keep up with fashion. This makes reading care labels a necessity. Just recently, what I thought was the softest long-sleeved T-shirt ever from Korean brand 8 Seconds shrank after I sent it to be washed; it turned out to be dry-clean only. (I had not bothered with the washing instructions because I didn't think anyone would make a dry-clean only tee.) Sorting out my hamper today is an exercise in patience: There's dry-clean, there's hand-wash, there's machine-wash but no dryer, there's machine-wash at a specific temperature, there's machine-wash and dry, and, most perplexing of all, there's no washing allowed. Go figure.
ADVERTISEMENT - CONTINUE READING BELOW
My dry-cleaning bill has now become so prohibitive, I'm forced to hand- and/or machine-wash my not-so-favorite clothing items. You know what I discovered? A lot of the care labels lie (though not the aforementioned softest tee ever). So I'm back to the old ways of washing, but, unfortunately, with no clothesline. Be careful of what you wish for, they say, but what the heck? If only laundry were as cut and dried as they were years before.
*This story originally appeared in Preview Magazine's August 2014 issue.
Related Stories from Preview.ph
Hey, Preview readers! Follow us on Facebook, Instagram, YouTube, Tiktok, and Twitter to stay up to speed on all things trendy and creative. We'll curate the most stylish feed for you!