When one thinks of bridal gown culture in the Filipino context, what comes to mind would be the typical process of having that dream white dress made: heading to a designer, showing pegs or "inspo," and going through months of heading back and forth to the atelier for adjustments. Having a wedding gown custom-made is often the go-to route for brides-to-be, perhaps for its perceived uniqueness and the novelty of having something tailor-made specifically for you.
On the other hand, there is another path that's often overlooked: walking down the aisle in a ready-to-wear bridal gown. Usually attached to it is the stigma of sameness. But still, one can't simply ignore that there has been a surge in bridal RTW brands and an accompanying demand for them. It's enough to make one realize that, surely, the brides who choose off-the-rack wedding gowns must find merit in this often unconsidered path other than its convenience.
ADVERTISEMENT - CONTINUE READING BELOW
CONTINUE READING BELOW
Recommended Videos
Isabelle Daza, along with a growing number of celebrities (like Maxene Magalona and Bea Soriano, to name a few), is one of those brides who opted to say "I do" in an RTW wedding dress.
For her wedding with Adrien Semblat last 2016 in Tuscany, Italy, the actress wore a gorgeous Vera Wang gown with a lush lilac ribbon tied around the waist. "I've always been a fan of Vera Wang ever since I could remember. I think [she] has been my dream designer. I love how classic and timeless her pieces are [and how] she puts her signature on them," Belle says, explaining what made her opt for an off-the-rack wedding dress.
ADVERTISEMENT - CONTINUE READING BELOW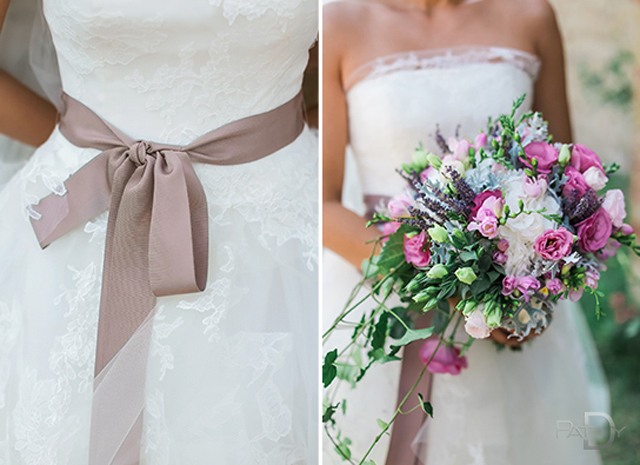 IMAGE Pat Dy
Aside from her affinity for the brand, Belle notes that really sees herself as "an RTW kinda girl" because she prefers seeing the finished product. If she went the custom-made route, there would have been the fear of not liking the dress in the end.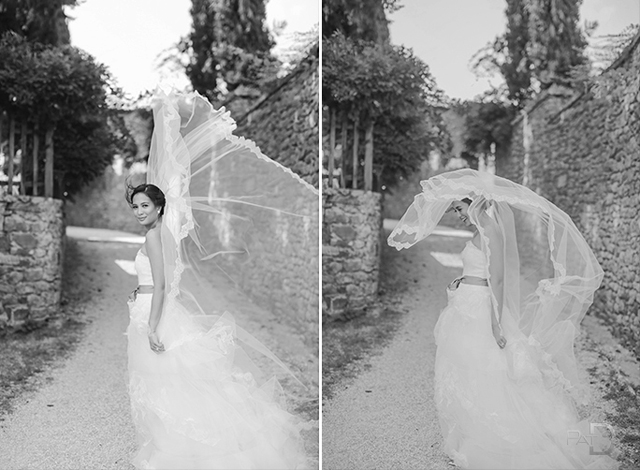 ADVERTISEMENT - CONTINUE READING BELOW
IMAGE Pat Dy
Valerie Zayco, managing partner of Vera Wang and Rosa Clará in the Philippines, shares why these bridal RTW brands were introduced to the local market. Pre-RTW era, brides-to-be either had their gowns custom-made or flown in from abroad. Now, with these brands available in the Philippines, Valerie explains that brides finally have an easier option to acquire their dream dresses, along with the advantage to see firsthand a variety of designs.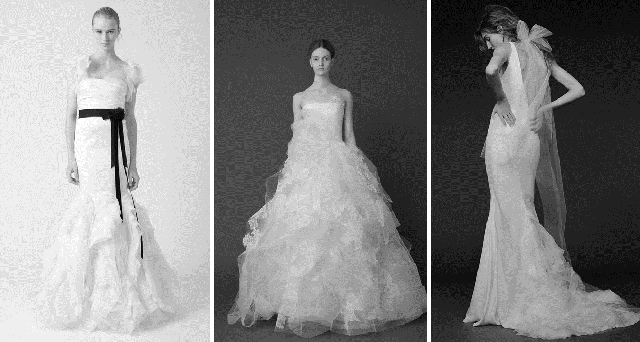 ADVERTISEMENT - CONTINUE READING BELOW
IMAGE Vera Wang
For those who are not aware of how the RTW process for bridalwear goes, here's the lowdown:
The bride-to-be needs to book an appointment with the brand, and on that day, she gets to view sample gowns and try them on as well. Upon deciding on the design, measurements are taken. A down payment is made, and in the case of Rosa Clarà, the bride-to-be needs to wait for six to seven months before the brand new gown arrives from Spain. At Vera Wang Manila, it usually takes eight months.
ADVERTISEMENT - CONTINUE READING BELOW
Such ease of browsing and handpicking dresses also implies a certain confidence in making personal decisions. "I would prefer to go RTW versus custom-made because I know my body type well. I've worn a lot of gowns so I know what I like and I'm sure of it," Belle further explains. "I think it takes a certain type of personality to wear RTW for your wedding."
This isn't to say that this confidence differentiates the RTW brides from those who prefer a custom-made dress. In essence, this element consequently diffuses the ongoing debate on which between RTW and custom-made is the better option. One cannot deny that there are advantages and disadvantages between the two that almost everyone can distinguish.
"Advantages [are] you see the final look; you can already prepare or imagine how to fix your hair [and] makeup, and pick your jewelry and shoes based on your RTW gown," Belle shares. "[As for the] disadvantages… someone might have already worn the same style."
ADVERTISEMENT - CONTINUE READING BELOW
Addressing the notion that bridal RTW is devoid of that "special feeling" or the fear of looking like other brides, it is through this kind of personal confidence that Belle emphasized that sets RTW at par with the norm of custom-made—it levels the playing field.
As Valerie puts it, "[Vera Wang] gowns worn by Chelsea Clinton and Ivanka Trump have been worn by countless women. In the same way, people walk [in] Dolce Gabbana. Pare-pareho naman. A designer has a look, that's why you go to them—you like their style."
ADVERTISEMENT - CONTINUE READING BELOW
As with clothes in general, what makes the outfit unique would be the wearer. Fashion is the fabric for self-representation, but it is up to the wearer (in this case, the bride) to make the wedding gown her own. This is nothing new—simply a reminder of where the power of clothing lies, whether you have it custom-made or not. Brides can still add accessories and put their own spin to their outfit, proving that RTW does not lack that element of personalization.
Aside from the overlooked power of individuality, RTW is a novelty on its own, contrary to popular opinion. Custom-made may be special because designs are dreamed up from scratch, but RTW has its own character. And no, this doesn't make it better nor worse than custom-made. "Custom feels more special of course, because it's made for you and it's one of a kind. But I believe classics are there for a reason—[they are] tried and tested," Belle says.
ADVERTISEMENT - CONTINUE READING BELOW
The readily-available design options that brands put on display serve as a good jumpstart for every bride, and they shouldn't necessarily sacrifice the bride's personal style. In fact, this may even widen her scope of dress preferences, making the search for the "perfect one" a piece of cake. In Vera Wang Manila for example, Valerie explains that their consultants are highly skilled with a trained eye for the right gown for certain body types. They'll know what looks good on you the moment you walk in the room.
ADVERTISEMENT - CONTINUE READING BELOW
Apart from that, Belle adds that the best part of her experience with the brand would be trying on different dresses with her friends Liz Uy and Solenn Heussaff while being served chocolate-covered strawberries and champagne! What's not to love?
Related Stories from Preview.ph
Hey, Preview readers! Follow us on Facebook, Instagram, YouTube, Tiktok, and Twitter to stay up to speed on all things trendy and creative. We'll curate the most stylish feed for you!