Need a pick-me-up? If you're like us, that's nothing retail therapy can't fix. Since you'll be getting a lot of invites to parties over the holidays, it pays to shop for pieces that can brighten up your mood and take your style game up a notch for your get-togethers (or, you know, you could also shop for the special people in your life and make their day).
Below, our picks from your favorite fashion brands under Robinsons Specialty Stores, Inc., which include Topshop, Topman, Dorothy Perkins, Burton Menswear, Miss Selfridge, Warehouse, River Island, Shana and G2000:
The Center of Attention
Warehouse sequin bodycon dress, P4,095; Miss Selfridge art deco clutch, P2,795; Miss Selfridge metal stilettos, P2,995; River Island light pink feather hem camisole, P2,890; Dorothy Perkins blush two-tone sequin pencil skirt, P3,195; Miss Selfridge gold geometric clutch, P2,395; Miss Selfridge fringed cape jacket, P5,195
It's pretty obvious, isn't it? When you've always loved being a head-turner, glitter is the way to go. Sequins, feathers, fringes, silver and gold—these are all hallmarks of Tinsel town, and someone like you or a very dear friend would surely love these luxe, shimmering details.
The Gent
Burton blue jacket, P5,395; Burton blue skinny trousers, P2,595; Burton white button-down, P1,395; River Island black contrast keeper belt, P1,290; Burton red polka dot tie, P795; Topman hat, P1,795; River Island chukka sneakers in dark grey, P2,890
Ah, the dapper dude—how we love spotting guys like you! Don't get us wrong—we're not looking for a beau (at least that's not the main reason why you make our heads turn). What we really can't get enough of is your sense to suit up and match—or mismatch in an interesting way—your belt with your shoes, especially during special gatherings.
Low-Key Lovers
For him: Burton black Harrington jacket, P3,995; Burton light washed denim button-down, P1,995; River Island black skinny jeans, P1,890; River Island chukka sneakers in black, P3,290
For her: River Island dark purple top with keyhole detail, P2,490; Topshop ribbed side split sweater in beige, P2,695; Topshop pinstripe trousers, P2,695; Warehouse striped sheer midi dress, P5,545; Topshop sleeveless belted coat, P3,795; Topshop peep toe boots with ankle strap, P2,995; River Island stud earrings, P390
If you're going as a couple, and you both want to come in effortless and discreet OOTDs, go for no-fail fashion formulas—a button-down and jeans for guys and ensembles with stripes and textures for ladies. Neutrals, monochromes and deep hues are foolproof choices, too. Zip-up jackets and sweaters will be handy if there's a need to dress down an outfit.
The Boheme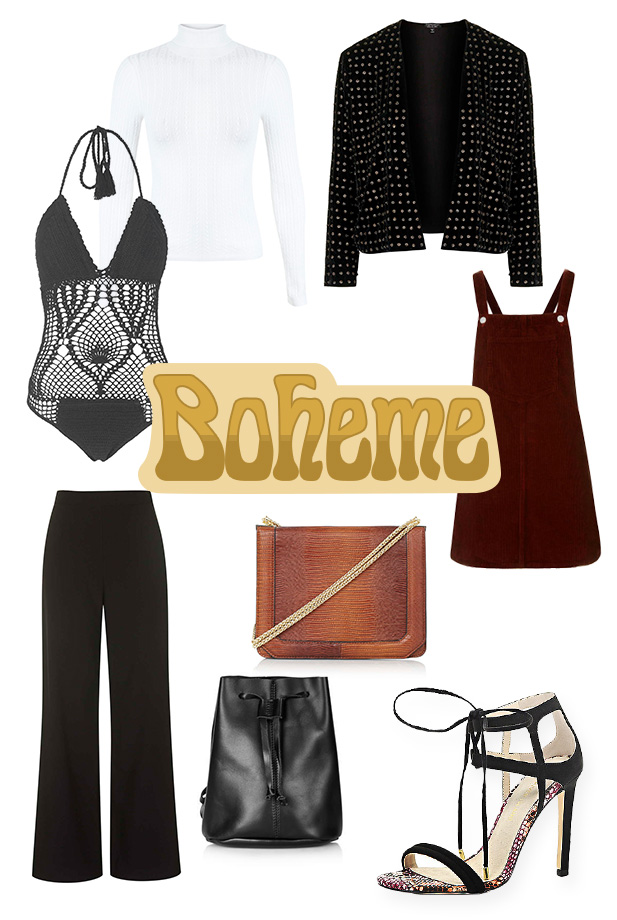 Topshop crochet maillot, P2,995; Topshop studded velvet jacket, P5,995; Topshop flared wide-leg trousers P2,295; Topshop chain crossbody, P1,995; River Island tie sandals, P4,190; Topshop mini leather drawstring backpack, P2,295; Miss Selfridge turtleneck sweater, P1,995; Topshop corduroy pinafore dress, P2,995
Are you one those hoarding 'em turtlenecks this season? Make sure you have a selection of items to pair them with like a pinafore dress or an A-line mini, so you can mix, match and truly make a statement! Switch it up with flared trousers and studded jackets every once in a while, too, and top off your '70s-inspired looks with updated retro accessories.
The Vixen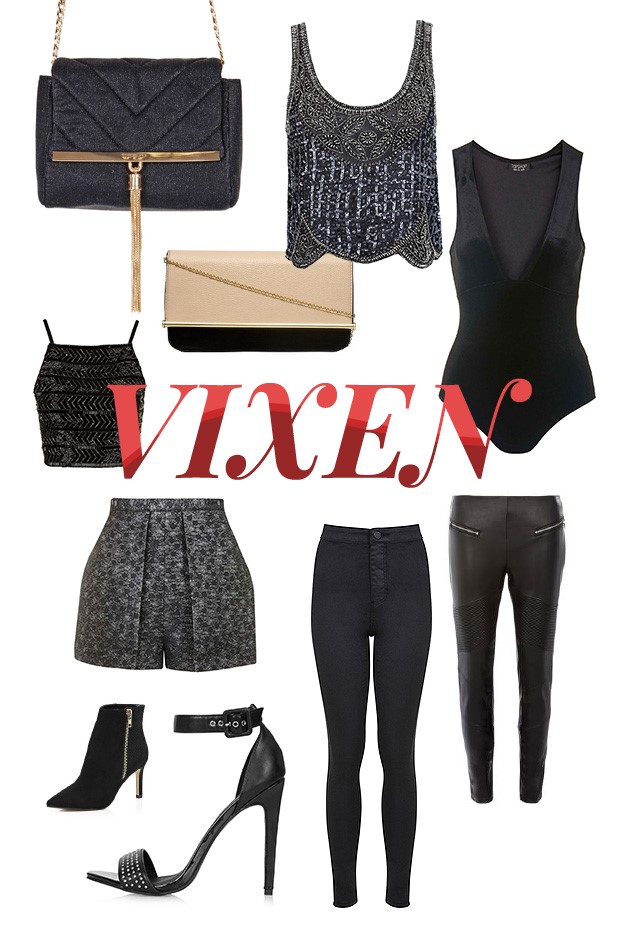 Topshop chevron embellished bralet, P2,895; Topshop printed jacquard skort, P2,995; Topshop pinstud high heel sandals, P3,695; Dorothy Perkins black and mink clutch, P1,195; Topshop shimmer quilted crossbody, P1,895; Miss Selfridge beaded scallop hem top, P3,595; Miss Selfridge coated jeans in black, P2,795; Topshop velvet plunge bodysuit, P1,795; Dorothy Perkins leather biker trouser, P2,995; River Island booties, P2,990
Fancy wearing midriffs, skintight pieces, or sheer fabrics? Have you mastered the art of not looking trashy in a hubadera outfit? We assembled these just for you. And the fashion gods know—you'll be wearing these with chic pieces like boxy tops or checkered culottes for a more structured look. Remember: proportion is key.