Although fashion is typically viewed as a fun form of self-expression, getting dressed every day can also turn into a frustrating routine. Admit it: You've complained about "having nothing to wear" while standing in front of a closet chock-full of clothes you haven't touched since you first bought them.
If you've also been going through a fashion slump that's been limiting your style, you can rest assured that you're certainly not alone. Here's another bit of good news: You can always look up to style mavens like Heart Evangelista to refresh your weekly lineup and stay inspired. Most recently, she even posted a YouTube vlog to spill all of the styling tips she swears by to elevate her everyday OOTDs. Scroll ahead to read the notes we've jotted down throughout the video!
Heart Evangelista's Style Tips on How to Elevate Your OOTDs
1. Use hair ties to roll up your sleeves.
You probably have a blazer that you hate wearing because the sleeves are way too long. If you're not willing to get it tailored, Heart suggests keeping the sleeves rolled up with a hair tie! After wearing the hair tie on her arm and pushing up the sleeves to her forearm, Heart uses the excess fabric to conceal the band. That way, your sleeves won't keep sliding down to your wrists throughout the day! (BTW, this trick also works with rubber bands.)
ADVERTISEMENT - CONTINUE READING BELOW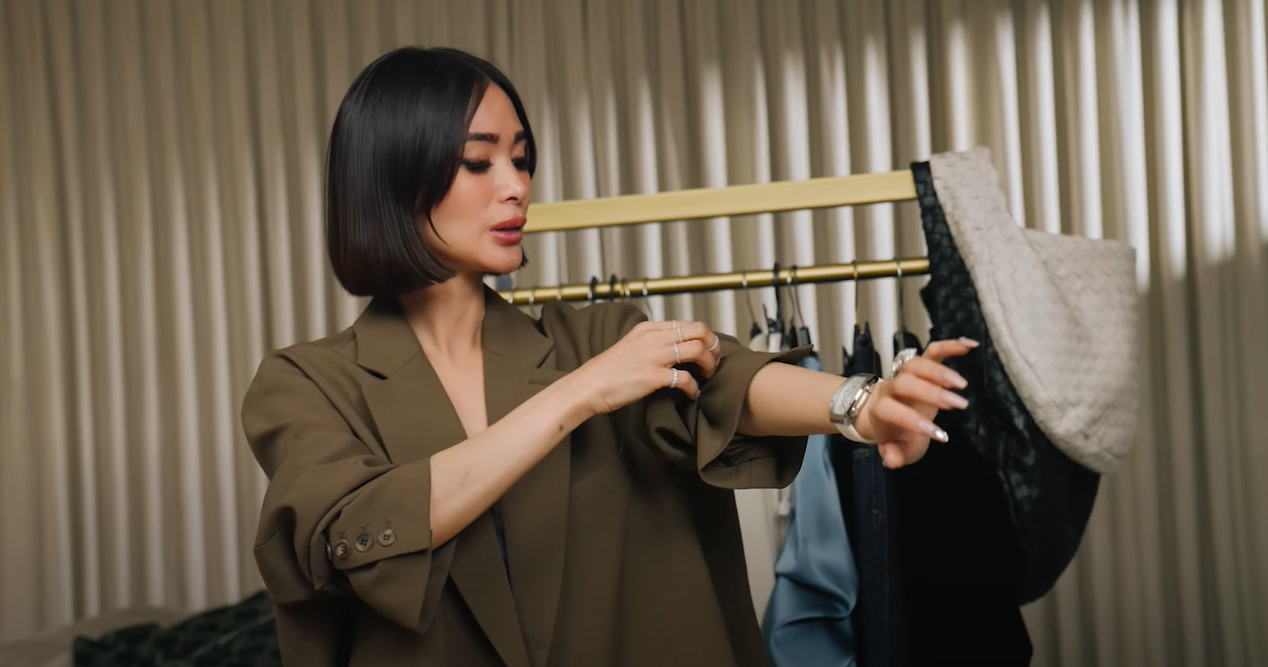 2. Don't neglect safety and comfort.
We've all heard about dressing for comfort before, but don't forget to prioritize your safety as well. For Heart, that means wearing only pants and closed shoes while boarding a flight—no exceptions! "In case bad things were to happen, there's always going to be debris everywhere. If you wear sandals, you're going to end up being injured," she said, slipping on her white Louis Vuitton sneakers. "So I always wear rubber shoes or boots whenever I travel!"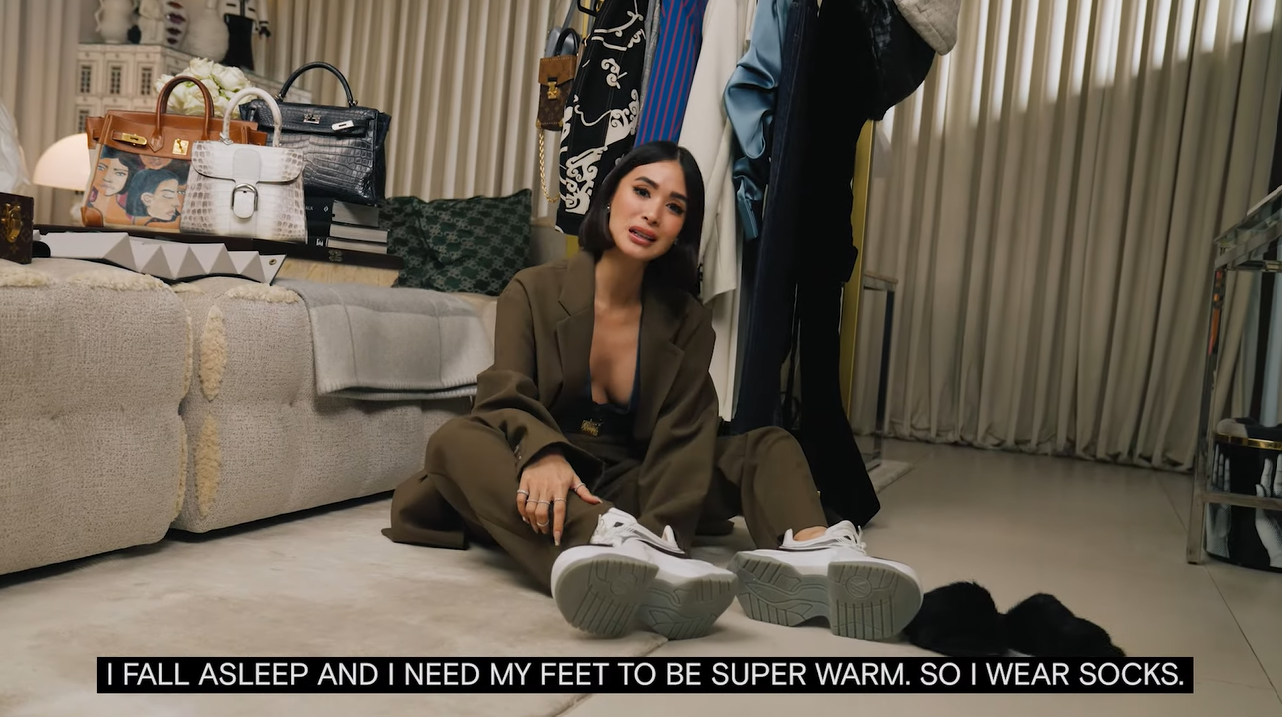 3. Learn how to dress down.
According to Heart, there's no point in saving your dressy pieces for special occasions only. Rather than avoiding them, she suggests pairing them with basic items to suit everyday wear. "Some people feel like it's too much. But it's kind of always dressing down. Even if you're wearing a gown, I feel like you always have to dress down," she explained. "As long as you know how to have a good, balanced look, it's okay."
ADVERTISEMENT - CONTINUE READING BELOW
To demonstrate, Heart tones down a printed Schiparelli jacket with denim jeans and a black bodysuit by Yves Saint Laurent. Proof that good styling is all about balance!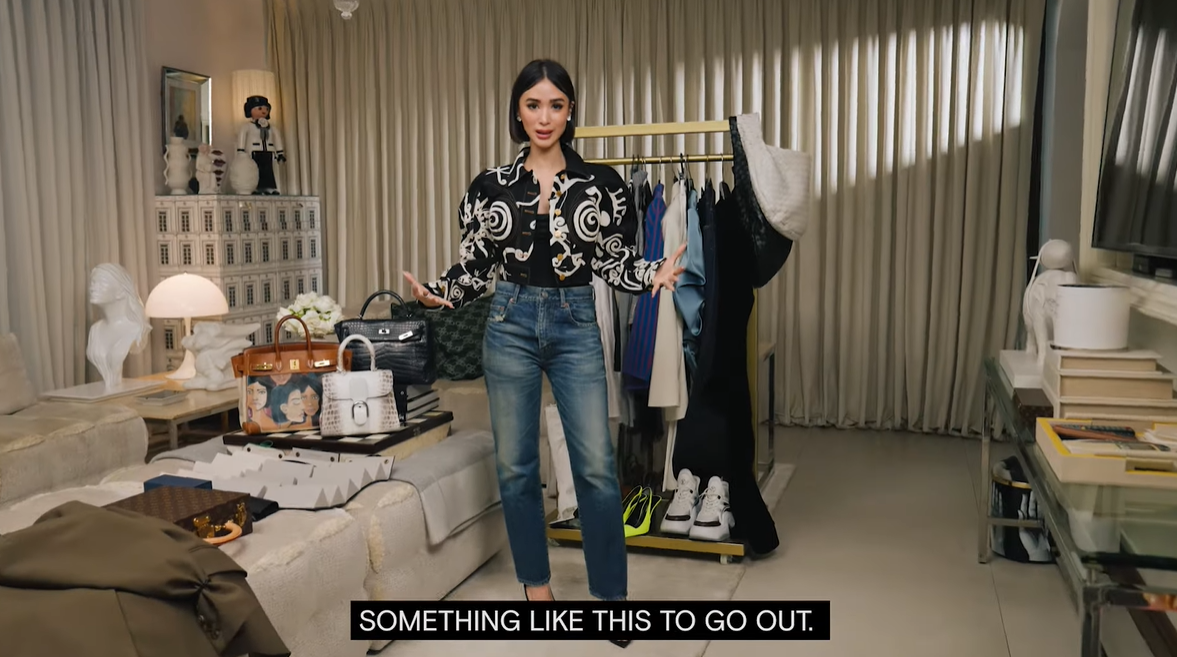 4. Not everything has to match.
Do you also get annoyed by an outfit that isn't technically and visually flawless? Well, Heart says that it's totally okay for all details to not line up perfectly. "I don't mind mixing a little color. A lot of people find it awkward to mix browns, blacks, and gold, but for me, it doesn't really matter," she says, teaming a tan clutch with her black OOTD. As she explains, it doesn't have to be 100% perfect—it just has to work!
ADVERTISEMENT - CONTINUE READING BELOW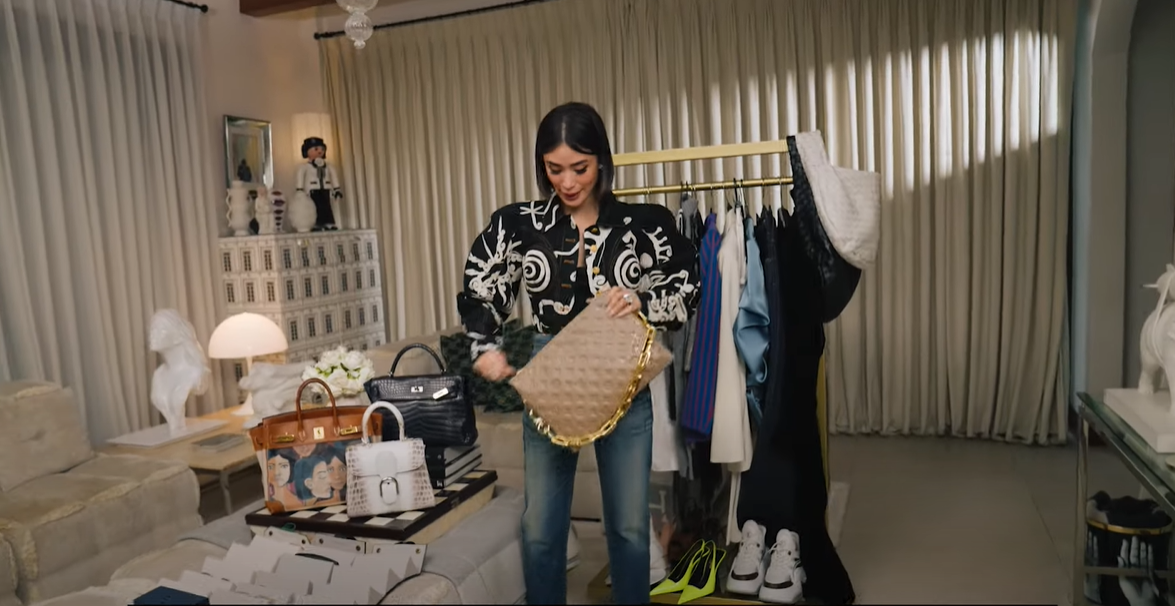 5. Wear white to look expensive.
Heart claims that the easiest way to look expensive is to don an all-white outfit. "Honestly, [this outfit] only feels like it looks so expensive because it's white," she says while putting on her typical grocery outfit, a plain white tank top and matching pants. She adds, "I go back to my white era and I feel like that's always going to be part of my style. White, for me, looks elegant right away!"
ADVERTISEMENT - CONTINUE READING BELOW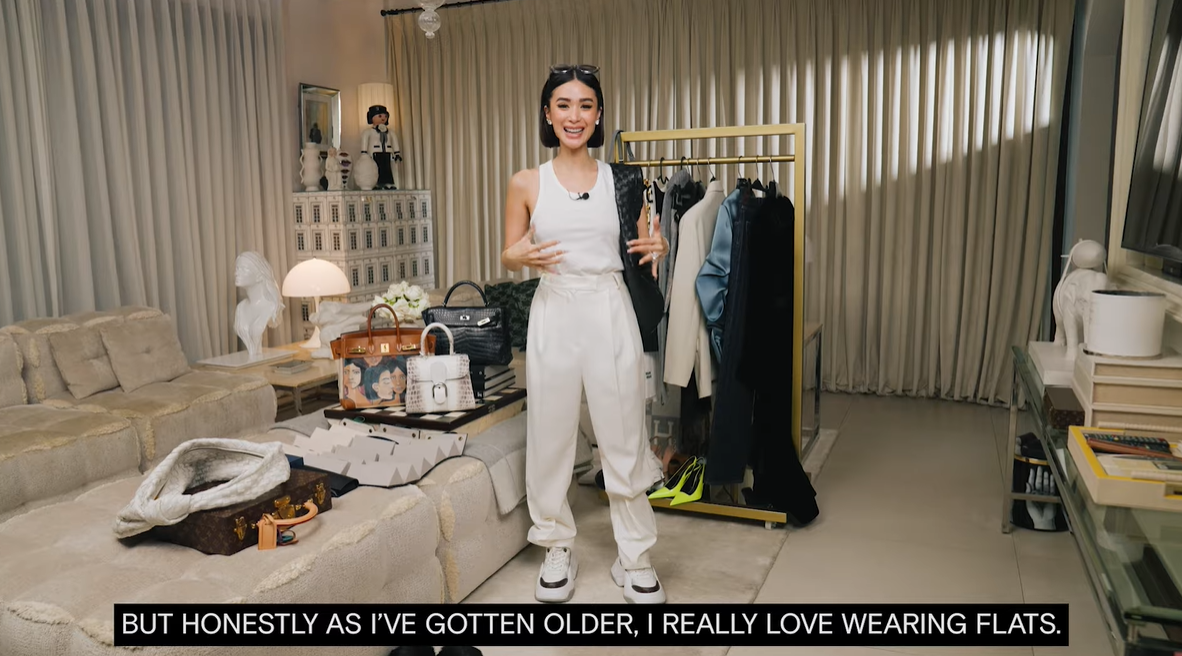 6. Invest in blazers and pants.
Stressing the importance of investing in basics, Heart shares, "It's always important to invest in a really nice pair of blazer and white slacks because it's something that's super flexible."
Wearing the same white tank top and pants, she throws on a blazer in the same hue to instantly elevate the basic ensemble for work. She later on switches out the tank top for a corset for an easy day-to-night OOTD.
ADVERTISEMENT - CONTINUE READING BELOW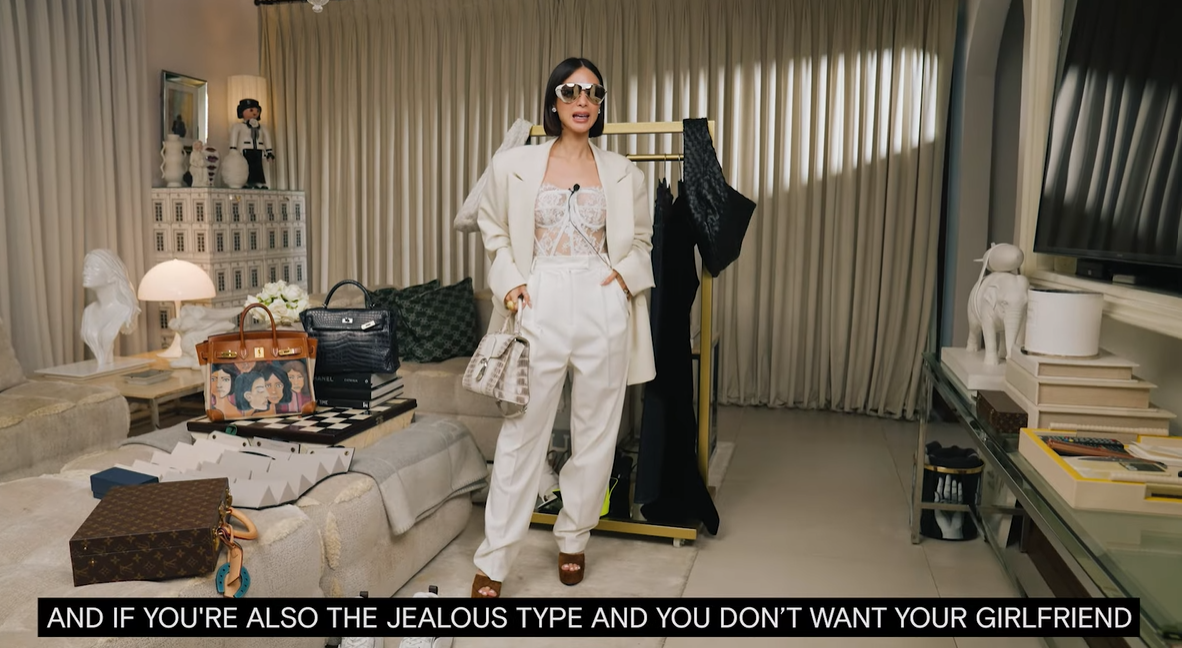 7. Only buy things you can use again.
Even someone as glamorous as Heart knows that it's never worth splurging on items you'll only use once. Before buying something new, she advises thinking about how you would style the piece with items already in your wardrobe. If you can't think of any possible outfits, then it probably doesn't deserve a spot in your closet. "I always consider that when I buy something, that it's something I can mix [and] match with my existing items. Because I don't want to just splurge and not use it again," she says, referring to a classic black trench coat she bought from Yves Saint Laurent.
ADVERTISEMENT - CONTINUE READING BELOW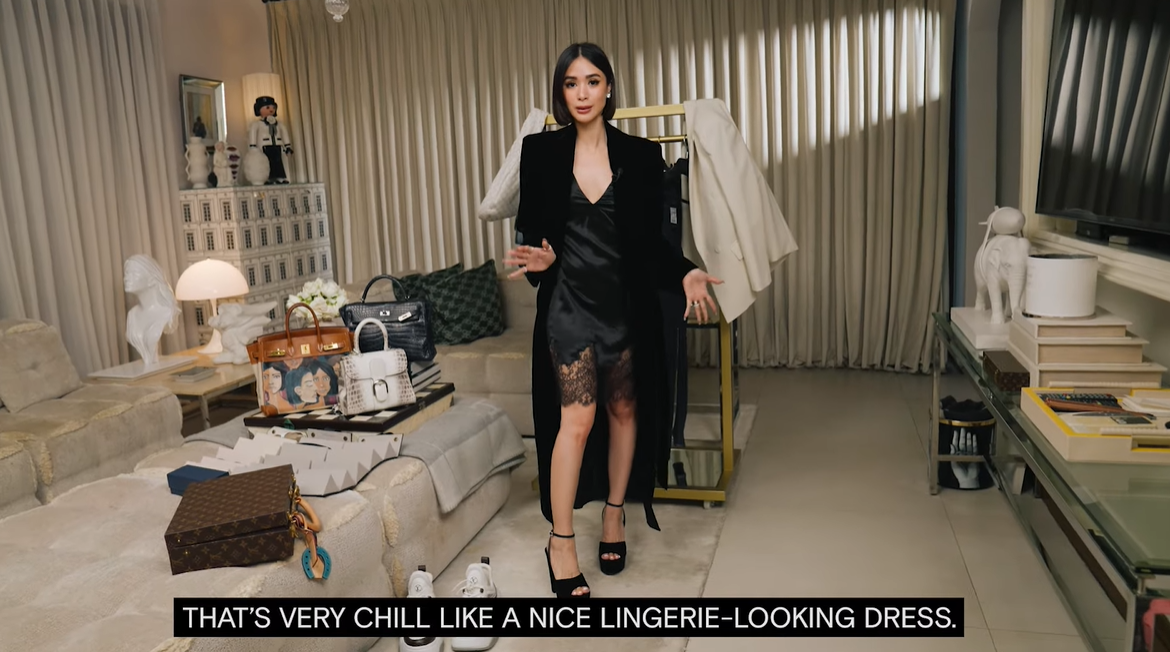 8. Dress according to how you feel.
Most importantly, Heart believes in wearing clothes that make you feel good about yourself. We couldn't have said it better than her: "It's not about what's in fashion, it's not about if it's expensive. It's how you feel—so you also dress according to how you feel. Because if you feel good, you will look good."
ADVERTISEMENT - CONTINUE READING BELOW
You can watch Heart's full vlog here:
Related Stories from Preview.ph
Hey, Preview readers! Follow us on Facebook, Instagram, YouTube, Tiktok, and Twitter to stay up to speed on all things trendy and creative. We'll curate the most stylish feed for you!