Whether you're into ladyboys or Latin food, P. Burgos in Makati is the X that marks the spot. Don't let the sassy trannies repel you; they're actually quite affable and accommodating. Famished and faded, we wandered down the neon-lit path lined with ates and AFAMs ("A Foreigner Around Manila," for the uninitiated) and, one suggestive inquiry later, we were led to the town favorite El Chupacabra on Felipe Street.
ADVERTISEMENT - CONTINUE READING BELOW
The grubby Tex-Mex joint of the Mexicali group is a dimly-lit dive bar with Kahlo and Cuervo watching over us as we devoured street taco after street taco. You could get the standard carne asada (P98), or you could up the ante and fill your tortilla with San Francisco-style lean pork sisig (P98) or Baja California fish (P125). Time to get your hands dirty and dig in.
CONTINUE READING BELOW
Recommended Videos
Wash it down with a tall glass of horchata (P69) and you've got an appetizing beginning to the evening. Vandalisms scribbled all over the restaurant walls made for fun reads and the random crowd of backpackers and locals made for interesting people-watching. We left after cheese and jalapeño gringas (P131). And chicken quesadillas (P168). And another glass of horchata.
ADVERTISEMENT - CONTINUE READING BELOW
Taking a stroll around the area, we ended up on the budget hotel side where bookings of all sorts were being made. On the ground level of Sunette Tower on Durban Street, we stumbled upon the tiny but imposing A'Toda Madre with its shelves full to the brim with every. single. kind. of. tequila. Between the blancos, reposados, and añejos, flights to the high lands and low lands, we were like, "One tequila, two tequila, three tequila, floor!"
ADVERTISEMENT - CONTINUE READING BELOW
Don't judge a drink by its bottle as the exceptional labels can set you back a spicy six digits. We let the bartenders educate us and recommend an appropriate sip. 100% Agave is as proper as tequila can get and is guaranteed not to give you a hangover—unless, of course, you want to celebrate día de lost muertos tomorrow. (#DiaDeLostMuertos) We chose the house's Blue Iguana reposado (P450), served chilled on a flute. True to form, it was smooth like perfectly paved ground and, next day, pounding headaches were nowhere to be found!
ADVERTISEMENT - CONTINUE READING BELOW
Since we just had liquids at our second stop, and we are the type of people who are cool with the idea of multiple midnight meals, we followed the wafting smoke and aroma of sizzling chicken from Ebro Street into Señor Pollo. The poultry are perfectly marinated and seasoned, whether you pick the roasted, fried or spicy variants (P209-P550).
ADVERTISEMENT - CONTINUE READING BELOW
And the sides are even more mouthwatering: there's Latin coleslaw, chimichurri (a green sauce of parsley, garlic, olive oil, oregano and vinegar), plantains, jalapeño mac & cheese, patatas bravas (fried spuds with tomato sauce and aioli), spicy rice, Colombian beans, and sweet potato mash (P30-60). Just try not to get the tables next to the roaster as it gets hot as hell—probably where gluttons like us belong anyway. South American food is definitely having a moment and the ubiquity of churrasco-style diners in the area works out for its meat-loving community.
ADVERTISEMENT - CONTINUE READING BELOW
By then, it was way past our bed time and the excessive eating had not helped our circadian rhythm at all. We made one last pit stop at a hole in the wall (literally) back on Felipe Street and had a quickie at Tambai to, uh, cleanse our palates. Fusing the Filipino sidewalk concept of grilled meats on sticks with Korean kimchi flavors and Japanese yakitori servings, you get the palatable and punny "Yakitodo."
ADVERTISEMENT - CONTINUE READING BELOW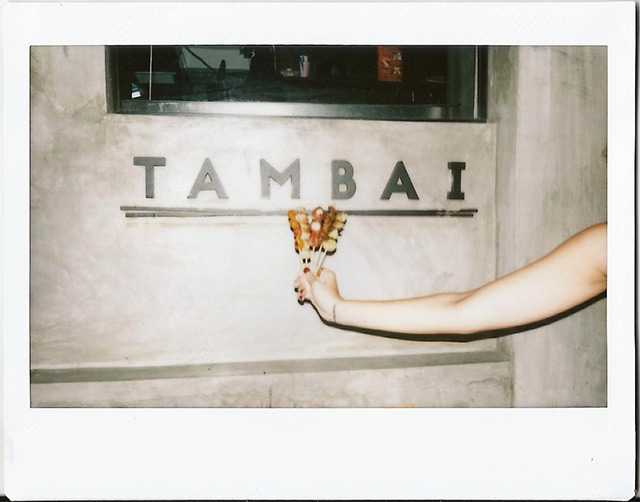 Straightforward and superb, "turo-turo sa tabi-tabi" is taken up a notch with US beef isaw (P40) and fingers (P180), sweetly glazed chicken gizzard (P30), soft shell crab (P185), quail eggs wrapped in bacon (!) (P50), and even roast garlic basil (P20), zucchini (P45) and cherry tomatoes (P25). Cap it off with a bottle of craft beer and special sake and we called it a night for the books. At the rate we went, we probably should've walked all the way home, and as we left P. Burgos, we waved goodbye to the girls still open for business. We went out looking for meat and certainly got our fill. Total score!
ADVERTISEMENT - CONTINUE READING BELOW
Hey, Preview readers! Follow us on Facebook, Instagram, YouTube, Tiktok, and Twitter to stay up to speed on all things trendy and creative. We'll curate the most stylish feed for you!