Similar creative sensibilities backed by a great friendship often make for fantastic collaborations. In the fashion world alone, there are plenty of examples. There's photographer Nick Knight and the late Alexander McQueen. One of their projects was Plato's Atlantis, which embodied McQueen's talent as much as it revolutionized the role of the fashion film in runway presentations. Then there's the tandem of Lady Gaga and Nicola Formichetti: Without their zany sartorial imaginings, female pop musicians across the board would forever be bedecked in sexy dresses that are provocative in one manner only.
But while not all design collaborations consciously push the envelope of convention or what's en vogue, some collaborators just play off on creative kinship and harmony, producing work that embodies their parallel aesthetic as much as it caters to the needs of their respective markets. Such is the case between young designer Stacy Rodriguez and accessory designer Gabbie Tatad, who worked together on Gemini, an apparel and accessory collection inspired by the binaries that define a woman. This second collaboration between Stacy's Glasnost and Gabbie's Aláti gives us plenty of choices for summer and beyond.
ADVERTISEMENT - CONTINUE READING BELOW
We pick the brains of the two to know all about Gemini, so read on. To see the pieces, click on the photo gallery.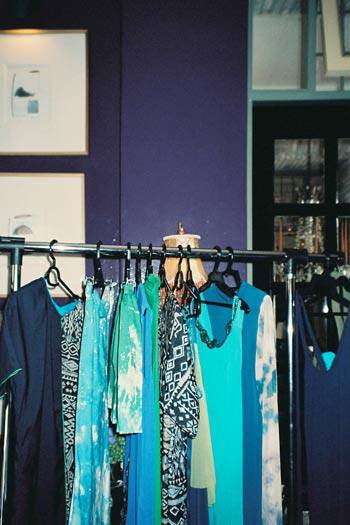 What is the concept behind Gemini?
Stacy: I'm always inspired by my travels but I think this time around, it manifested itself indirectly. After my recent trip to New York, what really struck me the most is the contrast of the city to ours. Although we share the same hustle and bustle, Manila still maintains a very laid-back atmosphere. And this sort of bohemian air was what inspired me. With the heat coming in, I wanted to create a collection that girls can have fun in. Honestly, that's what it really was.
CONTINUE READING BELOW
Recommended Videos
And then when Gabbie and I decided to make it a collaborative event, everything was just so natural it was almost natal. Without needing to compare notes, all our answers were the same. No cheating, I promise. The rest followed.
The theme became more and more explicit. After lots of editing, we finally came up with the name "Gemini," which really encapsulates the conversation of our designs.
Gabbie: We consider ourselves "style twins," not in that we dress completely alike, but that we're extensions of each other's aesthetic. Sometimes it's sexy, sometimes it's sweet, but there's an eerie similarity there. Gemini is our interpretation of the two sides of a woman: the Suzie homemaker and the hot child in the city.
How is Gemini representative of the Glasnost and Aláti aesthetic?
Stacy: I think with every collection I try to tell a story of freedom and transparency. I never try to make the brand more than it is. Every collection is a different interpretation of the brand's campaign to give the wearer the freedom to express herself, be it through a liberating sheer piece, a bold print, or finding their evil twin through multi-way pieces.
ADVERTISEMENT - CONTINUE READING BELOW
Gabbie: It's very much in line with what I try to push forward as a designer. My pieces are always a little tribal, a little rough, not too perfect, not always symmetric. But because my brand's name is "salt" in Greek, I'm of the belief that jewelry should always be a seasoning, a means to enhance the flavor of a woman's personality and character.
Gemini was immediately attractive to me as a concept because I cater to so many different women and men—work-at-home moms, lawyers, artists, doctors, young professionals, sexy [older women], pre-teens. I wanted to make sure that in this collection, I would have pieces that my clients would feel like I made it with them in mind.
What are this collection's similarities and differences to your past offerings?
Stacy: Very similar to my India-inspired collection called Sirens & Trains because of its bohemian feel (and the collaboration with Aláti and YourEvilTwin), to my Phosphorescent collection because of the brights, and to Greco because of all the wonderful transparency. However, I feel that this collection stands out all on its own because it was the collection wherein I realized what kind of brand Glasnost should [continue] to be, which is fun. If I can promise you one thing, I'd guarantee you will have great memories with these garments.
ADVERTISEMENT - CONTINUE READING BELOW
Gabbie: There are a lot of [mainstays], like multiple strand semi-precious pieces and the general playfulness with color. The differences is that it has veered a little from what I started with, which was reinterpreting vintage components and mixing them with new metals. It's much more designed now than when the brand started, and there's much more of a statement to the pieces.
What materials, treatments, and colors can we look forward to?
Stacy: I played around with lots of cottons in this collection. I found bright cottons and experimented on them with my bleach-dye technique. I also found a way to use the same technique on power knits and mesh. Of course there's an abundance of sheer pieces in both mesh and chiffon. I also have a few things in jersey and have exciting details like ribbons as straps and sequin trimmings. And to top it all off, I found a Navajo crepe print that went perfectly with everything.
ADVERTISEMENT - CONTINUE READING BELOW
Gabbie: It's a fusion between the materials I'm known for—dried coral, semi-precious stones, brass chains—with more structured clay pieces. But there are also a lot of surprises in this collection. It's the first time I've used hematite and a very graphic-patterned agate, or used the dried coral in a full statement bib. It's also the first time I introduced certain colors to the Aláti palette, like olive green and soft purple and these marbled metallics. And of course, I used some bleach-dyed details on the semi-precious pieces, not just to give them an edge, but to give a nod to the collaboration with Glasnost.
How do you envision these pieces being styled by your clients?
Stacy: Since I always keep my girls in mind when I design, I always have a clear picture of how the clothes are supposed to look, but when I see friends and new and old clients start wearing them in their own way, that's really the exhilarating part. That's why I decided to name some of my pieces after some of my favorite girls: Divine Lee, Karen Bolilia, Janthina Fong, Hannah Cruz, An and En Estrada.
ADVERTISEMENT - CONTINUE READING BELOW
I can't say there's a certain way I'd like them to style it because so many of my pieces are the perfect canvases to bring out your personality. This may sound wrong coming from someone who makes clothes, but I never believed in clothes making the statement. That's the woman's job. And I'd like to continue making pieces that can help them do this.
Gabbie: Accessories are the safest way to experiment with color, and our pieces are done in such a way that they look anything but safe. I'm from a layering school of thought. Not just to pile things on, obviously, but to mix them with things that are familiar to you. It can add that splash of color or edge that your usual jeans and t-shirts have been missing, but it's also a collection that can give full support to an all-out couture ensemble. The sky's the limit with these pieces. And what I think clients will appreciate is, because the pieces are quite unlike most things you see in stores, they have this spectacular ability to transition from day to night with ease.
ADVERTISEMENT - CONTINUE READING BELOW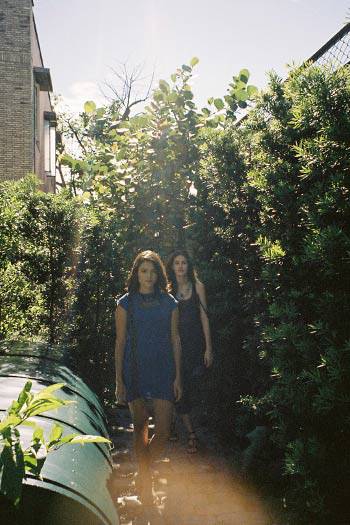 If you had to pick, what are your favorite pieces from this lineup, and why?
Stacy: So hard, but I'll give it a shot! There are the Miuccia bandeaus for their playfulness, the Anna dress for the way it flows and because I believe it's the perfect summer dress, the YourEvilTwin multi-way because of its versatility, the Karen tunic because of the bleach treatment on the sleeves, and the Pauline pajama because it's my interpretation of one of my favorite Spring/Summer 2012 trends!
ADVERTISEMENT - CONTINUE READING BELOW
Gabbie: I hope this doesn't come across as either egotistic or indecisive, but I sincerely don't have any. During the launch, we had different people wearing my pieces and I loved how well they supplemented the girls' personalities. Anna Canlas of Preview layered one of my crystal necklaces with a detachable collar, while Janthina Fong of Jewelmer wore layers of statement bibs together with her golden South Sea pearls. Everyone has a different style message, and it's that translation that makes my pieces come to life. More than individual pieces themselves, that's what I love most.
What can we look forward to for your next collection?
Stacy: I'd like to experiment more on oversized and structured pieces while incorporating the Glasnost way of transparency and freedom, while always never forgetting to include my bleach-dye technique.
Gabbie: A different interpretation of color and of neutrals, possibly a little bit more streamlined, but still a lot of fun and with a lot of personality.
ADVERTISEMENT - CONTINUE READING BELOW
Click on the photo gallery to see the Glasnost x Aláti: Gemini collection.
Click here to see the guests who attended the launch.

Click here for Stacy Rodriguez's Designer Directory.
Click here for more on Gabbie Tatad's Aláti.
Follow Style Bible on Twitter, Facebook, and Tumblr for more on Filipino fashion!
Hey, Preview readers! Follow us on Facebook, Instagram, YouTube, Tiktok, and Twitter to stay up to speed on all things trendy and creative. We'll curate the most stylish feed for you!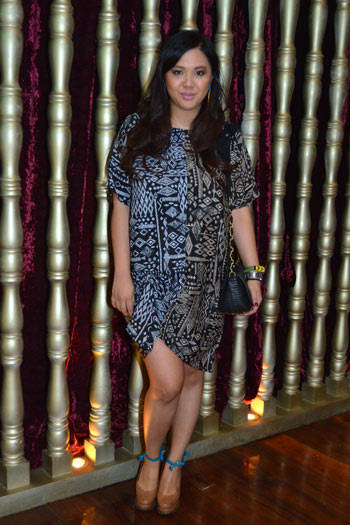 ADVERTISEMENT - CONTINUE READING BELOW
CONTINUE READING BELOW
Recommended Videos
Hey, Preview readers! Follow us on Facebook, Instagram, YouTube, Tiktok, and Twitter to stay up to speed on all things trendy and creative. We'll curate the most stylish feed for you!