(Illustrations by Mano Gonzales)
On an isolated beach on the edge of a jungle in Java, perfect, roaring waves barrel over a shelf of shallow reef. How did I get here? I look up at the endless blue sky, at the swaying leaves, at the fishermen staring not so discreetly at me, and then back at that beautiful beast of a wave. Again and again, I ask this question with equal parts awe, gratitude, and terror. And then I ask myself another question: Do I paddle out?
Instead of waiting to hear my answer, I get ready. I put the fins on my brand-new board (my first time to use a shortboard in a very long time); I named her Marcel the Shell and she's the bluest of blues. Pull on my favorite Roxy bikini, its '70s color blocking belying how surf-sound it is. Braid my hair so it won't be hopelessly tangled afterwards. Put my contact lenses on. Smear organic zinc on my face. Pull on a surf shirt, which just so happens to be pink (I promise). I do each step slowly, but, as if in a daze, I do not stop.
ADVERTISEMENT - CONTINUE READING BELOW
One by one the guys head out: the two French boys, fresh out of university, are in the water first, followed by our new local friends who brought us to this secret spot, and soon after the guy who made the zinc, a Filipino, too. The only other girl on this trip, one of my best friends, is getting ready—slowly, but I'm still slower. Eventually she paddles out. And then it's just me. And this old man playing football with only one shoe.
It's a moment that every surfer has experienced. When you stand on the sand and face the ocean and she's a little friskier than what you're used to. So you have to make a decision: do you get out there, or do you stay safe and dry on the shore?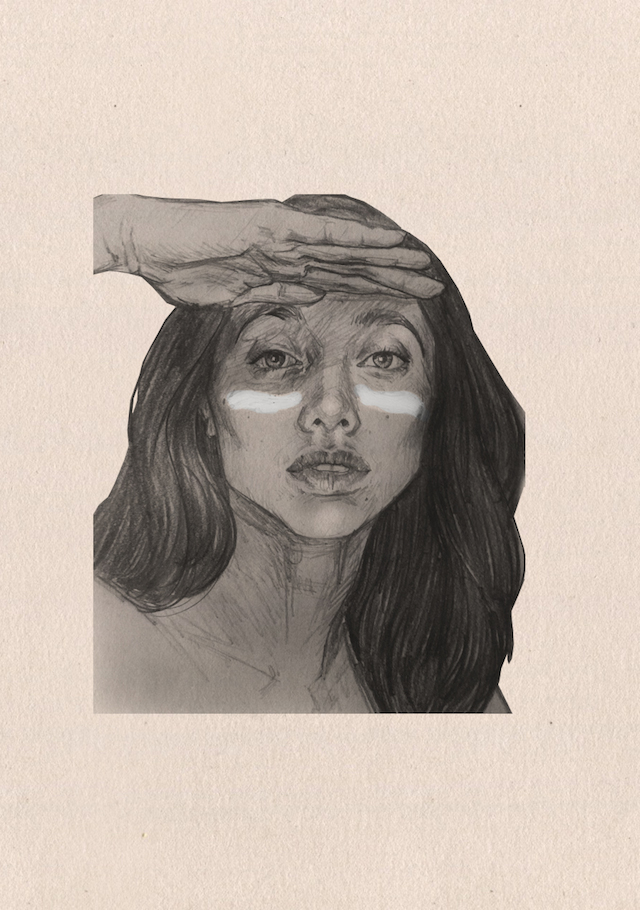 CONTINUE READING BELOW
Recommended Videos
Truth is, I'm not a charger—that breed of surfer that's always hunting the biggest, gnarliest waves to ride. But fear is still very much a part of surfing. Whether it's getting lost in the middle of nowhere, climbing over forbidding barnacle-covered rocks to get to the surf, charging overhead, barreling waves, or, heck, even just trying to pee in the jungle while a spider monkey sizes up the untanned portion of your behind, it's that point right beyond your comfort zone—or perhaps even a little further—that pushes you to let go, and just go. (Pun possibly intended.)
Now, for guys, it's simple: if they wimp out they'll never live it down. But for girls, it's a little different. We're allowed to be scared—even expected to be. Many of us have been taught to run away from the things that frighten us. No one would tease me if I chose to stay on the beach and take a nap instead.
ADVERTISEMENT - CONTINUE READING BELOW
Maybe that's why the surfer girl—who faces that ocean, picks up her board, and paddles out, again and again—has become a bit of an anomaly, a break from regular girl programming. Ironically, she's become a bit of an icon, even, precisely because she goes against the stereotype of what a girl is supposed to be, like, or do. Instead, she's more like the sea: whatever she wants to be. She's a pro surfer with a penchant for heels; she's a hang-ten hobbyist that practices law. She's a hippie artist from SoCal, a mom blogger from Makati, a Muslim surf instructor from Iran.
Out in the surf, the surfer girl is stripped bare of all the things that constitute femininity nowadays: no makeup, no heels, no jewelry (do friendship bracelets count?), no clothes (almost)—no problem. I think it isn't so much choice as necessity: when you see a set of big ones rolling in and you're paddling for your life, looking good kind of gets shuffled down your list of "Things To Deal with Immediately." But one thing we do have in common with girls who don't surf is our love for bikinis—we just wish ours wouldn't fade so fast.
ADVERTISEMENT - CONTINUE READING BELOW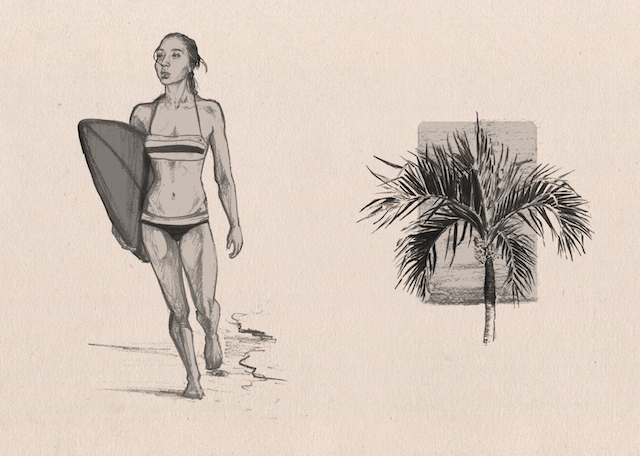 Only as I'm waxing up my board does it finally hit me: I am going to paddle out. The rhythmic sound of the wax being rubbed in circles across the deck of my board, leaving sticky bumps so my feet won't slip, pumps me with increasing doses of adrenaline. How do I make it past the razor-sharp reef, the waiting urchins hiding in the waving sea grass, the crashing waves, beyond the safety of the fishing boats bobbing lazily? Simple: I just keep going.
ADVERTISEMENT - CONTINUE READING BELOW
In that moment, everything else falls away. It doesn't matter if your bikini is matching (better if it doesn't, actually), how pretty your board is (although, for me, it helps), or whether your last post about #adventure and #wanderlust got enough likes (spoiler: it'll never be enough, anyway). It's just you and the sea.
The sea is at her best, beautiful and powerful—but I am not. After hours of not catching anything, I make one last try: I paddle my heart out and finally get my feet up on the board. The wave is too fast for me and comes crashing down. But she's not done with me, yet: she sucks me back up, slamming me a second time on the reef bottom. I don't catch a good one, but it's almost enough to be in the ocean, to watch her play. At least I have a story to take home, and a couple more scars on my knees to prove it.
ADVERTISEMENT - CONTINUE READING BELOW
The next day, we drive back to Batu Karas, a sleepy fishing village where the only thing friendlier and gentler than the waves are the people. We have a flight to catch in Jakarta, a twelve-hour drive away. But first, I go surfing. Partly to redeem myself, and partly to say goodbye, to dip my fingers and toes into the ocean and tell her I'll see her soon.
I wake up before the sun does and don a black, half-sleeved one-piece, giving a friend's boutique swim line a test glide. My friend looks up sleepily from her pillow and tells me I look like a ballerina. I take it as a compliment.
I carry my board down to the beach. The sun is just peeking around the cove to say good morning, the sky a wash of pink and purple in the interlude between night and day. The wind hasn't arrived yet, so the water looks like glass, rippling into perfect little peelers that curl towards the shore. Unlike yesterday, I paddle out on a single-fin longboard, or a "log," the color of the sea and sky at sunset. Her name is Prudence.
ADVERTISEMENT - CONTINUE READING BELOW
Longboarding, or logging, is on the opposite end of the surfing spectrum, the descending note to the high-octane shortboarding seen in Bali, Siargao, or Hawaii. It's slow, and quiet, but just as difficult—think of balancing a bike that's barely moving, or walking across a swaying slack line tied between two trees. The trick is to make it look like it's the easiest thing in the world—and as any surfer worth her salt will tell you, it's the hardest part of all.
The first wave I catch is a different creature from those the day before: she is slow, as if she too is still sleepy, gently rolling but never quite stopping until she spends herself with a sigh on the shore. I lean on my back foot and the heavy log swings right; I cross one foot over the other, and then again, trying to reach the nose of my board. It starts to dip, so I cross-step back to the tail and turn my board back towards the curl of the wave, its gathered energy pushing me along. One day, my toes will reach the nose and stay put, perched over the rushing wave in a proper hang ten.
ADVERTISEMENT - CONTINUE READING BELOW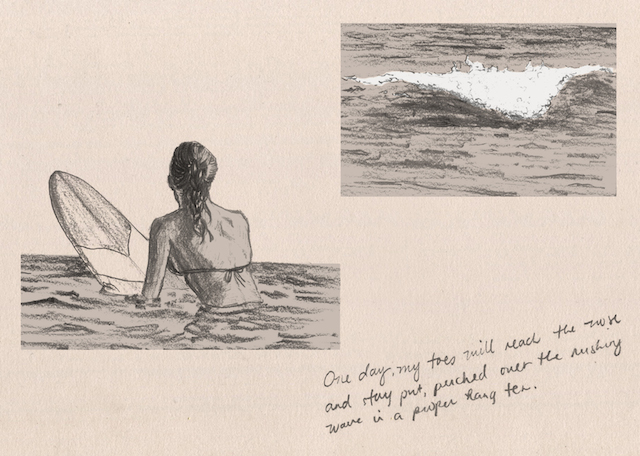 This, just this, is exactly what I love about surfing. It can be anything for anyone: slow and easy, fast and hard, and everything in between. For a girl who dances on water, surfing is the story she tells about the way she lives. Because the sea is a vast and shifting thing: she never stays still, and she's never quite the same each time you meet her. Spend enough time in the ocean, and she'll make her mark on you: from the salt that teases your hair into waves, to the sun that kisses your skin gold, leaving a dusting of freckles, even the moon-white scars on your knees. She makes her mark, too, on the way you move through the world; on the lines you carve across the rest of your life.
ADVERTISEMENT - CONTINUE READING BELOW
Just last month, Roxy teamrider Kelia Moniz, known for her effortless grace on a log, charged Teahupoo, Tahiti: one of the biggest, heaviest waves in the world, and certainly no place for her pretty, single-fin 9'4 longboard—or so people thought. She wiped out—hard—but not before catching a wave that she'll remember for the rest of her life. The photo has gone viral since, but photo or no photo, famous or not, male or female, it's a moment that every surfer spends the rest of their lives chasing after. That moment when everything else falls away, and it's just you and the sea.
Paddling back out, I sit cross-legged on my board, face to the horizon. My eyes fall upon the words I put on the deck right where I can see: "The sun is up, the sky is blue, it's beautiful, and so are you."
ADVERTISEMENT - CONTINUE READING BELOW
Hey, Preview readers! Follow us on Facebook, Instagram, YouTube, Tiktok, and Twitter to stay up to speed on all things trendy and creative. We'll curate the most stylish feed for you!