Gian Romano has never lacked individuality and eccentricity when it comes to expressing himself as a designer. This scholar from Central St. Martin's has developed his aesthetics throughout the years but managed to stay true to his own stamp of identity—deconstructed glamor.
For his most recent collection showcased at the Samsung Hall, SM Aura in a fashion show hosted by Inquirer RED Magazine, Gian blurs the lines of cultural identity and finds a common ground between opposing elements. He says, "The collection is based on cross culture, how migration merges cultures and somehow finds an element of commonality."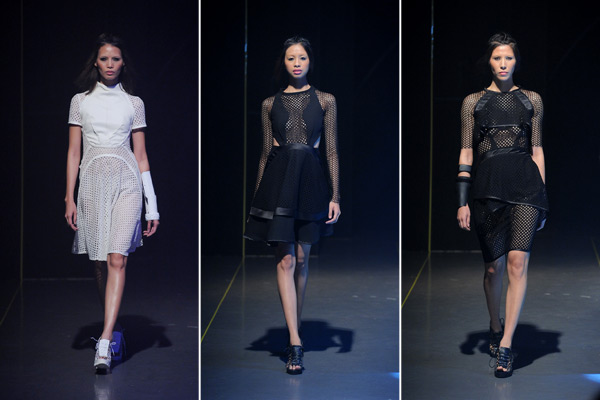 With this latest collection, the young designer experimented with patterns and different textures such as mesh and leather. Showcasing his playful creativity and unique sartorial sensibility, feminine silhouettes with an edgy twist conquered the catwalk with Gian's urban sense of dimension.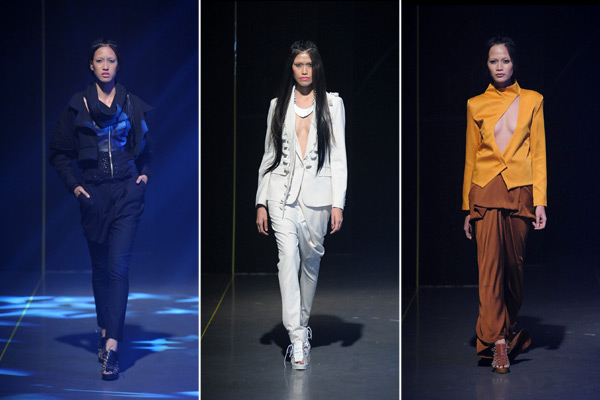 Well-tailored elements and streamlined cuts also strutted down the runway, giving a touch of glamor to his deconstructed pieces and redefined street style. The designer showed his grasp of technique with tweaked basics that are characterized by intricate cut-outs and clean lines.
Scroll down and check out our little chat with this talented young designer as he sheds more light on his latest collection.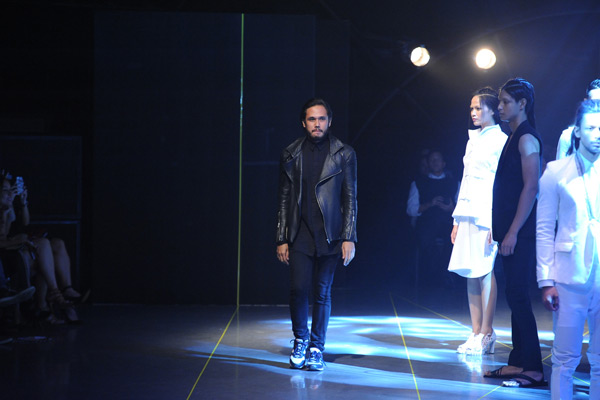 Tell us about this collection. What was your inspiration behind it?
The collection is based on cross culture, how migration merges cultures and somehow finds an element of commonality, blurring the line of cultural identity.
Who can you envision wearing your designs?
In any collection that I do, I don't think of a particular person. Rather, I let people dissect the collection and find themselves within the clothes. I feel like the whole story of it was somehow told in the presentation. It is through collaborating with like-minded individuals that conveyed my single idea and somehow made it bigger. It is hard to envision just a particular person wearing the clothes because it took a lot of minds to come up with the entire look.
ADVERTISEMENT - CONTINUE READING BELOW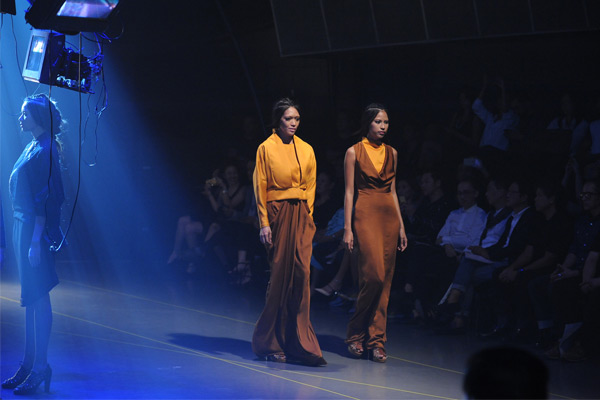 We've noticed a lot of mesh and leather from your collection. Can you share with us why you chose these materials and perhaps enlighten us with the techniques you've used?
I wanted to do contrast like mixing different textures, from mixing silk eyelet and leather to mixing different types of mesh. I wanted to give dimension to the clothes' monotony.
Do you have a particular favorite from your collection?
It's hard to pick just one as every piece has its moment for me. It's like having to choose a favorite between a son and a daughter.
So what can we expect next from Gian Romano?
What's next? Well, I just want to keep doing what I'm doing [and] work on my next collection.
Launch the gallery and view Gian Romano's complete collection.
Photos from Ryan Ong