True to his title, Mr. Pure Energy, Gary Valenciano pops and locks for the camera while daughter Kiana, clad in one of her dad's vintage studded jackets, stands with her arms crossed beside her dancing father, seemingly annoyed at his antics. It's an endearing sight watching this father-daughter tandem play, tease, and vibe off of each other with the ease and trust only a few are lucky to have.
It's almost comical the way they interact as Kiana reveals her dad's unexpected passion for women's shoes while Gary scrambles to explain his envy towards the myriad of detailed selections available to the fashion girl. "I'm like, 'how come with us it's the same thing, either slip-ons or there's a buckle or there's a tie and that's it," he explains. However, when it comes to truly talking about each other, no amount of gushing can compare as Gary proudly illustrates the creative energy his daughter possesses for both fashion and music. Kiana, on the other hand, seems to have a penchant for stealing her dad's old statement jackets if her outfit choices for the shoot are any indication, a fan herself of the timeless Gary V look, shoulder pads included.
ADVERTISEMENT - CONTINUE READING BELOW
There's no denying that these two are a close knit unit ostensibly well-versed in each other's styles, possibly because theirs are so similar they're almost unable to tell the difference themselves. Kiana lists down, "We're both sneakerheads. We like boots, we like statement jackets. We like shades also. We're big on accessories." But if there's anything this pair can agree on the most, it's using fashion as an avenue to express your individuality and to just be yourself amid a sea of naysayers policing your every decision.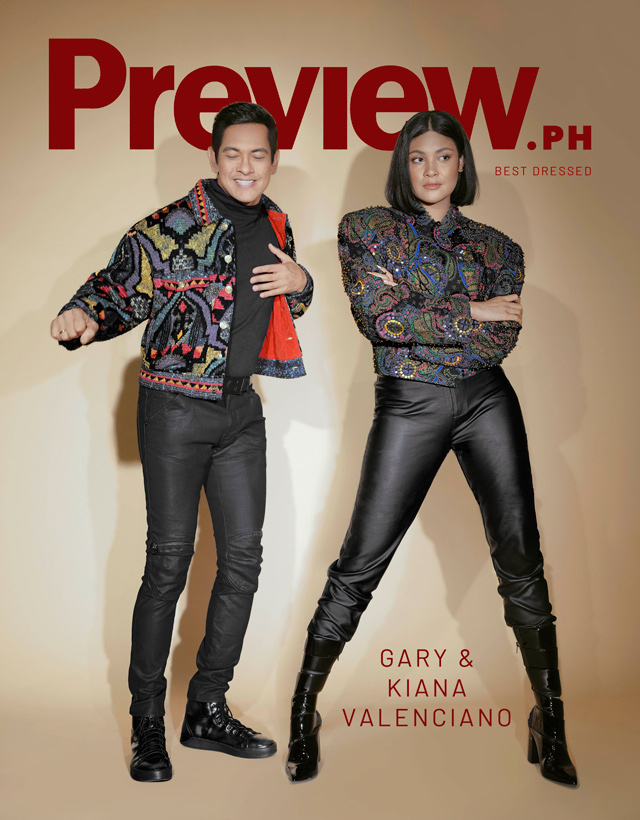 CONTINUE READING BELOW
Recommended Videos
Gary and Kiana both wear Gary's vintage jackets.
Can you describe your relationship as father and daughter?
K: "We're pretty close."
G: "It's a lot of laughter every time we're together. I like making sure that she's laughing. We kind of like the same things like when we talk about going out of town, if it's not the beach it's got to be something a lot better than the beach. We love the beach quite a bit. We love movies. We love laughing about the same things, same jokes."
Why do you think the other was chosen to be a part of the best dressed list?
G: "I think it's part of her passion. Not everybody knows about this, but [Kiana] did study in London for a couple of months and it was fashion that she took up. Not music. Fashion. She started making her own drawings just a few weeks ago, maybe two to three months ago she started getting back into her sketching. So I think it's in-born, something that's a part of who she is, and I think that's just the same way as her music sounds distinctly hers; her fashion is also distinctly hers. She's got good people backing her up. I know she's endorsing Oxygen. She chooses which products she can actually wear to make it distinctly hers. That's why I think somebody like that, who doesn't just look at what everybody is wearing and then 'wait I can do this.' No, it's like 'this is who I am and this is how I wanna look.' And I think it looks good."
ADVERTISEMENT - CONTINUE READING BELOW
K: "I mean my favorite fashion item is his [jacket]. I think he's been very consistent with being a fashion icon throughout his career. He still is a fashion icon 'til now. He knows exactly what he wants and even with his style team, he knows how to direct them, he knows how to collaborate with designers and his stylists."
G: "I've been trying to experiment a bit because I haven't been coming out much in concerts and they're the most crucial because people are glued to you for an hour and a half, so I wanna make sure that when I come out on stage it's not too flashy, it's not too many loose things moving around. It can be as simple as possible depending on the occasion. But really to be a fashion icon and all before, I was a little more daring. I was really trying whatever. Shoulder pads, everything. But I'm glad that she feels that way up to now because it's confirmation that as long as I continue to feel good in what I wear then I think I'll be okay as years go by even if I age."
ADVERTISEMENT - CONTINUE READING BELOW
What do you like most about how the other dresses?
G: "She's not out there to show people 'hey, look what I'm wearing'. Hers is like 'this is me and what you see is what you get. If you like it I can talk to you about it.' She had all of these plans of creating her own line, which I think she still can."
K: "Someday."
G: "Because when it comes to music, depending on what people listen to, they dress up based on what they listen to. That's the way I see it. You're into hip-hop and all that, you get oversized shirts and all of that stuff. But with her, someday, when she starts designing again and when she really goes full time, I think you'll see the fruition of what I've been talking about. Where she comes out and all she presents is who she is. Not what she can design. And that's what I like about her style, it's a reflection of who she is."
ADVERTISEMENT - CONTINUE READING BELOW
K: "About his style that I like, he isn't afraid to try new things. He knows what he likes and he knows how to build around that. There are certain things about him that we all know that he likes like his bracelets, his watches, the sneakers. He knows how to mix trends and the classic Gary V that we all know."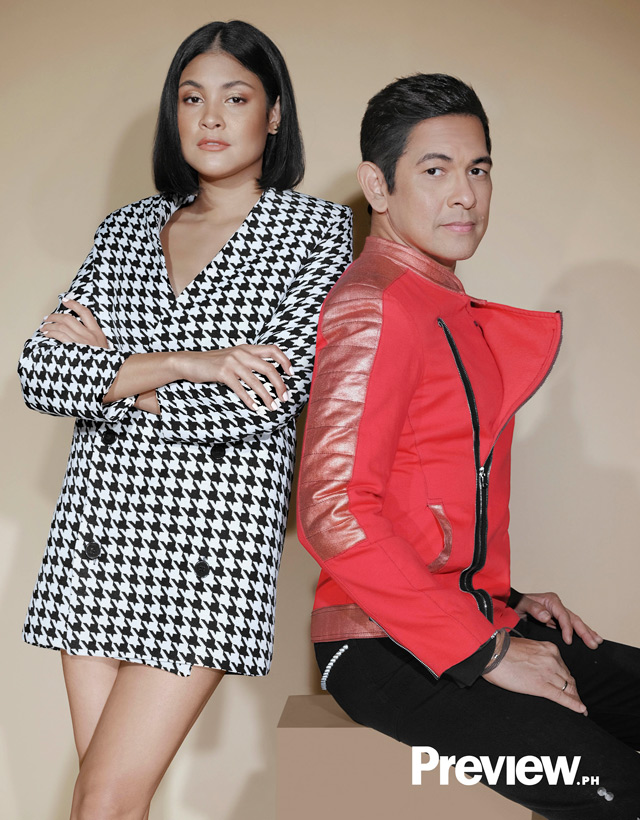 ADVERTISEMENT - CONTINUE READING BELOW
On Kiana: Maison Ramiro dress; On Gary: his own jacket and Bryan Cinco pants.
If you were to scroll through each other's Instagram feed, what style tip/s would you pick up?
K: "Effortless. When you see his outfits, it's not like he's trying too hard. His posts, he isn't trying too hard. The tip would be not to try so hard."
G: "I'd have to be a very colorful kind of person to really exercise the tips I get from her fashion blogs. But one tip I get from her especially when she was in London, I couldn't get anything that could apply to me, but I could see that there were a lot of people her age that were picking up things. That would say 'if she can do that, an Asian Hispanic Filipino American, it's all mixed together, and she's in Europe, look at the way she's dressing up, look at the way she's carrying herself. The biggest tip I can get from her is learning to feel good in what you're wearing. Being able to carry yourself in a manner in which when people see, they see what you're wearing but they also kinda can tell that this person knows what she wants with whatever she's wearing."
ADVERTISEMENT - CONTINUE READING BELOW
What does the other's signature look tell you about her/him?
G: "Right now her signature look would be the short hair, which I think, and I'm not gonna claim it, but when she had that kind of hairdo, I saw a lot of other people beginning to follow suit. It's risky kasi for a girl to do that because it takes time (to grow it out). Now she wants to grow it again. But I think any style that she chooses, for as long as feels good and she feels comfortable in it, it's going to look good with her. Based on her signature look for now, 'cause it's gonna change, her hair is the one that says…I guess people know how risky it is to cut your hair after you've spent years growing it to a certain length and you've spent years in making sure it's fixed all the time, everywhere you go. Then she cut hers and it was colored, I was like, 'that's my daughter indeed.'"
ADVERTISEMENT - CONTINUE READING BELOW
K: "I feel like your signature look now is the sneakers. You're such a sneakerhead. He collects sneakers. It shows that he's not a regular dad, he's a cool dad. I think it goes to show that he knows how to keep with the times, keep up with the trends. He's very open-minded."
If you could steal one thing from the other's closet, what would it be and why?
K: "All the jackets! One whole closet of jackets. I use them all the time, they're my favorite. The way I dress is really basic. Jeans, normal top, I just accessorize. But really I love a statement jacket, statement shoes. I'd steal his jackets."
G: "And if she put shoulder pads on that it would be the complete Gary Valenciano style."
K: "I do wear shoulder pads now!"
G: "I felt I was very thin in the earlier part of my career, so I started wearing shoulder pads. Nobody said anything then so they must have felt either 'this is weird' or 'this is cool.'"
ADVERTISEMENT - CONTINUE READING BELOW
G: "There are times when I go up to her room and I see her shoes…"
K: "He loves women's shoes!"
G: "Because there are so many selections!"
K: "When I used to live with them and I'd go out, he'd be like 'Oh my god your shoes', I'd be like, 'Dad, they're heels.'"
G: "No, it's just little details. Not the shoe itself but the way it's designed, the details. I'm like, 'how come with us it's the same thing. Either slip-ons or there's a buckle or there's a tie and that's it. That's why I'm very particular, when I go online it doesn't matter if they're not branded. I don't care. But if it's shoes that I think 'I can wear that', if that's the only accent I have in my outfit, that's gonna work. I'm a shoe and jacket guy."
ADVERTISEMENT - CONTINUE READING BELOW
In what way are your styles different? In what way are they the same?
Both: "Shoes and jackets."
G: "I need to tell you about shoes—"
K: "The passion!"
G: "We were in ASAP, we went to London and she was studying there. So I said 'Kiana, you have to take me someplace where they sell men's shoes.' It was a small street, it had one store after the next of unknown brands but brand new designers, so I went. At that time there was a brand called Grenson Shoes, it wasn't big yet. It's here now! When I got the shoes there, she knew right away that was my weakness."
ADVERTISEMENT - CONTINUE READING BELOW
K: "That's what we have in common. We're both sneakerheads. We like boots, we like statement jackets…We like shades also. We're big on accessories."
K: "In terms of differences in style, I think mine is a little more eclectic. I'm more on the weird side. I choose different colors, and I mix and match prints."
G: "I'm getting to that stage in my life where I have to be careful because I might be overdoing it at my age. Now if I was 10 years younger, then okay. So I tell my young team, 'Be careful, I don't wanna look like I'm forcing myself to look young'. I wanna look my age but look cool looking my age. There's an artist by the name of Sting. I think he's 58 or 60 but he's ripped—he's not buff, he's just toned—and then he comes out with a bass guitar, it's just a T-shirt sometimes, or if it's a formal occasion it's just a polo shirt, but when he plays it's like 'Wow!'"
ADVERTISEMENT - CONTINUE READING BELOW
K: "My style's more playful."
G: "Mine is more black but textured."
Do you shop for each other? What's the most memorable thing you've given each other?
K: "Not really. We give each other advice on where to shop and what to look out for."
K: "I gave him speakers."
G: "I was in the hospital."
K: "It was father's day. I just gave him a simple, tiny JBL bluetooth speaker. I didn't even know that he never had a Bluetooth speaker. He was so amazed!"
G: "I take it everywhere with me now. It's waterproof so I can even go swimming in the water if I wanted to.
"One of the most memorable gifts I gave her was during Christmas when she studied in London. I found this music box. It was just a block of wood and you wind it. It had the Big Ben in the middle of that, and then it had a red phone booth and a black taxi cab going around. And she goes 'It's so nice I love it!'"
ADVERTISEMENT - CONTINUE READING BELOW
If you could only wear one outfit for the rest of you life, what do you the other would choose?
K: "He would probably wear a relaxed T-shirt. Maybe a nice pair of tailored joggers, sneakers, cap, and watch."
G: "It would be something relaxed, too. The real her is on the beach. She loves staying there, loves La Union, Siargao, Zambales, Palawan, El Nido and all. So I'd say she could go in linen pants but really flowy. A bikini top maybe. A cap or hat or something. Just a few accessories. Something to carry her cellphone and wallet in. And the best-looking shades you could find."
ADVERTISEMENT - CONTINUE READING BELOW
What's the one piece of fashion advice you'd want to give the other?
G: "My only advice: It's not anything that has to do with how she decides to dress up. Mine is more of pursue it. Pursue something that you're so passionate about. When she gets into it, it's non-stop. It's great to see her at it because she's creating and doing things I could never do."
K: "Just keep the cool style I think your personal style is good. I have no advice to give because I'm stealing your clothes. My advice is keep buying clothes so I can keep raiding your closet."
What do you enjoy most about fashion?
K: "That you can experiment. To other people you'll probably make mistakes but I think fashion is an expression. If you're happy then how is it that you're making a mistake?"
ADVERTISEMENT - CONTINUE READING BELOW
G: "Wondering what's next. I really like watching out for what's next. I used to collect all of these fashion magazines. I even had a friend named Michael Salientes. He used to work with Cosmopolitan in New York. When he would tell me 'Gary, this is probably what's next,' then I look at the magazines and I think, wow! And I like that. It may not fit me in particular but I like watching out for something new."
Produced by The Preview Team
Art Direction by Mark Buenaobra
Photographed by Shaira Luna
Makeup by Anthea Bueno (Kiana)
Hair by Mark Rosales (Kiana)
Grooming by Bernardo Rodil, Jr. of Tony and Guy Manila (Gary)
Nails by Luz Fortuno of Triple Luck Brow & Nail Salon (Kiana)
Related Stories from Preview.ph
Hey, Preview readers! Follow us on Facebook, Instagram, YouTube, Tiktok, and Twitter to stay up to speed on all things trendy and creative. We'll curate the most stylish feed for you!