This time last year, the Marikina Mayor's Gala was not only dedicated to raise hope for the local talents who would become the future of the city's shoemaking industry, but also to help the victims of Super Typhoon Yolanda. Fast forward to a year later and here we are with a solidified shoe industry with its growth showing no signs of stopping anytime soon. Last November 25, 2014, the Ayala Museum was filled with shoe-natics who all witnessed a one-of-a-kind exhibit and a fashion show care of Moderne Culinaire Academy and eight more talented enthusiasts namely: Nikko Torcita and Cris Mora of AwesomeLab, Jaggy Glarino, Renan Pacson, Martha Rodriguez, Neil Felipp San Pedro, Izabelli Selma, and Jay Yao.
Palatable footwear made in actual shoe size? We certainly didn't see that coming, and no, we're not complaining. See the highlights of the exhibit by scrolling down.
Chef Jae Cortinas' "Chocolate Collection"
ADVERTISEMENT - CONTINUE READING BELOW
Chef James Bicaldos' " Squid Ink"
Chef James Bicaldos' "Textures"
Chef Sau del Rosario's "Marikina Farm to Table"
ADVERTISEMENT - CONTINUE READING BELOW
Chef Kumi Yamasaki and Chef Hideyuki Takahashi's "The Red Sushi"
Pauli Antoine's "Sushi in Paris"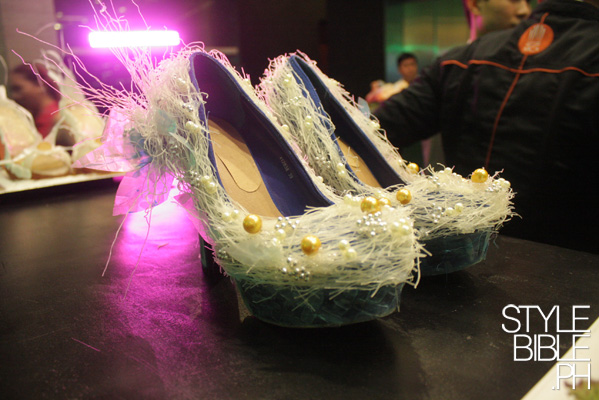 Chef Tatung Sarthou's " Louie Ouihon"
ADVERTISEMENT - CONTINUE READING BELOW
Chef Ricci Carmona's "Sugar Fairy Mules"
What did we tell you? Amazeballs, right? The talent from this year's exhibit was off the charts, but it didn't end there. The showcase was then followed by a fashion show.
We could definitely find use for those pockets.
We feel like this pair could fly off anytime like a rocket.
ADVERTISEMENT - CONTINUE READING BELOW
What fun boots!
Mayor Del de Guzman with the designers
Congratulations for accomplishing your mission, to say that we were impressed would be an understatement.
Click on the gallery to see who graced the gala.