Eating disorder problems don't seem to cause too much dialogue in our shores, what with more prevalent social issues such as poverty, corruption, and education. But over in one of the fashion capitals of the world, France, the state is finally taking a legal step in battling anorexia and the idealization of the dangerously thin.
Just recently, the French legislation voted for a bill that declares: "The activity of a model is banned for any person whose Body Mass Index (BMI) is lower than levels proposed by health authorities and decreed by the ministers of health and labor." But is the country of love the first ever to make this move? Not really.
The year of 2006 was a memorable time for the fashion industry. Not only was it the year that Emily from The Devil Wears Prada starved herself to fit in her clothes for Paris, but it was also the year when Italy and Spain decided to ban overly thin models from the Milan and Madrid fashion weeks, respectively.
ADVERTISEMENT - CONTINUE READING BELOW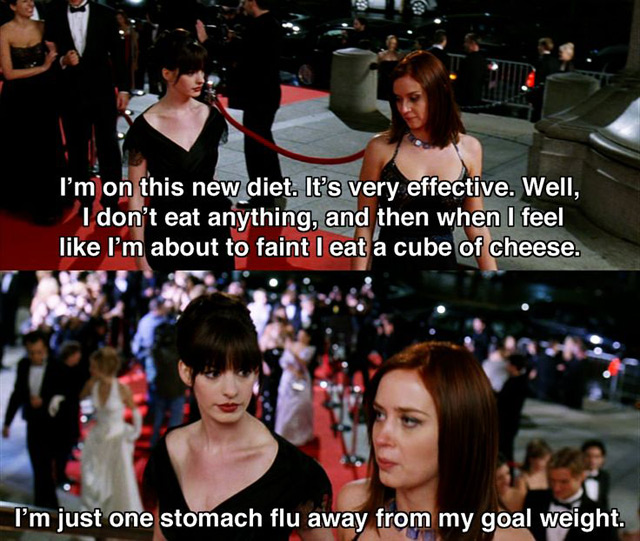 About that cheese diet.
The Middle East followed suit in 2012, when the Israeli government passed a law banning the hire of underweight models both in advertising and on the catwalk. It required models to have a BMI or weight to height ratio of no less than 18.5 (the normal BMI for a woman, topping out at about 24.9) –and for advertising agencies to state if their images have been altered to make a model look thinner.
CONTINUE READING BELOW
Recommended Videos
The bill that was passed by the French government is actually really (if not completely) similar to that of Israel's:
If an agency is found to be using models with a BMI under 18, they would face up to 6 months in prison and a fine of 75,000 Euros (around Php3.5 million);
if an advertising material fails to state that the photo has been retouched, that will incur a fine of 37,500 Euros (Php1.8 million) or up to 30% of the amount spent on the advert; and
if an Internet material is found to glorify anorexia, that would mean a fine of up to 10,000 Euros (Php480,000) and a year in prison.
However, some critics are protesting that some models are naturally thin, despite having a lower-than-prescribed BMI. The head of France's National Union of Modeling Agencies, Isabelle Saint-Felix, told L'Agence France-Presse (AFP), "It's very serious to conflate anorexia with the thinness of models and it ignores the fact that anorexia is a psychogenic illness."
ADVERTISEMENT - CONTINUE READING BELOW
What do you think about France's new bill? Sound off in the comments below.
Hey, Preview readers! Follow us on Facebook, Instagram, YouTube, Tiktok, and Twitter to stay up to speed on all things trendy and creative. We'll curate the most stylish feed for you!