Its grandiosity is striking: a massive wooden structure at the center of an outdoor garden, and inside, three domes made of fluid lines, uninterrupted. A tranquility overtakes you—everything flows freely at the largest pop-up store of local brand Harlan + Holden, which constructed the gorgeous space at the center of the Greenbelt mall in Makati. If you walk by, you won't miss it. It's a head turner.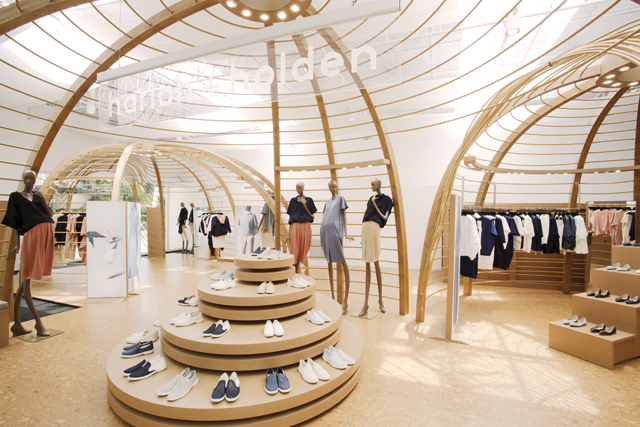 ADVERTISEMENT - CONTINUE READING BELOW
The space is envisioned to life by Swiss designer Frederic Legendre, who has worked with a number of luxury brands for many years, working on the store designs for Harry Winston, Breitling, and Rolex, to name a few. Legendre's work is largely inspired by nature, but he also fuses it with his experiences from traveling around the world, and his history of working closely with watchmakers in Switzerland, who taught him that every miniscule detail is important. On a particularly balmy afternoon, he sits with Preview.ph to talk about his process and his work.
Can you tell us a little bit about your background?
"I was born in Central Africa, and we were living a very simple life. I didn't have all the games that kids could have in Europe. So I started to play with a few things and create things with my hands."
Do you remember some of your first creations?
CONTINUE READING BELOW
Recommended Videos
"Yes absolutely! I started with shells on the beach, and I started to assemble them to create a sculpture. I think I was around 6 or 7 at that time, and the funny thing is six months ago, I started to revisit this first creation, and I took this design of the shell and re-made it with a modern material like metal, and I organized a kind of game out of it. It will be out in the market in six months. It's a luxury game but the origin is my very first creation."
What elements did you take from the brand Harlan + Holden that you wanted to translate into the space?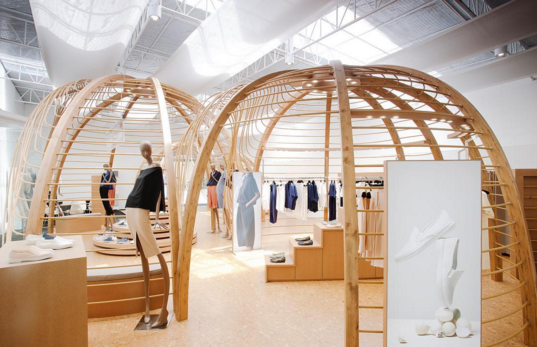 ADVERTISEMENT - CONTINUE READING BELOW
"The spirit of sweetness of the brand, and the lines inspired me. I was very impressed at how simple the brand was, it's really so basic, and it's very difficult to make something simple. So for me, every time I do something creative, I start with three words, and when I saw how pure the lines were, the first word that came to mind was "fluidity" on everything, that's why it was my direction. I have to invite people to move through the architecture, which has to be simple, but with a strong identity, without being too attractive to overwhelm the visibility of the product. Nothing aggressive, that's why the domes are curved. You know it's very difficult to have a nice curve. And curves never stop, they continue every time, so that was my inspiration."
What is the effect of design in the way people shop?
ADVERTISEMENT - CONTINUE READING BELOW
"You have to invite them in, and they decide if they want to stay or not. If they are not comfortable, they will leave. That's why I work a lot with materials and details to create an emotion, because from the time you start to illicit an emotion from people, they are curious. You want to invite them to discover something."
What is your method when creating work?
"First I write a lot, because I need to find five to three keywords, and then I design around these keywords. Because when everything is finished, I go back to my client and I ask, 'What do you think of the architecture and can you give me three words to describe it?' And when I get two words out of three, for me it's a success. I have to really pay attention to the words that describe the brand. After that, I start to make some sketches, and then I go into 3D and then it becomes real. It starts with words, and I write a lot. Each time I go back to the words to see if I am on the right path."
ADVERTISEMENT - CONTINUE READING BELOW
What's the worst thing that a client can ask of you?
"To be an executor—if they just want me to execute their ideas, for me it's the worst because it cannot be [injected with] my sensibilities. Because I want them to believe in my ideas and recommendations, so the worst is when they dictate because there is no place for me. And usually when a client asks me something like that, what I do is I can recommend someone else who can do that for them."
And you pour a lot of yourself into your work?
"Yes, a lot… I need to pour a lot of emotions into my work. I don't sleep, I don't eat, sometimes I'm very excited and I really need to suffer to give the best because the best creativity comes from suffering. So yes I offer a lot, and I need to leave my project. When I finish a design, for me, there are so many things I want to change already."
ADVERTISEMENT - CONTINUE READING BELOW
So you are never 100 percent happy with your work?
"Never."
(Gasp) That's a hard life to live.
"One guy told me, the day you are happy with your creations, it's the end, it's finished. Because you must always find something to improve on."
The Harlan + Holden pop-up is located at the Greenbelt 5 walk.
Related Stories from Preview.ph



Hey, Preview readers! Follow us on Facebook, Instagram, YouTube, Tiktok, and Twitter to stay up to speed on all things trendy and creative. We'll curate the most stylish feed for you!