From the moment we are born, we are subject to public scrutiny and its underlying implications: approbation and validation. Especially for those of us who are firstborn or only children, our parents bundled us off, swaddled us in the prettiest blankets they could find, and showed us off to family and friends and waited with bated breath for the oohs and aahs and the declarations of "Aww, so cute!" But even those of us who are second children or one of even more, we know that when our parents first showed us off, they certainly didn't try to elicit shock or awe.
Slowly, steadily and surely, we learn the rules of the game. There is a standard, a norm, an unwritten contract that the way we present ourselves shouldn't stray too far from how other people also look. One of my first memories of dressing myself (a print-on-print pop art T-shirt and a floral peasant skirt that I matched with my newest sneakers) is of my mom sending me back to my room to change with these words: "You don't mix prints with prints. And rubber shoes don't go with dresses or skirts!" Yes, yes, it was a different era.
ADVERTISEMENT - CONTINUE READING BELOW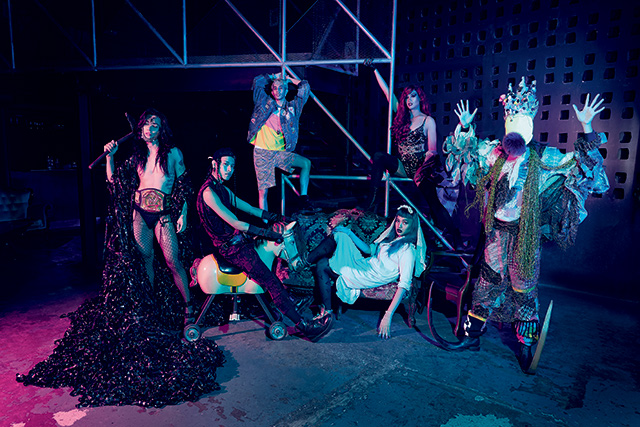 IMAGE Dookie Ducay for Preview Magazine
From left to right: Paulo Castro, Bruce Venida, Job Sebastian, Jellyfish Kisses, Super Starlet and Jujiin Samonte.
A National Uniform (And Not in a Fashion Sense)
When I have discussed with other fashion-loving friends why, with all the strides in global fashion awareness and the proliferation of both new designers and international clothing brands, there is still a pervading ethos of conservatism and conformity among Filipinos, they tend to blame religion or family ties. We don't like to rock the boat, and this even spills into our sartorial choices. But there could be a far less abstract reason. A friend posited: "In other countries, it's only in private schools where students have to wear uniforms. And even with uniforms, there is a certain liberty or license to add a stamp of personality. In the Philippines, even those in public schools up to college have a uniform. It's just easier to keep on wearing what you've always worn." The analogy can even be extended to workwear; many offices still require uniforms and so experimentation and style advancement can be stunted.
CONTINUE READING BELOW
Recommended Videos
And yet, and yet, in this light, we are also a nation of fiestas, religious or otherwise, with a solid history of artistry and embellishment. We are also naturally extroverted with a well-documented national horror vacui, as manifested in our art, architecture and show-biz obsessions.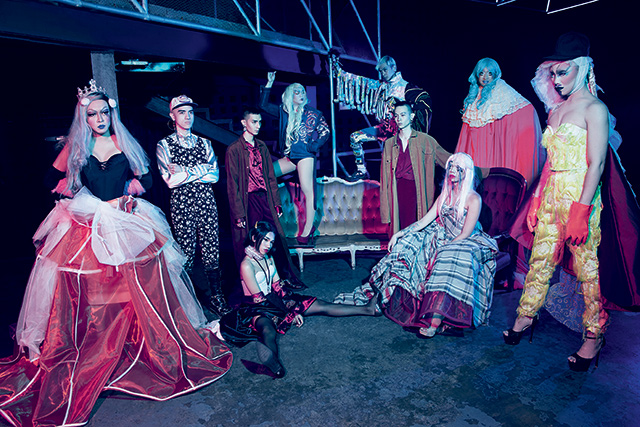 IMAGE Dookie Ducay for Preview Magazine
ADVERTISEMENT - CONTINUE READING BELOW
From left: Strawberry Shotgun, Paul Jatayna, Mav Bernardo, Louis Ricafort, Mia Maceda, Salad Boy, Cenon Norial III, Molly Ester, Lee Cum Kee, Girl.
Life, Liberty and The Pursuit Of Happiness
A Negro spiritual goes: "This little light of mine/ I'm gonna let it shine/ Let it shine, let it shine." We are all born with our innate aesthetic sense, and though we are shaped by our surroundings and life experiences, there is a core of what we love and know we love. Personal style, and more so unapologetic style, usually emerges from a journey. There will be missteps and mishaps, but there will be a point, when as Selena Gomez declared in her American Music Awards 2016 speech, "I don't want to see your bodies on Instagram. I want to see [what's in your heart]. I'm not trying to get validation, nor do I need it anymore." Taking the leap into fun and fearless style is also a form of wearing your heart on your sleeve.
ADVERTISEMENT - CONTINUE READING BELOW
Fashion designer Mia Maceda of Ched Studio recalls: "Studying fashion history, I realized that clothes are not just clothes. During the '30s, it gave people this escape and fantasy to get away from depressing times. That's the true power of fashion: It can make you feel good, it can open a new and exciting world." Stylist Myrrh Lao To shares, "When I was a kid—a little gay boy in Tuguegarao City—I remember really wanting not to have what others were crazy about. It mattered to me so much that I always had to wear something no one else had, hence DIY-ing in grade school and going to vintage stores in high school. At first I would feel awful when people would stare at me, but I got the hang of it and actually enjoyed the reactions—realizing that personal style can be an outlet for expression and at the same time a tool [to provoke] reactions." Designer Willar Mateo, aka Salad Boy, also remembers a quiet and uneventful life in Obando. "Wala masyadong ganap [There wasn't much going on], so magazines and internet research became my world. And it became empowering to become a character!"
ADVERTISEMENT - CONTINUE READING BELOW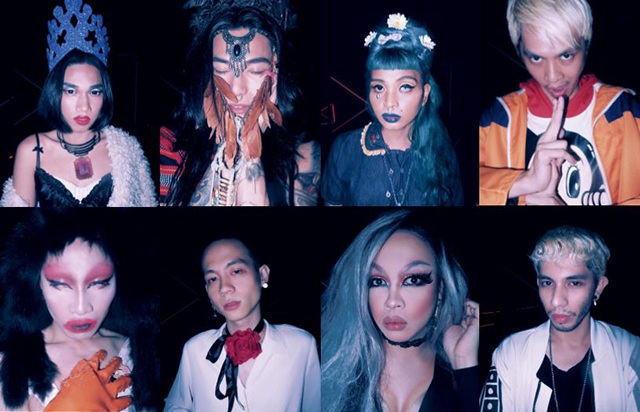 IMAGE Dookie Ducay for Preview Magazine
From top, left to right: Louis Ricafort, Paulo Castro, Jellyfish Kisses, Salad Boy, Girl, Cenon Norial III, Strawberry Shotgun, Job Sebastian
Stylist Shahani Gania was able to parlay the style of his drag persona, Super Starlet, as the "Unapologetic Bitch" for his four minutes of dancing with his idol Madonna. "She called me brave," Shahani wrote about his experience as Super Starlet, who was scouted by Madonna's dancers, who then gave her an SVIP ticket and pulled her out of the crowd so she could dance with Her Madge.
ADVERTISEMENT - CONTINUE READING BELOW
Anton Belardo admits, "I'm an artist and I look like my paintings; I am a living extension of my art. My artist name is Jellyfish Kisses [because] a jellyfish appears soft and simple but is actually complex and even poisonous, beautiful and fragile, and with a lot of secrets! When I was younger, people told me that I had to conform, to dress simply, or else I would never have a boyfriend. But I just couldn't take it! And then I realized that if I dressed like myself, I got into even more interesting relationships."
ADVERTISEMENT - CONTINUE READING BELOW
IMAGE Dookie Ducay for Preview Magazine
From top, left to right: Mav Bernardo, Super Starlet, Molly Ester, Mia Maceda, Bruce Venida, Jelly Guagua, Jujiin Samonte
The Few, The Proud, The Brave
"Dressing up in drag as Girl is like being possessed by an alien character that is a hundred times more fun than real earth life. To the audience, the initial reaction is often confusion or aversion, but that's more than welcome! It's invigorating and just makes me want to dance," reveals designer Bryan Peralta.
A common thread of invigorating the anesthetized aesthetic of the mainstream runs through the mind of Job Sebastian. "I'm inspired by '80s movies because there were so many colorful and memorable outfits—risk-taking that is so missing from the scene today." Molly Ester agrees: "My philosophy of style is wear what you want, whenever, wherever, and make them gag on your eleganza."
ADVERTISEMENT - CONTINUE READING BELOW
Fashion's current rock god Alessandro Michele seems to be in full agreement. In his first full-length interview with Vogue, he observed: "There is something eccentric about people that we miss today, so I built my fashion show around the idea of individuality. The way you dress is really the way you feel, the way you live, what you read, your choices."
Doomsayers like to say that we are entering an age of uncertainty. But in that uncertainty can also be that cauldron of chaos that can see the birth of more audacity. If freedom to express yourself in your style leads to more joyous, self-aware people, then welcome to the future. It may not be what we were promised, but it can be bolder, brighter, better.
This article originally appeared in Preview Magazine's February 2017 issue.
Related Stories from Preview.ph
Hey, Preview readers! Follow us on Facebook, Instagram, YouTube, Tiktok, and Twitter to stay up to speed on all things trendy and creative. We'll curate the most stylish feed for you!