In the 9-week tide of Fashion Watch Summer 2012, there was nary an absence of tribute to the ultra-feminine sensibility, in waves of classic, modern, and romantic styles. These had us awash in glamorous floor-length gowns, frilly minidresses, super skimpy resortwear, and restrained skirt- and pant-suits that left scant choice for the more casual, not-so-girly dresser. Until Norman Noriega presented his collection.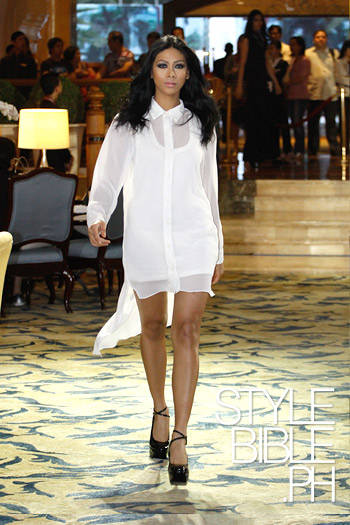 In his signature minimalist aesthetic, Norman dealt restraint, function, chic, and allure with tweaked wardrobe basics. A silken button-down shirt gets a sexy dose of freshness with extended coattails, slashed midway up the back for a naughty glimpse of skin; sheer, billowy pants sport dangerous slits that make the garments swish this way and that, and make them great fun to walk in; a raglan sweater looks unremarkable until its mesh back comes into view; and a velour sweater dress looks too cozy until you espy a gaping cutout back, revealing the skin that the low-back tank inner doesn't cover.
ADVERTISEMENT - CONTINUE READING BELOW
CONTINUE READING BELOW
Recommended Videos
These reworked wardrobe "basics" are given just enough of a spin for the mandatory skin-baring summer requires, and would no doubt be at home in the intrepid closets of streetwear lovers. We can't wait to see what Norman has in store for next season.
Click on the photo gallery to view Norman Noriega's Fashion Watch Summer 2012 collection.
Click here for Norman Noriega's Designer Directory.
Follow Style Bible on Twitter, Facebook, and Tumblr for more on Filipino fashion.