Designer Len Nepomuceno told us that she was besotted with the flapper era when she was conceptualizing her collection for Fashion Watch Summer 2012. Such an inspiration would come as no surprise from the designer, whose aesthetic is markedly, basically feminine. But her collection is actually quite far removed from the '20s, with its lack of the fashionable era's identifying (and most recognizable) elements—dropped waists, loose silhouettes, textures in sheen and fringe and some flounce. What gave the outing its '20s reference is the styling, with the models sporting little fascinators and black tights (the heavy neckpieces, though, looked a bit misplaced with the lightness of the teensy, flirty minidresses).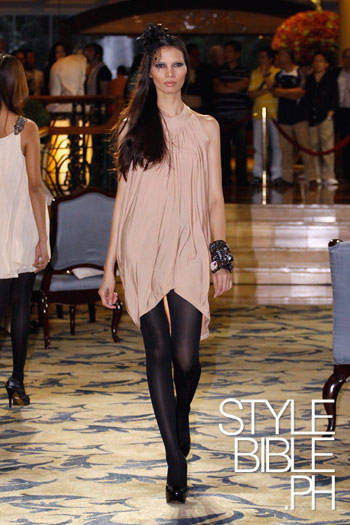 You could say that Len elected to "modernize" and appropriate the '20s sartorial motif according to her taste by drastically shortening the hem, nipping waists, and sticking to a somber palette of black, brown, and grays. But that would be too generous, don't you think, especially if the looks, stripped of fascinators and tights and the verbalized '20s inspiration, would simply lend to a more general appreciation of the clothes: The collection, essentially, is basic and wearable, and would lend itself easily to the wardrobe of any lady who's young or young-at-heart. What's important is that the clothes, for all their '20s-anemia, do not lack the signature coquetry of Len's designs. That is the identifying element of her design sensibility, after all—and we're just glad that that's not lost.
ADVERTISEMENT - CONTINUE READING BELOW
CONTINUE READING BELOW
Recommended Videos
Click on the photo gallery to view Len Nepomuceno's Fashion Watch Summer 2012 collection.
Click here for Len Nepomuceno's Designer Directory.
Follow Style Bible on Twitter, Facebook, and Tumblr for more on Filipino fashion!