While it's not readily apparent in the most obvious and conventional of ways, designer Joey Samson is a lover of quirk. His mastery of tailoring is markedly infused with a sort of idiosyncrasy that has become synonymous with his aesthetic. These manifest themselves in a myriad of ways in his Summer 2012 collection, entitled Man on the Moon: meticulous deconstruction and a more careful piecing together, as seen in the woolen vest that accompanies a pajama-like shirtdress; boxy, seemingly unassuming tailoring on a pantsuit that turns naughty and vampy when the wearer, well, turns; cheeky zippering that straddles a woman from her waist all the way to her backside on an innocent-looking, powder-blue pair of track pants.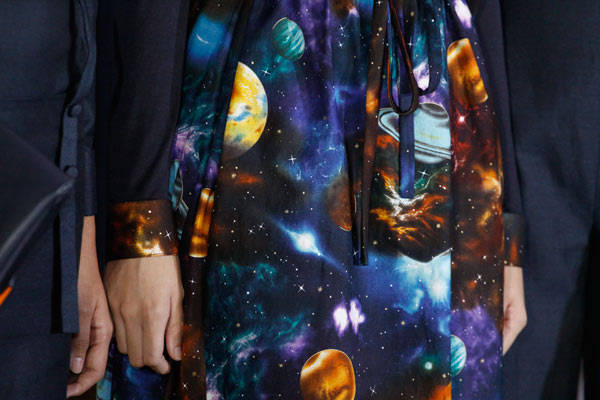 Man on the Moon was borne out of Joey's encounter with one of his clients' children, a young boy who was so curious about everything Joey was doing whenever his mom visited the Samson atelier. The child's sense of wonder and fascination rubbed off on him, igniting yet again the Japanese concept of mitate—of seeing anew—that was the inspiration behind his Holiday 2011 collection.
ADVERTISEMENT - CONTINUE READING BELOW
CONTINUE READING BELOW
Recommended Videos
This time around, however, the attendant sense of whimsy and playfulness that comes with childlike curiosity is more apparent in Joey's use of cosmic prints, parachute-like silhouettes, checked prints, and neon colors, which are all a welcome exploration for this designer, and a welcome frontier for his man on the moon.
Click on the photo gallery to view Joey Samson's Fashion Watch Summer 2012 collection.
Click here for Joey Samson's Designer Directory.
Follow Style Bible on Twitter, Facebook, and Tumblr for more on Filipino fashion!