Inspiration came late to designer Joel Escober for this season's Fashion Watch. It was only three weeks before the show's schedule that he started conceptualizing his summer lineup, citing the ubiquitous '70s era that fashion has been in love with this year as his fount of influence.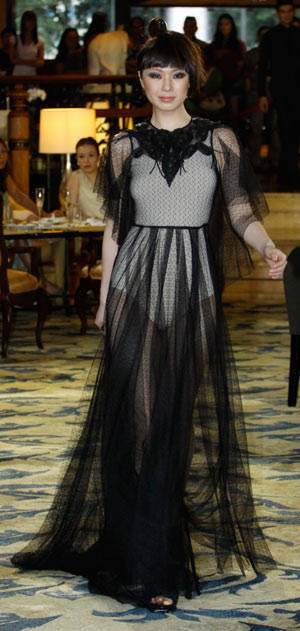 The most obvious parallel of this collection to its seventies inspiration is the era's trademark flirtatious and provocative glamour, seen in Joel's floor-skimming, form-flattering gowns. Done in sheer chiffon overlaid on bodysuits, they're a departure from Joel's usual opaque inclinations, referencing the sheer trend that we've been seeing in months past.
ADVERTISEMENT - CONTINUE READING BELOW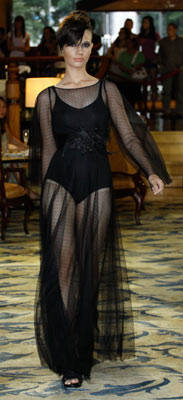 In fact, the designer divulged to us that he has been wanting to take on a new direction, design-wise. A classic silhouette peppered with elaborate embellishment—a Joel Escober creation is an instantly recognizable one, one that we've seen a lot, and one might say, too often.
CONTINUE READING BELOW
Recommended Videos
But these pieces give Joel bank. Shift dresses with feather trimming or zipper rosettes—these are closet-friendly pieces that are easily wearable for any woman.
ADVERTISEMENT - CONTINUE READING BELOW
But as much as we understand the practicality of these designs, we can't help but want to see more from Joel—something different, something fresher, less ornamented. His frills have been recycled for too many a season, and perhaps it's time to give them a rest from weighing down his creations.
Before starting this lineup, he spoke with senior designers, saying he was hungry for a new direction. One advised him to do cleaner styles, devoid of ornamentation.
While that would've been a true departure from Joel's style and aesthetic, he appropriated the advice by using less glitzy, distracting adornment. For instance, for some of the ensembles, he used scrunched fabric (instead of cascading rosettes or mini-flounces) to give texture and dimension to his classically cut pieces.
Femininity, after all, is not always frilly, and we have no doubt that Joel would still exemplify the feminine aesthetic without resorting to frippery. It would be astonishing to see him put out a less maximalist collection that showcases his mastery of the female form—its sleek lines and sensuous curves—rather than festooning it with feathers, fans, or fringe. We look forward to what he will present next season!
ADVERTISEMENT - CONTINUE READING BELOW
Click on the photo gallery to view Joel Escober's Fashion Watch Summer 2012 collection.
Click here for Joel Escober's Designer Directory.
Follow Style Bible on Twitter, Facebook, and Tumblr for more on Filipino fashion.