An old fisherman, a great marlin, errant sharks—a story of struggle, dogged pursuit, and resolve: These are the subjects and concepts that natural storyteller Jerome Lorico paints in sometimes broad, often precise strokes in his latest collection for Fashion Watch Summer 2012. Taking inspiration from Ernest Hemingway's last major novel, The Old Man and the Sea, this talented designer is back with yet another outing that embodies the story he wants to tell while tugging at our walletstrings with the immediate covetability of the clothes.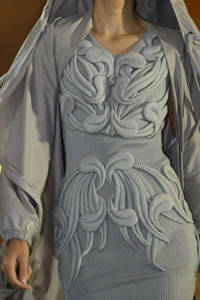 The twenty-look collection is done in a favorite neutral of Jerome's, heather gray, and is another showcase of his adeptness with cotton knits, tempered by synthetic materials that he used for function and contrast.
ADVERTISEMENT - CONTINUE READING BELOW
CONTINUE READING BELOW
Recommended Videos
Wool trousers, deconstructed vests, knit hoodies and sweaters with long ribbed cuffs, sleeved scarves, polyester windbreakers, backpacks, and visors (plus the occasional sinister shark) make up the heft of this menswear-dominated collection, while bodycon dresses with embroidered swirls reminiscent of anemones call out to stylish ladies who want their knits urban, sexy, and far, far away from the region of lounge dressing.
While the collection is Jerome's summer lineup, there is a noteworthy abundance of rain-proof garments. Indeed, most ensembles are styled with parkas and sweaters that not only provide a material contrast to his favored knits, but are actually quite practical given that our summer falls on the East Asian monsoon.
New accessory brand OS provided the polyurethane neckpieces that reference the harpoons of Hemingway's Santiago, while the men's footwear again provide the industrial/natural contrast of organic braided toppers and military boot-like soles.
Click on the photo gallery to view Jerome Lorico's Fashion Watch Summer 2012 collection.
ADVERTISEMENT - CONTINUE READING BELOW
Click here for Jerome Lorico's Designer Directory.
Follow Style Bible on Twitter, Facebook, and Tumblr for more on Filipino fashion!