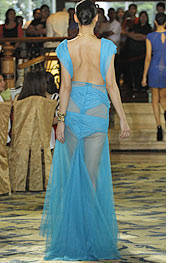 This Fashion Watch Summer 2012 outing is a first for Francis Libiran, who was all nerves backstage before the show. Quite a surprise considering the man has dressed today's brightest stars—Bea Alonzo, Kim Chiu, Cristine Reyes, Kathryn Bernardo, and Julia Montes to name but a few—regularly for the Star Magic Ball not to mention a long list of brides. Presenting to the fashion crowd can be quite the ordeal but judging from the looks of the 32-piece collection, he had little to worry about.
ADVERTISEMENT - CONTINUE READING BELOW
Coming from an architectural background, Francis revealed he had toyed with lines for this collection. You'll see it in the geometric pleat ork strategically positioned on jewel-toned dresses to cover everything important and reveal a woman's curves in the process. On-trend cropped tops, mullets, and sheer skirts figured into the designs taking the glamorous, "evening affair only" route.
CONTINUE READING BELOW
Recommended Videos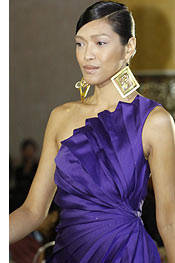 Intricate detailing aside, there was a softness to his silhouettes. "I liked the idea of the dresses flowing as the models walk," he described with a smile. Wisps of fabric did indeed trail behind the women, be it from the denouement of a gown, the swish of silk chiffon pants, or even flutter of extended sleeves.
ADVERTISEMENT - CONTINUE READING BELOW
The clothes were designed to "make an entrance," best illustrated by a strapless, champagne, silk gown that billowed with every step Ria Bolivar took. He punctuated each piece with Arnel Papa's bold jewelry, a foil against the delicateness of the silks, chiffons, and tulle.
As for the 12 men's suits, Francis talked about fabric being integral to his designs. Pairing a brocade jacket with denim trousers, highlighting lapels and pockets with contrast shades of light wool; the same play on textures in his women's wear figures subtly in his men's line. He stops at that fine line before eccentricity claiming that he will only design something he himself would wear.
Click on the photo gallery to view Francis Libiran's Fashion Watch Summer 2012 collection.