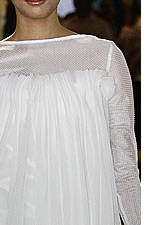 What a mood Dennis Lustico must have been in while designing his Summer 2012 collection! He claims to have waxed romantic about the different stages of love that a woman experiences in life—from the first crush to a first date, her debut and then her wedding. It's all about those moments that bring that slow, dreamy smile to your face.
Top of mind for him was the heat of a typical Philippine summer, admitting that the bigger challenge was carefully selecting lightweight fabrics. He played with see-through georgette and dotted tulle to create the sheer necklines and sleeves that are keenly in style now. Then he also gathered them into neat accordion pleats, which were left unfinished at the top, giving a French flair to blouses and pretty bubble skirts.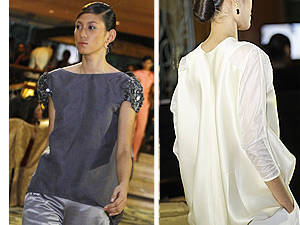 Silhouettes were kept easy with a lot of breathing space for the body. Roomy shell tops with slouchy backsides, almost t-shirt like in appearance except they're done in dressy lace and silk, were worn languidly with soft boxy pants, frothy knee-length bubble skirts, or his own elegant take on the sheer maxi skirt.
ADVERTISEMENT - CONTINUE READING BELOW
CONTINUE READING BELOW
Recommended Videos
You almost want to leave your handbag at home so as to keep your hands free and soak in the leisurely mood.
As is always the case with Dennis' pieces, there is that quiet luxury about the garments. Not for the trendy or frivolous, certain dresses might express a youthful flair—cascading salmon colored buttons and a debutante dresses notwithstanding—but they would certainly appeal to a young lady with refined taste, or one who'd like to appear so.
It must be said that stronger than his dresses this season, though they were in fact an elegant lot, were his chic separates that women would do well to utilize in the warmer months of March through May.
Click on the photo gallery to view Dennis Lustico's Fashion Watch Summer 2012 collection >>
Click here for Dennis Lustico's Designer Directory >>
Follow Style Bible on Twitter, Facebook, and Tumblr for more on Filipino fashion.
ADVERTISEMENT - CONTINUE READING BELOW