With a touch of the schoolboy, of the proper headmistress, and the soignée '60s housewife, JC Buendia's Summer 2012 collection is the designer's departure from his dark and mystifying Holiday 2011 collection inspired by neo-gothic vampires garbed in luxe monochromes. This season, for JC the master tailor, it's all about freshness, crispness, of the proper and bookish—a general sense of what is innocent frolicking in bright-eyed verve.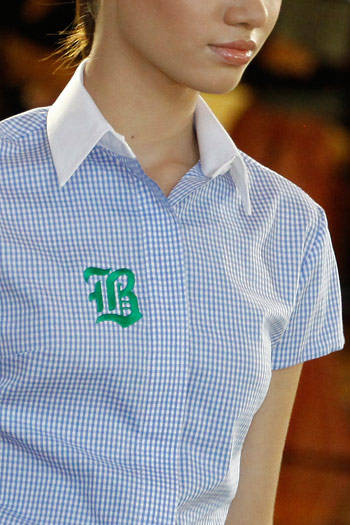 Starting off with linen menswear with proper periwinkle and Columbia blue button-downs, JC laid down the clean canvas of his summer lineup, toying just a little with a shirt sleeve cut into a scarf and handstitched initials in gothic typography. Sleeveless pantsuits and belted shirtwaist dresses followed in earthy linen, transitioning into Kelly green and drop-waist beige ensembles of cotton pique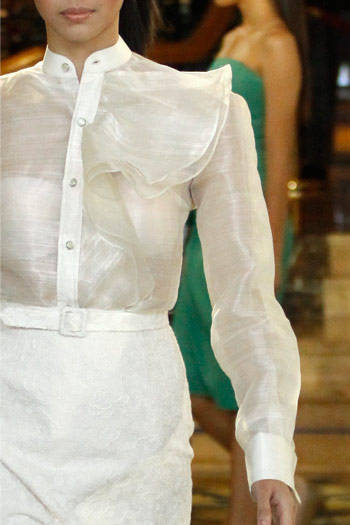 with darling corsages. The sleeveless shifts with cutout backs and flounce-backed skirts give off a sexy workwear vibe, while the impeccably tailored beige dress, with its nipped-in waist, thin belt, and ribboned shoulder, is a perfect ode to '60s Mad Men fashion.
ADVERTISEMENT - CONTINUE READING BELOW
CONTINUE READING BELOW
Recommended Videos
And naturally, this being JC's collection (the man is a staunch supporter of the local textile industry), a few pieces had to be done in an indigenous weave. The silk abaca of this, this, and this ensemble was specially sourced from a livelihood community in Catanduanes that JC works closely with.
Click on the photo gallery to view JC Buendia's Fashion Watch Summer 2012 collection.
Click here for JC Buendia's Designer Directory.
Follow Style Bible on Twitter, Facebook, and Tumblr for more on Filipino fashion.