It's always interesting when a designer breaks away from what she's used to and takes a different approach for her collection. Len Nepomuceno seems to have found the path back to youth iterating being "ready for change" in her Fashion Watch Prelude video.
We did see shorter hemlines (a lot of leg!) with the exception of two wispy ankle-length dresses that still had a light, fresh feel.
Her choice of fabric for this Holiday 2011 collection, cutout taffeta, was texture-heavy. She did well to keep to the clean lines of the '60s—shift dresses, A-line tops that were high at the neck, and columnar tube dresses—though it would have been nice to see a newer silhouette worked into the mix of cocktail dresses and skirts. A winsome separate was a black blouse with extended sleeves covered in circle cutouts that would look elegant with a pair of white 7/8 pants in that Audrey Hepburn way.
ADVERTISEMENT - CONTINUE READING BELOW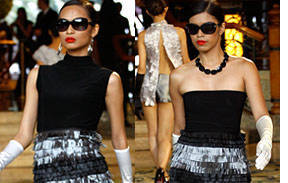 Styling combinations for certain outfits could have been done better. Pairing plain black tube tops with textured minis seemed more '90s default. Other versions of her turtle neck and asymmetric top would have run closer to her theme. Shoes and accessories could have also been made more consistent for a more unified look.
ADVERTISEMENT - CONTINUE READING BELOW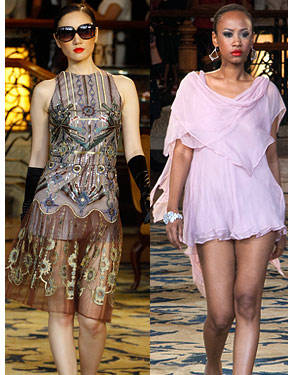 Two favorite dresses seemed a bit off-collection in shape and texture. First was a sheer, sequined, knee-length party dress whose full skirt and high-neckline seemed to perfectly show off the fabric. Second, a chiffon mini dress that draped at the collarbone and flowed freely at the back looked ethereal in blush. This is a look I see many young women placing orders for.
ADVERTISEMENT - CONTINUE READING BELOW
Click on the photo gallery to view Len Nepomuceno's Fashion Watch 2011 collection.
Watch Len Nepomuceno's Fashion Watch Prelude Video >>