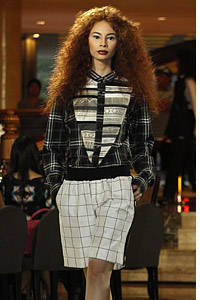 Immediately after coming home from showing at Singapore Fashion Week in April, Joey Samson had already decided to adapt his 42-strong menswear collection to suit up female models for his Fashion Watch 2011 outing. "I'm doing menswear that will be worn by women," he described, subliminally pointing out the design aesthetic he's come to be known for.
ADVERTISEMENT - CONTINUE READING BELOW
View Joey Samson's Fashion Watch Holiday 2011 collection >>
This particular collection seems to have been designed for a lackadaisical dandy. A slouchy jumpsuit, loose trousers, knee-length shorts with elastic waistbands; they all point to easy almost lazy dressing. It's very, "I just threw this on," especially when you glimpse the oversized coat dresses with the sleeves scrunched up or the backless jumper that looks as though you've forgotten to wear something underneath. It's a fresh change in these times of calculated style.
CONTINUE READING BELOW
Recommended Videos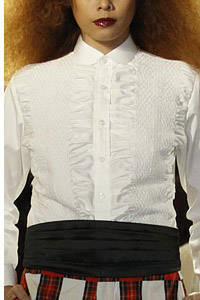 To keep it feminine, he added touches that ranged from sexy to bordering on cutesy. Bare backs or midriffs and deep armholes revealed a flash of skin. Nice details like stirrups at the hems of slim trousers, an arm cuff fashioned into a portrait collar, or arm slits that turned a heavy blazer into a cape were genius in taking typical men's clothing to the realm of women's wear. Scottish kilts were also repurposed for the fairer sex in a more cool than school girl way.
ADVERTISEMENT - CONTINUE READING BELOW
Joey has a knack for incorporating Filipino craftsmanship in to his pieces; note the embroidered piña bibs on button down shirts that he also adapted from his designs for men. This time, he worked with Negros-based, children's wear manufacturer Ines Moda Infantil to update his signature tuxedo shirts. White polos were dressed with hand-smocked patterns or rows of fagoting; pieces we'd love to see him retail.
He admits that his clothes are not for everyone. In his prelude interview he says that his clothes "can only be worn by women who are willing to experiment with me or take a journey to discover what else they can do apart from their usual." Here lies the collection's name "Mitate," which translates loosely from Japanese as having a beginner's mind or seeing anew. You need to look on his pieces with fresh eyes to begin to envision yourself in menswear for women.
ADVERTISEMENT - CONTINUE READING BELOW
Click on the photo gallery to see Joey Samson's Holiday 2011 collection.

Click here to watch Fashion Watch Preludes: Joey Samson.