On its 15th anniversary, the Fashion Institute of the Philippines celebrated fashion by debuting the collections of their 23 graduates who bear the torch for the future of the local fashion scene. Segmented into five themes, the graduation show allowed graduates to display their potential with their inspired concepts and the creative way in which they executed their designs. View all their collections below:
ARTISANALS
Andrea dela Torre
Andrea took Victorian-inspired bird images and gave new life to them by translating this famous imagery into new art forms. She used digital art and punch-needle embroidery technique to highlight the birds' gentle and romantic depiction, emblazoning them on feminine and ladylike contemporary garments you can easily wear out for brunch.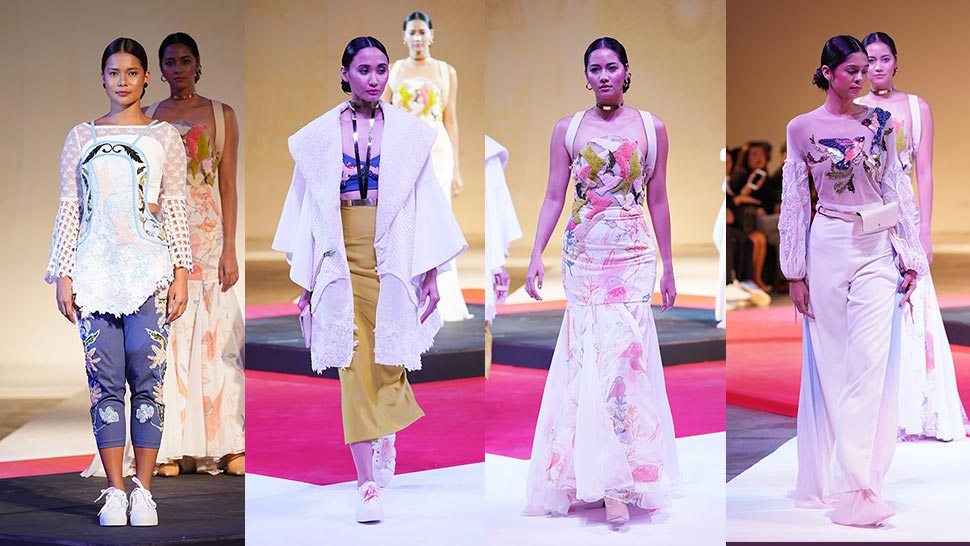 ADVERTISEMENT - CONTINUE READING BELOW
IMAGE Ryan Ong
Nicole Wong
Nicole takes Vincent Van Gogh's famous Starry, Starry Night painting and translates it into another art form. The designer used fabric manipulation techniques exemplified in her first look. Nicole shared with Preview that she employed fabric slashing to reveal a colorful accent on the yellow jacket's lapel. The jacket ws also layered over a blue top with sleeves bearing a resemblance to Van Gogh's swishes. Nicole said that she was able to achieve this by using bookleafing technique. Additionally, she also employed smocking on the skirt to achieve the same opulent and fluid look.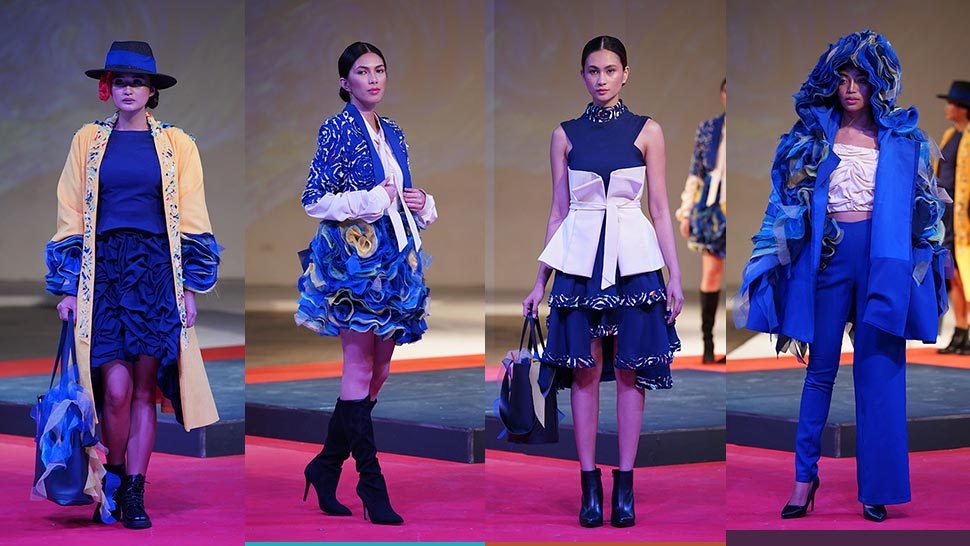 CONTINUE READING BELOW
Recommended Videos
IMAGE Ryan Ong
Keirby Empleyo
Keirby's collection is an ode to the endangered local giant clam. What makes his collection so special is his dedication to details. Case in point: He cut up fabric and literally burned the edges to mimic the barnacles known to attach themselves to clams.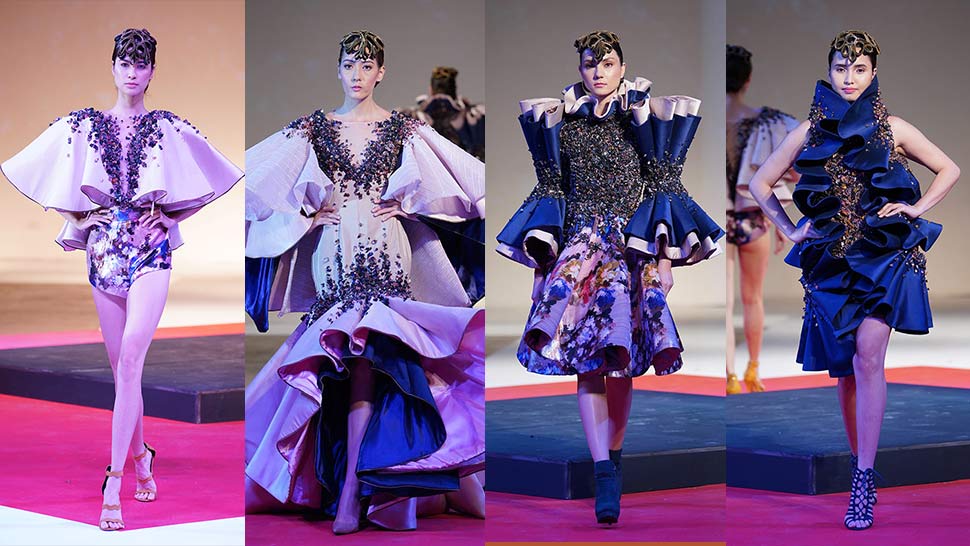 IMAGE Ryan Ong
ADVERTISEMENT - CONTINUE READING BELOW
Elaine Pangilinan
Elaine's collection is inspired by Pele, the goddess of fire and volcanoes. The designer used cords and burned them to stitch together a bright, orange collection that exudes passion, power, and force.
IMAGE Ryan Ong
Melbeth Froilan
Melbeth advocates sustainable fashion and the art of weaving. For her eco-friendly and zero-waste collection, she pulled inspiration from the bright colors of various African tribes and employed local weaving techniques to showcase a vibrant, bold-printed garments, which can be incorporated with everyday clothes.
ADVERTISEMENT - CONTINUE READING BELOW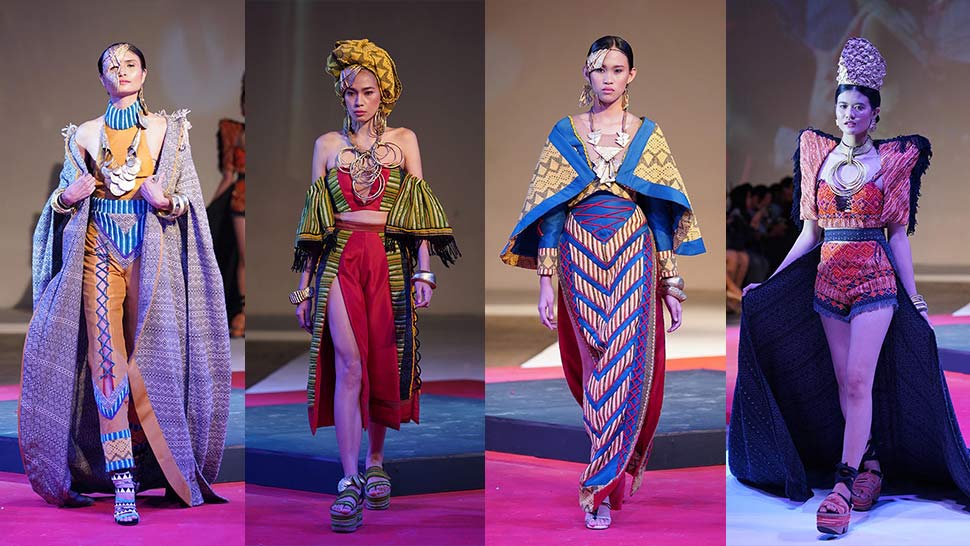 IMAGE Ryan Ong
STREETWEAR
JM Tuazon
JM looked to nature for inspiration when creating his streetwear collection. Winged creatures are known to display nature's best examples of symmetry and geometric patterns, which became the motif of his striking collection of everyday wear.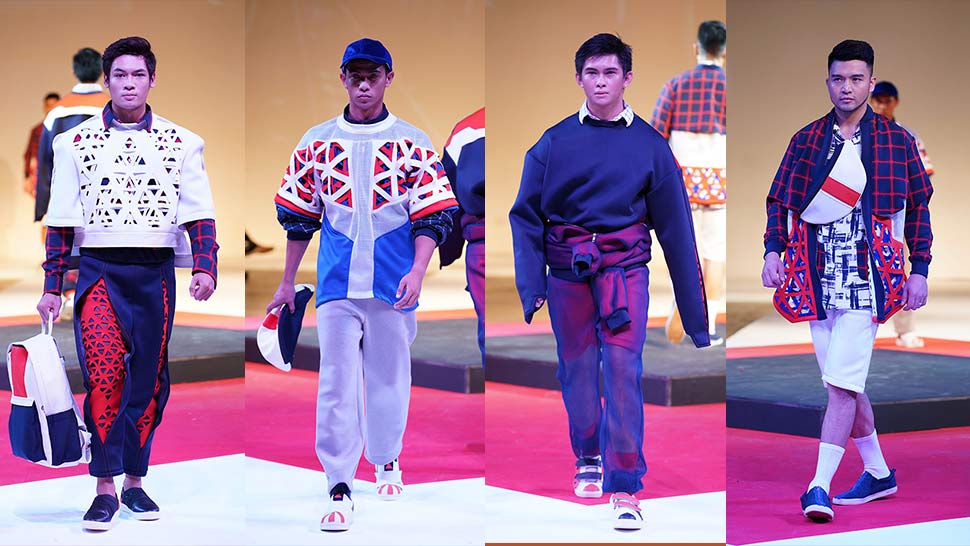 ADVERTISEMENT - CONTINUE READING BELOW
IMAGE Ryan Ong
Kana Mori
Kana's collection symbolizes the melancholy of a woman's coming of age. She likens her collection to a blossoming flower that is embraced by darkness. Lace, mesh, ruffles, and bows take center stage in Kana's collection. All these material can easily be found in a child's closet, but as she used sombre hues to make her pieces, the garments took a gothic, more adult turn. And her dark ominous style is just what you need if you're looking for romantic pieces that you can easily wear with your closet staples.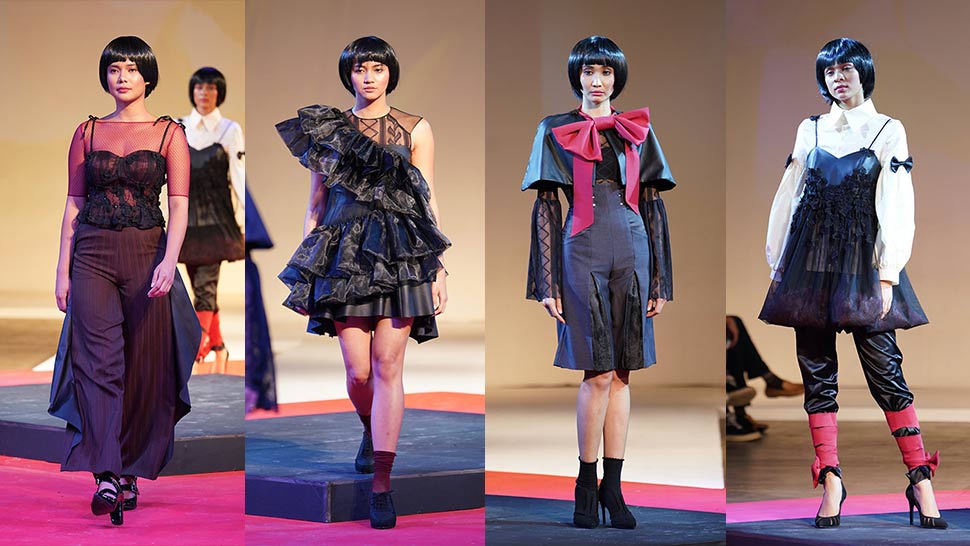 ADVERTISEMENT - CONTINUE READING BELOW
IMAGE Ryan Ong
Justine Villanueva
Justine attempts to merge two wildly dissimilar things: ballet and basketball. Her collection saw the abundance of tulle, sequins, and sports references, resulting in a fun collection with a carefree vibe.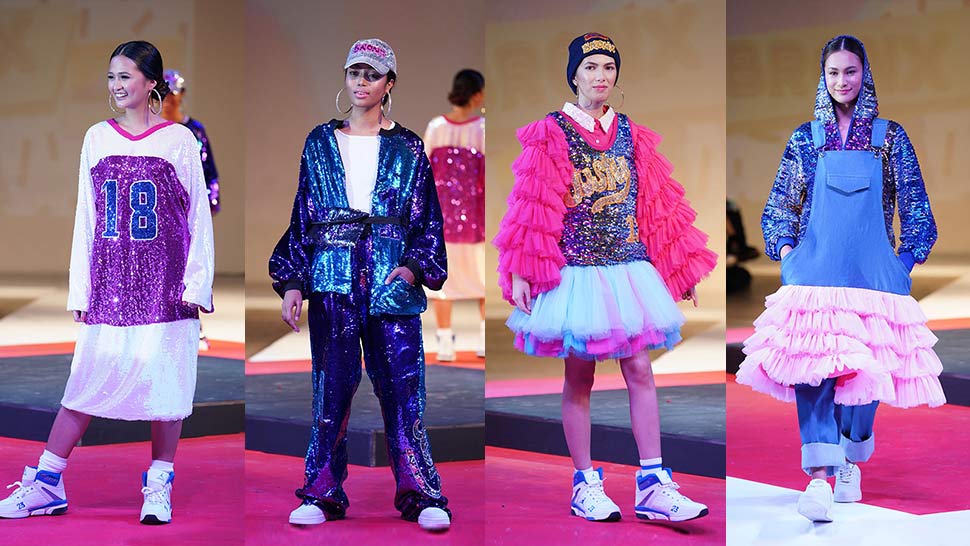 IMAGE Ryan Ong
Einar Nicdao
Einar looks to the warriors of nature as his inspiration. For him, streetwear takes an aggresive swing at the runway, ready to sting you with just the right amount of sartorial swag. He executes this by using bold hues and oversized utilitarian silhouettes, both of which are meant to serve maximum style without losing comfort and functionality.
ADVERTISEMENT - CONTINUE READING BELOW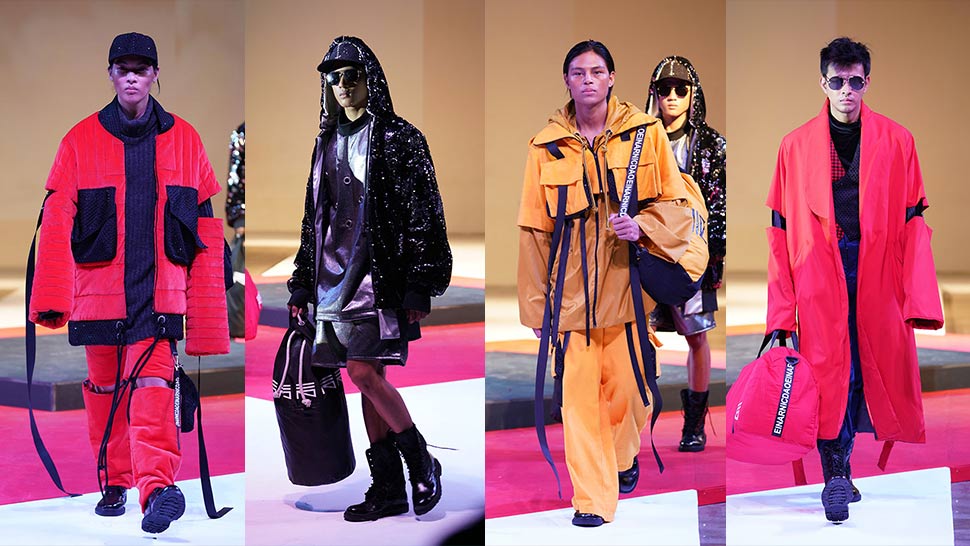 IMAGE Ryan Ong
FEMME FATALE
Inocencio Bulangis
Inocencio's collection was inspired by samurai paintings. He translates this art by creating abstract-printed pieces that resemble the colors and swishes of a Japanese samurai painting coupled with structured outerwear fit for strong women who are out to conquer the world.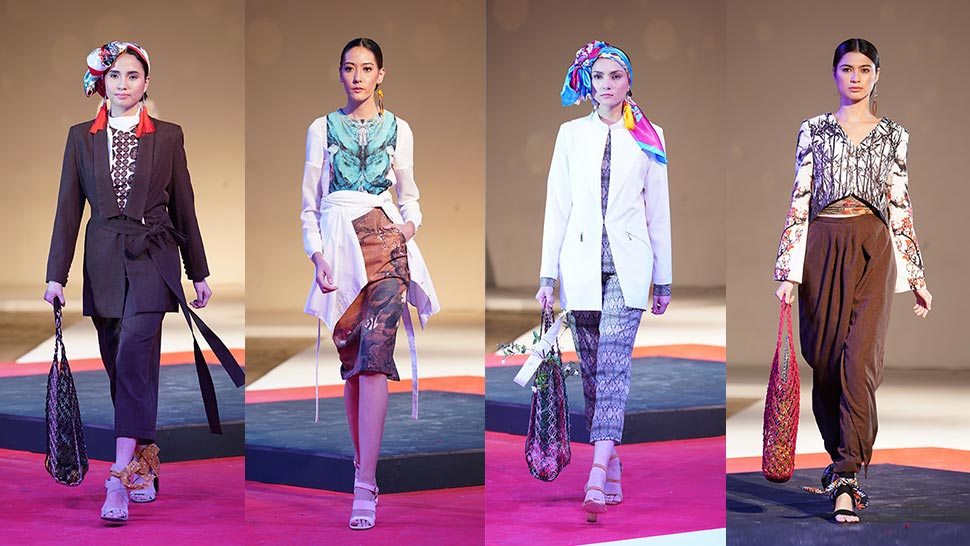 ADVERTISEMENT - CONTINUE READING BELOW
IMAGE Ryan Ong
Will Flores
Will's version of a femme fatale is inspired by the dangerous dames of film noir. His all-black collection wields texture as its primary strength, exploring the clever use of sequins, faux fur, and velvet. He zooms in on exaggerated sleeves to interpret the dames' known dazzling yet deceptive personas. Just what can they be hiding under those humongous sleeves?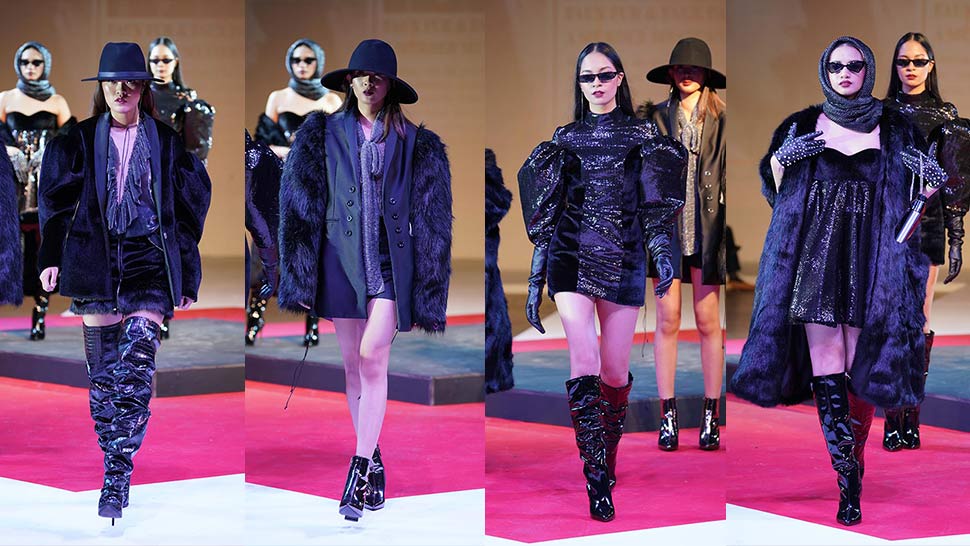 ADVERTISEMENT - CONTINUE READING BELOW
IMAGE Ryan Ong
Jag Guevarra
Jag's collection sees women as heroes. He used prints manipulated into structured yet moving pieces and accented them with colored pipings to further underline the statuesque outlines of the garments. His belted plaid pieces signal the strength with its darkened hues while his clean silhouettes highlight the form and shape of a modern woman.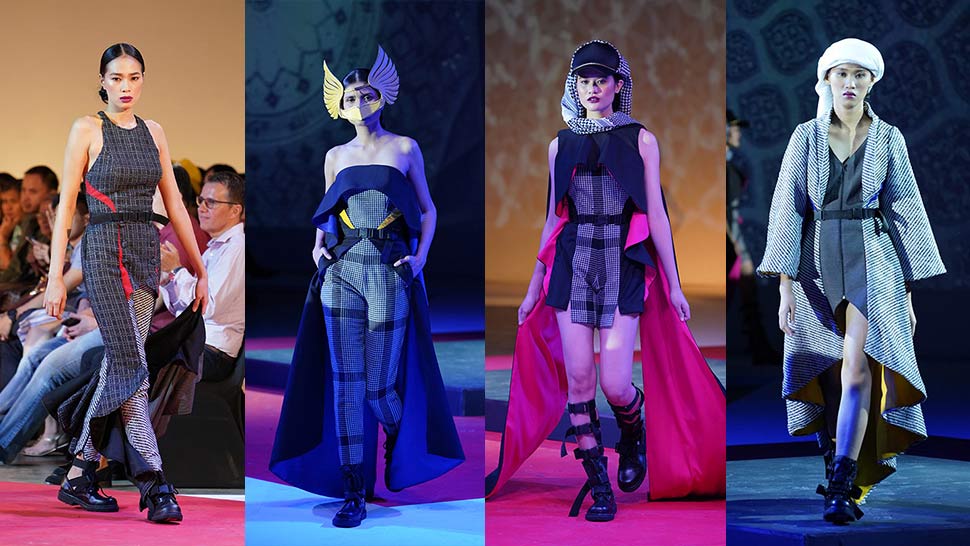 ADVERTISEMENT - CONTINUE READING BELOW
IMAGE Ryan Ong
Ira Pablo
Ira's collection is all about gals fully embracing and maximizing their youth. Inspired by the party punk scene, Ira pulls inspiration from athleisure and merged this with punk deets like zippers and exaggerated fringe. While retro delinquents were her primary pegs for the collection, good gals can embody the fearless persona her designs bear. Perhaps when you're feeling a bit wreckless, don the fringe dress and dance the night away at an underground club.
ADVERTISEMENT - CONTINUE READING BELOW
IMAGE Ryan Ong
Kristine Ordinario
Kristine sees contemporary women as gladiators: fearless, fashionable, and feisty. She demonstates this by creating warrior-like armor made out of metal pieces and faux leather. In Kristine's eyes, oversized details are the next trendy thing. Large belts that can pass as a top and woven as sleeves, exaggarated eyelet details that end on a thigh-high slit are just some of the sharp shapes the designer zoomed in on to create a bold statement. Add this to her color story—oxblood, browns, and burgundy—and they will remind you of dried blood and mud. Both are constants of a warrior; both are unspoken badges of honor after winning a fight.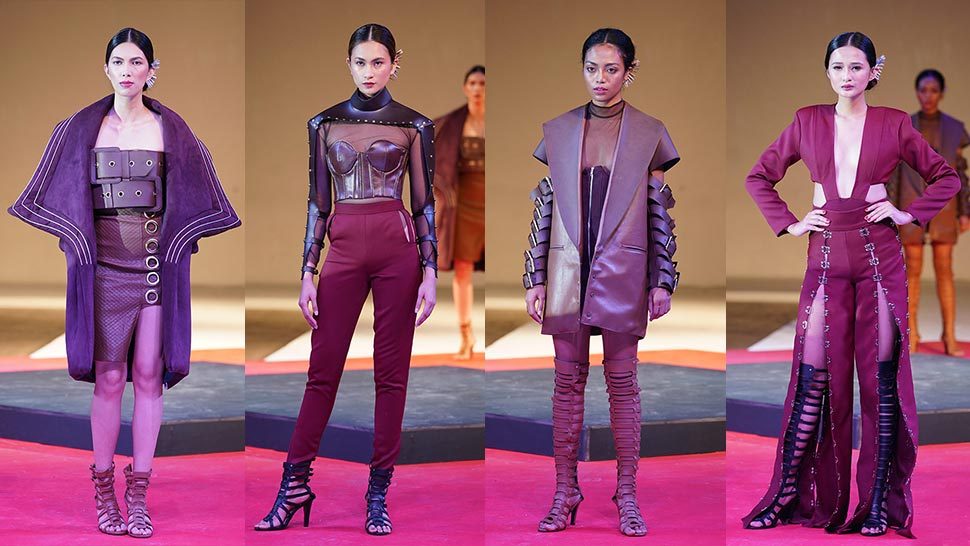 ADVERTISEMENT - CONTINUE READING BELOW
IMAGE Ryan Ong
MODERN ROMANTICS
Lalyn Lagmay
Lalyn redefines romance by use of soft fabrics like tweed and wool to create her streetwear collection that includes bucket hats and coordinates for men. It merits clean lines and simple silhouettes you can easily incorporate to the wardrobe of a no-fuss gent.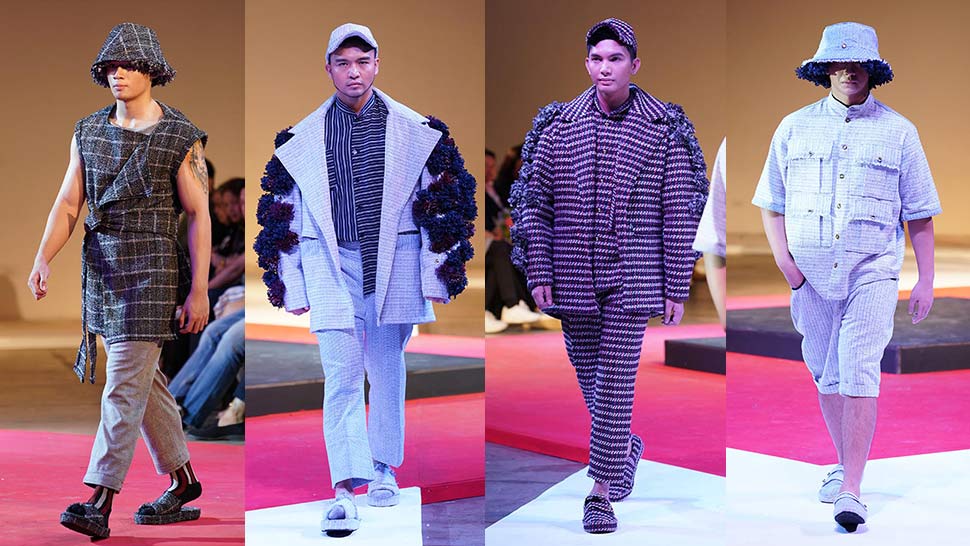 ADVERTISEMENT - CONTINUE READING BELOW
IMAGE Ryan Ong
Pamela Ng
Pamela takes cues from her hometown: Palawan. Her beach tropic collection also pulls inspiration from flamenco dancers that make a vibrant collection filled with ruffles, prints, and jewel tones. The designer's head-to-toe ruffled piece is perhaps the collection's highlight as it encapsulates the tropic feel of the island. Coupled with fluidity, movement, and just the right amount of sultriness, it bares your skin to accentuate the decolletage and lengthen the wearer's calves.
ADVERTISEMENT - CONTINUE READING BELOW
IMAGE Ryan Ong
Elle Vicentino
Elle's denim collection explores layers and cutouts and the incorporation of tulle to soften the structured nature of denim. She gave denim and tulle a new dimension by creating patterns that are reminiscent of patches and made pieces with a streamlined silhouette to hug the curves of a woman.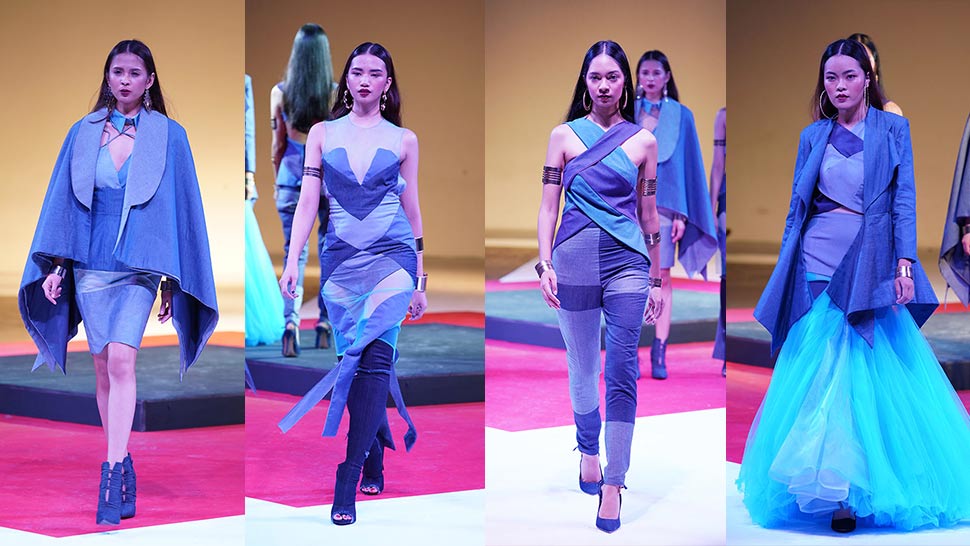 ADVERTISEMENT - CONTINUE READING BELOW
IMAGE Ryan Ong
Geline Velasquez
Geline's creations depict the modern Filipina. She took inspiration from the terno and baro't saya to piece together a delicate pastel collection inspired by the structure of a crystal and Juan Luna's España Y Filipinas painting.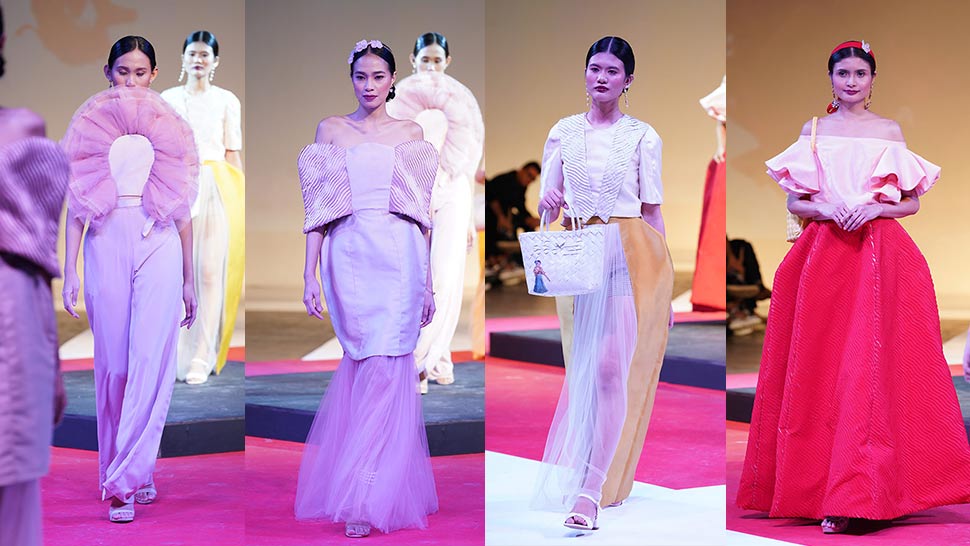 IMAGE Ryan Ong
Jinkie Tan
Jinkie created an embroidered collection inspired by Frida Kahlo. Her collection examines the way colors and prints can be effectively mixed and matched to put together a collection that is both powerful and delicate.
ADVERTISEMENT - CONTINUE READING BELOW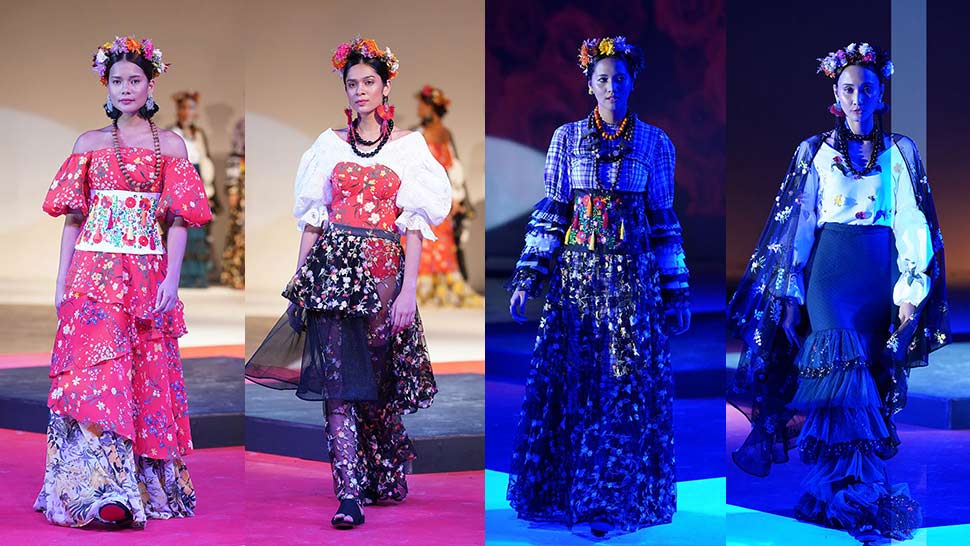 IMAGE Ryan Ong
NEW SILHOUETTES
Rhon Balagtas
Rhon explores Queen Elizabeth I's fashion influence. The queen favored the color white and adored rubies, thus Rhon's choice of colors for his collection. Notably, the British queen also used wood to stiffen her corset, which sparked idea for the designer to apply the intricate art of wood carving techniques on the dresses to add a layer of opulence meant to outshine anyone next to its wearer—just like Queen Elizabeth I prefered it.
ADVERTISEMENT - CONTINUE READING BELOW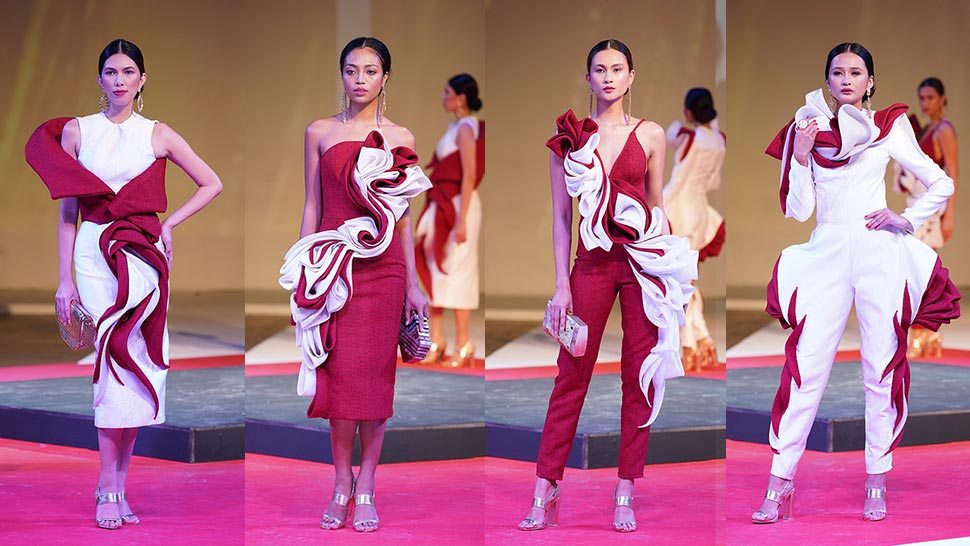 IMAGE Ryan Ong
Joseph Liprado
Joseph's collection is hinged on Japan's ama divers, who are dubbed as the country's last mermaids. Clad in white wet suits, the ama is a group of female free divers who collect shells and harvest precious pearls. With this as his core inspiration, Joseph's all-white collection is peppered with shiny pearls on avant-garde pieces that have nods toward the sea—mesh for the nets, pearls arranged to creat a rope-like structure, stiffened sleeves for the clams, and chiffon to resemble the soothing waves of the water.
ADVERTISEMENT - CONTINUE READING BELOW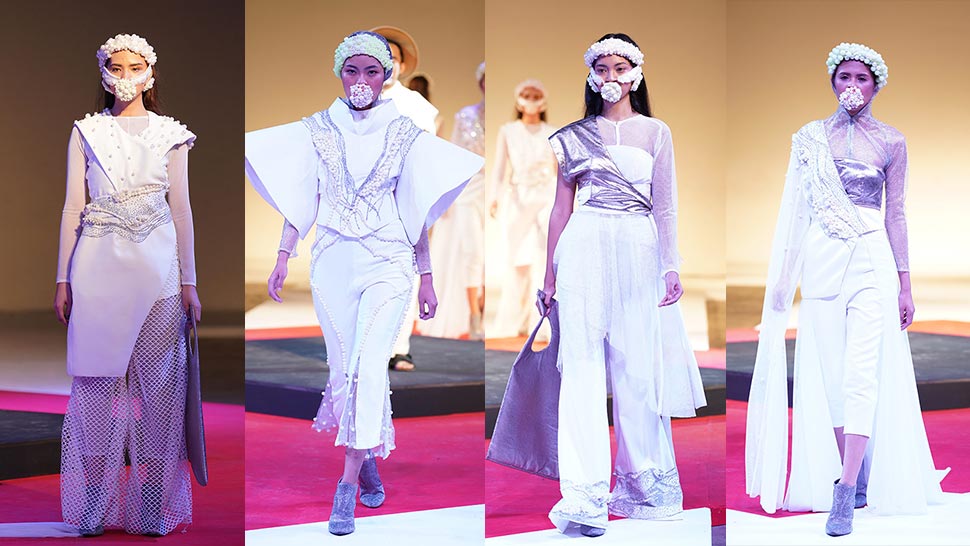 IMAGE Ryan Ong
Kathleen Matillano
Kathleen takes inspiration from architecture and landscape designs. Her ebony collection is a study of clean lines coupled with texture play. She also took notes from designers Alexander McQueen and John Galliano. Like Alexander, Kathleen aimed for sophisticated tailoring and also used Roman gothic and Victorian-inspired references with her choice of using dark and heavy fabrics. And like John who had a flair for drama, Kathleen managed to make a multipurpose piece. Her last garment can actually transform from a feathery top to a classic LBD.
ADVERTISEMENT - CONTINUE READING BELOW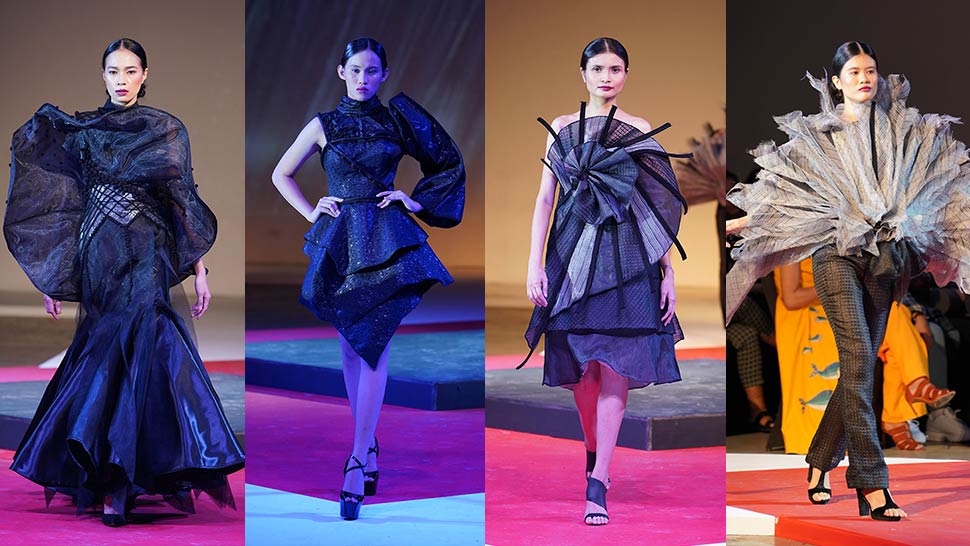 IMAGE Ryan Ong
Dylan Gallaza
Dylan created an ode to rock star David Bowie's Scary Monsters (and Super Creeps) album and his love for the post-modern art collective Memphis Milano. He turned eccentric materials like cable ties and PVCs into accents for his maximalist collection that will remind you of the singer's flame-colored hair, glittered suits, and famous thunder makeup. The merging of these two loud and bold artists resulted in a flamboyant display of hues and texture fit for equally unique individuals.
ADVERTISEMENT - CONTINUE READING BELOW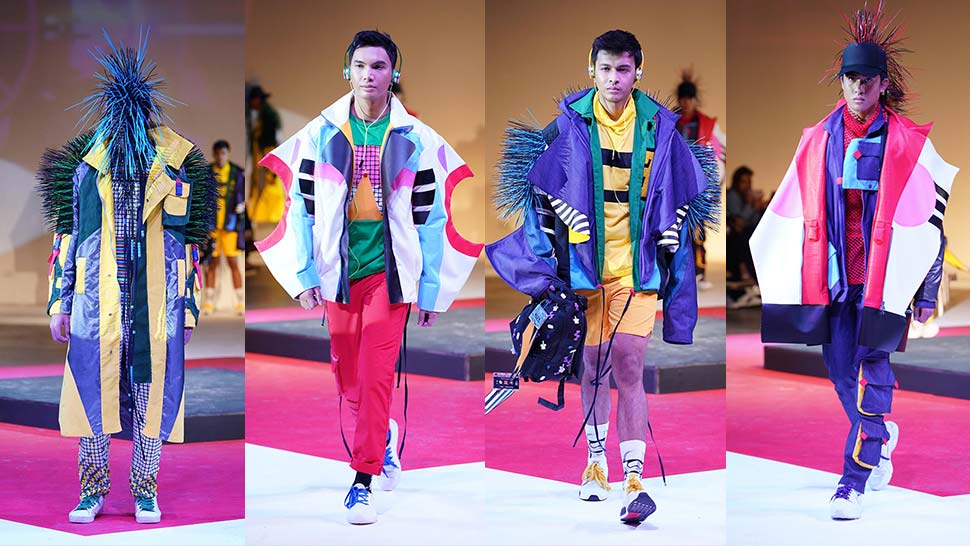 IMAGE Ryan Ong
Related Stories from Preview.ph
Hey, Preview readers! Follow us on Facebook, Instagram, YouTube, Tiktok, and Twitter to stay up to speed on all things trendy and creative. We'll curate the most stylish feed for you!