Denim may be everyone's favorite closet staple, but under the hands of PEFTA 2011 alum Renz Reyes, jeans become anything but basic. Through tailoring and embroidery, his craftmanship elevates this classic fabric into wearable works of art.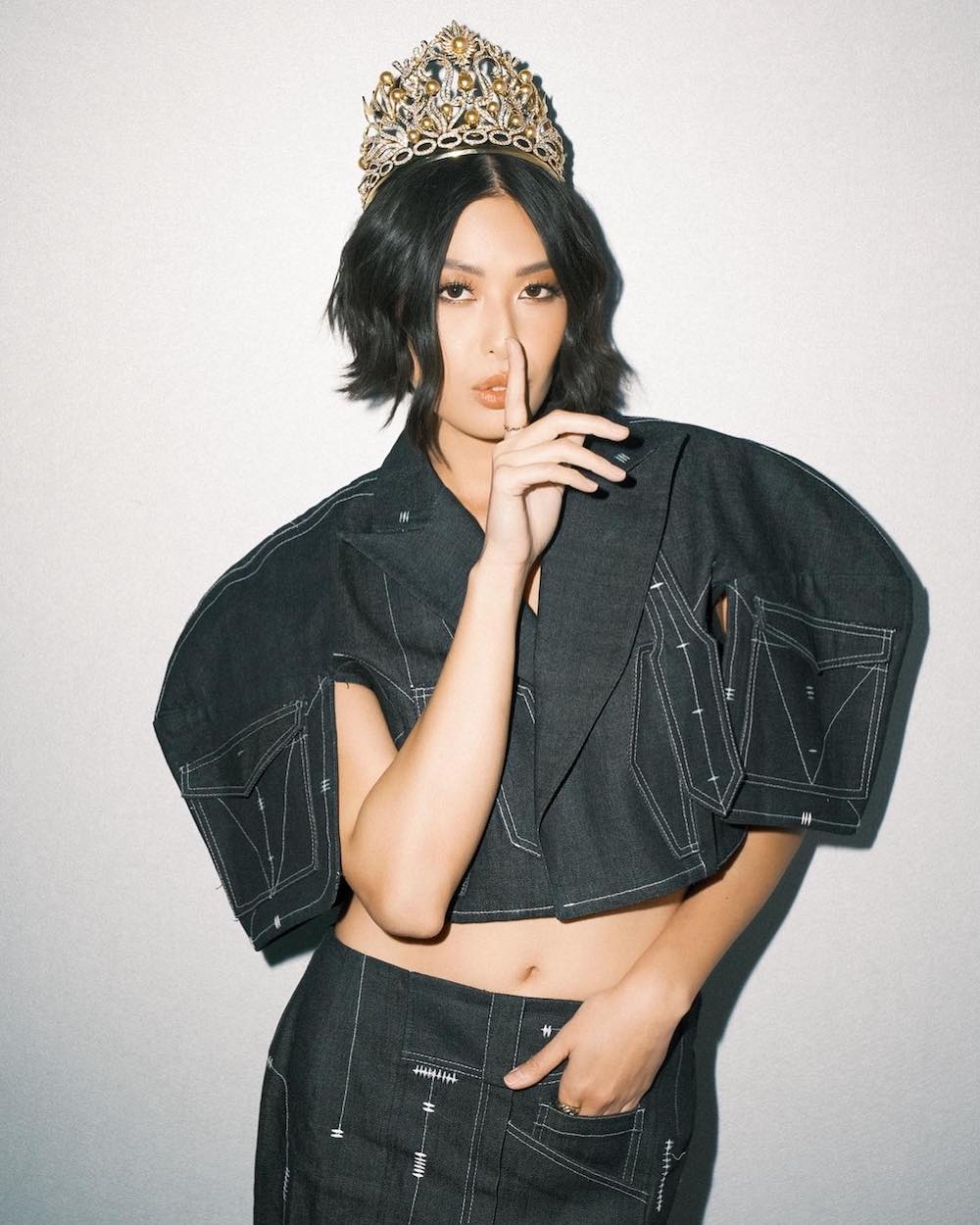 His signature aesthetic shines through his latest collection's The Utilitarian section. Consisting of mostly outerwear and tailored pieces in darker hues and denim, this is, in his words, more masculine, in contrast to the Romantic section, which explores softer and more feminine textiles, hues, and shapes.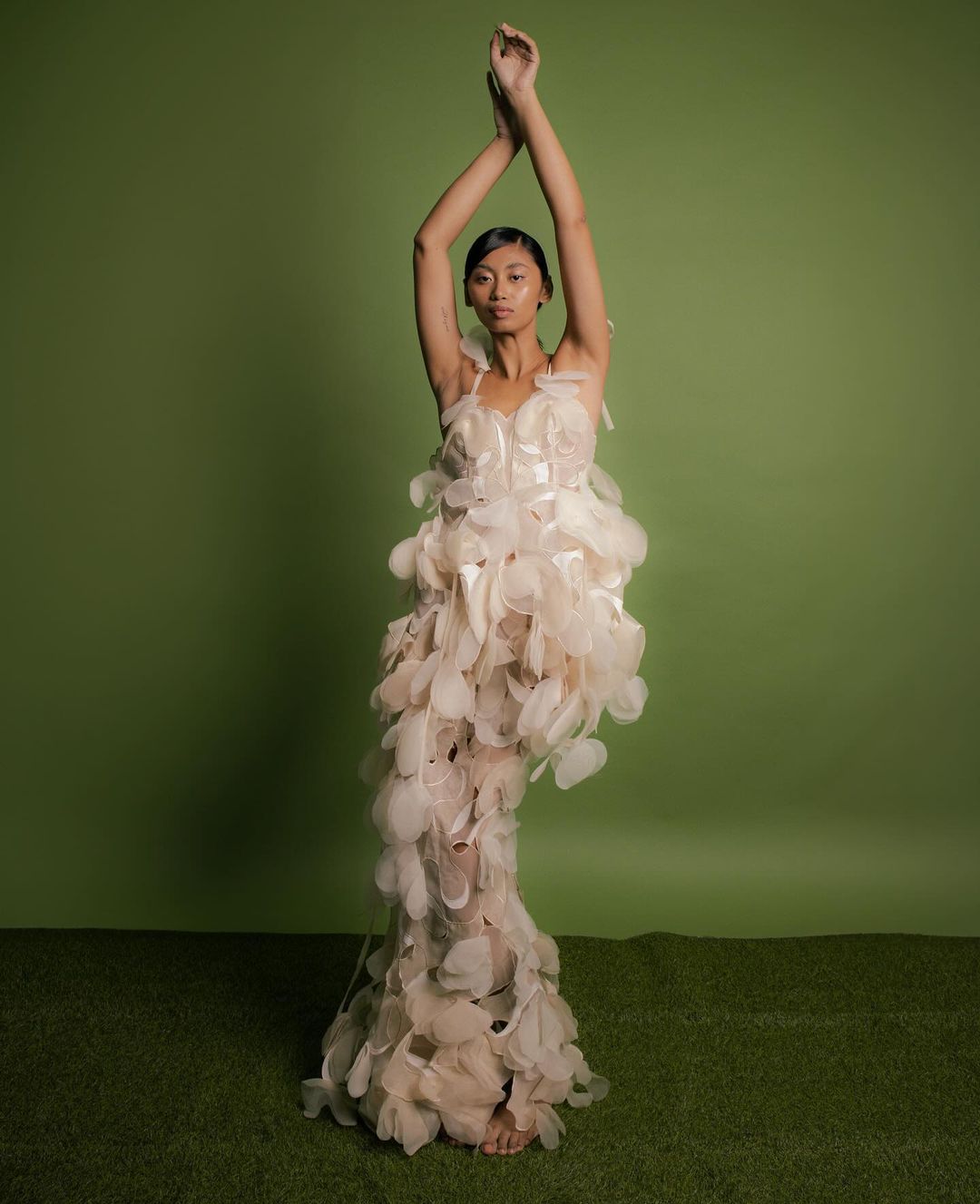 Renz told Preview in an exclusive interview, "I feel like I've been preparing for this collection for a long time." And he says so because of how the collection gradually fell into place during the time he was on a design break and refining his technical skills in pattern cutting and tailoring. Coupled with his background in embroidery, the two-section collection that is now featured at the PHx Station is the result of how he has continuously cultivated his craft.
ADVERTISEMENT - CONTINUE READING BELOW
Scroll on to find out what went behind Renz' latest collection and what it means for him to be part of this year's PHx Station featured designers.
Preview Creative Spotlight: Renz Reyes on His Collection for the 2023 PHx Station
Can you give us an overview of the concept or theme behind your collection? What was your creative vision and how is it connected to your design ethos?
"I feel like I've been preparing for this collection for a long time. I've taken a break from designing my own clothes for a while, but I've been sharing new pieces that I have come up with online as a creative outlet. This collection is the culmination of all of that, that's why there are familiar themes of tailoring and embellishment that people might recognize."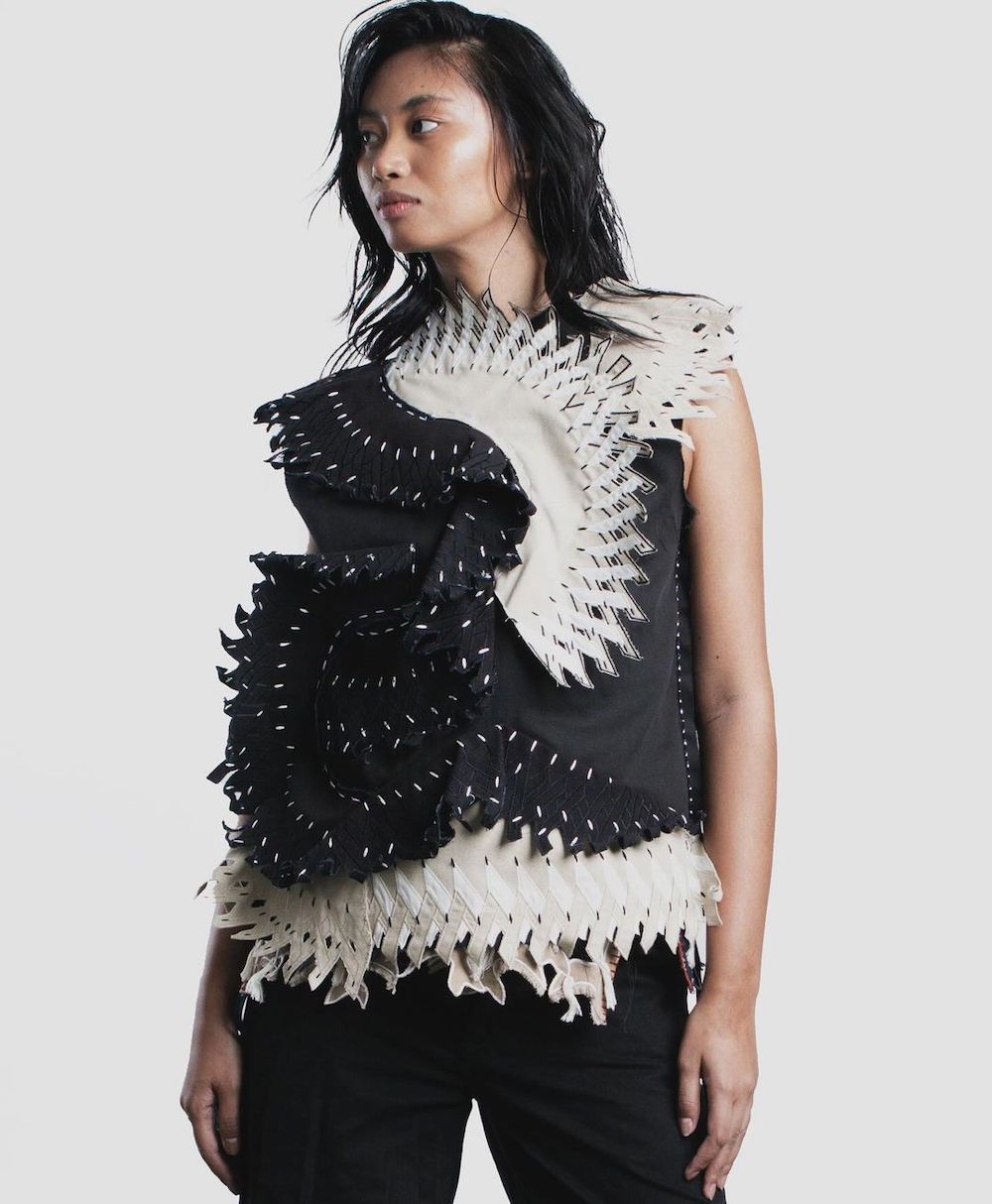 "But now, I've been given an opportunity to showcase it in a more extensive. While I was on hiatus, I've really been cultivating and refining my pattern-cutting and tailoring which I wanted to show in this collection. Since I have a background in embroidery, it's easy to fall back into and rely on embellishments. I've tried to make the tailoring and embroidery work together in a balanced way and also thinking more three dimensional."
Are there any particular influences that shaped this collection? How did they inspire your work?
"I found these images of male penitents in Laguna that wore skirts made out of Palm/straw during the Holy Week and I was struck at how beautiful and interesting they were able to make these skirts unintentionally. It was truly inspiring. Besides that, there was the notion that wearing these skirts was a way of emasculating themselves as a form of penitence, which I found odd and I wanted to explore what was considered 'feminine' or 'masculine.'"
ADVERTISEMENT - CONTINUE READING BELOW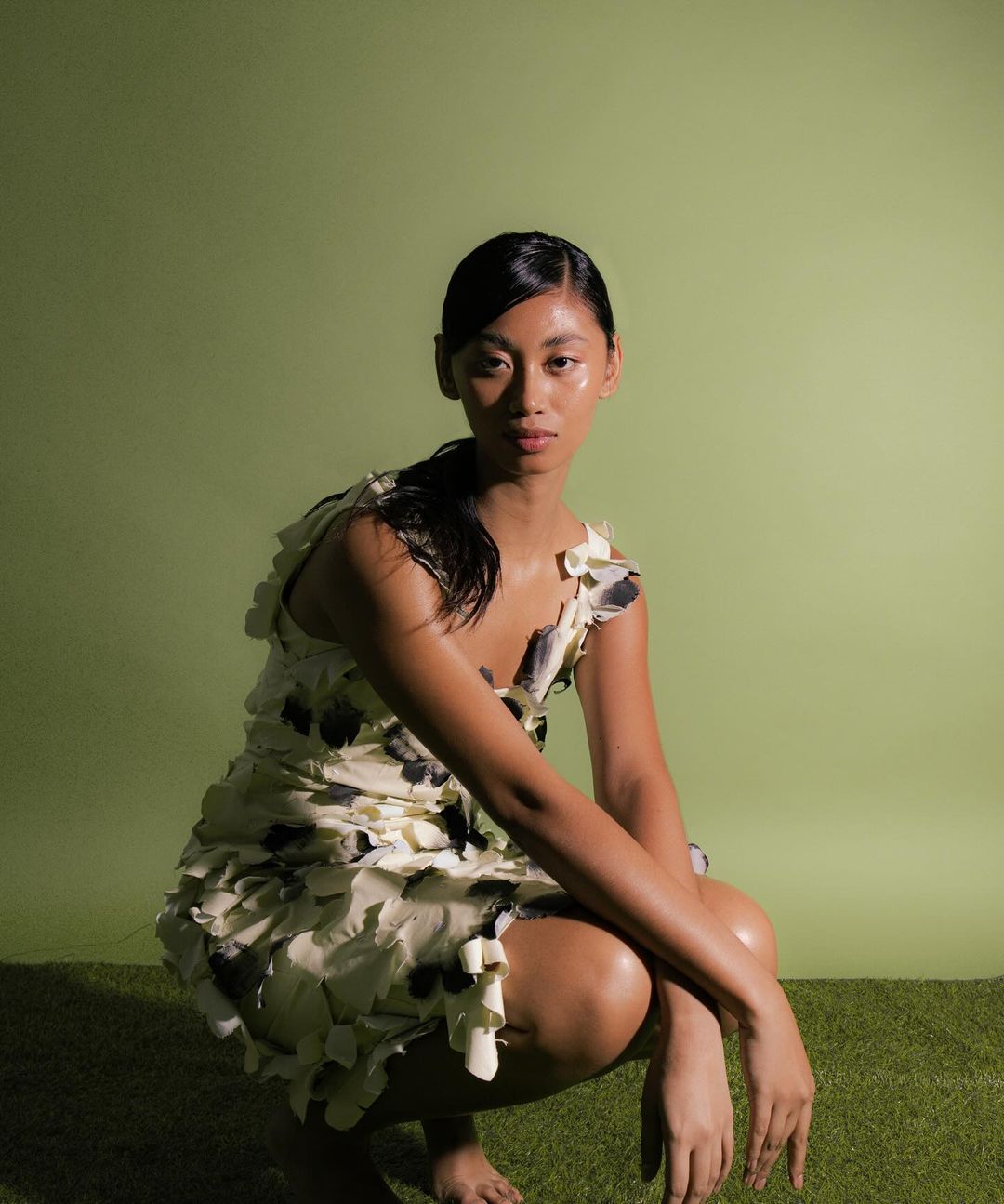 "There are two distinct sections of the collection. The Utilitarian section which is more outerwear and tailored pieces in darker colors and mostly denim, is considered more 'masculine,' and the softer, more romantic section which explores more feminine tropes and motifs like flowers and a lighter color palette which I don't normally do."
ADVERTISEMENT - CONTINUE READING BELOW
Why did you opt for denim as main element in this collection? Are there any other specific motifs, silhouettes, or colors that defined your collection?
"Denim is such a good fabric to work with and is so easy to wear. It's a structured material that holds shape very well so I found it a good base for my patterncutting and deconstructed details. The nature of this material is very casual so I wanted to tailor it in a way that's more dressy and luxurious, adding subtle details like stitching and linear embroidery."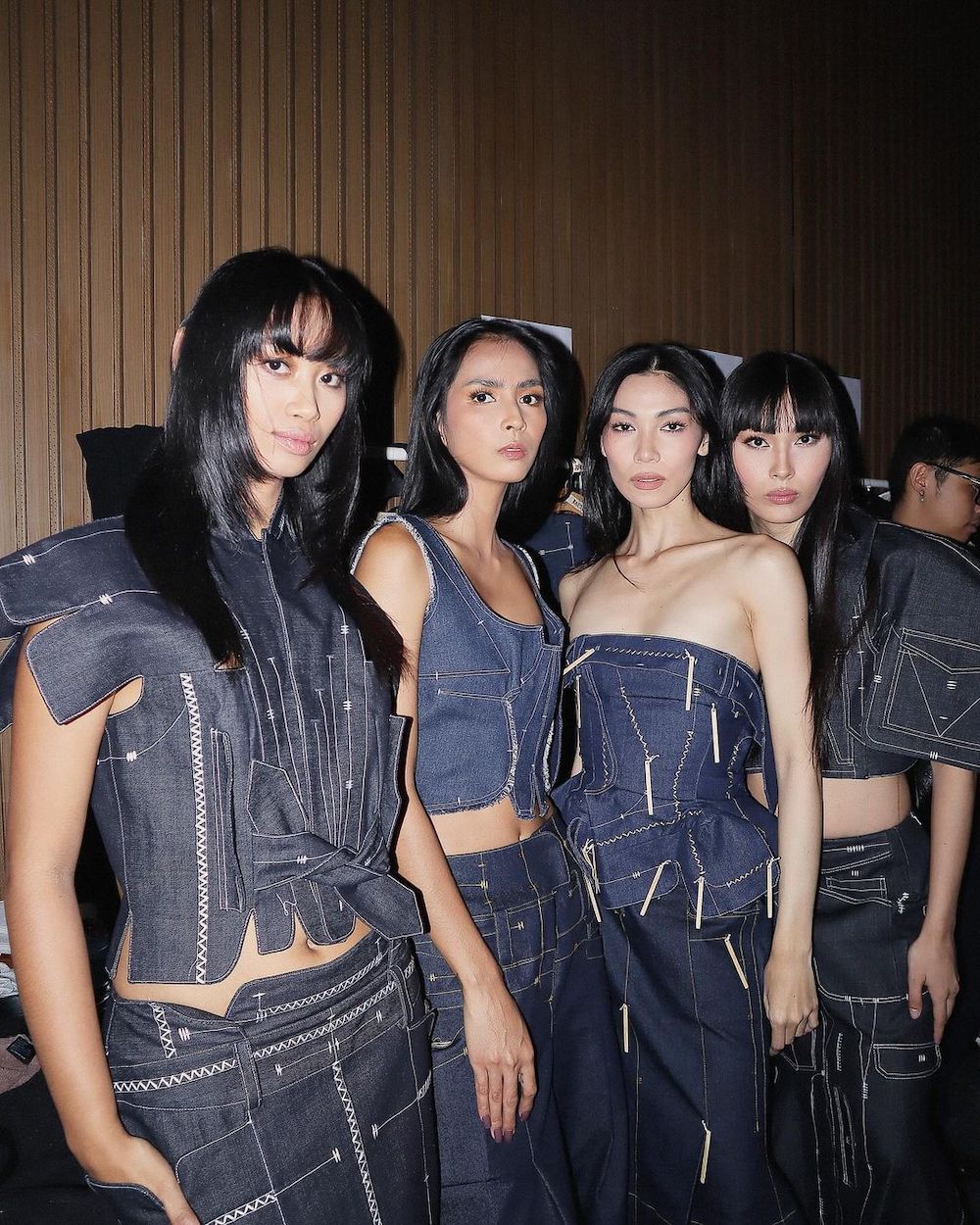 ADVERTISEMENT - CONTINUE READING BELOW
"As for the romantic section of the collection, it's something that I don't normally gravitate towards but I wanted more variety to the assortment. I sought out to show different ways to do romanticism which I still find interesting and not twee. I focused on embroidery and craft, details that are more visible upon further inspection. I draw all of my motifs organically, whether it be linear or floral. I think that sums up my design process."
What methods or crafting techniques did you use to construct your pieces? How long did it take to complete the collection?
"Aside from the linear stitching, I knew that I wanted to explore more three dimensional embellishments. One of the techniques I've developed is this puffy floral embroidery that every petal was manually pleated and appliqueed on the fabric. I brought the flowers to life. It was such a meticulous process that took so long and broke so many needles to achieve, but it all worked out in the end."
ADVERTISEMENT - CONTINUE READING BELOW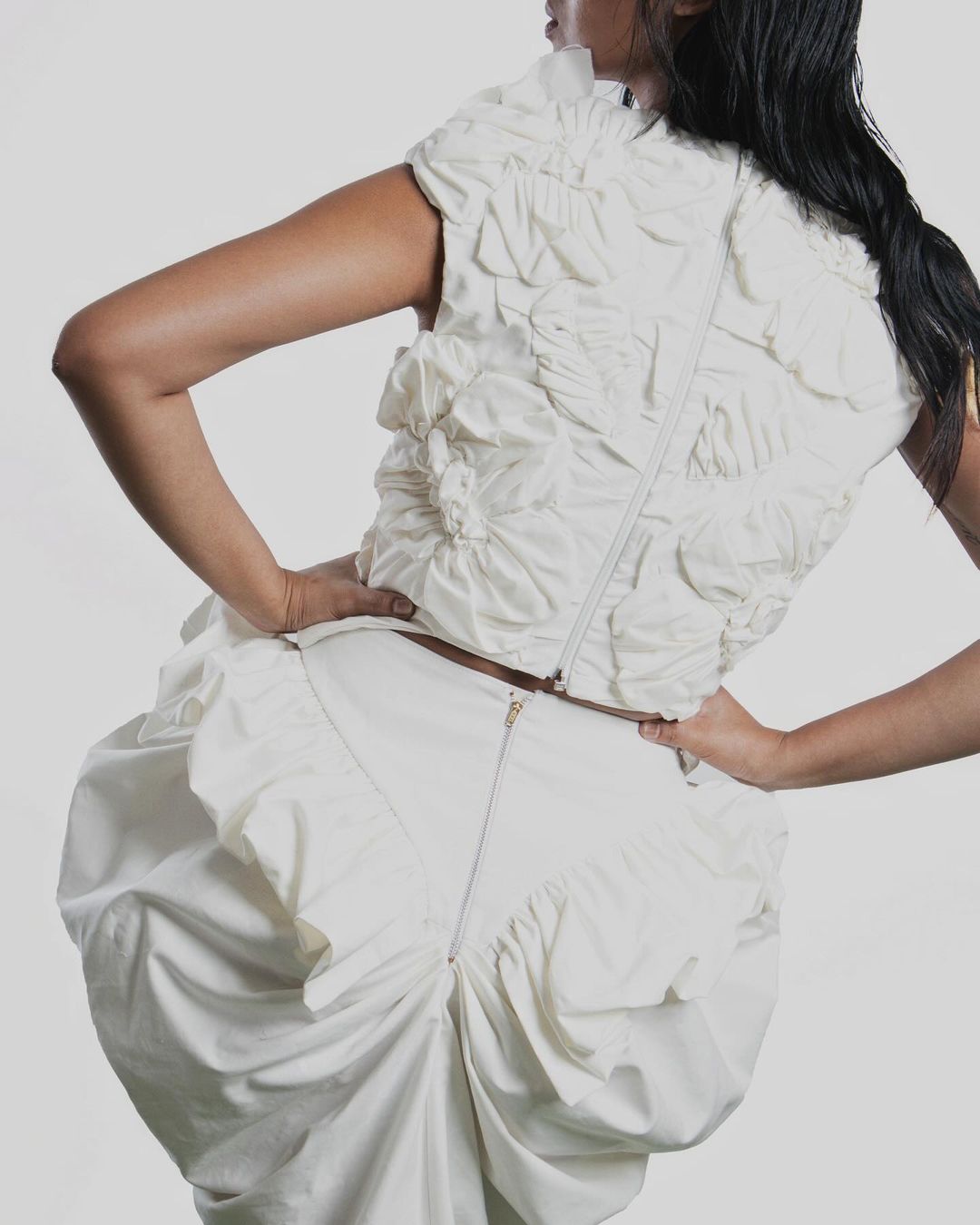 "Another new embroidery I developed is this layered sheer embroidery where in we embroidered multiple layers of sheer fabric and we cut off parts of the layers to varying degrees. This created different shades of colors and transparencies that looked very cool. I also handcut hundreds of organza petals, which we had sewn on top of it."
ADVERTISEMENT - CONTINUE READING BELOW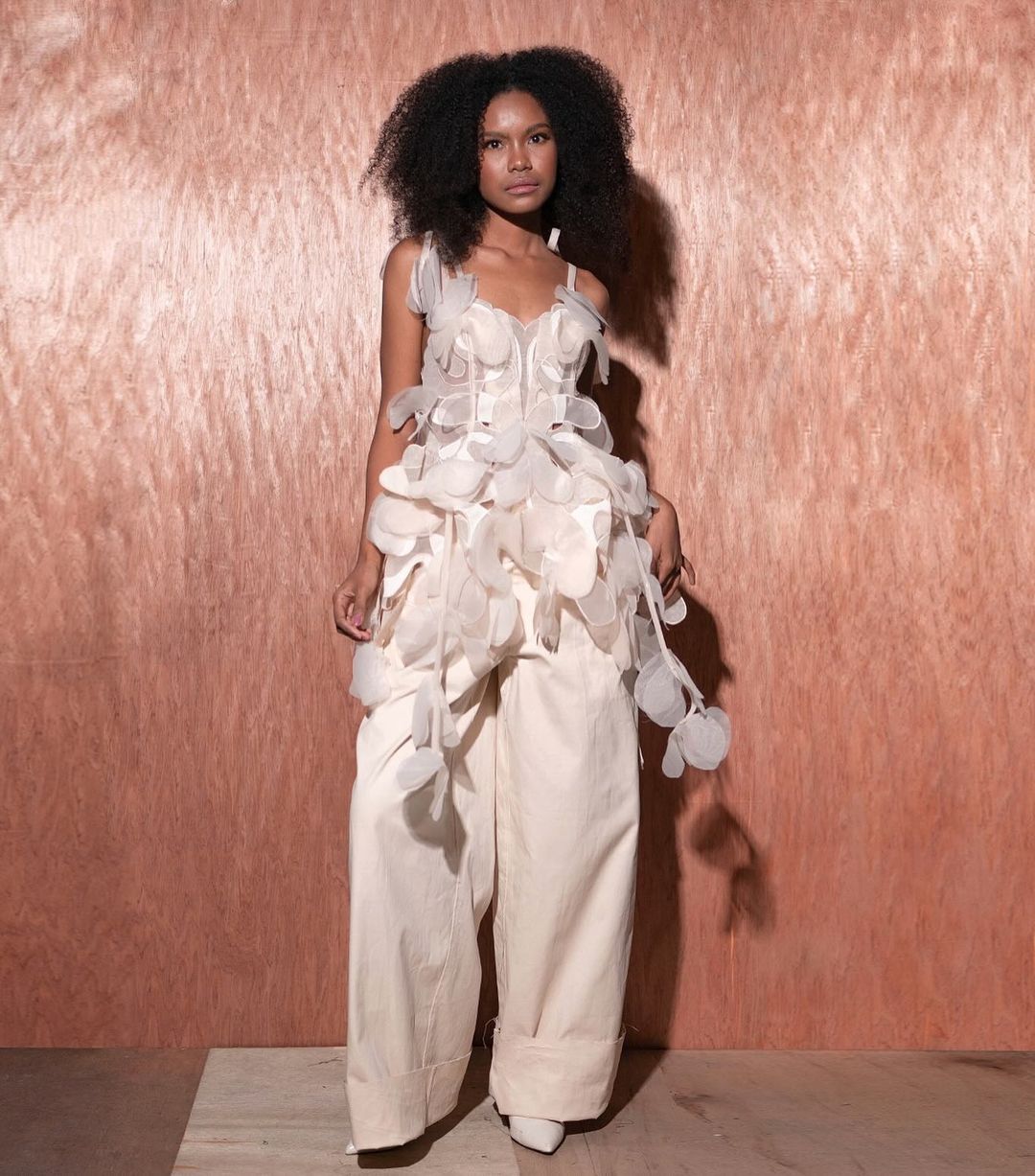 "The way the garment moved with the embroidery under and the peeling layers on top of it made the whole tedious process worth it. This collection took at least half a year to develop alongside other work I had to do."
What does it mean for you to be part of this year's PHx Station?
"I think everything just fell into place. I had a show last September and being presented this opportunity to sell my clothes off the runway just felt right. PHx is my first foray into retail and displaying my work in an actual store, so this is so special to me. This being my first, I wouldn't have done it with any other people besides PHx. The people behind it are friends who I respect so much. [Being part of] the community they have cultivated with creatives who I love and admire feels great. I've reached so many people throughout this process, people come up to me and tell me that they follow my work online and are happy to be able to experience and try on my clothes."
Can you share any fun fact or unknown trivia about any of your pieces?
"One of the pieces from the collection is a skirt that was originally pants. I had made it too small but I felt bad about scrapping it since there were so many beautiful tailoring details and stitching on it so I took it apart and deconstructed it into this mid length skirt with a trumpet silhouette. I utilized every single part of that pant, and it's hardly noticeable that the skirt was originally pants."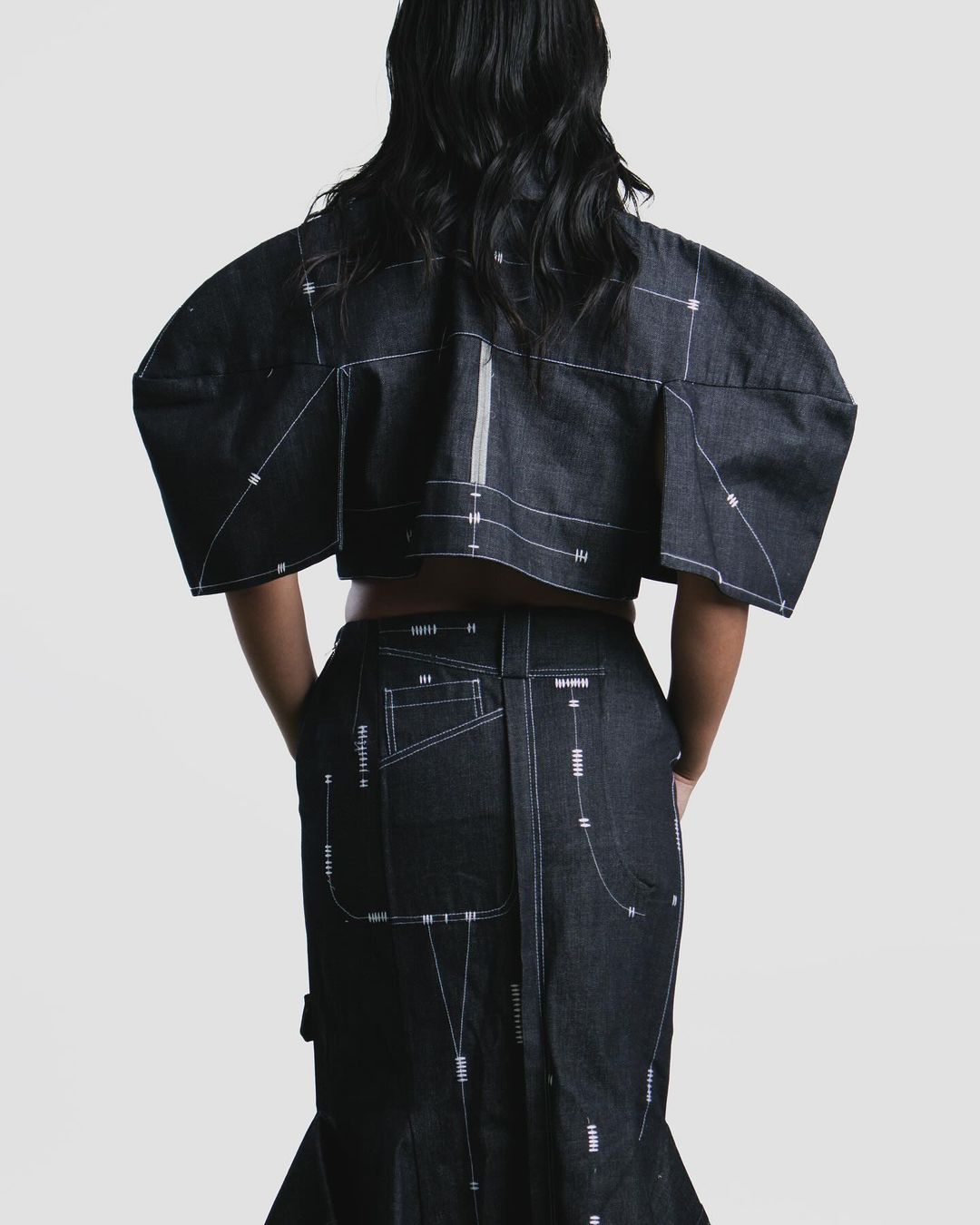 ADVERTISEMENT - CONTINUE READING BELOW
Shop Renz Reyes' latest collection at the PHx Station pop-up in Greenbelt 5 Makati. You can also check out Renz' pieces via Instagram.
Related Stories from Preview.ph



Hey, Preview readers! Follow us on Facebook, Instagram, YouTube, Tiktok, and Twitter to stay up to speed on all things trendy and creative. We'll curate the most stylish feed for you!