When I think of Elton John, I tend to think of many things: Your Song covered over and over on talent shows; the chorus to Tiny Dancer; an established superstar in a shiny velvet tux and funky purple tinted glasses; or a young musical genius hammering away number one hits on the piano dressed in outrageous and vibrant costumes. Suffice to say, to capture this magnanimous singer's life in a two-hour movie sounds both like a daunting attempt and a delightful treat all at the same time, and that's exactly what Rocketman aimed to do. A major motion picture coming to the Philippines this June 19, it stars Taron Egerton of Kingsman fame playing Elton in his prime. The film attempts to paint the trials and triumphs of a small-town boy on his journey to becoming one of the most iconic figures in pop history.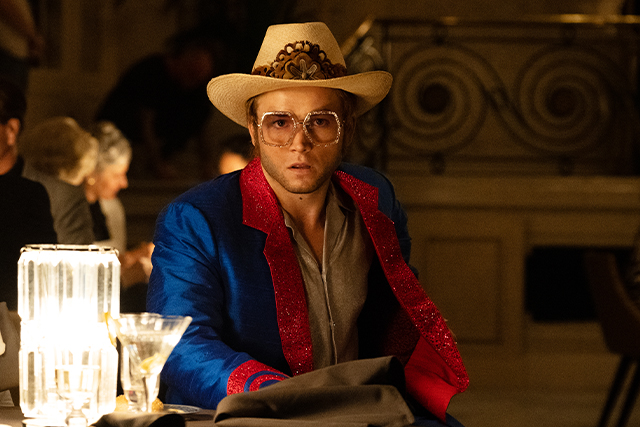 ADVERTISEMENT - CONTINUE READING BELOW
To portray the genius of his music is a given, but if there's one aspect of the movie we're most excited about, it's seeing Elton's oftentimes out-of-this-world performance garb. Julian Day, the veteran costume designer tapped to recreate Elton's wardrobe for the film, is no stranger to dressing up the movie versions of music icons—think Freddie Mercury (Bohemian Rhapsody), John Lennon (Nowhere Boy), and Joy Division's Ian Curtis (Control). Despite having had quite the handle on this genre, he reveals that getting the job was something of a dream. "It's one of those genuinely 'pinch yourself' moments," Julian says in a press release. He also gushes in an interview with Preview: "His music is timeless and appeals to such a broad audience. He is a true genius.
However, Julian says that his vision was never about recreating Elton's exact looks. Instead, he was endeavoring for their own version of the singer. "That's the thing with this movie—it's a fantasy. We didn't want to repeat what had been already seen, it had to fit into our film. We wanted to create our own look, not necessarily a different Elton, just our Elton." Julian says.
CONTINUE READING BELOW
Recommended Videos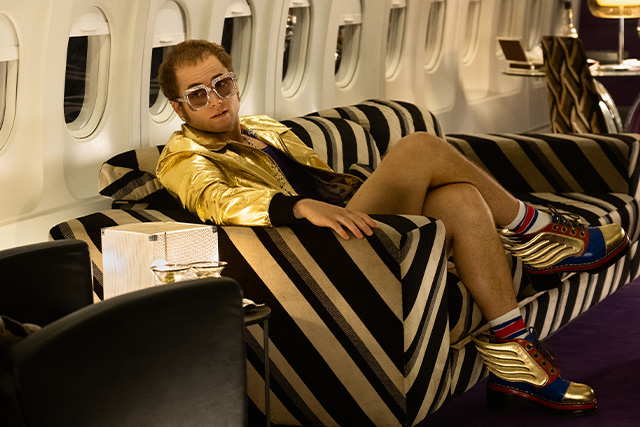 Rest assured Elton fans can look forward to a real treat, as the movie and its extravagant costumes have the stamp of approval of the man himself. "I was delighted with what Julian did with the costumes," Elton confirms. "For me, wearing those original costumes was always about empowerment. I wasn't allowed to wear fashionable clothes when I was a young kid. So, when I left home and moved in with Bernie and we got a flat, I started to wear more outrageous things."
ADVERTISEMENT - CONTINUE READING BELOW
Elton even gave Taron a special gift after finding out that the actor had to have his ears pierced for the movie! The best part? In a stroke of serendipity, it happened to fit perfectly with an essential costume piece. "He gave me his first ever diamond earring as a gift. I asked Julian if I could wear it with [the Devil] look. It felt appropriate because it is heart-shaped. Julian kindly let me do that," Taron reveals. "The last thing that Julian was considering was what to put in my ear. And it fell into our lap from the big man himself, so, lo and behold, it all fell into place. It felt fated that Elton would give me that earring and it would end up as part of the costume that I spend most of the film in."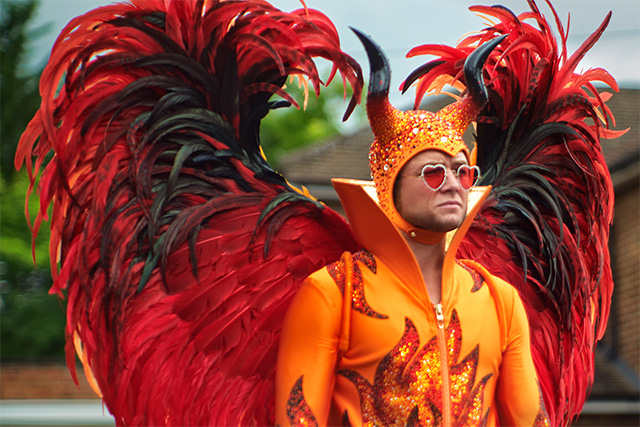 ADVERTISEMENT - CONTINUE READING BELOW
Excited for Rocketman? Learn more as Preview talks to Julian Day about his creative process and how it was working with Elton and Taron.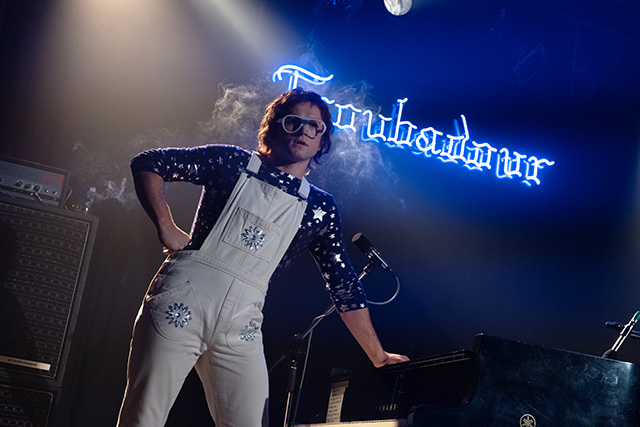 Were you a fan of Elton and his music before joining the movie?
"Yes, [I'm] a fan. His music is timeless and appeals to such a broad audience. He is a true genius."
ADVERTISEMENT - CONTINUE READING BELOW
Can you talk us through your creative process for designing the costumes?
"I firstly read the script and had concept meetings with the director and producers. I then got invited to the Sir Elton archive, which was amazing. I then designed the costumes based on the fact that we were producing a fantasy musical, not a generic biopic."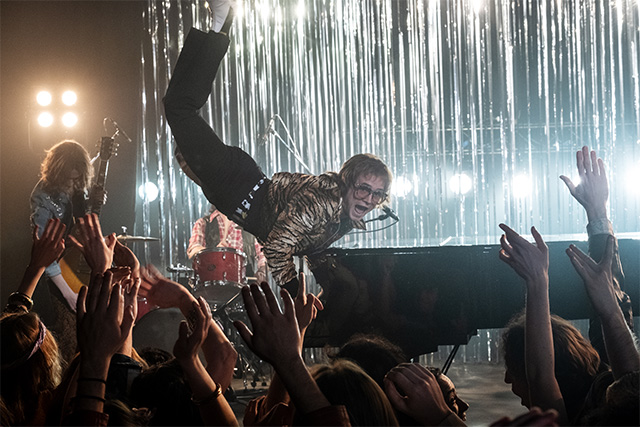 ADVERTISEMENT - CONTINUE READING BELOW
Did Elton have any input on how they would turn out?
"As before, I went to the archive and used a lot of inspiration and close up detail. Sir Elton came to the studio and I did a show and tell, which he thought was very reflective of his actual clothing."
Did you replicate his clothes to the letter, or did you add your own artistic twist to them?
"A bit of both. There were certain scenes where we needed to replicate, but most of the designs were from my imagination. "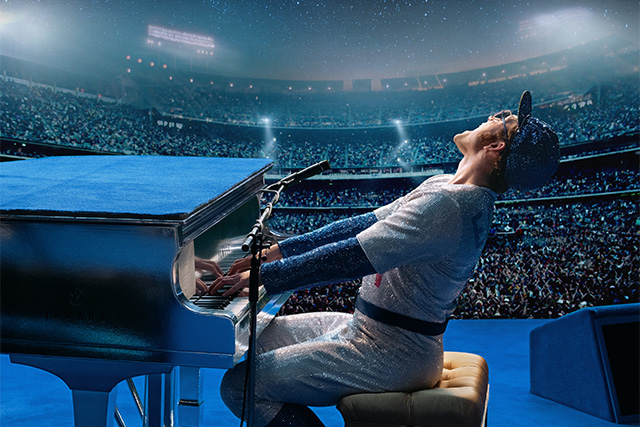 ADVERTISEMENT - CONTINUE READING BELOW
Did you have a favorite look of his in the past that didn't make it into the movie?
"Possibly the Donald Duck look. "
How would you describe your designs for the movie?
"A representation and reimagining of the originals."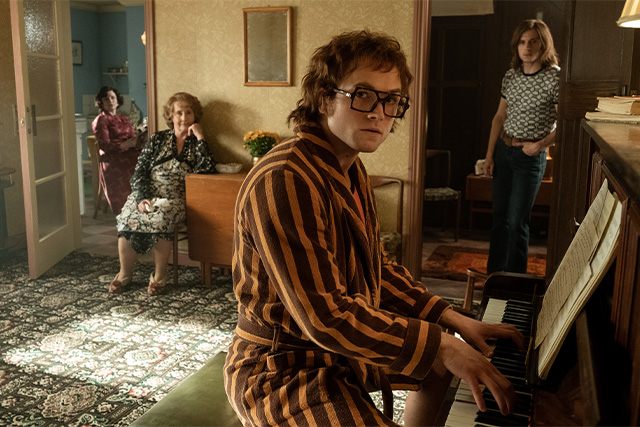 Did you face any difficulties in designing the costumes?
"No difficulties as such. Certain costumes had to work on many levels, including the Devil, which had to be stripped away to reveal the fragile Elton in rehab."
ADVERTISEMENT - CONTINUE READING BELOW
What was it like working with Taron? Did he have a favorite costume to wear?
"He is such a professional and worked so hard throughout the filming process, I think he loved the patchwork denim jacket as he asked to have it when filming was finished."
ADVERTISEMENT - CONTINUE READING BELOW
As a costume designer, what's one design philosophy that you always follow in all your projects?
"Be true to yourself, the script, and the character."
Related Stories from Preview.ph
Hey, Preview readers! Follow us on Facebook, Instagram, YouTube, Tiktok, and Twitter to stay up to speed on all things trendy and creative. We'll curate the most stylish feed for you!