Dolce & Gabbana's founders Domenico Dolce and Stefano Gabbana are absolutely no strangers to controversy. There was the 2007 ad campaign fiasco and the 2012 Hong Kong photo ban...those happened a pretty long while back, but the tea hasn't at all stopped spilling. Here, apart from the current, still-unfolding Chinese debacle, read about five other recent issues the design duo and their namesake brand have battled:
1. The gay adoption and IVF comments
In 2015, the label's founders—who are both openly gay—received backlash for statements they made about gay parenting and in vitro fertilization (IVF). Domenico told Panorama magazine, "We oppose gay adoptions. The only family is the traditional one … No chemical offsprings and rented uterus; Life has a natural flow, there are things that should not be changed."
Top-tier celebs promptly vowed to boycott D&G, with Elton John famously declaring "I shall never wear Dolce & Gabbana ever again."
The designers eventually issued an apology in the September 2015 issue of Vogue.
ADVERTISEMENT - CONTINUE READING BELOW
2. The "slave" sandal
Spring 2016 saw another dousing of hot water for the brand, when they insensitively listed a pair of shoes on their e-boutique as "slave sandal in napa leather with pompoms." The US$2395 lace-ups came embellished with multi-colored pompoms, mirrors, and gold trimming.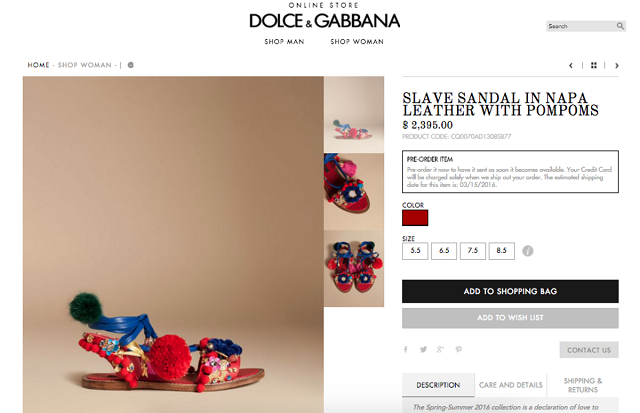 Following scores of online protests, the shoe was relisted as follows: "decorative flat sandal in napa leather with pompoms."
3. The #BoycottDolceGabbana T-shirt
When Donald Trump became President of the United States, many designers disagreeing with his politics and morals publicly refused to dress First Lady Melania Trump, even going so far as to release official statements on the issue. Dolce & Gabbana was not one of—in fact, Melania wore a black D&G jacket in her official White House portrait. Stefano then proudly reposted the photo with the caption, "#DGWoman BEAUTIFUL #melaniatrump Thank you #madeinitaly."
The designer's boasting of his affinity with the controversial first lady led to yet another widespread call to veto the brand. In cheeky response, D&G then dropped a "#BoycottDolceGabbana" T-shirt (which, by the way, is currently still available for US$300 on their website).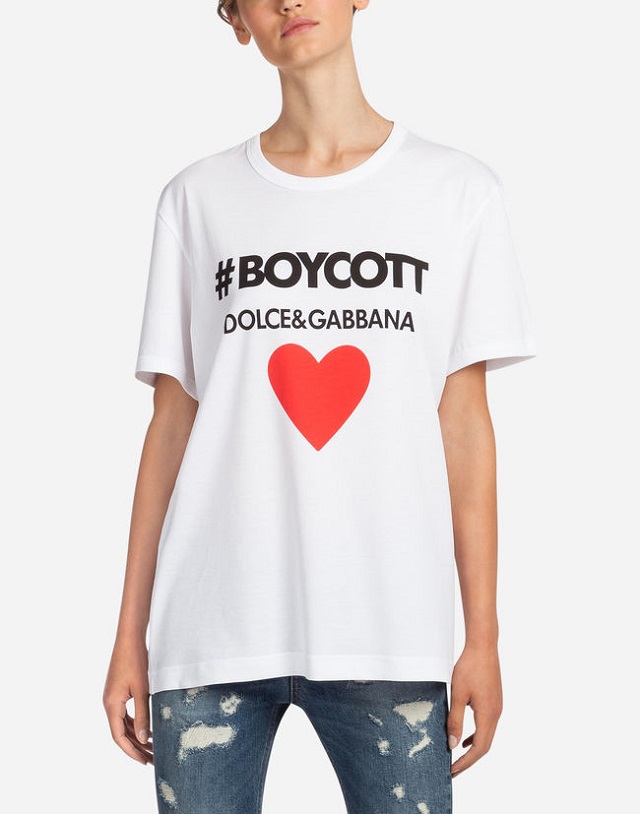 Perhaps the boldest and most memorable reaction to the much-criticized tees occurred right on the label's millennial-themed men's Spring/Summer 2018 runway. Musician Raury whipped off his hoodie during the show's finale, revealing the messages he had scrawled on his bare torso: "Protest D&G," "Give me freedom," and "I am not your scapegoat."
ADVERTISEMENT - CONTINUE READING BELOW
Of the move, he told GQ: "The 'Boycott Dolce & Gabbana' T-shirt completely makes a mockery of what 'boycotting' is. Boycotting is the people's voice. A protest is the people's voice. It has power...It was very insulting to know that Dolce & Gabbana was selling all of this millennial, pro-forward sh*t...Was it a test to see if millennials weren't about sh*t? That was another thing racing in my head. I felt like if nothing happened, then they would be right. And that T-shirt would be right."
4. The problematic sneaker slogan
If the shoe fits...you don't necessarily have to wear 'em. For Fall 2017, D&G launched an embellished sneaker designed by Japanese illustrator Jumpei Kawamura with the words "I'm thin and gorgeous," scrawled just below the ankle.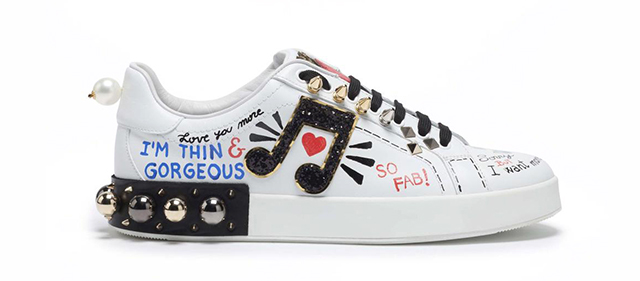 The internet was at odds yet again, some defending the phrase's supposed humor and others condemning it for implied body-shaming. As news outlets began tackling the rising controversy, Stefano responded with another tactless (and now-deleted) Instagram post: "When idiocy distorts reality!!! incredibile!!!! Next time we'll write LOVE TO BE FAT AND FULL OF CHOLESTEROL."
5. The Selena slander
Just this June, Stefano made a nasty, completely unprovoked remark about Selena Gomez on The Catwalk Italia's Instagram, causing legions of her fans to come to her defense.
The post showed Selena in a selection of red dresses, inviting commenters to pick their favorite of the five looks. Seemingly out of nowhere, Stefano wrote "è proprio brutta," which translates roughly to "she's so ugly."
"We don't care about your lame ass brand," one user wrote in response. Another bit back, "Shame on you for online bullying."
Hey, Preview readers! Follow us on Facebook, Instagram, YouTube, Tiktok, and Twitter to stay up to speed on all things trendy and creative. We'll curate the most stylish feed for you!