Marian Rivera and Heart Evangelista are two of our favorite sources of celebrity fashion inspo. Not only do they share a penchant for designer clothing, they are also known for their distinct signature styles—in fact, they each have separate Instagram accounts (@stylebylovemarie_e and @ marian_ootd) that are solely dedicated to keeping track of their daily OOTDs. And being avid followers of both, it has not escaped our notice when the two sported almost-identical Dolce & Gabbana logo tees.
Mike Lim, the blogger behind Fashion Pulis, was quick to point things out, pitting the two actresses against each other with a "who wore it better" post on his IG account. It features a side-by-side photo of each celeb: Marian wearing hers to an episode of GMA's cooking show Sarap Diva; and Heart giving the D&G tee a tailored update during her recent trip to Paris.
The debate
The comment section of the aforementioned post naturally became an avenue for the fans to debate over who wore it better, resulting in a heated argument and a word war between both fandoms. One thing led to another, and the next thing we know, Heart's Parisienne friend who goes by the IG username @anne__bonhomme has been caught up in the feud.
"Is there any debate when this Marian girl is wearing a fake one? The design in Arabic is supposed to have a banana," she commented on the post, questioning the authenticity of the D&G logo tee that Marian was wearing in the photo. To which, IG user @thedantesfamily has hastily replied.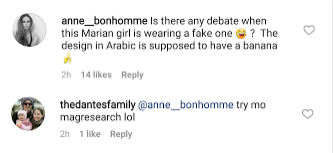 IMAGE INSTAGRAM/fashionpulis screencap
Taking a firm stand, Anne further pointed out all the factors which led her to believe that it's a "fake" D&G item. She even challenged the other party to call Dolce & Gabbana if she wants to get a confirmation.
IMAGE INSTAGRAM/fashionpulis screencap
Marian's personal shopper, Aimee Hashim of @loveluxebags, also came to retaliate in response to the allegations. On the same comment thread and on her own IG page, she asserts, "[I am] a personal shopper contacted by Gabbana themselves. What else is there to prove?"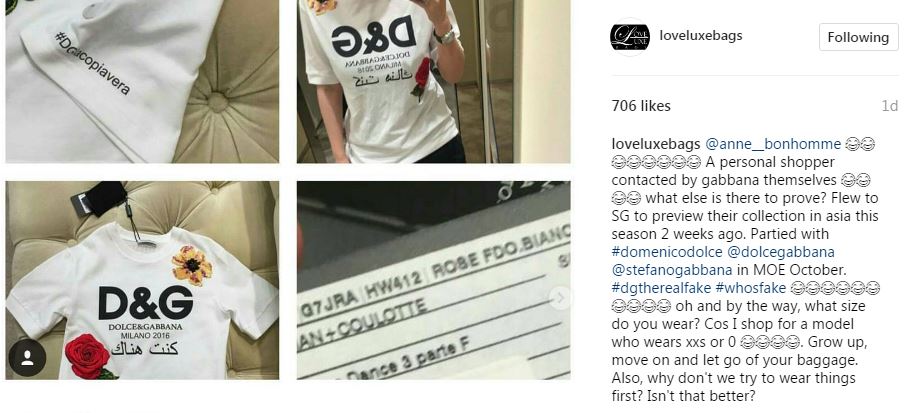 IMAGE INSTAGRAM/loveluxebags
In addition, she mentions flying to Singapore two weeks ago "to preview their collection in Asia this season." She even name-drops Domenico Dolce and Stefano Gabbana of the Italian fashion house, claiming to have partied with the renowned designers in October in the Mall of the Emirates. (EDIT: Previous article stated that the D&G party happened in Singapore.)
ADVERTISEMENT - CONTINUE READING BELOW
The item in question
Taking inspiration from fast fashion copycats, Dolce & Gabbana released white logo tees that present a satirical approach to the problematic issue. Dubbed as #DGTheRealFake, this special collection featuring "fun t-shirts with the D&G logo, embroidered flowers, and sparkling crystals" was introduced on the runways as part of the Italian luxury brand's Spring 2017 Ready-To-Wear presentation, with prices ranging from $745 to $1,495. 
Included in the above-mentioned collection are the controversial logo tees. The one Heart was wearing in the photo is emblazoned with the D&G logo along with "Io c'ero" print in Chinese, which translates to "I was there" in English. Marian was wearing another version of the tee in Arabic design, which is the item in question.
Taking into account Anne's arguments, the said Arabic design has a sequined banana sewn right along the letter "G" in the logo. This is the only design that D&G has authorized release for in the women's line that has the same Arabic print. The design Marian was wearing is only available in the kids' line, which offers sizes for girls aged two to 12 years old.
Another thing Anne pointed out is how far the flower is up on Marian's shoulder. In comparison to the original design that's available in the kids' line, the sequined black-eyed susan should be embellished just a little above the letter "G." Below, a side-by-side comparison of a photo we lifted off Marian's official OOTD Instagram account and the D&G Arabic t-shirt for girls: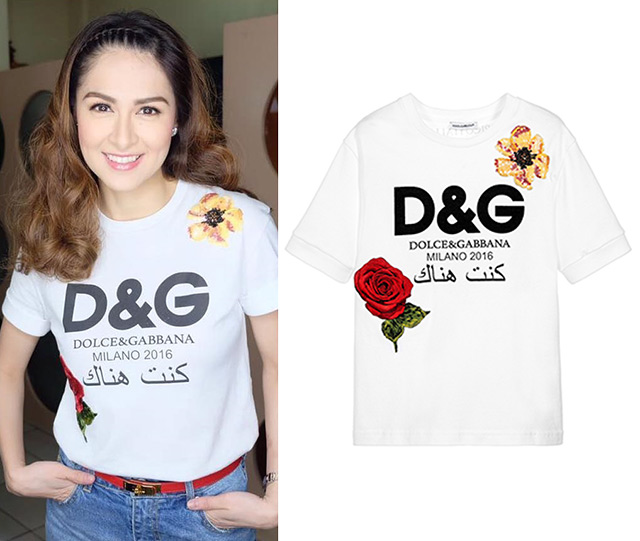 IMAGE INSTAGRAM/marian_ootd; childrensalon.com
The plot thickens
To confirm the details about Marian's questioned D&G logo tee, we reached out to her personal shopper from whom she got the item.
In an interview with Preview, Aimee reveals that the t-shirt Marian was wearing is actually from the teens' line. "[Marian] wears a size zero. XS [size for] adults is big. She is using teens size," she explains. "I bought a shirt for her in XS, super luwag. It was in a different design, so I had to look for a design na meron sa teens. That's the only one. The piece is extremely limited and not available anymore. Actually, it could sell for more than 1000USD."
However, upon checking the official website of Dolce & Gabbana, we found out that the Italian fashion house currently does not offer a teens' line. We tried to clarify with Aimee, and after which, she retracted her previous statement and confirmed that Marian wears "size 12," which is the largest available size from the kids' line.
ADVERTISEMENT - CONTINUE READING BELOW
To make her case, Aimee backs up her claims with the receipt and service agreement memo that were said to be issued by the Dolce & Gabbana boutique in Dubai, Mall of the Emirates.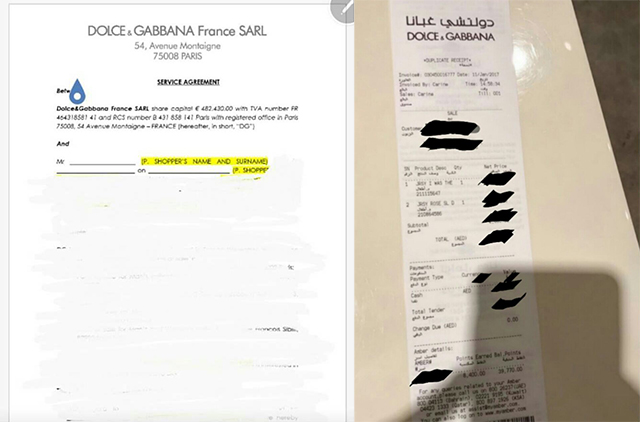 IMAGE Courtesy of Aimee Hashim
Aimee also adds that she is a legitimate seller recognized by the brand itself. "I am recognized by Dolce & Gabbana Company with a contract," she claims. "They asked me to sell their items in Manila. They will give me a percentage. Instead of getting some stockist, they are recognizing me as a legitimate person/channel where people can buy their items."
(UPDATED 9:17 PM, April 20, 2017)
In an exclusive interview with PEP.ph, Aimee backs up her claims with screenshots of "her conversation with the store manager" of D&G Dubai, Yesenia Jaimes Lozano. She also gave a screenshot of the email that the said manager has sent her prior.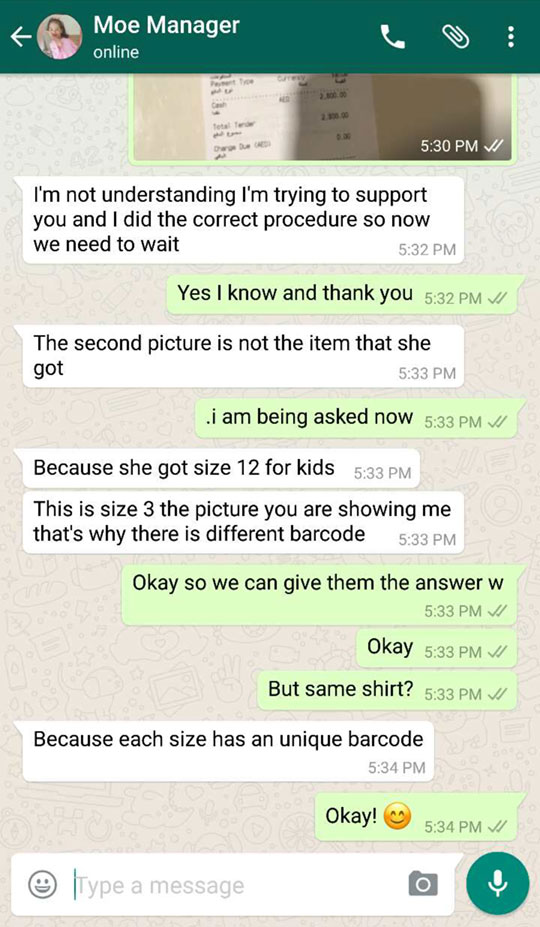 IMAGE Aimee Hashim via PEP.ph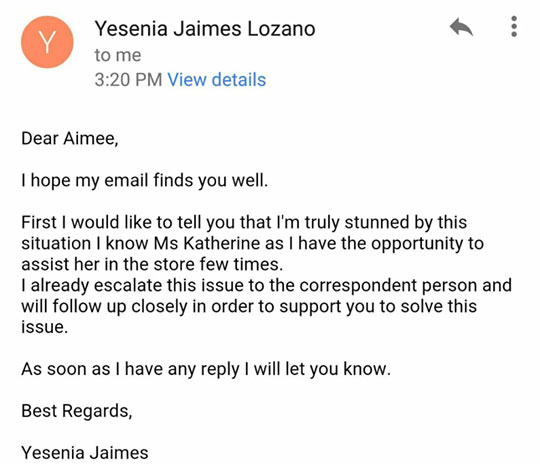 IMAGE Aimee Hashim via PEP.ph
(UPDATED 11:08 AM, April 21, 2017)
In reaction to the earlier version of this article discussing what Anne pointed out about the yellow flower applique being too far up in Marian's shoulder, Aimee fires back with a follow-up explanation: "Shirt in the photo is size 7 yo. Marian is size 12. As the size increases, the details varies [sic]."
We took it to the official website of Dolce & Gabbana to find a proof that will corroborate her assertion. However, upon checking, there was no way to verify which size is pictured on the product images.  
What we did find is the official lookbook photo of the #DGTheRealFake collection for the kids' line. In here, you can see a little girl wearing a similar design in Italian. PEP.ph also discovered an identical t-shirt being sold by childsplayclothing.co.uk that is presumably in a larger size, which presents a possibility that the design could vary depending on the size.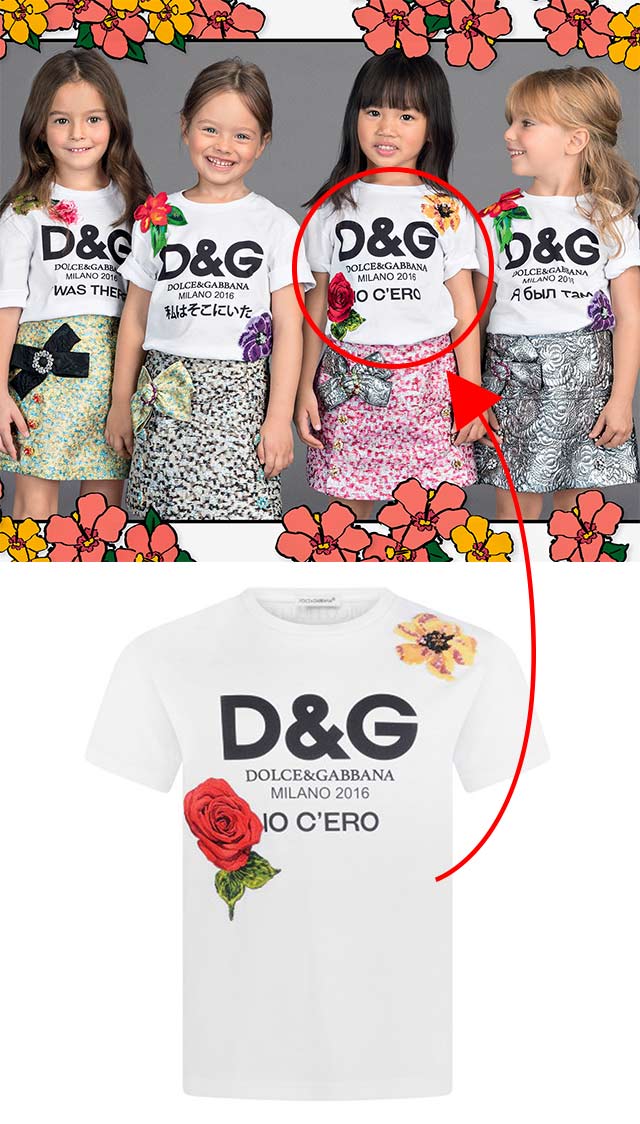 IMAGE dolcegabbana.com; childsplayclothing.co.uk
We tried reaching out to Dolce & Gabbana to get further details on the logo tee in question. As of press time, they are yet to issue an official statement.
All things considered, what do you make of it?
*This article has been updated due to new information coming in.