In a crowd, Tracy Dizon is hard to miss. With her colorful hat and big red cat eye prescription glasses, you can spot her easily. But that wasn't always the case for her work as a milliner and a fashion designer. She joined numerous fashion contests like Project Runway (she was on season two), Philippine Fashion Design Council Contest back in 2006, and Japan Fashion Design Contest in 2009 to beef up her credentials, but for some reason, it seems that her efforts weren't enough. She recalls, "I still tried to look around asking people in the company 'how can I apply?' I would always get a cold shrug. It is really disheartening. I told myself jokingly, I think I will have to debut my first show elsewhere! It is very funny that after many years it is indeed coming true!"
And indeed, she has started making her mark in different countries. Recently, she won a spot that will allow her to showcase her work in New York. From her humble beginnings as a Clothing Technology student from UP Diliman to her small stints as "a stylist costume designer for ABS-CBN," she's now a step closer to her ultimate dream, which is to have small networks in every fashion city that will give her an excuse to travel the world.
Below, get to know more about this quirky young designer who's on a quest to make the the world brighter and more whimsical, one dress (or hat) at a time.
How would you describe your design aesthetic and philosophy?
ADVERTISEMENT - CONTINUE READING BELOW
"My design aesthetic is quirky. Before, I used to be branded as 'kawaii designer,' which in the long run had two polar effects. I found myself being rejected, prejudged, branded as a costume play and I was not taken seriously. It is disheartening, especially with the intense training and education background I had. But at the same time, it is with the kawaii culture that I widened my international reach and network.
"When I was in NYC in 2015, it was really a badge of honor that I was able to penetrate Tokyo... I would say I am a mixture of Betsey Johnson, Jeremy Scott and Tsumori Chisato."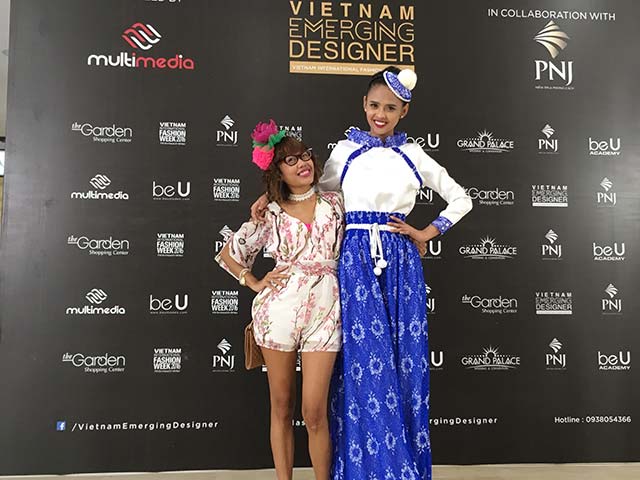 IMAGE Courtesy of Tracy Dizon
Do you have a signature design or key element evident through your collections?
"I think my signature style is my print on print on print play. I love prints and patterns, from florals, ethnic, to doodles. These give a very interesting play on visuals that keeps me interested in making clothes. I also always try to infuse a baby doll dress in every collection. Whether it's a tea party collection or a minimalist collection, there will always be room for a cute baby doll dress."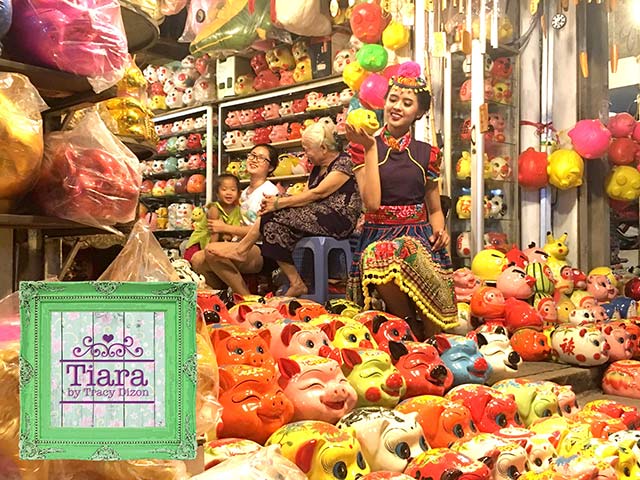 IMAGE Courtesy of Tracy Dizon
Where do you usually draw inspiration from? How about for your recent collection?
"What I always advise my students and interns is always get inspiration from non-fashion things. It makes designing more memorable and more intelligent. I get inspirations from many inanimate things, from food, to wall textures, to teacups. I also draw inspiration from a story, a novel, or an iconic person. Of course, being a wanderlust, I can never get enough inspiration from the places I've been."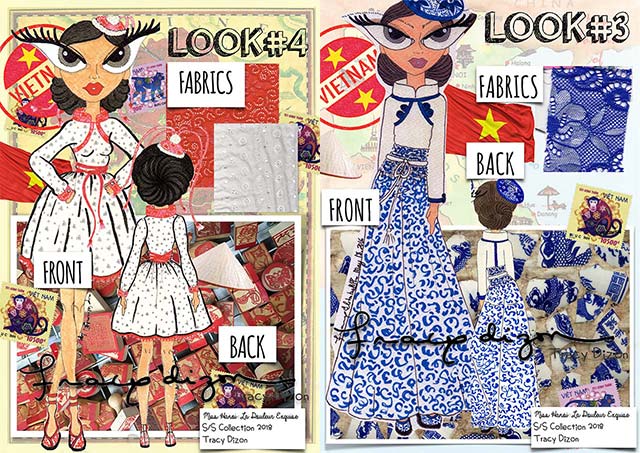 ADVERTISEMENT - CONTINUE READING BELOW
IMAGE Courtesy of Tracy Dizon
"For this collection, Miss Hanoi: La Douleur Exquise, I can say that it's a semi-autobiographical endeavor I had after battling a clinical depression in 2015. I literally ate, prayed, and loved. Going to Hanoi was like chasing a fantasy. It was a great love that didn't come true. Instead, I fell into a heart break. Obsessing about this 'fantasy girl' whom I was chosen over by, I started drawing how I imagine her to look like, to dress like. It was merely a personal reflection in my diary. [As I wandered] the streets of Hanoi alone, I walked towards the fabric market and that's when it all started. I literally got inspired from small pieces of toys, mosaic walls, Ao Dai dresses, the stamp store, and even the Pho Noodle soup!"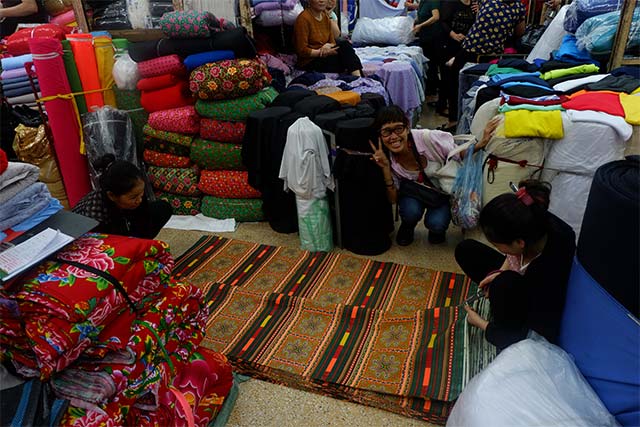 IMAGE Courtesy of Tracy Dizon
Can you walk us through your creative process as you design clothes?
"I am very old school with my designing. I would really intensely draw for weeks, not leaving my table until I get everything done... My background in UP gave me that training of intense research. I want to present clothes with a history and a story. It makes it more valuable, I believe."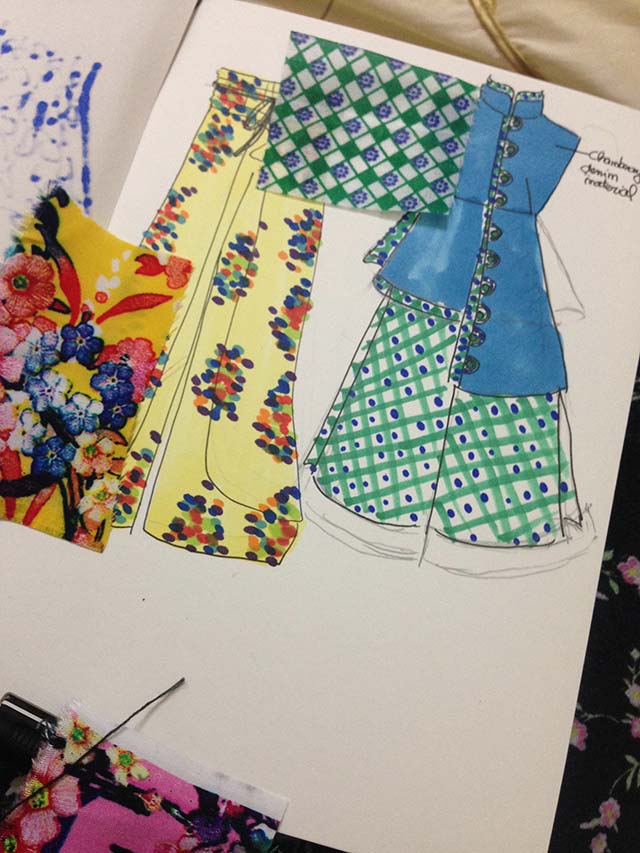 IMAGE Courtesy of Tracy Dizon
Is there a specific person you have in mind when you create your collections? What makes a Tracy Dizon muse?
"I guess I am a little selfish when I design. I would always think if I would feel comfortable with my clothes, if I would feel beautiful with my clothes. I am my own guinea pig in terms of that. But I always imagine the girl who would wear my designs to have a happy smile on her face. As simple as that."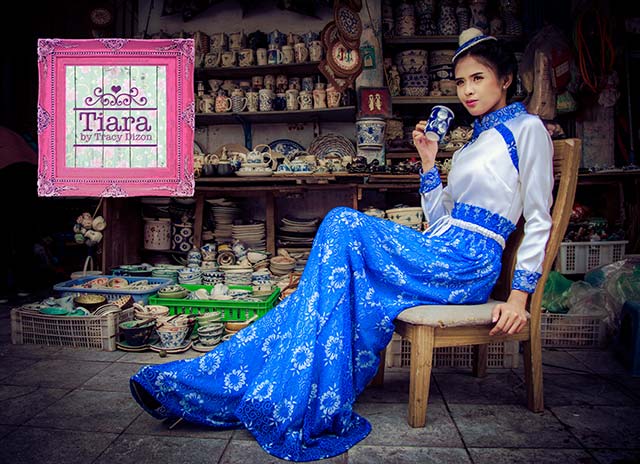 ADVERTISEMENT - CONTINUE READING BELOW
IMAGE Courtesy of Tracy Dizon
Could you describe the lifestyle that fits your design philosophy?
"I don't know if there is any specific difference in lifestyle. I am just a very pedestrian person; I commute, I still do my Divisoria errands, but I will always put my Barbie mode on. Nothing wrong with that! I don't think dressing up everyday is such an oddity. In Tokyo, in Paris, in New York, people are more open minded [than in Manila]… But as I said, fashion and clothes are the extension of oneself. I guess anyone who has that philosophy and love for colors can embrace and enjoy my designs."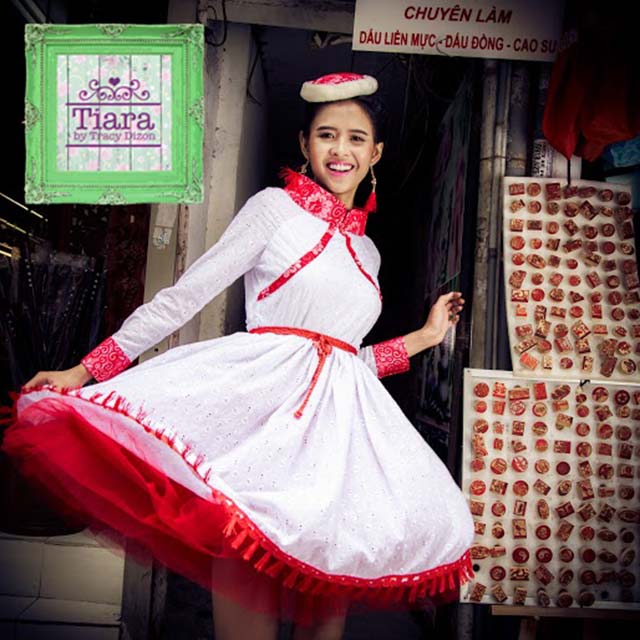 IMAGE Courtesy of Tracy Dizon
Who do you dream of wearing your designs?
"I already accepted the fact that I am not a mainstream designer. But I think Tessa Prieto Valdez, Katy Perry, Patricia Field, Anna Dello Russo, Misha Janette, Bjork, and all those fun people who really plays with and enjoy clothing. Fashion influencers like Tavy Gevinson would probably carry some of my pieces quite well."
IMAGE Courtesy of Tracy Dizon
How has your brand evolved since you started?
"Well I've been here quite a little while, joining contests for 12 years. So it's inevitable to grow as well, as a person and a woman and a mother and all that. When I was a fashion student, I was more into punk rock fashion. I adored Gwen Stefani, but when I became a mother at an early age of 21, my lifestyle and interest changed as well. I saw myself getting softer with tea party kind of dresses. And now I'm in my 30s; I am happy and satisfied that I get to infuse my two-passions, fashion and travel, in my designs. All of them are Tracy Dizon one way or another. I believe it is essential to grow and evolve."
ADVERTISEMENT - CONTINUE READING BELOW
Related Stories from Preview.ph
Hey, Preview readers! Follow us on Facebook, Instagram, YouTube, Tiktok, and Twitter to stay up to speed on all things trendy and creative. We'll curate the most stylish feed for you!