Slim's Fashion and Arts School student Riza Bulawan views PEFTA as, first and foremost, an opportunity for learning. More than just a means to get exposure, PEFTA for her is an opportunity to challenge herself in terms of her creativity and craft, and a chance to experience what it's like to be a full-time fashion designer. "I'm grateful that throughout the whole PEFTA year," she shares, "I learned more about design and execution (thanks to our mentors/teachers at Slim's); the business side of fashion (thanks to Preview); and also learned more about myself (my strengths and weaknesses) and the career choices that I want to make."
Talking to this emerging designer, one immediately senses how precocious she is, referencing Roberto Capucci, Isabel Toledo, Salvacion Lim-Higgins and Pina Bausch among her style influences. Indeed, at quite a young age, she would copy famous fashion designers' croquis from fashion glossies, the hierarchy of which she was already keenly aware of (Vogue being the ultimate, Elle and Glamour coming after). She also has a possessing appreciation for the craft behind fashion. "I didn't grow up to be a lover of clothes or a bagaholic. But I've always appreciated well-made clothes and every time I watched Fashion TV, I wondered how those complex objects—clothes—are manufactured."
ADVERTISEMENT - CONTINUE READING BELOW
Riza's interest in fashion landed her in a B.S. Clothing Technology course in University of the Philippines, and a dressmaking course in Slim's ("At this school is where I developed talents I didn't believe I had and where I acquired skills I thought only experts were born with," she enthuses), where veteran Filipino designer Ben Farrales sponsored her fashion design course. She's still on her way to finishing her dressmaking classes, but she's doing it with great strides, especially with the encouragement offered by PEFTA.
She presented a 6-piece collection called Daughters of Poseidon in the PEFTA fashion show, showcasing her affinity for and a budding adeptness with the architecture and engineering behind dressmaking. "I was inspired by sea creatures and the geometry and physics behind their bodily structures and their movements," she says. "I used varying fabrics and sometimes used contrasting kinds of fabric so I can learn to work with different behaviors and textures. [I also had] no particular color theme because I knew I needed to be more fearless when it comes to color."
CONTINUE READING BELOW
Recommended Videos
"Most of the techniques I used during the process," Riza continues, "are inspired by a technique that Shingo Sato calls 'Transformation and Reconstruction,' which enables the designer/pattern-maker to achieve any shape he/she desires with the use of strategically placed curved/angled seamlines, or to achieve the same traditional shapes but with different seamlines. It's also the same technique that Vionnet and thousands of other patternmakers used before he gave it a name.) The convex shells and the controlled pleating are achieved with this technique."
It's clear that Riza's passion for fashion goes beyond anybody's standard appreciation for external beauty. Prioritizing construction in her designs, she makes sure that the clothes are beautiful both inside and out. "For when a dress feels as luxurious as it looks and hugs the wearer in all the right places, the dress disappears and what people notice is the woman wearing it feeling beautiful and happy with herself."
ADVERTISEMENT - CONTINUE READING BELOW
Asked to describe her design aesthetic, she has this to say: "If this question means what people can expect from my designs, I can't say at this early point of my career and I wouldn't want to have an answer either. I don't want to limit my creativity within the bounds of what works or, worse, what sells."
She explains further, "All I know is that when I design, I tend to take inspiration from things that are mysterious, puzzling, and peculiar—things that draw me in and spike my curiosity. Then I sketch. I tend to draw details that I don't know yet how to execute—this is where I get the drive and enthusiasm I need until the design is realized. If it's something clever and feels like a eureka moment, I build my design (or a whole collection) around that and incorporate that idea into something that a woman can wear which, for me, means (1) something that flatters her figure, and (2) something she'll feel good in."
ADVERTISEMENT - CONTINUE READING BELOW
Riza is grateful for everything that PEFTA has done for her thus far. She tells us that "Blessed would be the most suitable word" for what she feels about being one of the five emerging talents who made this year's cut. She's looking forward to making clothes for women who "can understand, appreciate and relate to the clothes even before they read this or hear me blabbing about how I made them."
Click on the photo gallery to view Riza Bulawan's collection for PEFTA.
Click here to view the PEFTA webisodes to know more about Riza Bulawan.
Click here for Riza Bulawan's Designer Directory.

Follow Style Bible on Twitter, Facebook, and Tumblr for more on Filipino fashion!
Hey, Preview readers! Follow us on Facebook, Instagram, YouTube, Tiktok, and Twitter to stay up to speed on all things trendy and creative. We'll curate the most stylish feed for you!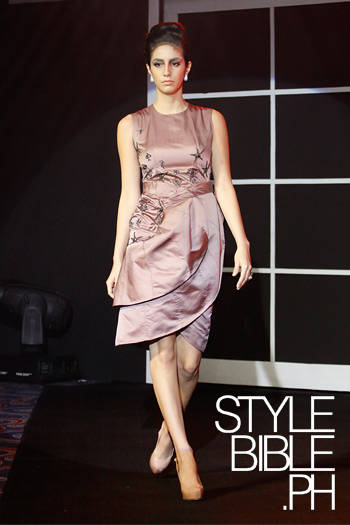 ADVERTISEMENT - CONTINUE READING BELOW
CONTINUE READING BELOW
Recommended Videos
Hey, Preview readers! Follow us on Facebook, Instagram, YouTube, Tiktok, and Twitter to stay up to speed on all things trendy and creative. We'll curate the most stylish feed for you!