Mariton Villanueva wants fashion to go back to basic and all things au naturel, but she's not referring to the form of normcore minimalist aesthetic you're probably thinking right now. Mariton's vision of a stylish lifestyle includes wearing all things naturally made, as she gives slow, sustainable fashion a fresh new take with her brand Himaya.
Preview had the chance to see Mariton's maiden collection as I sat as a panelist for her graduation show for the Fashion Institute of the Philippines. Up close, I witnessed her quiet yet strong resolve to make something beautiful out of discarded things; she primarily worked with damaged and overrun textiles. Mariton's also a warrior of nature, determined to remind us that Mother Earth provides us with everything we need, if only we know where to look. But her reverting to the age-old technique of plant-based dyeing is not one to be deemed as old-fashioned or futile resurrection of an almost obsolete method. In fact, her chosen methods require skill and innate talent, both of which Mariton possesses.
ADVERTISEMENT - CONTINUE READING BELOW
Below, we get to know more about Mariton and her causes as translated into stunning drapery from intriguing textiles she made herself.
How would you describe you design philosophy and aesthetic? What's the story behind your brand name Himaya?
"As a dancer and yoga teacher, movement has a lot of influence in my designs. I like draped silhouettes that flow with the body's shape and movement. I work with resources that are local, handmade, ethically produced and environmentally sustainable. 'Himaya' in Bisaya means glory or praise. I think that as designers, artists, writers, makers, etc, we are just co-creators with God. Every natural material comes from the Creator, every original design and idea comes from God and so all praise go back to God."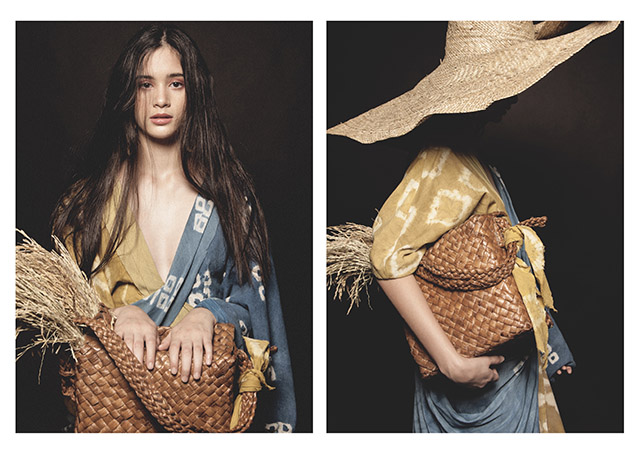 CONTINUE READING BELOW
Recommended Videos
What motivated you to be a designer?
"Clothes to me are like wearable art. Like tattoos, we represent ourselves through them. I think that clothing could be a great tool to spread a message of awareness to many if used responsibly. What motivates me also is the Philippines' rich heritage and practice of making textiles and natural dyeing. In designing and making clothes, I think it is important to keep and preserve these traditions and to support the communities that live through these practices."
You're a fresh name in the local fashion scene. What do you think is your greatest edge as a designer?
"Every piece I make is hand-dyed from plants and natural materials, which makes these colors and textures difficult to standardize and replicate. I like to base my designs and silhouettes from these colors and textures, so that each piece has its own story and is one of a kind."
ADVERTISEMENT - CONTINUE READING BELOW
Knowing this, how would your clothes fit the modern Filipina now?
"I think the modern Filipina celebrates her uniqueness. She knows how to channel both her boldness and softness, in the way that she thinks, speaks, and dresses, and the modern Filipina acknowledges and respects nature and her heritage."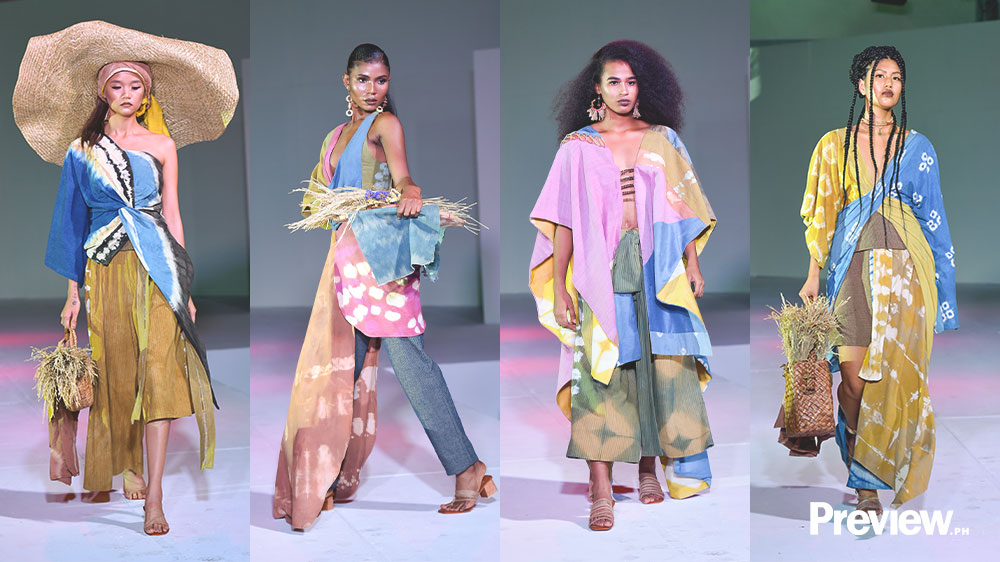 ADVERTISEMENT - CONTINUE READING BELOW
For your graduation show, you worked with recycled fabrics and natural dyes. How did you decide to use this kind of fabric and why? And do you plan on further using upcycled textiles?
"Yes, I do plan on still using my current medium. From studying fashion and seeing the operations of some clothes manufacturers, I've realized that so much goes into the making of our clothes today. Especially in this era of 'instant' everything, we've forgotten our roots. Mass production of clothing and textiles and the dyeing industry, besides having poor employee welfare, is one of the major polluting industries of our world. And any fashion designer would know how much fabric is wasted and disregarded in the making of just one garment. This is why I choose to use upcycled fabrics. There is so much beauty in making old or disregarded things new and reusable. I used natural dyes to show the beauty of our local plant pigments. My graduation collection called Ritmo ng Paglikha (Rhythm of Creation) is a collection made to remind us to protect the beauty of Creation and value the hardwork and slow process of anything handmade."
ADVERTISEMENT - CONTINUE READING BELOW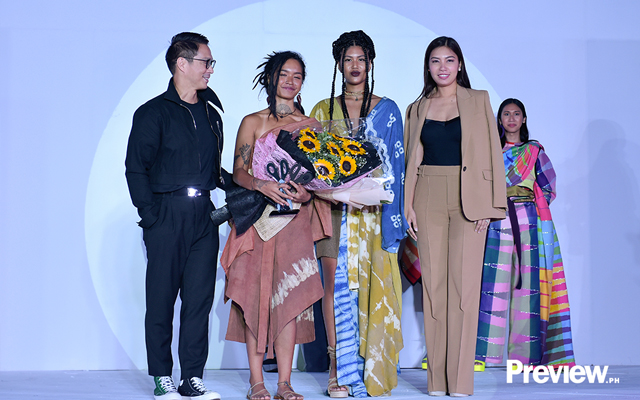 Is there a particular kind of woman that you have in mind when you design clothes? Could you describe your ideal Himaya muse?
"My ideal Himaya muse is a woman who celebrates uniqueness, who knows how to channel both her boldness and softness, and acknowledges and respects nature and her heritage."
ADVERTISEMENT - CONTINUE READING BELOW
Let's talk about your creative process. How do you usually find inspiration?
"It all starts with knowing what story I would like to narrate through clothes. Then I figure out the plants or colors that I can work with and the patterns and textures that can be made from resist-dye, tie-dye, clamp dye. From there, I draw silhouettes that play with these patterns and colors. I find inspiration from everyday sights, thoughts, and encounters."
ADVERTISEMENT - CONTINUE READING BELOW
What do you consider to be your signature style as a designer?
"My signature style in design is eccentric yet laid back. My designs are very visual since I like to fuse colors and patterns with easy and flowy shapes and silhouettes."
Let's talk about your newly launched line. What can we expect from the Himaya brand?
"Collaborations with like-minded artists and designers, different narratives through clothing, a variety of local textiles, plant-dyes, and weaves. I am currently adding two pieces to Ritmo ng Paglikha (Rhythm of Creation) to complete the narrative of the creation story in Genesis, this will be shown in Lao Fashion Week, along with the collection of JJ Aquino and other Filipino designers."
ADVERTISEMENT - CONTINUE READING BELOW
Related Stories from Preview.ph
Is your studio officially open for business? How can we best reach your atelier for made-to-order pieces?
"Himaya will have a showroom of Ritmo ng Paglikha collection this September at Munimuni Studio (@munimuni.studio). We will also be holding new collections, made-to-order pieces, and collaborations there. [We're also] on Instagram, @himayaph."
Related Stories from Preview.ph
Hey, Preview readers! Follow us on Facebook, Instagram, YouTube, Tiktok, and Twitter to stay up to speed on all things trendy and creative. We'll curate the most stylish feed for you!