Manila is spoiled for choice when it comes to beautiful jewelry and accessories. Yet another addition to the country's ever-growing list of bijoux designers is Malou Romero of Joaniqué, who joins fellow model-turned-designers Tweetie de Leon-Gonzales and Girlie Benitez in the design department. Find out why this lovely woman transitioned to creating precious beauty instead of being a canvas of it, and learn all about her latest collection for Joaniqué, called Jardin.
WHAT WAS YOUR POINT OF REALIZATION WHEN YOU KNEW YOU WANTED TO DESIGN
JEWELRY?
I've always been appreciative of art, but it wasn't til I was older that I actively participated in the creation of it. I did some modeling back in the day, so I was able to experience myself how jewelry could really make or break an outfit. I also took some courses in interior design and gained an understanding of how structure and composition come together. I like to think that this combination (fashion and interior design) is what led me to creating jewelry. It's not one moment of realization that got me here. Rather, it was a series of moments that inspired me to pursue jewelry design.
ADVERTISEMENT - CONTINUE READING BELOW
HOW DOES JOANIQUE DIFFERENTIATE ITSELF AS A JEWELRY BRAND FROM THE OTHER JEWELRY LINES OUT THERE?
I think every artist is driven by a specific passion, which in turn guides the creation of every piece of jewelry that he or she creates. This is what differentiates one jewelry brand from the next. For Joanique, I believe the unique touch comes from my desire to ensure that earrings aren't just earrings, and rings aren't just rings. After all is said and done, what I truly want is to give women an experience of beauty through the experience of jewelry.
HOW WOULD YOU DEFINE YOUR AESTHETIC, AND YOUR DESIGN PERSPECTIVE?
If I were to capture my design perspective in a single phrase, it would be this: Beauty that lasts. When you look at the art created during the Renaissance, it is inspiring to think that centuries later they remain as some of the most beautiful pieces the world has ever seen. To create such great works may seem like a lofty ideal, but it's what I strive to do. My vision is to ensure that each and every one of my designs is a masterpiece, because only a masterpiece remains beautiful no matter when and no matter what.
CONTINUE READING BELOW
Recommended Videos
WHAT DO YOU FIND IS THE BEST THING ABOUT DESIGNING JEWELRY?
That's easy. It's when my clients tell me how happy they are and how much they love my designs. That's the moment when I feel the most fulfilled, and my job doesn't feel like a job at all.
WHAT KIND OF JEWELRY DO YOU LOVE TO SEE A WOMAN WEARING?
When I see a woman wearing a single, statement neckpiece, it immediately makes me smile. Have you ever seen a woman clad in a plain top, but with the kind of necklace that ups the ante of her entire outfit? From adding a touch of drama to a bit of edge, I just love how a single piece of jewelry like that could make such a difference.

WHAT ARE YOU IN THE MOOD TO SEE, IN TERMS OF JEWELRY, FOR SUMMER 2012?
Since Mother Nature is my muse these days, I wouldn't mind seeing more colors that make use of this theme. Hues of yellow are also most welcome—the contrast they offer to shades of green and red are so vibrant and happy, it's a perfect fit with the spirit of summer.
ADVERTISEMENT - CONTINUE READING BELOW
PLEASE TELL US ABOUT THE CONCEPT BEHIND YOUR JARDIN COLLECTION.
There's actually a story behind that. My husband and I had recently moved our family from an apartment to a house, which meant that we had a garden for the very first time. While having a cup of coffee one afternoon, I found myself studying every inch of my new garden and appreciating how the different colors came together—for instance, how the green of the grass blended so beautifully with the brown of wood. Next thing I knew, I was daydreaming about jewelry with all these nature-inspired combinations of color. That's why I called my new collection "Jardin"—it means "garden" in French.
WHAT MATERIALS, TECHNIQUES, AND COLORS DID YOU USE?
For this collection, I made use of silver dipped in gold. I also felt that since this was inspired by nature, pieces carved by hand was a fitting technique. As for color, I was really inspired by the combination of greens, reds, and violets—it's bold, but when used the right way, it makes a classy statement. That's why you'll be seeing a lot of emerald, aquamarine, ruby, and deep purple amethysts from Jardin.
ADVERTISEMENT - CONTINUE READING BELOW
IF YOU HAD TO PICK, WHAT IS YOUR FAVORITE PIECE FROM YOUR COLLECTION?
It would have to be the Laurus earrings. The hand-carved emerald is the focal point, but the additional touches of amethysts and rubies add lovely little touches that altogether make a statement without being vulgar.
WHAT ARE YOU LOOKING FORWARD TO THIS YEAR, BOTH AS A DESIGNER AND FOR YOUR LINE, JOANIQUE?
As a designer, I'm most excited about what's going to inspire me next. If a simple thing like the colors of my garden inspired the Jardin collection, I can't wait to see what else is out there that could help me showcase my passion through brand new designs. I also intend to explore more metals and stones that I can use, along with crafting techniques that I haven't tried yet. The best thing about art is that it is limitless, so for as long as an artist is endlessly curious, who knows what kind of design will be imagined next.
ADVERTISEMENT - CONTINUE READING BELOW
Click on the photo gallery to view Malou Romero's latest pieces for Joaniqué.
Click here for Malou Romero's Designer Directory.
Follow Style Bible on Twitter, Facebook, and Tumblr for more on Filipino fashion!
Hey, Preview readers! Follow us on Facebook, Instagram, YouTube, Tiktok, and Twitter to stay up to speed on all things trendy and creative. We'll curate the most stylish feed for you!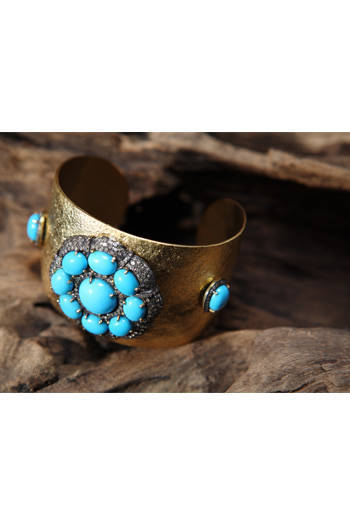 ADVERTISEMENT - CONTINUE READING BELOW
CONTINUE READING BELOW
Recommended Videos
Hey, Preview readers! Follow us on Facebook, Instagram, YouTube, Tiktok, and Twitter to stay up to speed on all things trendy and creative. We'll curate the most stylish feed for you!