While the push for fashionalism from Filipino designers frequently comes from their advocacy of Filipino textiles and craftsmanship, designer Len Cabili takes it a step further by seeking inspiration from traditional Filipino tribal wear.
For her brand Filip + Inna (which, though young, has already had trunk shows all over the US—in New York, the Hamptons, Connecticut, Chicago, Texas, and Los Angeles), she distills the distinct design elements of the clothing of different tribal groups in the Philippines, specifically the T'boli, Maranao, Gadang, and B'laan, and translates them into beadwork and embroidery on linen and other woven fabrics, created exclusively by Filipino hands.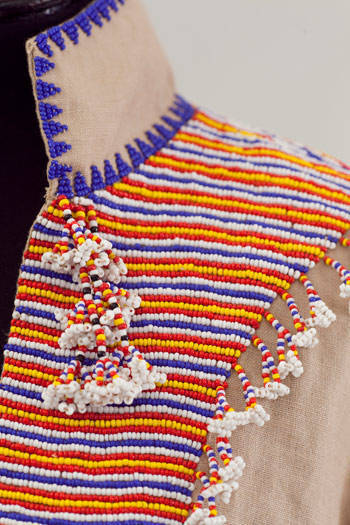 "I pick out certain aspects of each group," says Len. "For the T'boli and B'laan I have taken inspiration from the embroidery of their traditional wear. From the Maranao, the okir is the focus—a traditional leaf-and-vine pattern that I have used as a design for beadwork. From the Gadang, their traditional beadwork was picked up."
ADVERTISEMENT - CONTINUE READING BELOW
These embellishments are handworked into garments with classic silhouettes: long-sleeved and sleeveless shifts, wide-legged pants, vests, and tunics. "We used the traditional embroidery and beadwork techniques for the T'boli and the Gadang pieces," she adds.
Len, a former dancer for the Bayanihan Philippine Dance Company, is clearly a big fan of anything Filipino, and is a staunch supporter of local craftsmanship. "I love anything Filipino and I am a big fan of anything handmade. This collection and future ones will always have both." She believes that "anyone who appreciates and values the work of the hands" and of Filipino heritage, of course, will be drawn to the brand, just as Tory Burch and Amanda Hearst were, when they recently patronized Filip + Inna during its US trunkshows.
Filip + Inna is exclusively sold online via its website. Click on the photo gallery to see pieces from the label's first collection (click here to watch the making of the look book), and read on to find out more about the designer and her brand.
ADVERTISEMENT - CONTINUE READING BELOW
Click here for Len Cabili's Designer Directory.
Follow Style Bible on Twitter, Facebook, and Tumblr for more on Filipino fashion.