In case you haven't heard, Filipino fashion designer John Herrera has emerged triumphant as the first place winner of the London Emerging Designers Award! Though he's already made his impact on both the local and international industry long before this jubilant win, he just keeps pushing barriers.
Case in point: John's collaboration with electronics company Epson, marking his venture into digital fabric printing to create thought-provoking and powerful designs. It's another milestone in the designer's promising resume, as well as Epson's foray into the fashion industry. John sits down with Preview to talk textiles—then stands to give us a demo of the process. Too cool!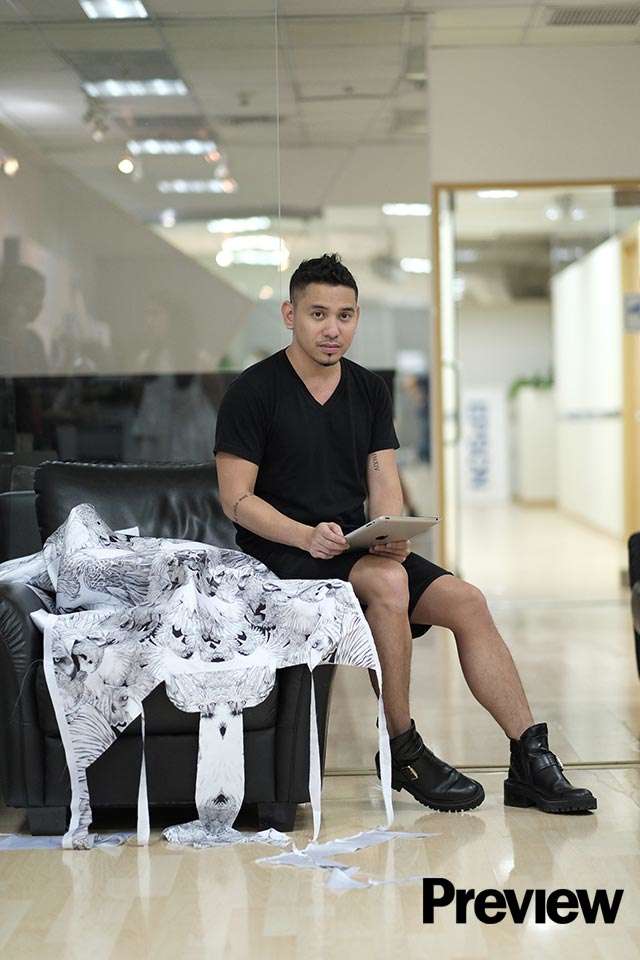 ADVERTISEMENT - CONTINUE READING BELOW
IMAGE Magic Liwanag
How did this collaboration come about?
"Okay, so this is the second time Epson has collaborated with a fashion designer for digital fabric printing, to promote their textile printing technology. The first was with Avel [Bacudio] two years ago. That makes me ambassador number two! Talks of partnering began in August 2016, and I was drawn to the collaboration by the idea that I can actually gain sole ownership of a particular print, free for me to control and create. There have been so many times when I thought it would be great to design a print based on the garment I had in mind and not the other way around. I mean, I dallied in printing before, but it turned out hideously! Primitive, manual silk screening is messy. The ink gets everywhere."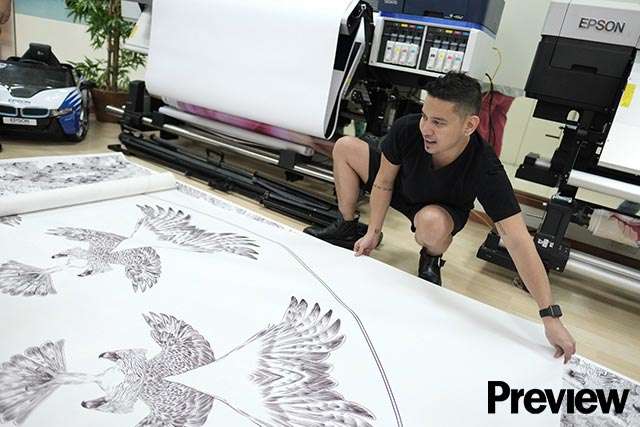 ADVERTISEMENT - CONTINUE READING BELOW
Recommended Videos
IMAGE Magic Liwanag
Any difficulties you faced when creating your custom print?
"Every blessing has its own challenge! For me, I was like, 'how do I be original?' I was hard on myself, because what's the point of creating a custom print when it's going to look like something available in the ready-made market? That was my challenge. Also, this show will go to London, so it's very important for the pieces to be able to compete internationally, which means it cannot look like any other prints.
"There were birth pains of course. I would come [to the Epson office] and spend the whole day here and just not find anything. There was a time where everything I printed looked like cheese. Seriously! I wanted to come up with a wood grain effect, and it ended up looking like cheese! There's a big difference between what you see on the screen, what you see on the printed paper, and what actually comes out on the fabric."
ADVERTISEMENT - CONTINUE READING BELOW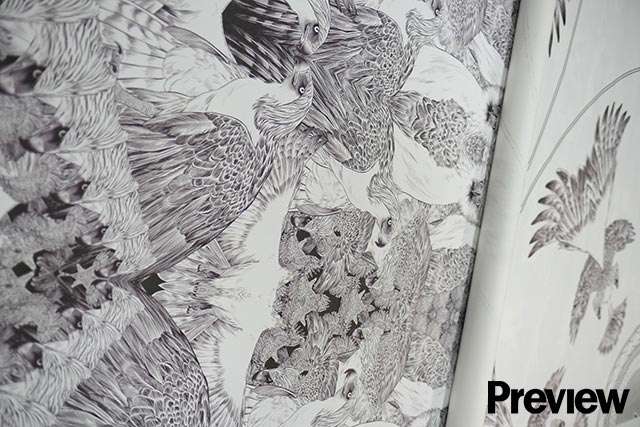 IMAGE Magic Liwanag
What was your inspiration?
"I love Alexander McQueen prints. They're distorted and kaleidoscopic. I also looked to Alice Temperley—whatever her idea is, she has it watercolor illustrated by hand first, then laid out, and then edited on the computer. For this collection, I've got a lot of mirrored, very kaleidoscopic vibes. Also, I made the print very unisex: what I see on women, I want to see on men as well.
ADVERTISEMENT - CONTINUE READING BELOW
"[For the print itself] I wanted to shed a light on protected, endangered animals in the Philippines. We have to take care of them, to make a conscious effort to keep them from going extinct. I want to shake the cores of people who don't care about these animals, or the people who have yet to care. I'm starting with the agila, the proud Philippine Eagle. These are illustrations that take inspiration from Mulawin—bloody old, I know—and PAGASA. Next season I'm going to do another endemic specie, maybe the musang or the pilandok, so look out for that!"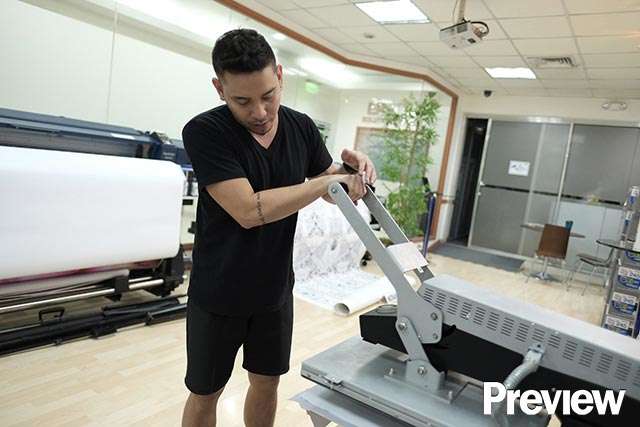 ADVERTISEMENT - CONTINUE READING BELOW
IMAGE Magic Liwanag
We're curious: what's the process behind fabric printing?
"It starts with gathering images. So that's collaging, taking a picture, et cetera. Next is rendering on the computer. The look I'm going for here is not realistic: I wanted it a bit distorted, created, to up the artistic value. I hired a digital artist to draw them for me and told him exactly what I wanted. After approval and layout, I made a map! Like, I numbered them based on the actual clothing designs. 'Can #9 be smaller? Can #2 be mirrored on the dress bodice?' Next step was heading to Epson to get things formatted. The images are shrunk and resized. The fun part is the actual printing! Through heat pressing the imaged are transferred from paper to fabric. After all that, THEN you sew the garment. I'm particularly excited about the bias cut, the circle cut prints—because it's customized, the image isn't putol when you make a skirt or dress."
ADVERTISEMENT - CONTINUE READING BELOW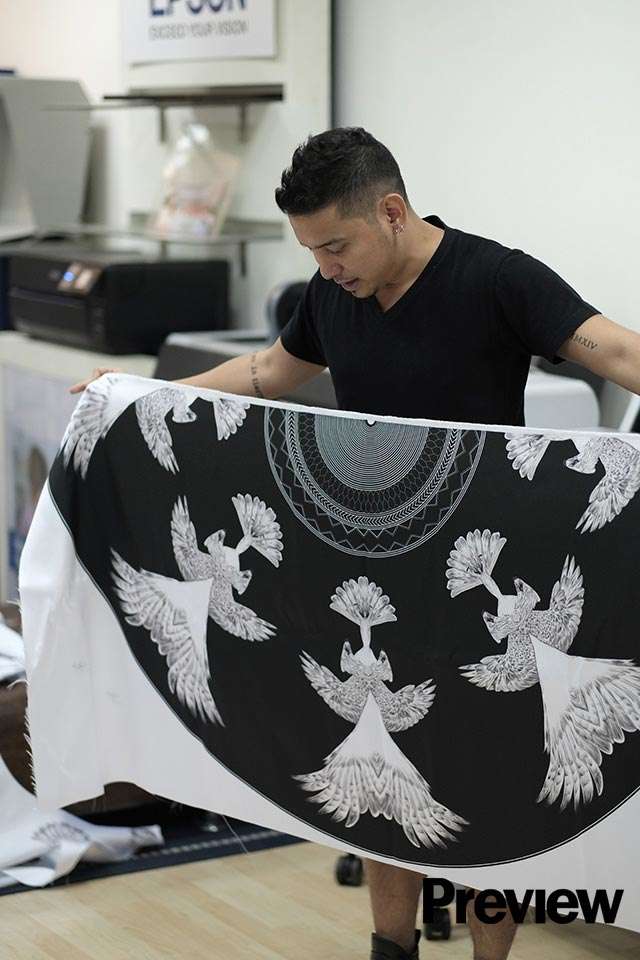 IMAGE Magic Liwanag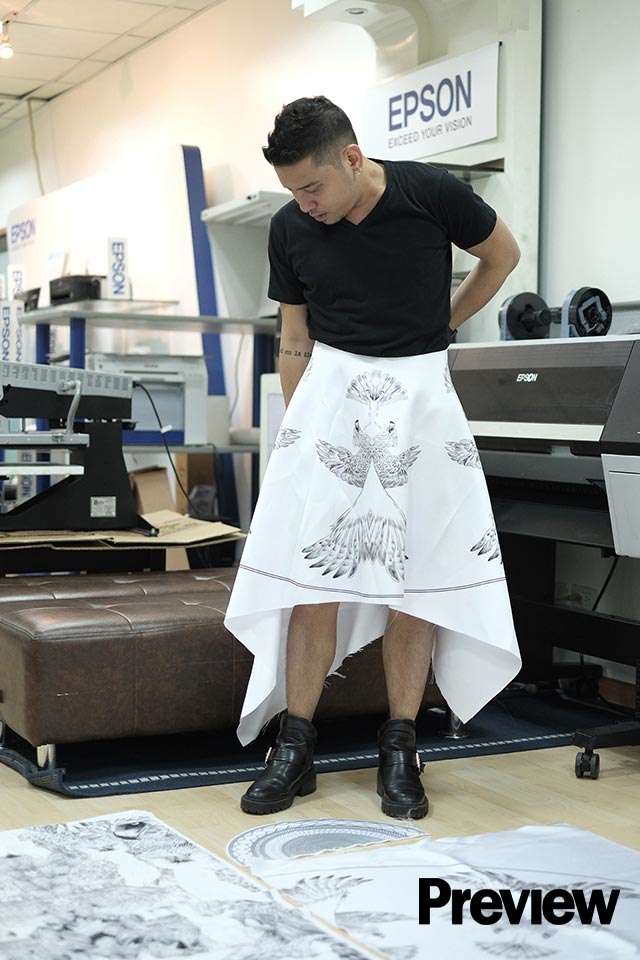 ADVERTISEMENT - CONTINUE READING BELOW
IMAGE Magic Liwanag
You're classically trained in haute couture, but you've mentioned in the past that you love ready-to-wear. How does fabric printing change the fashion design scene?
"Epson's digital textile printing technology is revolutionary because if you pit printing against other embellishment, digital textile printing is way cheaper. It's personalized AND doable on a large scale! Large scale production of custom prints is great because I believe fashion should be in the streets. It should be everywhere. If you're fashionable, you're fashionable 24/7.
"My first love is really RTW evening wear and protective outerwear. With haute couture, people spend special hours and memorable moments of their lives in those pieces, and I think that's wonderful. Don't get me wrong, I love haute couture; I owe everything I have to haute couture. But I wanna be with men and women for more than just a few hours a day, beyond just one special moment in their lives.
ADVERTISEMENT - CONTINUE READING BELOW
"For example, I gave Pia [Wurtzbach] a trench coat. I made her a gown for a commercial, then made her a trench coat as a gift, 'cause I heard that so many people were already giving her dresses. I wanted to give her something she could use more than once. She was very grateful, and she said, "yeah, I don't get coats! I only own black one!" It was a camel neoprene trench from my February 2016 London show. She's posted photos in it thrice already—that's what I mean about wanting to be a part of a person's life more than once."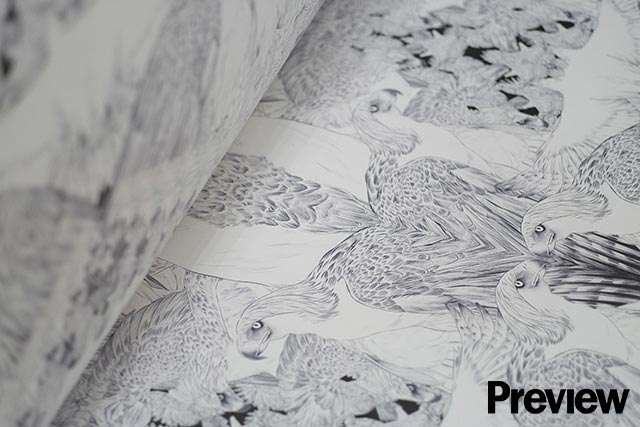 ADVERTISEMENT - CONTINUE READING BELOW
IMAGE Magic Liwanag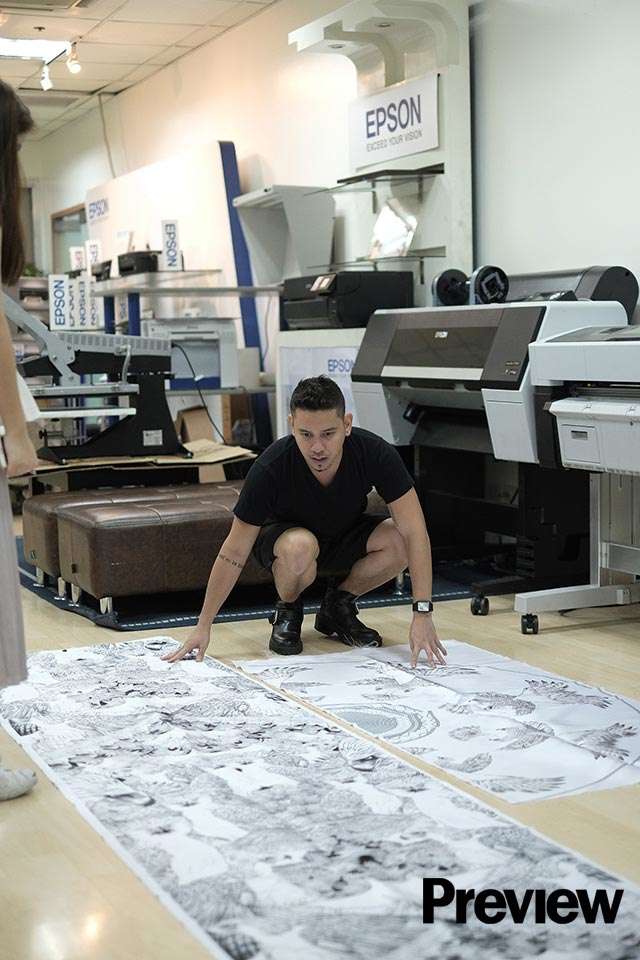 IMAGE Magic Liwanag
Has this exprience with Epson brought about any realizations about the fashion industry?
"Funny, but I only started wearing my own clothes a season ago. I've got this new thing na wherever I can, I promote my designs. After all, people see themselves in what you're wearing—it doesnt matter if you're an actor or a model or whatever. You can use fashion to be fashionable, whoever you are. Isn't that crazy? It took me this long to understand that. Ironic, but it's through my fashion that I got the confidence to wear clothes.
ADVERTISEMENT - CONTINUE READING BELOW
"It'll be my first time wearing print! I'm scared of print, but I made a print and I'm going to be wearing it to my own show. I was scared of print because I always thought it would overwhelm me and make me look short, but that's the challenge. Fashion should be fun. Like, know the rules well enough to break them! That's what I find so exciting about fashion now. It's so positive, so inclusive, so interesting. No two people are the same, and fashion is embracing that."
Related Stories from Preview.ph
Hey, Preview readers! Follow us on Facebook, Instagram, YouTube, Tiktok, and Twitter to stay up to speed on all things trendy and creative. We'll curate the most stylish feed for you!