JJ Aquino is making a drastic career change. From designing buildings as a professional architect, he's made the switch to designing clothes—and his choice of medium when it comes to breathing life into his sketches is far from what you'd normally guess. JJ's sartorial DNA is ingrained with a deep sense of Filipino pride, and working with handwoven weaves is what landed him as Fashion Institute of the Philippines' (FIP) 2019 Designer of the Year. He's determined to bring a contemporary yet traditional twist to the local streetwear scene.
Fresh from his fashion school graduation, JJ is making a huge leap into the international scene. He'll bring his merged architectural knowledge and fashion talent to the Lao Fashion Week this September, hoping to show that slow fashion can also have an edgy side and a deeper cause. In an interview with Preview below, we get to know more about JJ's debut work as an emerging designer and his advocacy plans to support the age-old practice of weaving.
ADVERTISEMENT - CONTINUE READING BELOW
What motivated you to be a designer?
"Even as a child, I have always loved drawing, sketching, painting, and creating things with my hands. Growing up with both parents as architects, I was influenced early on in the field of design. Prior to enrolling in the Fashion Institute of the Philippines (FIP), I did not have any formal training in fashion design. The closest I have done anything related to fashion was in elementary and high school where we were made to do sewing projects and when I joined and received two awards at The First Filipino Footwear Design Competition in 2009.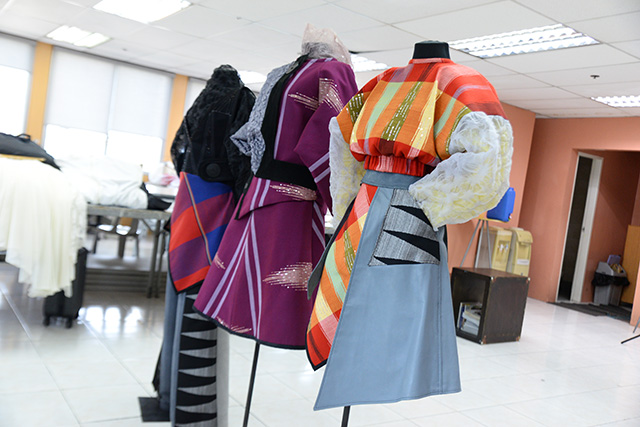 CONTINUE READING BELOW
Recommended Videos
"I was also motivated to take up fashion design, because of the many architects like me who ventured into fashion both here in the Philippines and abroad, like Josep Font, Tom Ford, Virgil Abloh, Francis Libiran. And I really like the aesthetic of these architects-turned-fashion designers: clean lines, great construction, simple shapes and forms, but done with such complexity in concept and translation."
How would you describe you design philosophy and aesthetic?
"Design for me should be deeply rooted in one's heritage and with a strong purpose behind it. During my basic fashion design class, heritage and purpose along with my pride of being Filipino were the three main considerations in conceptualizing for a brand identity. Since I love telling stories through fashion, and clothing as the medium to relay my vision, my aesthetic is heavily influenced by the following: firstly, my being Filipino; secondly, my training as an architect (hence my designs leaning towards modern, structured and streamlined silhouettes); and thirdly, creation of pieces that are innovative, practical and purposeful.
ADVERTISEMENT - CONTINUE READING BELOW
"There was a deep sense of finding my purpose as a creative person in deciding to take up fashion design. It is such a powerful art form that most people take for granted not realizing that the clothes they wear convey a whole gamut of messages. I also wanted to delve into this new creative pursuit with a sense of doing things not just for my personal growth as a designer but also for the greater good of Filipino artisan communities I intend to collaborate with. I envision my brand to be a laboratory for collaborative work and a platform for exchanges of creative pursuits. My vision is to create modern, accessible Filipino streetwear with an inclusive and global appeal."
Let's talk about your brand. What's the story behind your brand name Vilquin?
"The brand name Vilquin is a combination of my mother's maidensurname Villanueva and my father's surname, Aquino. Heritage is the keyword when I was trying to think of a brand name. I honor my heritage through my parents, because everything I am now is because of them."
ADVERTISEMENT - CONTINUE READING BELOW
You're a fresh name in the local fashion scene. What do you think is your greatest edge as a designer?
"I could say that my architecture background is an edge since I am tackling clothing design from a different perspective. I think not being immersed early on in the fashion world, allowed me to see things with a fresh take and a new set of eyes and ideas. But then again, fashion, with its close relation to architecture, is still a new field and I am eager to learn more about it. [I'm taking] baby steps for now but I want to learn and absorb everything I can each day. It's both daunting and exciting."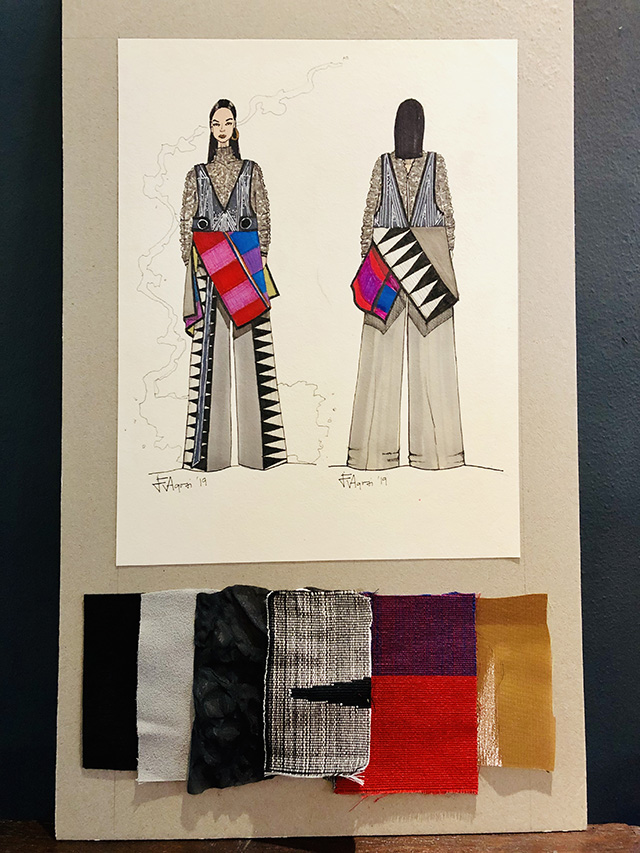 ADVERTISEMENT - CONTINUE READING BELOW
Knowing this, how would your clothes fit the modern Filipina now?
"The modern Filipina are very much aware of themselves [and] their heritage, and are very much empowered. Based on what I have observed every time I would go to local trade fairs, more Filipina women, both young and young-at-heart are becoming more aware of the beauty of our local textiles, crafts, and artisan wares, as well as the causes of the brands and designers who support these communities. They are more in-touch and curious about the clothes they wear and they ask more questions regarding the purpose of the designers and brands.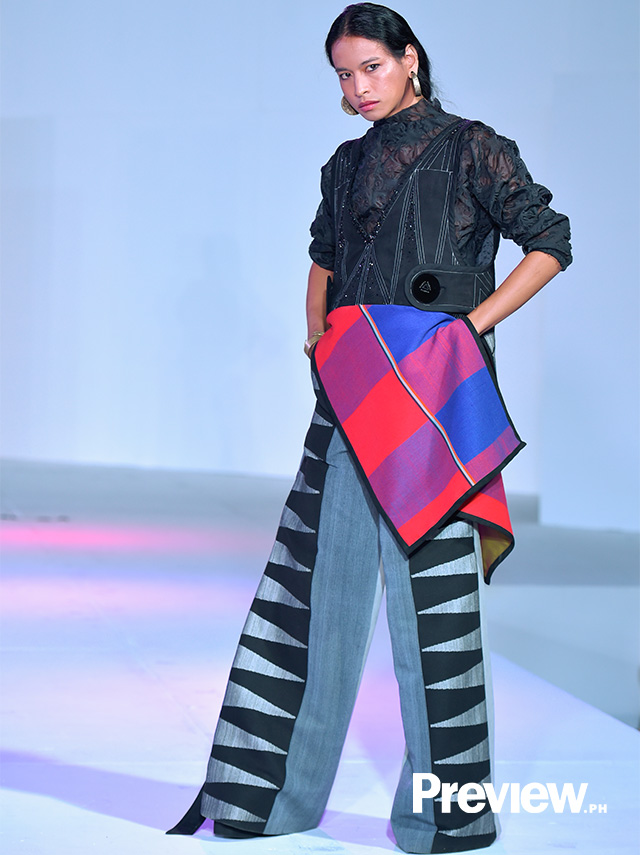 ADVERTISEMENT - CONTINUE READING BELOW
"It is encouraging to be part of this crest of a renewed sense of Filipino pride, because you can see it not just in the fashion industry but in other creative fields as well. For us to be really proud of our identity, we should start embracing local products and Filipino entrepreneurs who champion the artisanship of our local communities. But this is not to say that I am riding on this wave—which I hope is not just a fad—because my true aspiration is to have the consistency to show collections. God-willing, [I can show] season after season that would highlight everything Filipino and promote slow fashion. Through my work, I hope that people would have a greater sense and appreciation for the processes involved in creating clothing. It would be great to see pieces of my designs to be passed down from one generation to the next, like an heirloom piece of clothing, much like in the past where everything were made with longevity and provenance in mind."
ADVERTISEMENT - CONTINUE READING BELOW
For your graduation show, you worked with local weaves. How did you decide to use this kind of fabric and why?
"I have always loved the beauty and craftsmanship of our local textiles even before fashion school. So when it was time for me to work on my graduation collection, using local textiles was the primary driving force and concept behind it. In searching for the local textile to showcase, I searched the internet and read about different organizations and foundations who support these artisans. I was really struck by the story of Sinagtala Foundation, a non-profit foundation based inMarawi founded by Jamela Alindogan. Their main mission is to help and empower the displaced women and children of the war torn province through weaving. None of the women who were initially part of the foundation knew how to weave at first. But when they learned the craft of backstrap weaving, the textiles produced by the women from this humble foundation are works of art on their own.
ADVERTISEMENT - CONTINUE READING BELOW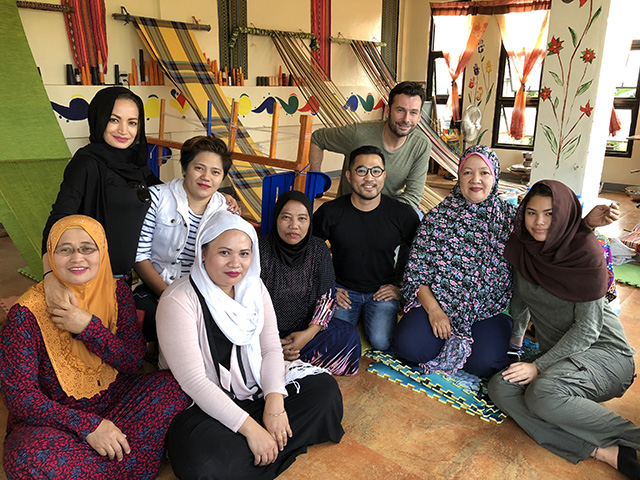 "Weaving, as what was told to me by one of the 'warrior weavers' (as they are called), literally saved their lives. So much pain and love were put int making each of the textile I used in the collection. It was an honor and a great opportunity for me when I visited them in Marawi to get a glimpse of their lives, their culture, and their strength. So it was with the deepest sense of respect and duty, as a designer, to showcase their beautiful textiles for my capsule collection.
ADVERTISEMENT - CONTINUE READING BELOW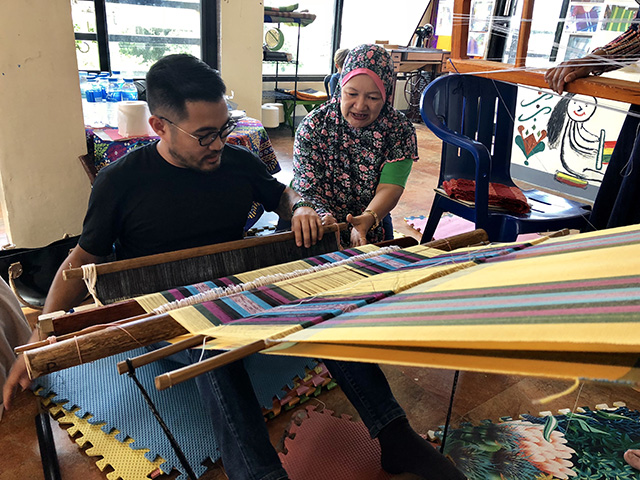 "I felt a huge responsibility to translate their story so that people would be more aware of their victory and triumph rather than their plight and suffering. I thought to myself, If I can't help rebuild their homes in Marawi as an architect, I can at least help rebuild and strengthen their dignity through the garments I would present. The war that happened there is already part of their history no matter how painful and destructive it was and we cannot do anything to erase that terrible event. But it is through the rebuilding of their dignity that all of us, designers and patrons of fashion, can really help by supporting their products. I did not want to glorify and put a spotlight on the war that happened, but more on the hope and the stories of strength and resilience. Fashion, I believe, when used in this way, is a powerful force that can change and uplift lives."
ADVERTISEMENT - CONTINUE READING BELOW
Do you plan on further using local handwoven textiles?
"Yes, I do plan on using local handwoven textiles from various indigenous groups and communities for my future collections and as much as possible partner with organizations and foundations who practice fair trade with the artisans. I also plan to collaborate with different artists and accessory designers to compliment the future collections I wish to showcase. I think the main challenge would lie in eventually scaling up the business and production since these textiles take a lot of hours to produce. But again, these are challenges I am eager to convert into opportunities."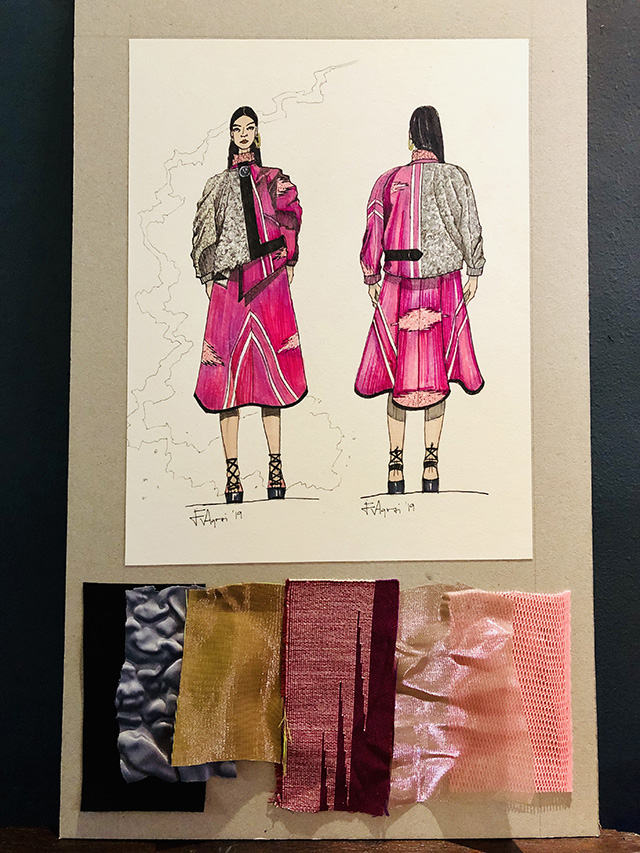 ADVERTISEMENT - CONTINUE READING BELOW
Is there a particular kind of woman that you have in mind when you design clothes? Could you describe your ideal Vilquin muse?
"There really is no "ideal" woman in mind for the clothes that I design for. I think fashion should be inclusive regardless of anyone's background. The dream really is to see my clothes worn in the streets of Manila to the different streets all over the world.
"For a Vilquin muse, I guess [they would be] people who are proud of who they are, their individuality and heritage. People who are not afraid to be bold and are not constrained by trends. If there is like a dream woman or person I want to dress up, probably internationally it would be Tilda Swinton and here in the Philippines it would be Joan Bitagcol. Both of them are so unique and unapologetic when it comes to their personal style, which tremendously inspires me."
ADVERTISEMENT - CONTINUE READING BELOW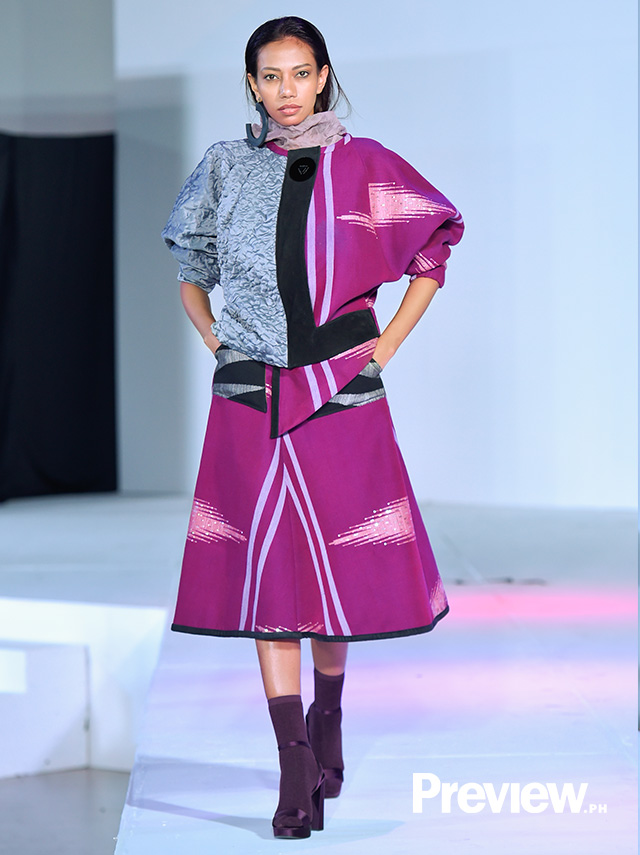 Let's talk about your creative process. How do you usually find inspiration?
"I find inspiration everywhere. It can strike me anytime and anywhere. From music, a book, a person's story, a person, a phrase, history, nature, art, architecture, etc. I think inspiration can come from anywhere as long as you allow your mind to explore different possibilities and not be limited by the things you have learned."
ADVERTISEMENT - CONTINUE READING BELOW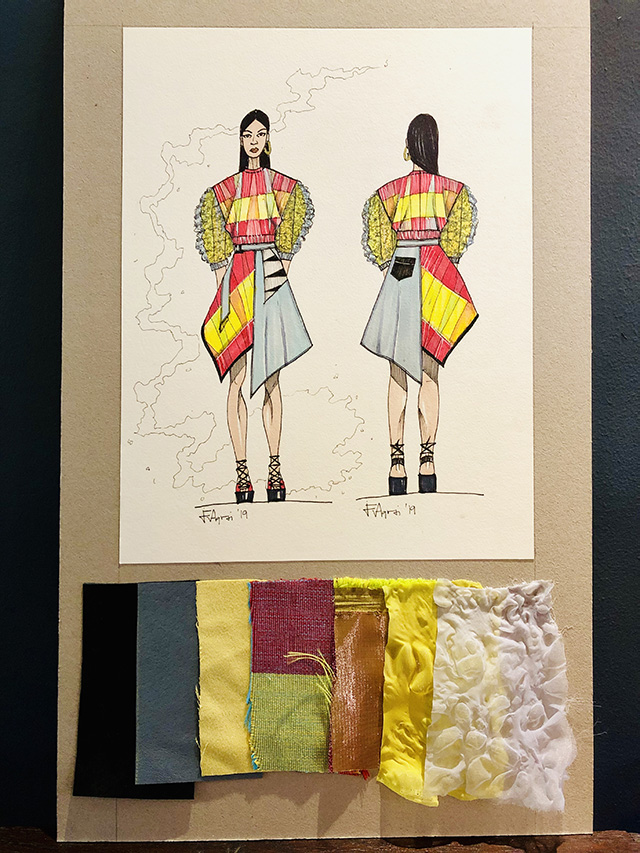 What do you consider to be your signature style as a designer?
"I would really like to create pieces with a modern vision of Filipino street wear using Philippine textiles and accessories. I like streamlined and clean silhouettes mixed with bold statement pieces. I would also like to explore and create new textiles as a contrast and to compliment the local hand woven textiles. It is also a dream to create androgynous silhouettes that can be worn comfortably by anyone regardless of gender. Also, I would like my pieces to be very practical and functional."
ADVERTISEMENT - CONTINUE READING BELOW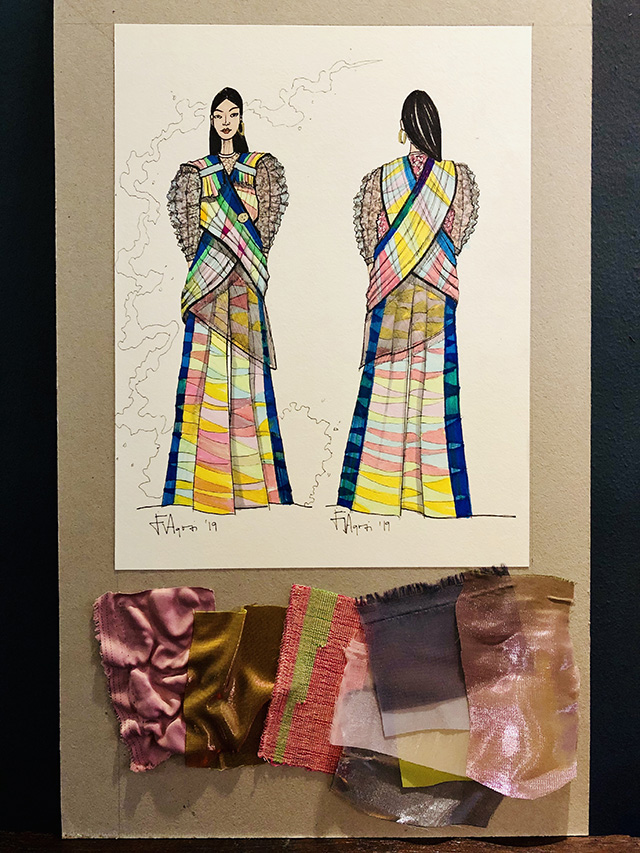 Let's discuss your newly-launched line. What can we expect from the Vilquin brand?
"Right now, all this is very new to me. I am still a full time architect, but actively working on realizing my action plans for Vilquin. Since my graduation, planning, and collaborations have already begun. I constantly seek advice from designer mentors who unselfishly share their invaluable knowledge on the industry so I could intelligently calculate how I want the brand to expand. I am also currently looking at possible partnerships for business development.
ADVERTISEMENT - CONTINUE READING BELOW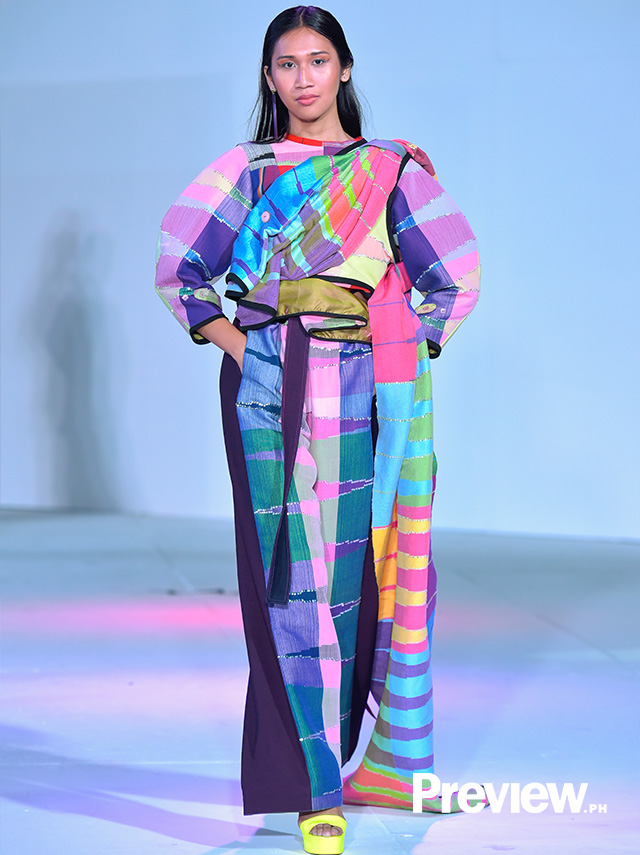 "At the moment, I'm preparing for my first ever international fashion show in Laos. I was selected together with Mariton Villanueva (the 1st runner up during our fashion graduation show) and five other established Filipino designers to represent the Philipines at the Lao Fashion week to be held in Vien Tien, Laos from September 9 to 13. There, I will be showcasing a six-piece capsule collection (the four pieces from my gradshow plus two more pieces) in front of an international audience. In line with the fashion week, I am also working on pieces which will be sold at the Philippine pop-up booth for the duration of the event. After that, I plan to reproduce selected pieces from my graduation collection for sale so I can get my feet wet in the local retail arena and see how the market would respond to the Vilquin brand."
ADVERTISEMENT - CONTINUE READING BELOW
Is your studio officially open for business? How can we best reach your atelier for made-to-order pieces?
"As of the moment, Vilquin does not have a studio or a brick and mortar atelier yet. I see Vilquin joining shows, trade fairs and developing online presence to spread the message of the brand to a wider audience. God-willing, we will eventually have a physical store or studio of our own in the near future. For those who like to get in touch with us, you may reach us through our email address: vilquinmanila@gmail.com. And to get updates follow us at our Instagram account: @vilquin_manila and our Facebook account: @vilquinmanila."
Related Stories from Preview.ph
Hey, Preview readers! Follow us on Facebook, Instagram, YouTube, Tiktok, and Twitter to stay up to speed on all things trendy and creative. We'll curate the most stylish feed for you!