Last week we were whisked away to Hong Kong for Centrestage, a trade show inviting the best talents from around Asia to display their wares for fashion buyers. Lo and behold as we were exploring the grounds, we spotted homegrown talent Lasala in a throng of designers. Designer Jian Lasala was seated amidst his sequinned gowns with a smile on his face, ready to receive inquiries from curious buyers. Fresh off his stint at Phnom Penh's very first Fashion Week, we talked to him about being a global brand and the competitive fashion industry.
ADVERTISEMENT - CONTINUE READING BELOW
IMAGE HKTDC
Jian Lasala and his final look from Centrestage Hong Kong
What made you decide to take your brand outside of the Philippines?
"The market in the Philippines is too trend reliant, mainly because of our culture. It actually prohibited me from getting in touch with my real aesthetic. My real origin is pageants, it's a very feminine style. However, when I was trained I was pushed to do avant garde. But right now since I went full time with my brand, I went back to my old aesthetic and it's given me a lot of business. But I just felt that the market in the Philippines is too saturated. There's not much respect towards art and creativity. Most are just into brand names and don't really see your value as a designer.
Also, our perspective kase with fashion is all made to order. I really wanted to be a brand. I don't want to get stuck into doing just weddings, just sitting down and waiting for clients to come in. I really want to be a legitimate business that produces collections every season for buyers. The vision for Lasala is really to be a global brand. Syempre I cannot limit myself to one country."
CONTINUE READING BELOW
Recommended Videos
You joined the first ever Fashion Week in Cambodia. How was Phnom Penh?
"In Phnom Penh, it was entriely new. It was the first time for the country to have a Fashion Week so it was a lot of fun and meeting new people."
How do you compare that to Hong Kong's fashion scene?
"Here in Hong Kong, the competition is tighter. Everyone is treated equally. The way that they select the designers [for the fair] was like selecting the best from each country. You need to have a track record, you need to be legitimate, and you need to have a strong portfolio to be here. They have so much pride in their work, too. Probably because they're richer, maybe because they have government support, maybe because they have good manufacturing support, too, and that gives them a lot of confidence. It makes such a big difference."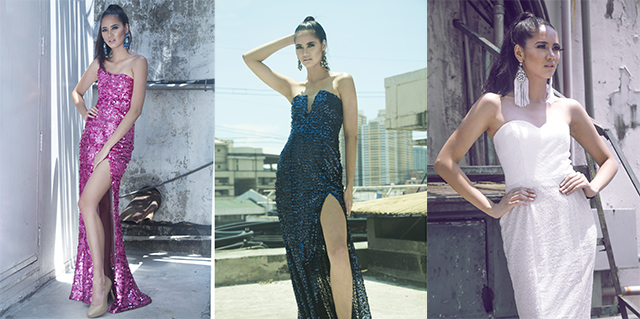 ADVERTISEMENT - CONTINUE READING BELOW
IMAGE Kristin Cornejo
Lasala's Spring/Summer 2017 Lookbook
How did you feel entering something so competitive?
"The common thing among all of us is that we all come from the same thread. We're all entrepreneurs, we're all struggling. I met someone who has no money to pay for models to wear her clothes, she models her line herself. There are also some who do not have any financial backing, but they all made it here. And that gives me a sense of pride because we all have a story to tell and we all struggle, it's also makes me happy to know that I'm not alone in this kind of thing."
How was the reception of your work?
"I asked around and they said that the collection is really good. Here in Hong Kong they're used to seeing ready to wear because their lives are so fast-paced. But they see my collection as something worn during very, very special occasions. In the Philippines, you can wear these dresses to a single cocktail party. But here I was very surprised to learn that they're more conservative when it comes to dressing. Conservative not in terms of covering up, but in terms of color, style, and cut. My inquiries mainly came from India and mainland China, China because they're looking for products they can export to Europe."
ADVERTISEMENT - CONTINUE READING BELOW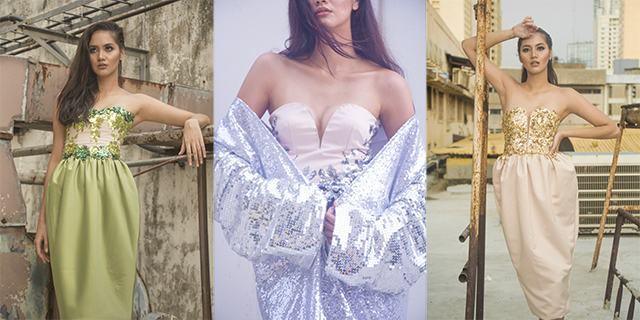 IMAGE Kristin Cornejo
Lasala's Spring/Summer 2017 Lookbook
What were the struggles you experienced to get here?
"My real struggle was money. I thought I wouldn't be able to finish the collection. First of all, the company almost went bankrupt. Some of the materials from my previous collection were recycled here. I had to check my inventory on how I could come up with a new collection, unlike before when I had a day job and I could put a budget on the collection immediately. It doesn't work like that anymore. I have to be a real company and set aside a budget for the collection, for salaries, for my clients, for production."
ADVERTISEMENT - CONTINUE READING BELOW
So you've made your mark on Hong Kong and Cambodia, what's next for you?
"I'm looking forward to earning the respect of the Filipinos and getting more connections. I consider this as a new beginning, I'm treating this as a learning curve again. Very costly, but it's worth it. You have to spend talaga if you want to get ahead. My vision is still to be global, I can't promise anything, but we'll get there. I have something coming up, but I can't tell you yet. It's still aligned with the brand's vision to be international but you'll have to wait and see!"
Related Stories from Preview.ph
Hey, Preview readers! Follow us on Facebook, Instagram, YouTube, Tiktok, and Twitter to stay up to speed on all things trendy and creative. We'll curate the most stylish feed for you!