There's a new addition to Manila's guild of fine jewelers: Janina Garcia, a graduate of Gemological Institute of America (GIA), New York's Fashion Institute of Technology, and Milan's Instituto di Moda Burgo, whose brand's name, Maja by Janina Garcia, is acronymic and descriptive of the designer and her collections. "Maja" abbreviates Janina's given name, Maria Janina, refers to the elaborate sense of style of a flamboyant group of Spaniards in the 18th and 19th century, and is also synonymous to bonita, which means "pretty" in Spanish. All at once, the brand name reveals the line's identity: An exquisite brand of pretty and elaborate jewelry reflecting the taste and personality of the designer, catering to women who are unafraid to accessorize with ornate but tasteful, and bold but finely crafted pieces.
Hie off to the photo gallery to see her beautiful pieces, and read on to get to know this jewelry designer.
ADVERTISEMENT - CONTINUE READING BELOW
WHEN DID YOU KNOW THAT YOU WANTED TO DESIGN JEWELRY?
I was doing corporate work for three years and towards the end I realized I wanted to do something on my own, something that I would truly enjoy doing. I've always been into design, and so I decided to take up classes in jewelry essentials and jewelry design.
WHAT KIND OF JEWELRY DO YOU LOVE TO SEE A WOMAN WEARING?
The kind that would suit her personality. It really all depends on how she carries what she is wearing. I also like seeing my more 'conservative' clients go for bigger and bolder pieces. I usually encourage them to try something different, for as long as it suits them.
WHAT ARE YOU IN THE MOOD TO SEE, IN TERMS OF JEWELRY, FOR SUMMER 2012?
Mother-of-pearl, colored stones with gold embellishments, oversized rings, and pendants.
WHAT, FOR YOU, IS THE BEST THING ABOUT DESIGNING JEWELRY?
ADVERTISEMENT - CONTINUE READING BELOW
I really enjoy the creative process involved in design. Being able to create items that start from an idea and a sketch and finally seeing them as actual products is something I always look forward to.
HOW DOES MAJA DIFFERENTIATE ITSELF AS A JEWELRY BRAND FROM THE OTHER JEWELRY LINES OUT THERE?
Apart from design, my clients appreciate the fine workmanship and the little details that can make a big difference in how a piece can look and is worn. It is also a very unique collection since I only produce a design once or in very limited quantities.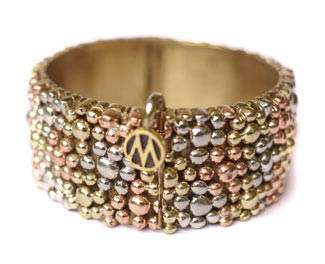 HOW WOULD YOU DEFINE YOUR AESTHETIC, AND YOUR DESIGN PERSPECTIVE?
ADVERTISEMENT - CONTINUE READING BELOW
Timeless and contemporary, sophisticated, feminine.

IF YOU HAD TO PICK, WHAT IS YOUR FAVORITE PIECE FROM YOUR COLLECTION?
My Pepitas bangles are getting known as my Maja "trademark" pieces, and are my most saleable bangles. They are simple yet intricate, versatile, and will never go out of style.

WHAT ARE YOU LOOKING FORWARD TO THIS YEAR, BOTH AS A DESIGNER AND FOR YOUR LINE, MAJA?
I want to experiment by incorporating different materials and types of stones in my designs. I don't really follow trends, but am greatly influenced by my personal style and what I learn and see in my travels. Sometimes I just end up surprising myself!
Click on the photo gallery to view pieces from Maja by Janina Garcia.
Click here for Janina Garcia's Designer Directory.
Follow Style Bible on Twitter, Facebook, and Tumblr for more on Filipino fashion.