Here at Preview, we can't help but make guesses and predictions on what the stars will be wearing for the Star Magic Ball. And while we do enjoy seeing consistent Best Dressed contenders Liza Soberano, Kathryn Bernardo, and Maja Salvador in runway looks, nothing beats local talent. In light of this, we tapped 10 talented designers to sketch a design for each of the girls. Curious? Scroll down and choose your faves!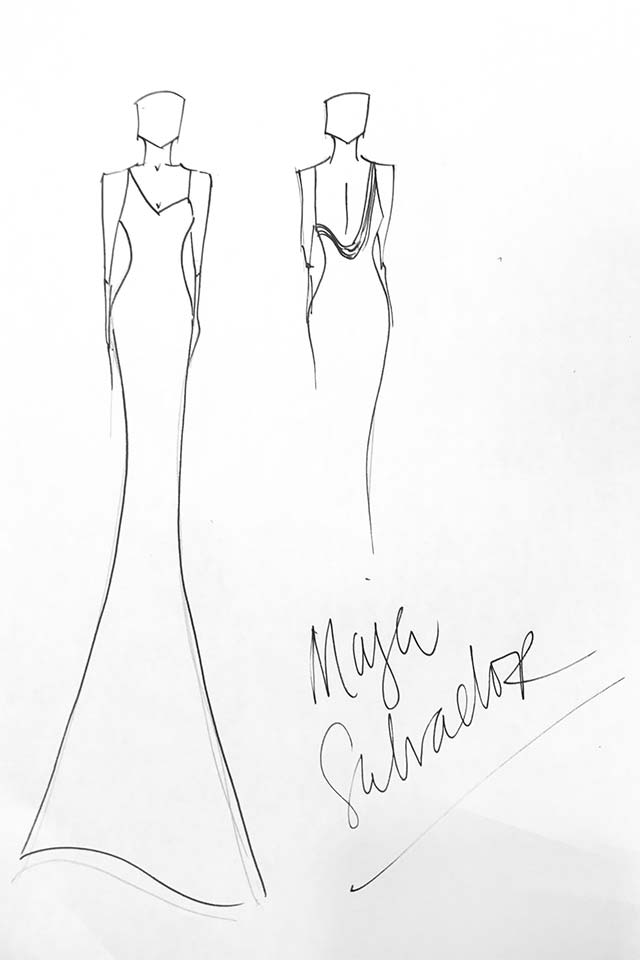 IMAGE Patty Baligod
"Maja's gown is made with white silk with a key draping detail at the back. It's especially designed for Maja's petite body type as the silk gown will elongate her body while giving that sultry classic look that matches her recent show portrayal."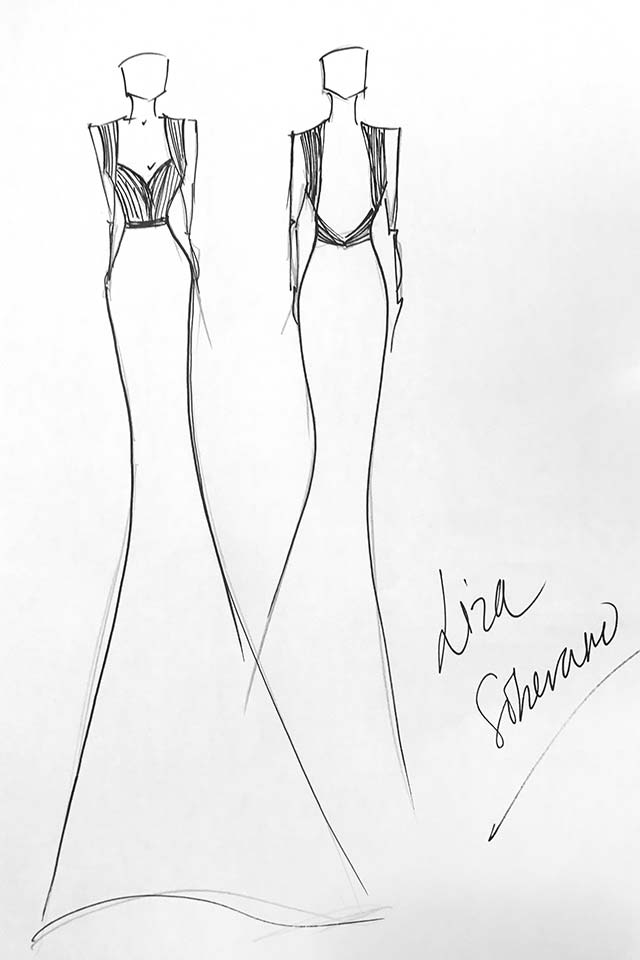 ADVERTISEMENT - CONTINUE READING BELOW
IMAGE Patty Baligod
"Liza's gown is made with a sheer fabric on top and satin in serpentine cut at the bottom. Liza's upper body design will be executed through a fabric manipulation technique called ruching to further cinch her waist giving off a sexy vibe without showing too much skin."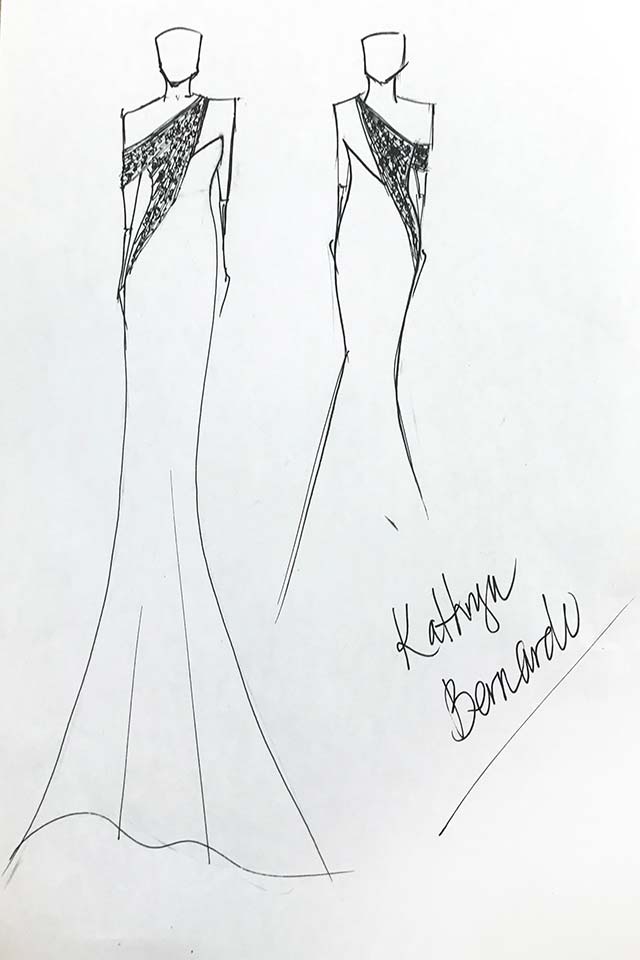 IMAGE Patty Baligod
"Kathryn's gown's main detail is also made with ruched sheer fabric and hand sewn appliques. It is designed asymmetrically to give that unique design element and emphasis on her slim body. The gown will also fit her new mature roles with its sexy twists."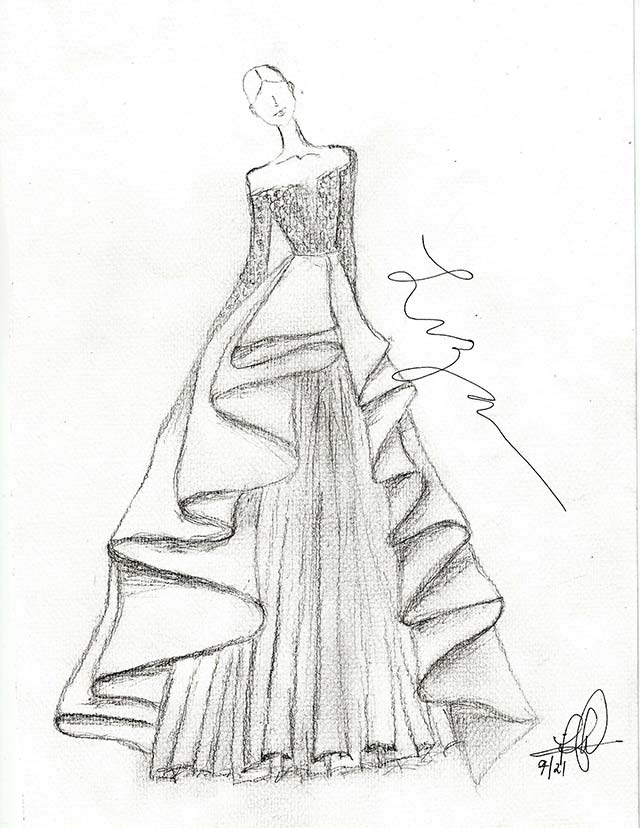 IMAGE Micah Del Rosario
"Liza is always a stunner. I came up with a design for her that was very rich and definitely embodies her incomparable beauty. The design calls for an all-white dress featuring a romantic off-the-shoulder embroidered with crystals and micro beads. It also has a high-low hem cascading down with a soft white silk chiffon skirt peeking through."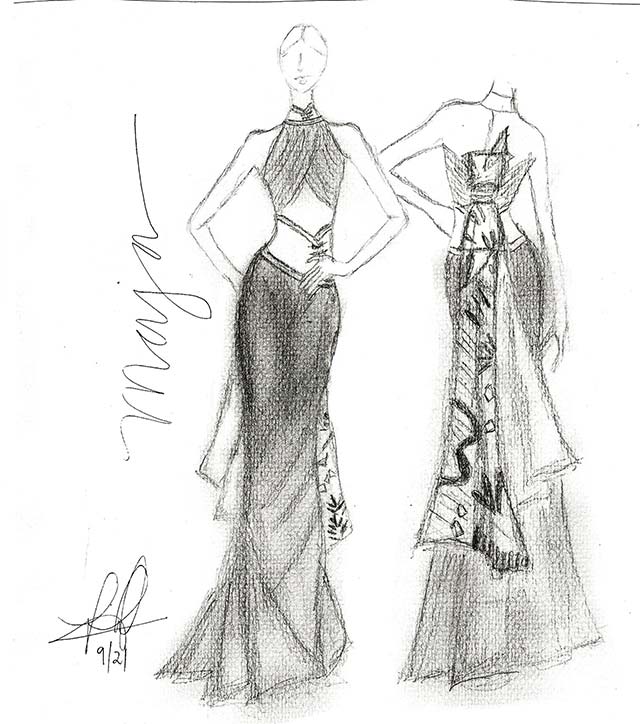 IMAGE Micah Del Rosario
"Maja is all about strong and sexy. I associate this with a chinoserie-inspired floor-length mandarin collar dress. I wanted drama and seduction, so I showed a little skin in front and a bow train at the back for a tease, colored with a mix of black and white."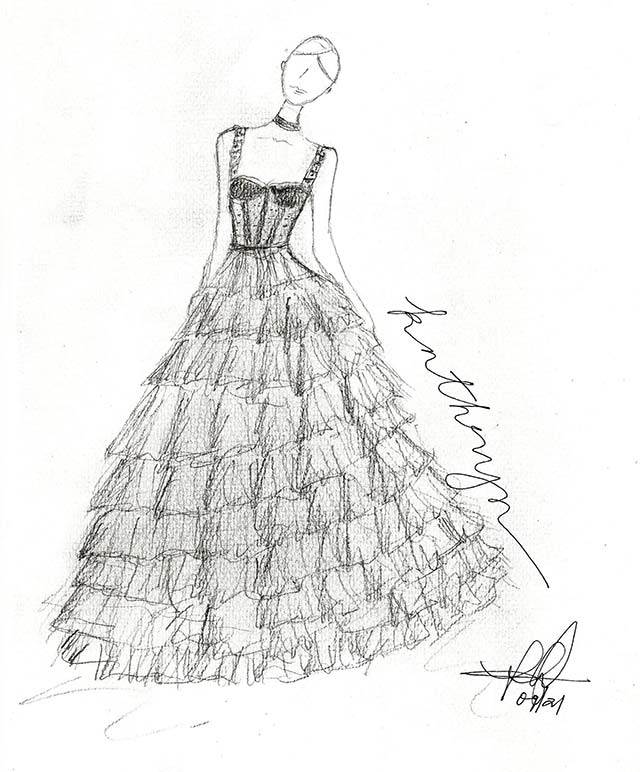 ADVERTISEMENT - CONTINUE READING BELOW
IMAGE Micah Del Rosario
"For Kathyrn's gown, I wanted something that incorporated both her personal style, which is timeless and classic, at the same time exploring her feminine side. I thought of an all-black bustier layered tulled dress with straps festooned with crystals."
3. Jian Lasala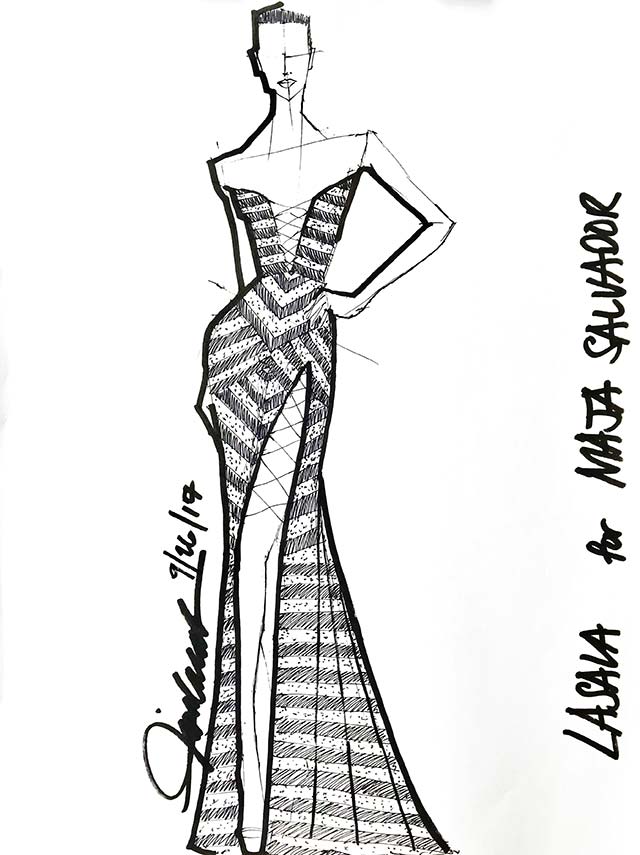 IMAGE Jian Lasala
"Maja is known for her villainous damsel-in-distress roles and been known to be a go-getter type of girl. So for her, I designed a black, low neckline, hour glass, serpentine cut dress with a thigh-high slit and strings. It is a see-through dress with beads and sequins in a geometric pattern to show sexiness and strength."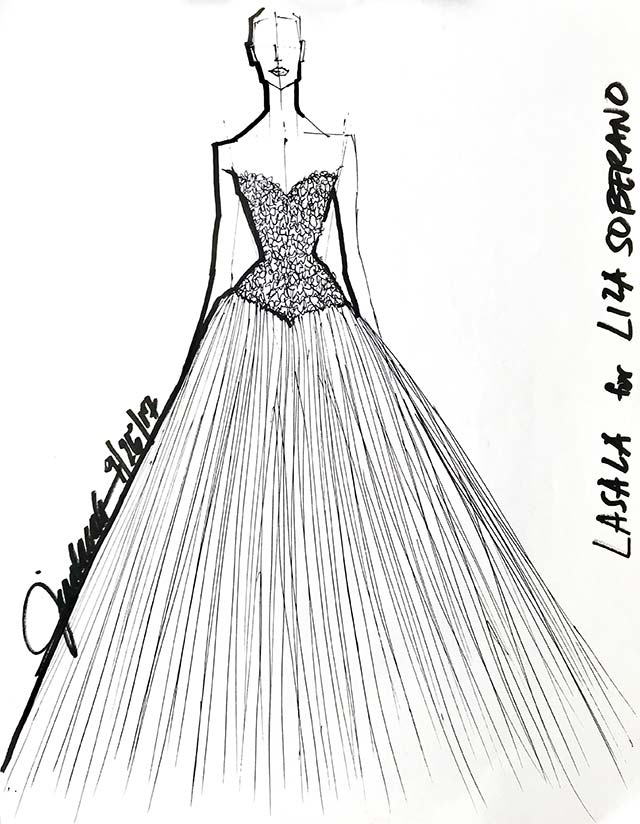 IMAGE Jian Lasala
"This is a no-brainer. Liza has always been the belle of the ball. So what suits her is something that is just elegant and simple. I designed a black 10-layered tulle skirt with a drop waist lace bodice in a sweetheart neckline tube top. Her aura radiates luxury so the design has to be just like that."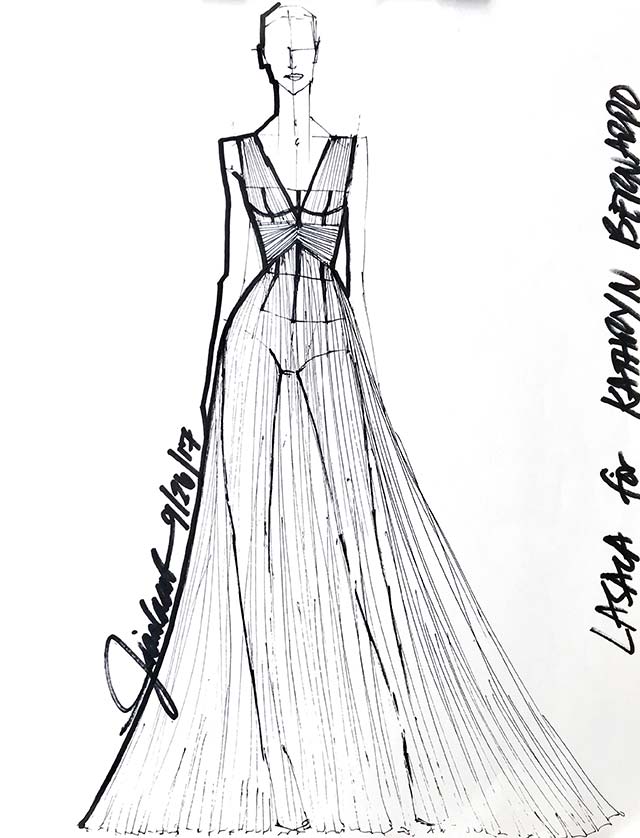 IMAGE Jian Lasala
"As young and free-spirited she is (by nature), Kathryn is the epitome of the girl with a bohemian vibe. So for her I designed a white see-through Grecian-inspired halter top pleated dress in layers and layers of full bias cut soft-tulle with a bodycon corset. She is like a goddess that came down from the clouds to give hope and peace to her people."
ADVERTISEMENT - CONTINUE READING BELOW
4. Andi Amora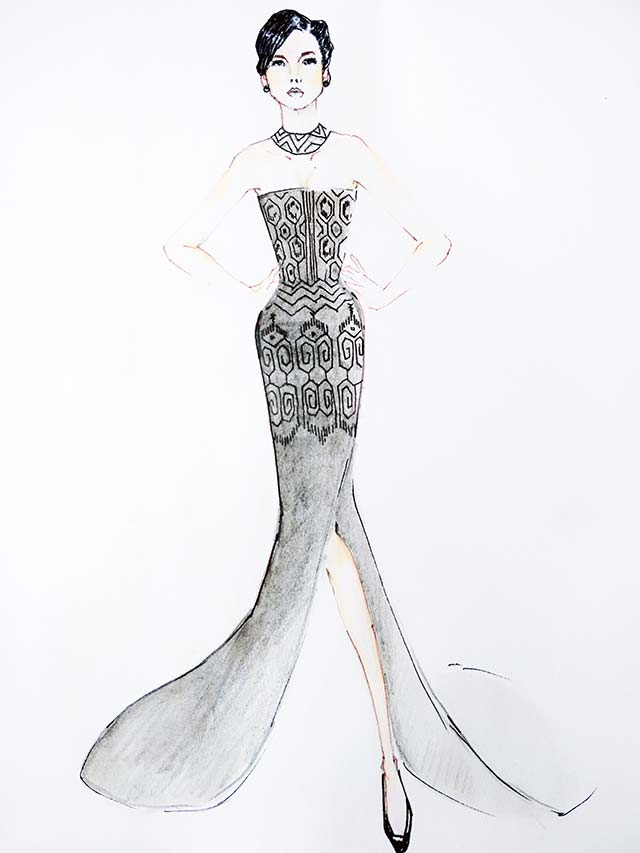 IMAGE Andi Amora
"This dress shows heavy built structure with patterns that shows not just the curves of a woman who wears it but also shows her strong and powerful personality just like Maja Salvador."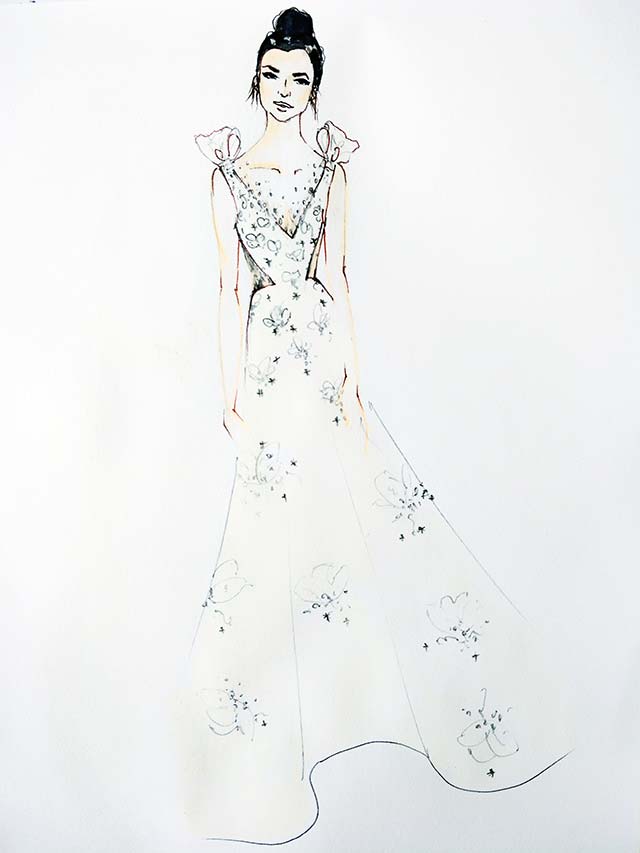 IMAGE Andi Amora
"Liza is known to be a charming and sweet young lady so this dress fits her delightful personality. With the floral embellishments and crystal beadworks, it will makes her look like a white flower that shines through."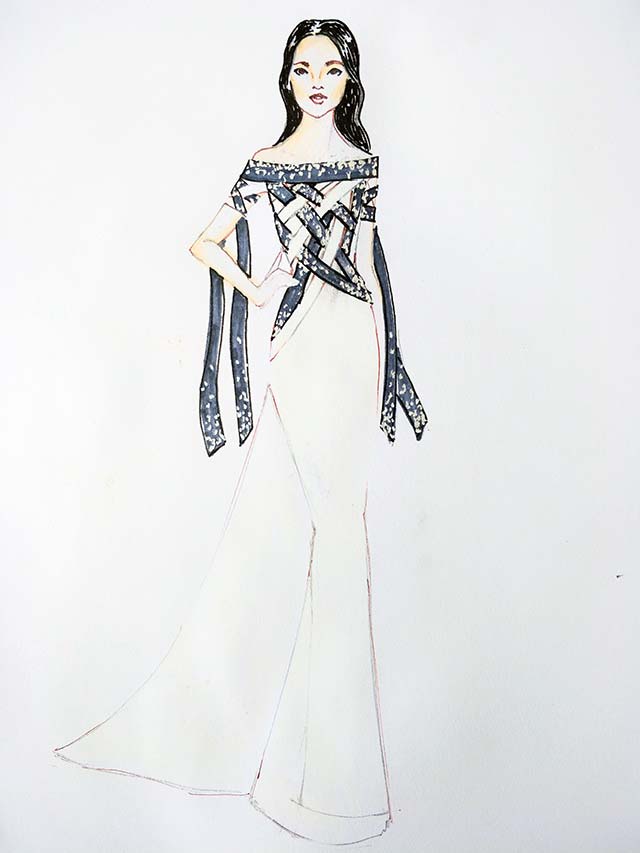 IMAGE Andi Amora
"Kathryn's dress is a reflection of her character in La Luna Sangre because she shines at night when the moon shows up. This dress fits those girls who always find a way to be grateful in any circumstances. The strips pass through another strips with glittery beadworks tell it all."
5. CJ Martin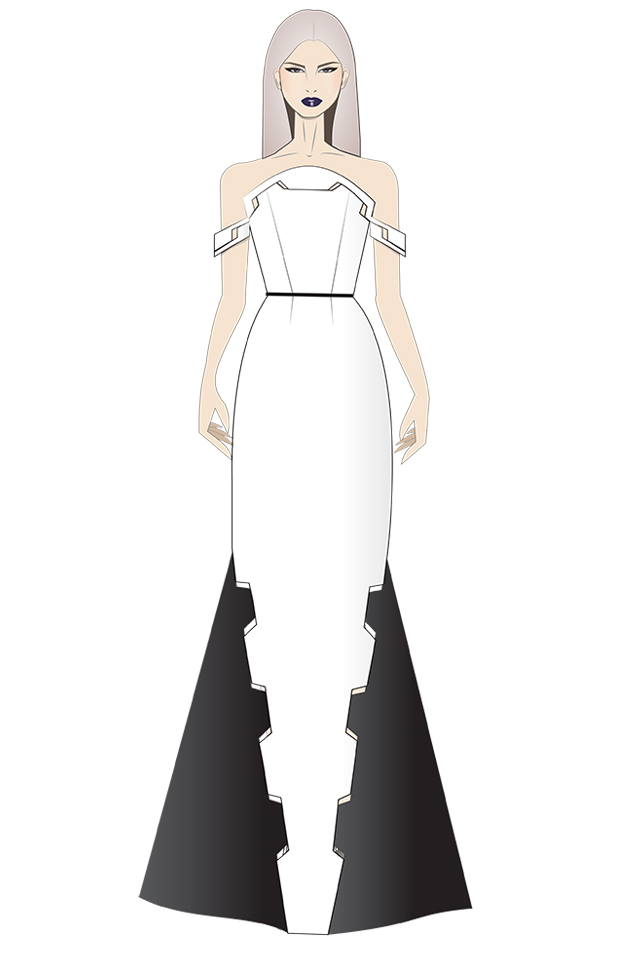 ADVERTISEMENT - CONTINUE READING BELOW
IMAGE CJ Martin
"The designs I created are made to look modern, experimental, and structured. It combines classic silhouettes with unexpected statement details to complement the celebrity's personality and/or elevate her current fashion style. Liza's mermaid gown taps on her upcoming role as Darna which fuses tough and feminine elements."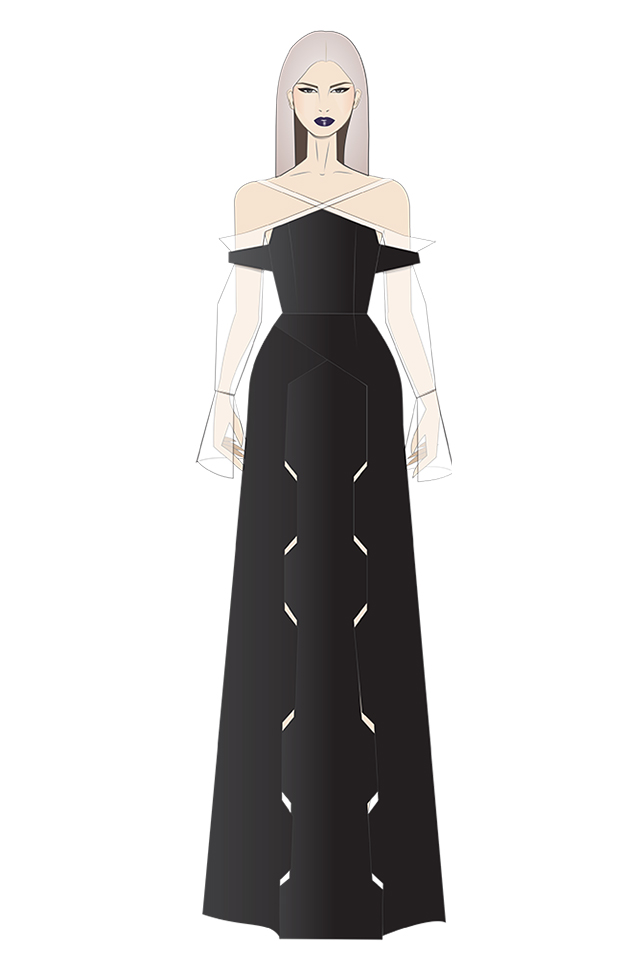 IMAGE CJ Martin
"Kathryn's A-line gown is a translation of her mysterious persona which hybrids something ethereal and tailored."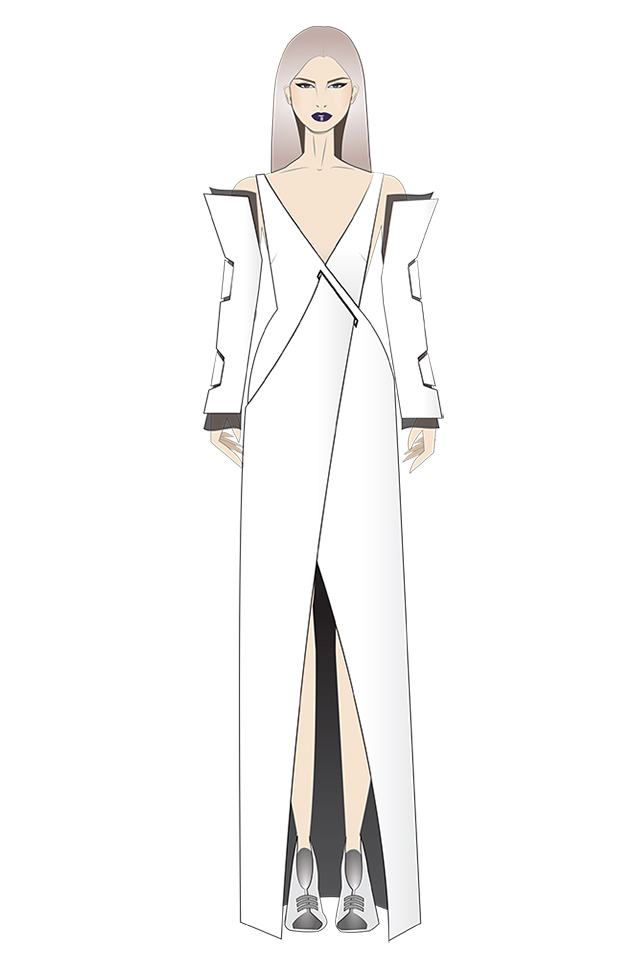 IMAGE CJ Martin
"And lastly, Maja's column gown is "sex appeal on steroids" which reflects her allure pumped up with futurism."
6. Karen Olaño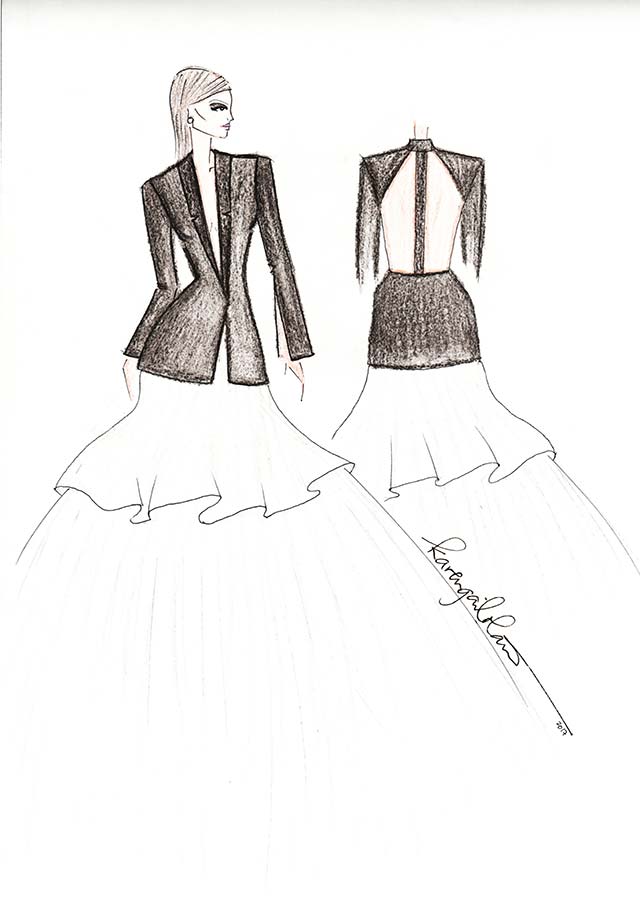 IMAGE Karen Olano
"Liza is the epitome of modern classic as she has this timeless beauty that's also fresh to the eyes. A blazer has always been a classic, and to make the look more now, it's paired with layers of organza and tulle. "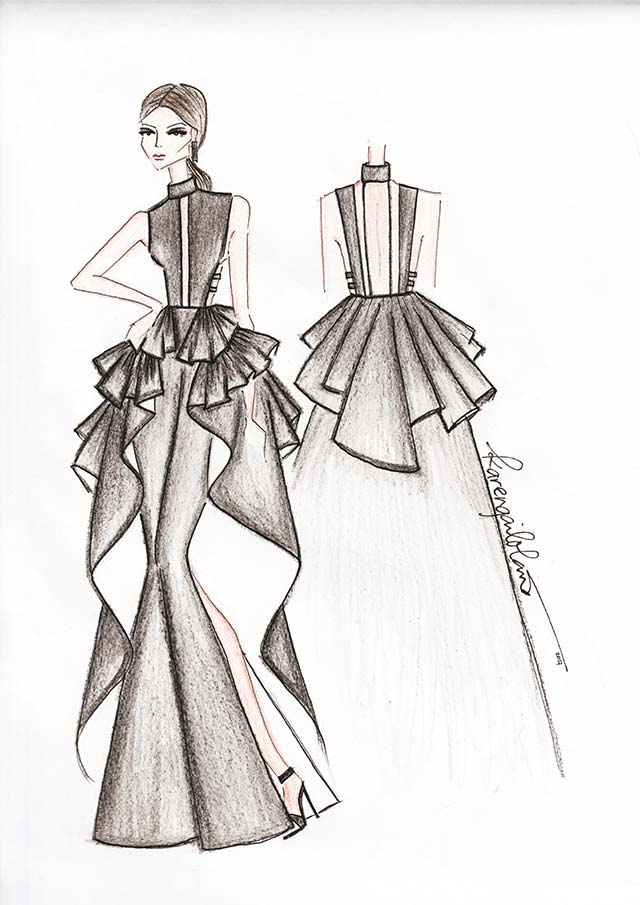 ADVERTISEMENT - CONTINUE READING BELOW
IMAGE Karen Olano
"Maja is known for her sexy and daring roles, so there's no doubt she'd dare to wear a pantsuit on a red carpet event."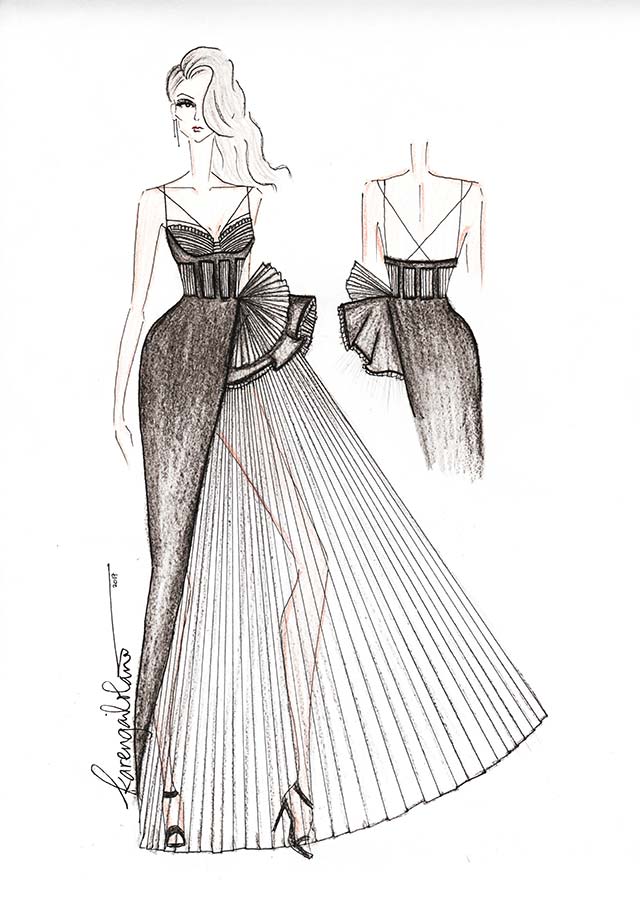 IMAGE Karen Olano
"Lately, Kathryn's been mixing up her looks with edgy and fashionable pieces so it'll be interesting to see that on the red carpet as well."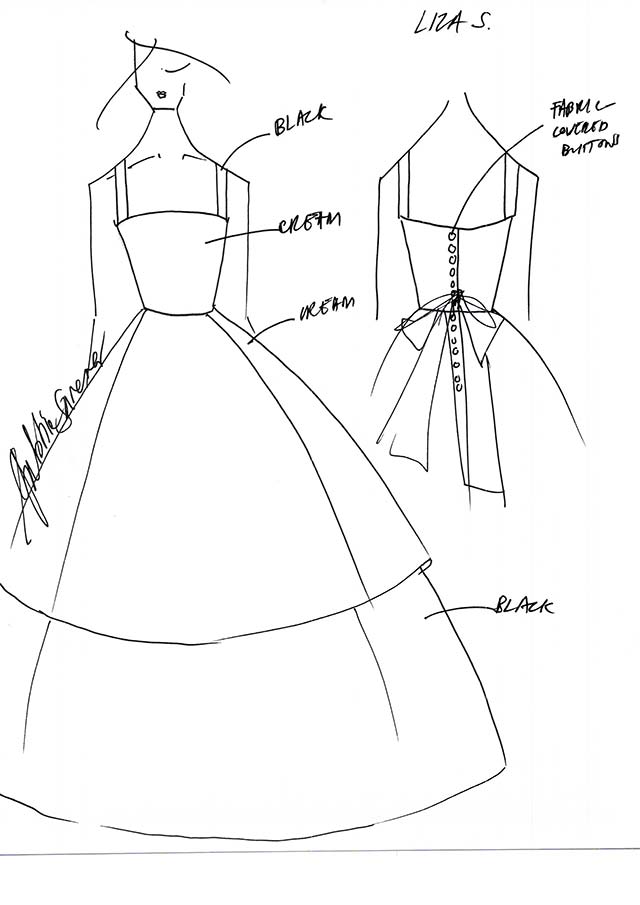 IMAGE Gabbie Sarenas
"For Liza, I sketched a gown with a 1950s silhouette to evoke a youthful yet glamorous & sophisticated look. The material I used in this gown is piña shifu (piña mixed with processed abaca). This fabric is see-through like piña but holds more volume and has a tighter knit. I played around with the color black and white for a classic Filipino look fit for a queen."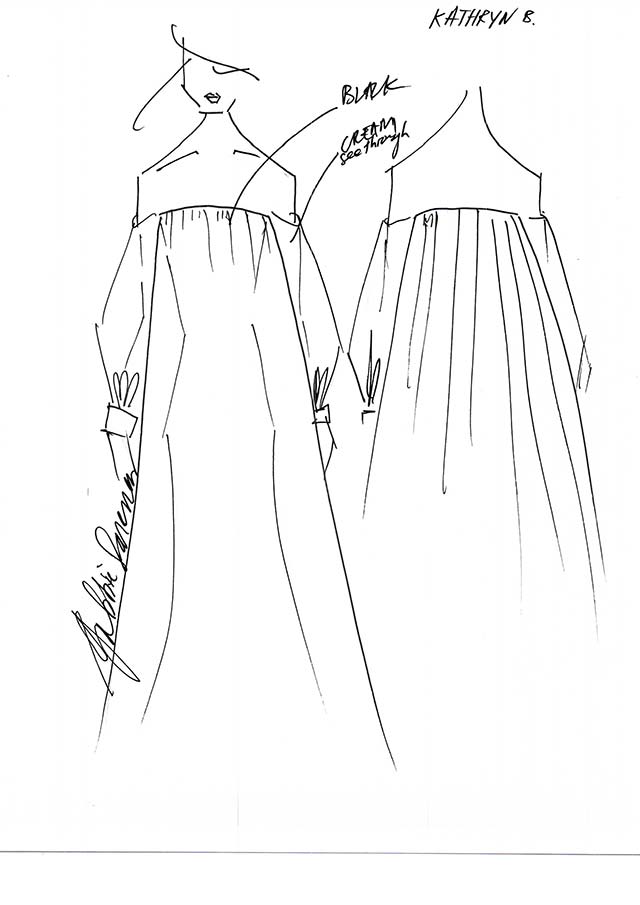 IMAGE Gabbie Sarenas
"For Kathryn, I designed something with volume but with a slinky lining inside to show her figure. I think I've never seen her in a trapeze silhouette yet. The dress uses black piña for the body and natural or cream for our signature sleeves. The back has a lot of gatherings to give her a ethereal and dreamy look."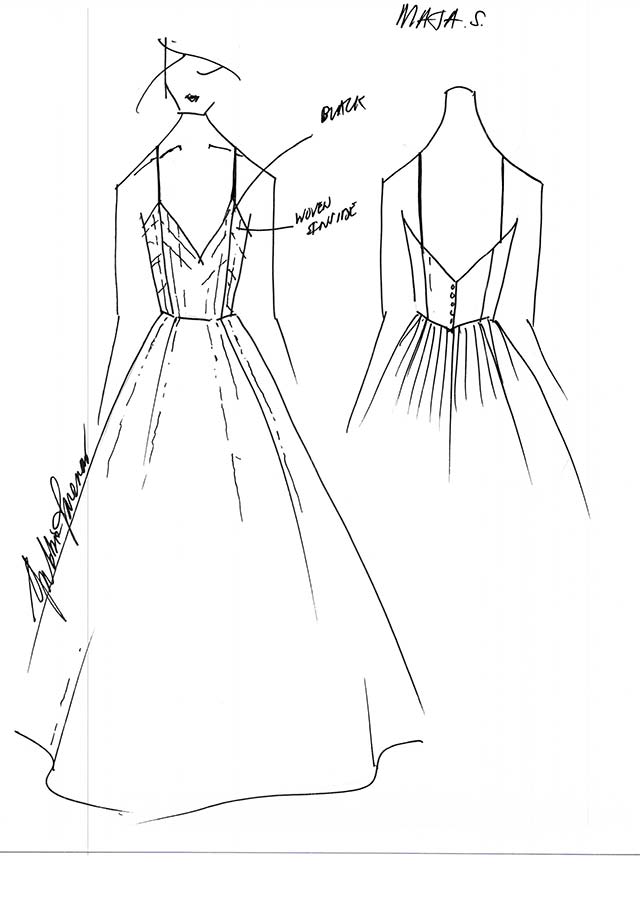 ADVERTISEMENT - CONTINUE READING BELOW
IMAGE Gabbie Sarenas
"For Maja, I wanted her to be sexy but not too sexy as inspired by her outfits in Wildflower. This gown I designed for her has a low v-neck with thin straps. It is made of jusi in black with black lines all over (similar to the ones used for barongs) woven within the fibers to give an extra yet subtle detail. It has gatherings on the back part where the waist cut is to give a formal and regal look. The buttons are capiz in black."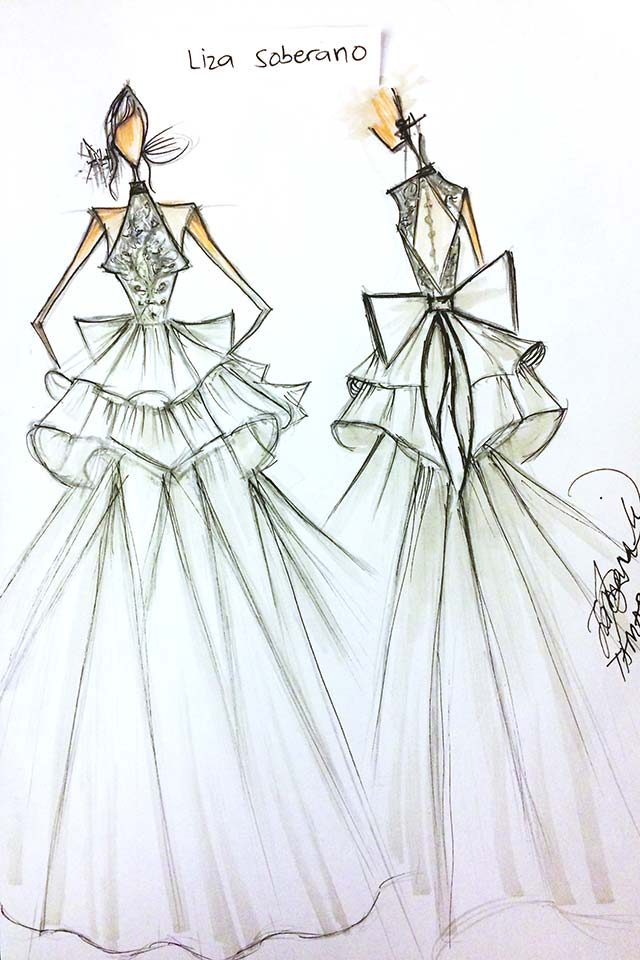 IMAGE Tamara Villas
"Liza's dress is a princess halter ball gown with soft fabric and lacework that gives out an air of true royalty."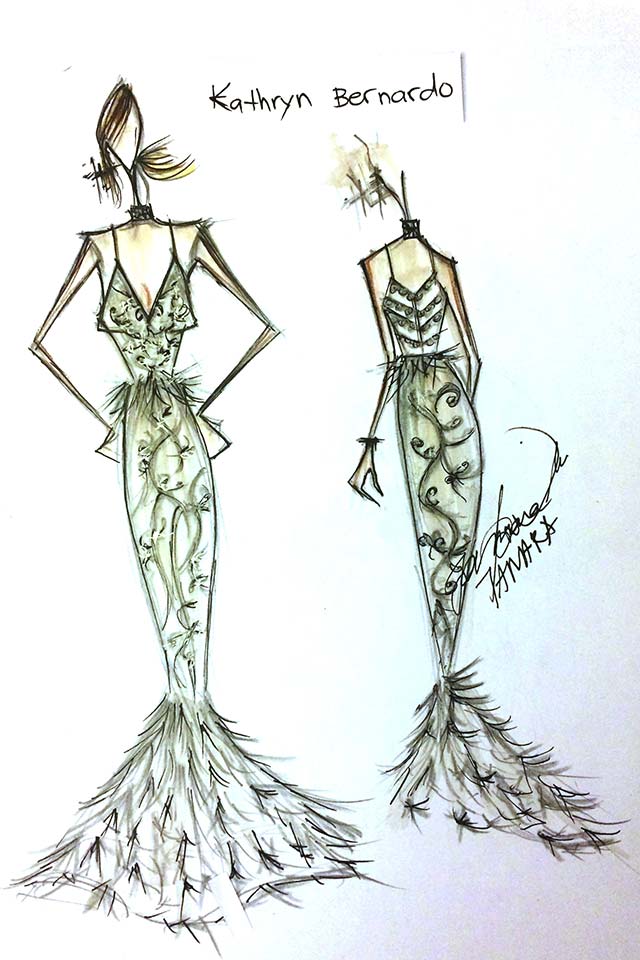 IMAGE Tamara Villas
"For Kathryn, I opted for her to wear a bohemian-inspired mermaid gown with a sheer deep V-neckline and a classic touch of faux fur details."
IMAGE Tamara Villas
"Maja's gown is a 1920s inspired dramatic sparkly black gown with intricate detailing, breathtaking lace, and sexy silhouettes accentuating her curves."
9. Jun Artajo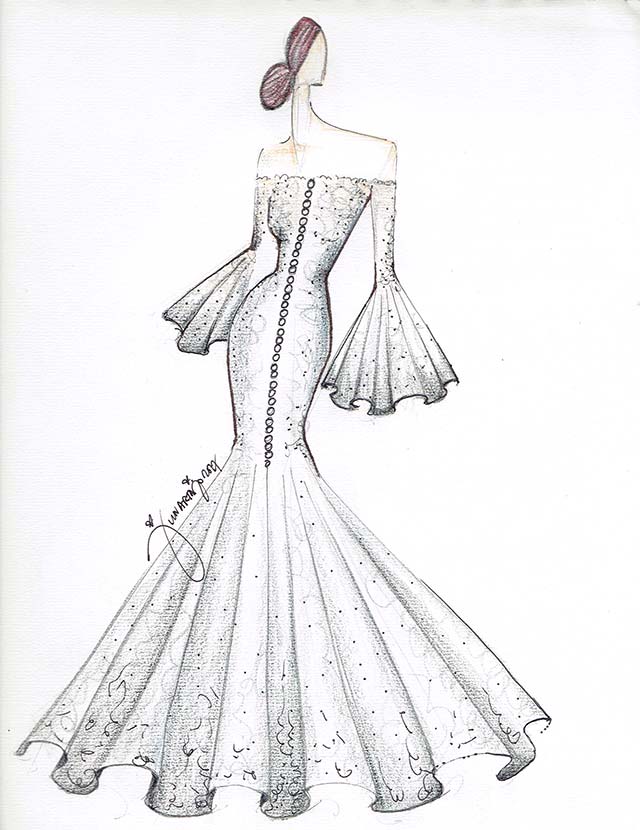 ADVERTISEMENT - CONTINUE READING BELOW
IMAGE Jun Artajo
"For Liza, I choose something that is sweet and sultry with the hint of naughtiness. I think this resembles her characteristics by her voice and soft actions. The dress is embellished with jet black crystals, creating texture together with the soft lace fabrics. The electro-pleated off-shoulder sleeves gives her eclectic and regality."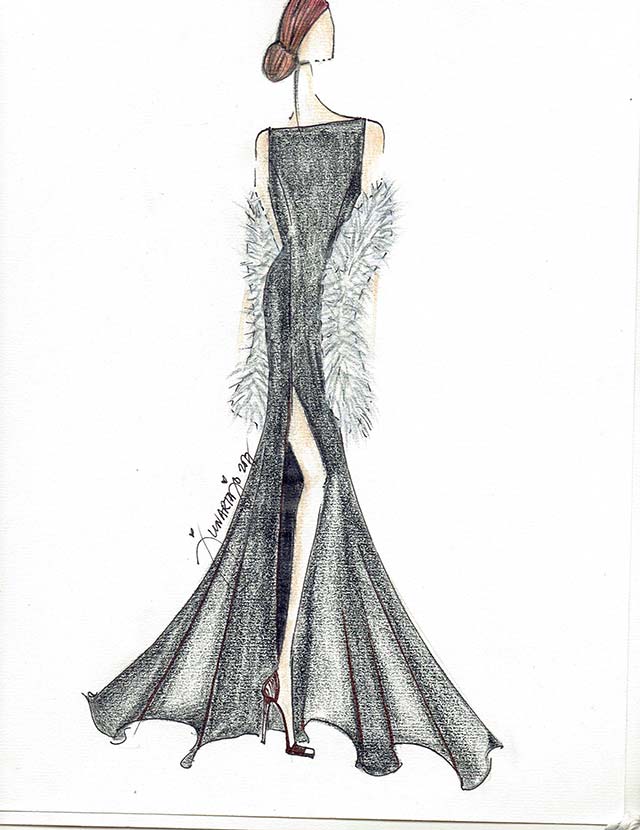 IMAGE Jun Artajo
"For Kathryn, I chose something simple but wild. The simple cuts of the black stretch material of her dress matches with a four-toned faux fur shawl that gives her dress character that doesn't need crystal embellishments to shine."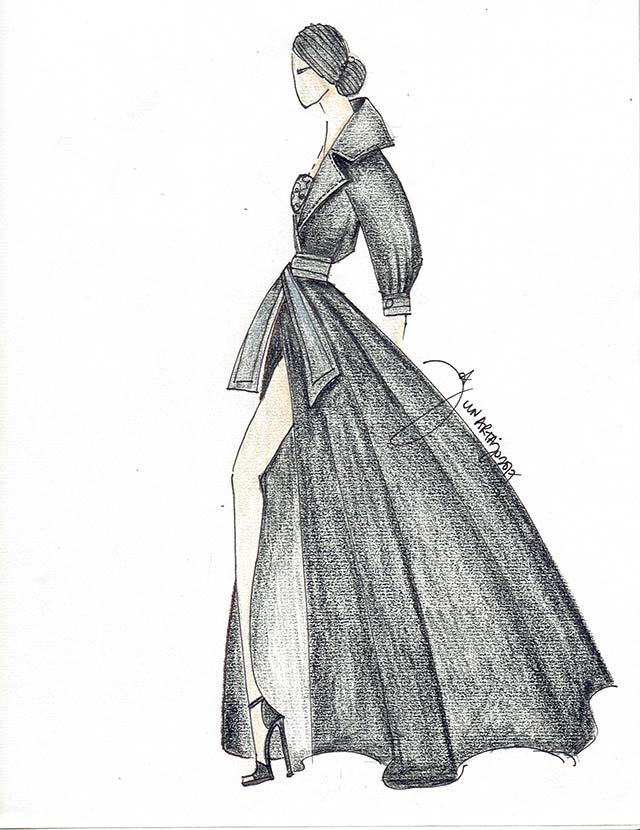 IMAGE Jun Artajo
"A strong and independent woman inspired my sketch for Maja. Her extreme long oversized trench coat gives her a certain authority and is matched with a lace boudoir to highlight her sexiness and natural elegance."
Related Stories from Preview.ph
Hey, Preview readers! Follow us on Facebook, Instagram, YouTube, Tiktok, and Twitter to stay up to speed on all things trendy and creative. We'll curate the most stylish feed for you!